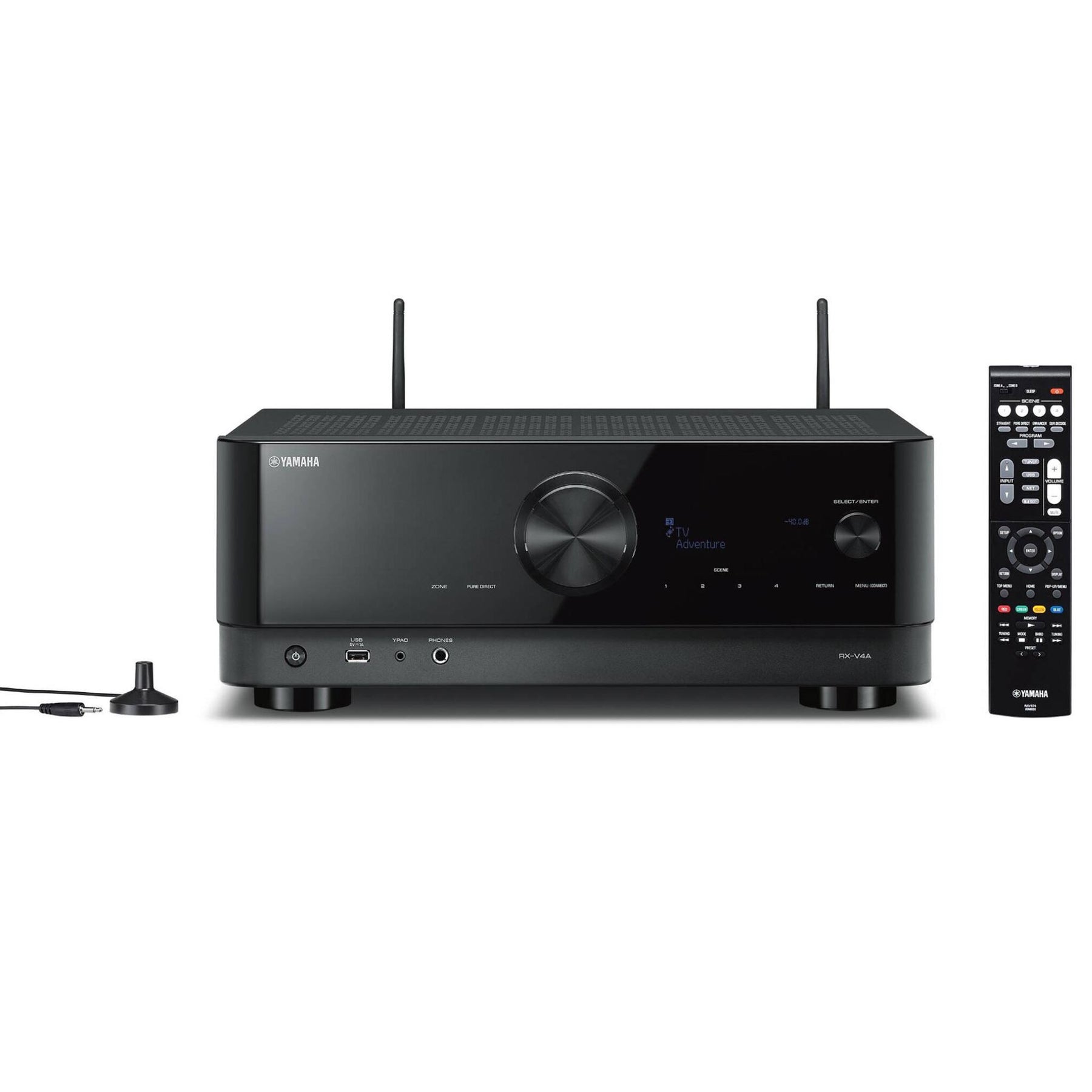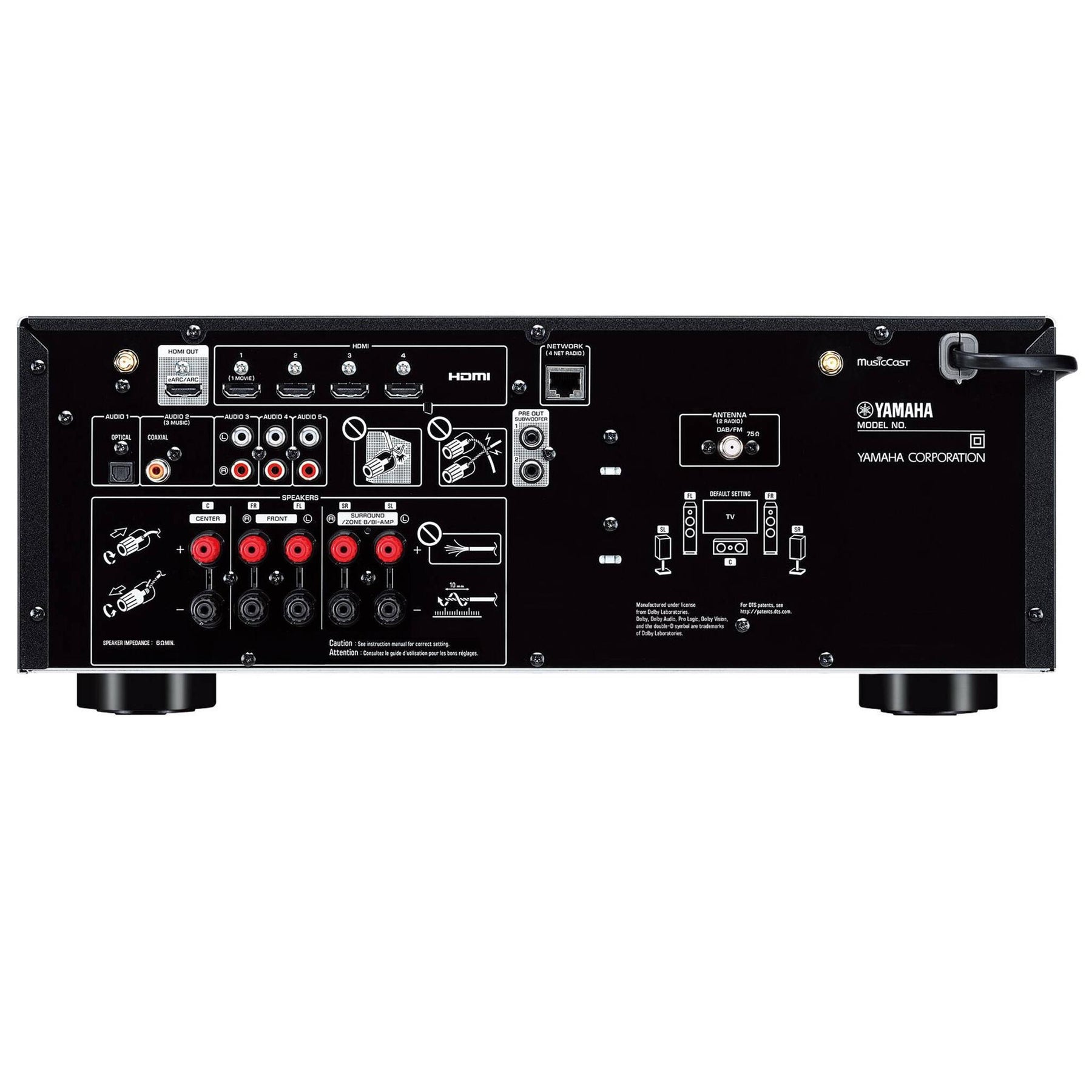 Yamaha RX-V4A - 5.2 Channel AV Receiver
RX-V4A
CINEMA DSP 3D
CINEMA DSP 3D is designed to combine measured sound field data with digital signal processing to simulate the acoustic effects of concert halls and music clubs from around the world.
Compressed Music Enhancer
This feature uses digital signal processing and algorithms to restore data lost in the compression process, so your audio will sound closer to the original recording.
HDR10 Support; HDR10+ via Future Firmware Update
The HDMI ports on this receiver support the pass-through of HDR10 signals, so you can enjoy the vibrant, lifelike color this HDR format has to offer. HDR10+ support is scheduled to be enabled via a future firmware update.
4K/60 Hz Pass-Through; 8K/60 Hz & 4K/120 Hz via Future Firmware Update
The RX-V4A supports end-to-end 4K/60 Hz pass-through, and support for 8K/60 Hz and 4K/120 Hz is scheduled to be enabled via a future firmware update.
AV Setup Guide for Simple Initial Setup
Use this app to receive expert setup assistance for the receiver and your source devices. It also guides you through various other settings, such as speaker connections, TV and source device connections, and power amplifier assignments.
MusicCast App for Easy Use
Use your smartphone or tablet together with the MusicCast app top operate the receiver and change its settings. The app offers the same functions as a remote control for all your MusicCast-compatible devices as well as full multi-room audio controls.
Voice Control via Alexa, the Google Assistant, and Siri
The receiver works with your Alexa, Google Assistant, and Siri devices (via AirPlay 2) for simple smart home integration.
YPAO Sound Optimization
Yamaha Parametric Room Acoustic Optimizer is designed to analyze the room acoustics and your system, then adjust various audio parameters to provide the best sound for your room. Place the included microphone at your listening position, turn YPAO on, and the system calibrates itself.
SCENE Buttons Let You Preset Songs, Stations, and More
Program up to four different preset scenarios using the four SCENE buttons. You can preset them for different inputs, a sound field program, Music Enhancer, HDMI output, and more. The inputs can be set to specific sources, such as an FM or internet radio station, a station on a streaming service, a USB device, or a song on your computer or NAS. Once you've set the buttons, just press one on the main unit or remote control to power on the receiver and hear what you're looking for. The buttons can be reset at any time.
Built-In Streaming Services
Synchronizing your playlists and tracks from your smartphone or computer to the receiver, music streaming services help make it easy to listen to your favorites or discover new music. Enjoy Pandora, Spotify, Amazon Music, SiriusXM, TIDAL, Deezer, Napster, and more.
Multiroom Audio with MusicCast
With optional compatible speakers, you can play your music throughout the house, including high-resolution formats like Apple Lossless (ALAC) up to 96 kHz, WAV, FLAC, and AIFF up to 192 kHz.
AirPlay 2
AirPlay 2 adds the ability to stream Apple Music and other compatible streaming services to multiple MusicCast devices throughout your home. Control it from your iPhone or iPad, link it with a HomePod, or use voice control and ask Siri for what you want.
MusicCast Surround with Optional MusicCast Speakers
Add your MusicCast 50 or two MusicCast 20 wireless speakers to enjoy MusicCast Surround, creating a 5.1-channel home theater with wireless surround sound that provides realistic sound with a clean, clutter-free setup.
eARC
eARC (Enhanced Audio Return channel) delivers full-resolution, multichannel audio formats like Dolby TrueHD and DTS-HD through your existing HDMI connection from your compatible display to provide a realistic surround sound experience.
Enhanced Media and Gaming via a Future Firmware Update
ALLM (Auto Low Latency Mode) enables the ideal latency setting to automatically be set to provide smooth, lag-free, uninterrupted viewing and interactivity. VRR (Variable Refresh Rate) reduces or eliminates lag, stutter, and frame tearing for more fluid and detailed gameplay. QMS (Quick Media Switching) eliminates the delay that can cause blank frames in movies and video before content is displayed. QFT (Quick Frame Transport) reduces latency for smoother, virtually no-lag gaming and real time interactive virtual reality. These features are scheduled to be enabled via a future firmware update.
Additional Features
High slew rate design responds to rapid changes in input level for precise, stable signal transmission
17 DSP programs
Dialog Level Adjustment
Virtual Presence Speaker
SILENT Cinema / Virtual Cinema DSP
Pure Direct
YPAO Volume
Adaptive DRC (Dynamic Range Control)
Initial Volume and Maximum Volume Setting
0 to 500 ms audio delay
Dual-band Wi-Fi
Auto Power Standby
ECO Mode
Channels

5.2

Power Output per Channel

2-Channel Driven: 80 W at 6 Ohms / 20 Hz to 20 kHz / 0.06% THD

DTS Compatibility

DTS-HD Master Audio

Dolby Compatibility

Dolby Digital Plus, Dolby TrueHD

Auro 3D Support

No

Supported File Formats

11.2 MHz DSD, AAC, AIFF, ALAC, FLAC, MP3, WMA

DAC

384 kHz / 32-Bit (BB PCM5101A)

HDR Compatibility

HDR10

Pass-Through Support

4K60p

Upscaling

4K UHD

GUI

Yes

Rear A/V Inputs

4 x HDMI

1 x Optical TOSLINK

1 x Digital Coaxial

3 x Stereo RCA

Rear A/V Outputs

1 x HDMI

2 x RCA Subwoofer Pre-Out

Front I/O

1 x 1/4" / 6.35 mm Headphone Output

1 x USB Type-A

1 x 1/8" / 3.5 mm Setup Mic Input

Other Rear I/O

1 x RJ45 (Ethernet)

2 x Bluetooth/Wi-Fi Antenna Terminal Input

1 x FM Antenna Terminal Input

Speaker Connectors

5 x Binding Post Pairs

HDCP Support

Version 2.3

Audio Return Channel (ARC)

Yes, eARC

HDMI CEC

Yes

Media Card Slot

None

A/B Speaker Selection

None

Bi-Amp Capability

Yes

Supported Audio Codecs

AAC, SBC

Wireless Audio Protocols

AirPlay 2, MusicCast

Virtual Assistant Support

Amazon Alexa, Google Assistant

Tuner Type

AM, FM

Power Consumption

Standby: 0.1 W

Dimensions (W x H x D)

17.1 x 9.6 x 14.9" / 43.4 x 24.4 x 37.8 cm (Antenna Up)

17.1 x 6.8 x 14.9" / 43.4 x 17.3 x 37.8 cm (Antenna Down)

Weight

19.4 lb / 8.8 kg
Channels

5.2

Power Output per Channel

2-Channel Driven: 80 W at 6 Ohms / 20 Hz to 20 kHz / 0.06% THD

DTS Compatibility

DTS-HD Master Audio

Dolby Compatibility

Dolby Digital Plus, Dolby TrueHD

Auro 3D Support

No

Supported File Formats

11.2 MHz DSD, AAC, AIFF, ALAC, FLAC, MP3, WMA

DAC

384 kHz / 32-Bit (BB PCM5101A)

HDR Compatibility

HDR10

Pass-Through Support

4K60p

Upscaling

4K UHD

GUI

Yes

Rear A/V Inputs

4 x HDMI

1 x Optical TOSLINK

1 x Digital Coaxial

3 x Stereo RCA

Rear A/V Outputs

1 x HDMI

2 x RCA Subwoofer Pre-Out

Front I/O

1 x 1/4" / 6.35 mm Headphone Output

1 x USB Type-A

1 x 1/8" / 3.5 mm Setup Mic Input

Other Rear I/O

1 x RJ45 (Ethernet)

2 x Bluetooth/Wi-Fi Antenna Terminal Input

1 x FM Antenna Terminal Input

Speaker Connectors

5 x Binding Post Pairs

HDCP Support

Version 2.3

Audio Return Channel (ARC)

Yes, eARC

HDMI CEC

Yes

Media Card Slot

None

A/B Speaker Selection

None

Bi-Amp Capability

Yes

Supported Audio Codecs

AAC, SBC

Wireless Audio Protocols

AirPlay 2, MusicCast

Virtual Assistant Support

Amazon Alexa, Google Assistant

Tuner Type

AM, FM

Power Consumption

Standby: 0.1 W

Dimensions (W x H x D)

17.1 x 9.6 x 14.9" / 43.4 x 24.4 x 37.8 cm (Antenna Up)

17.1 x 6.8 x 14.9" / 43.4 x 17.3 x 37.8 cm (Antenna Down)

Weight

19.4 lb / 8.8 kg