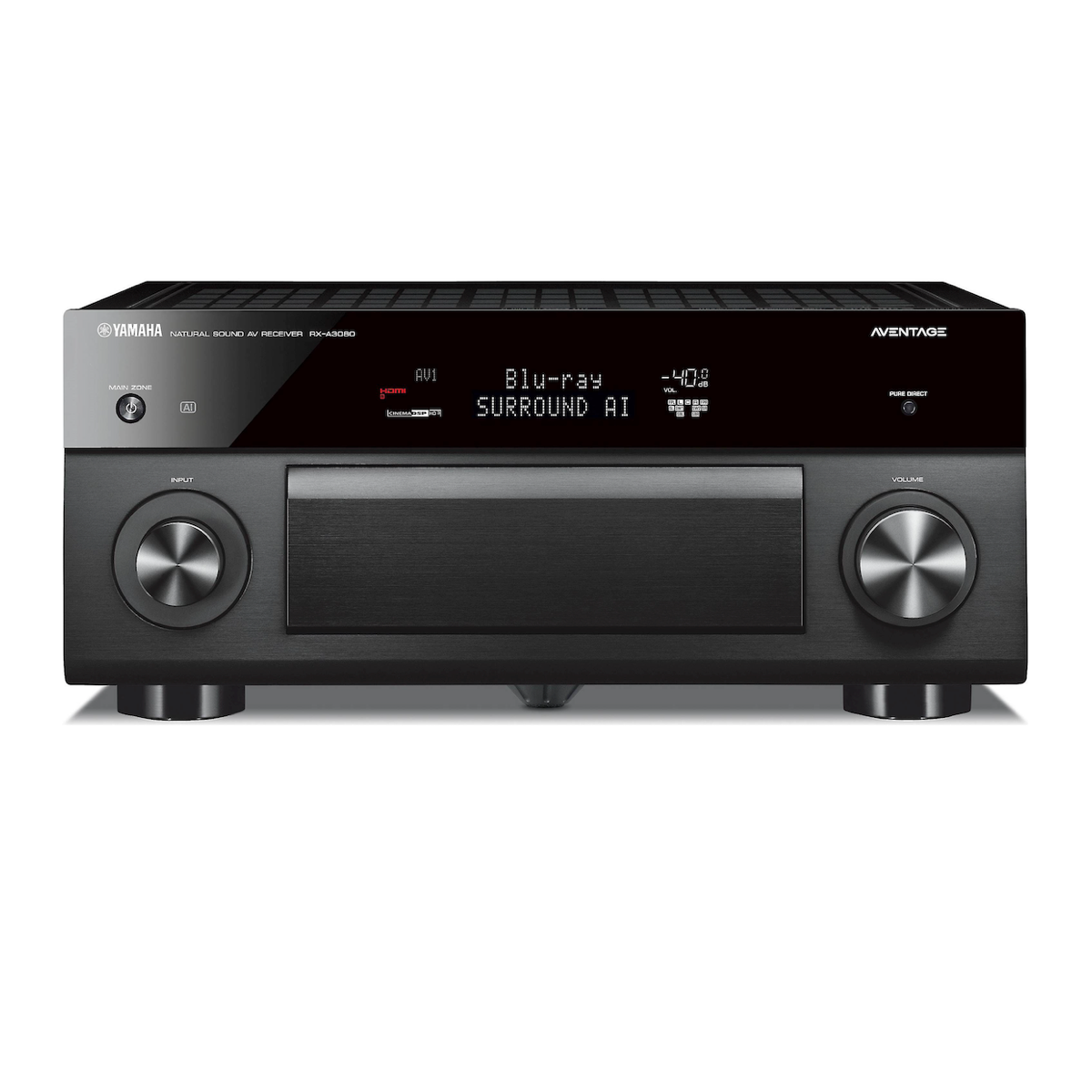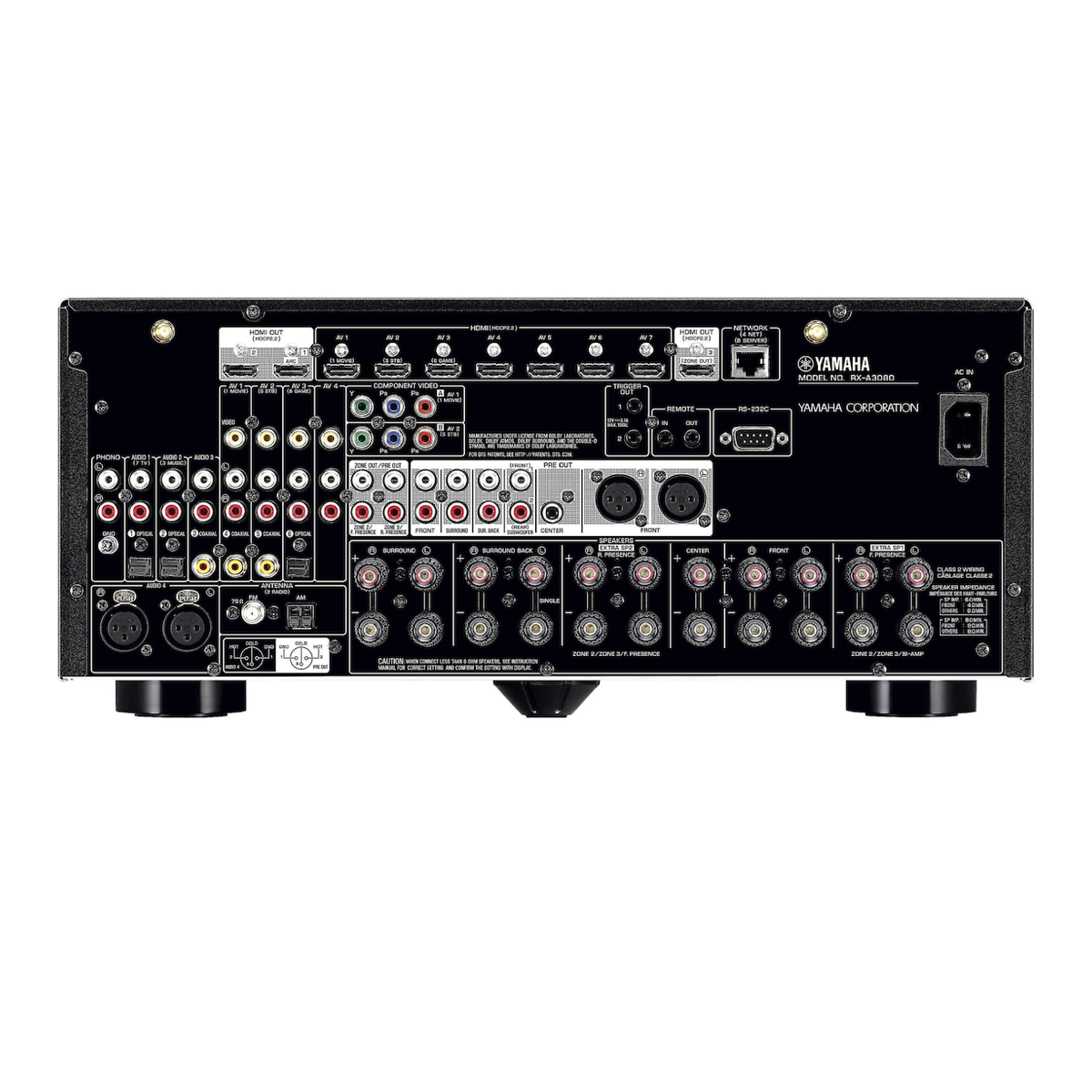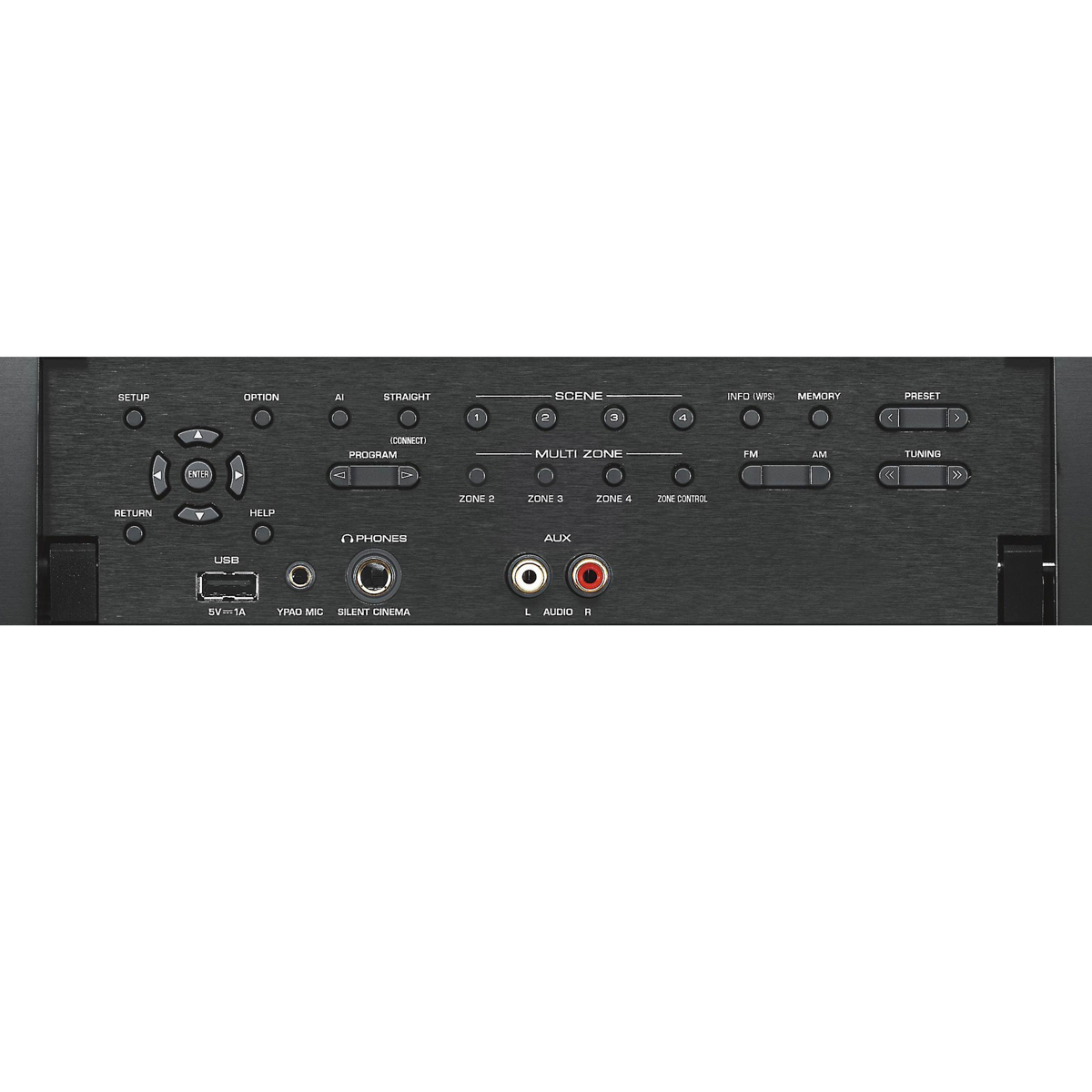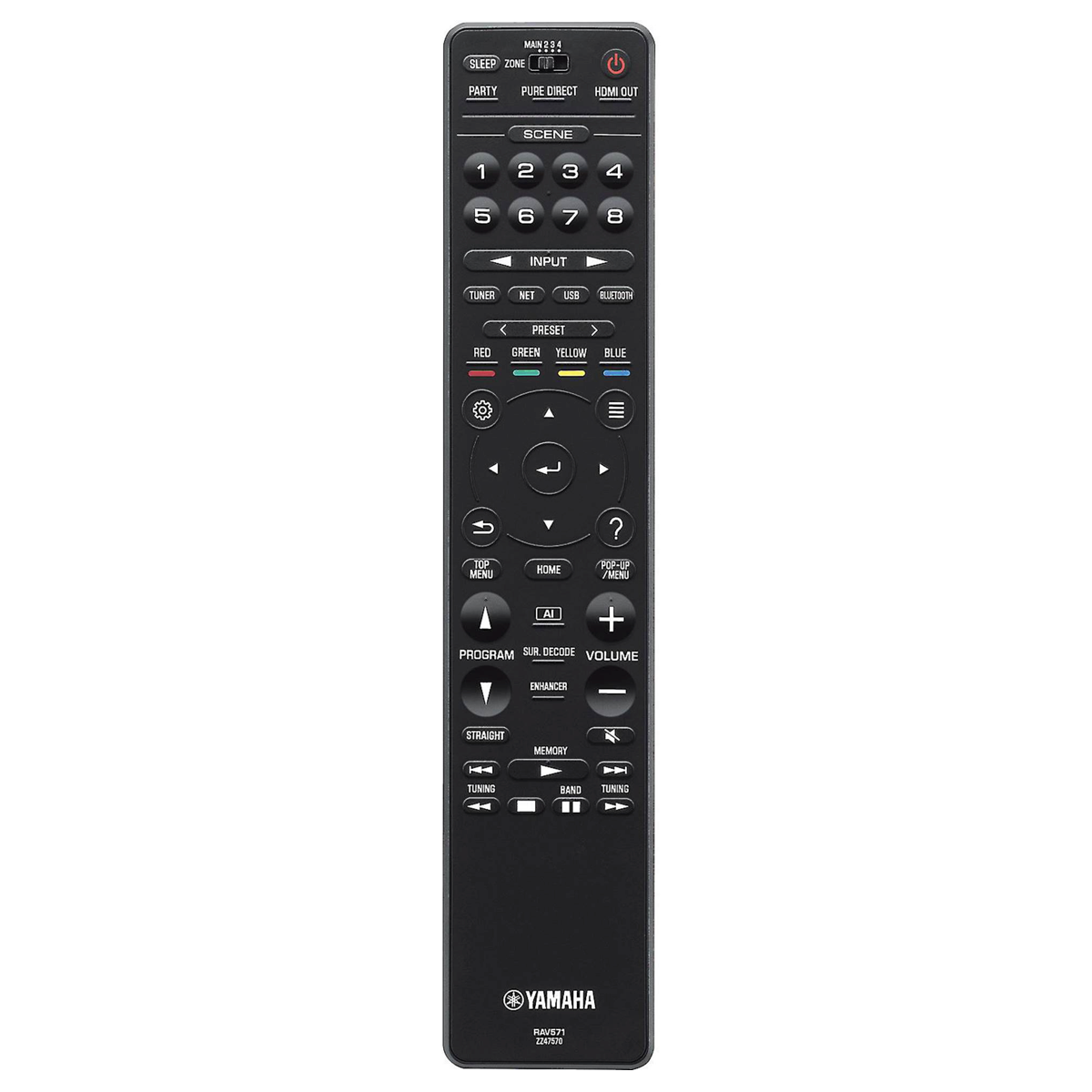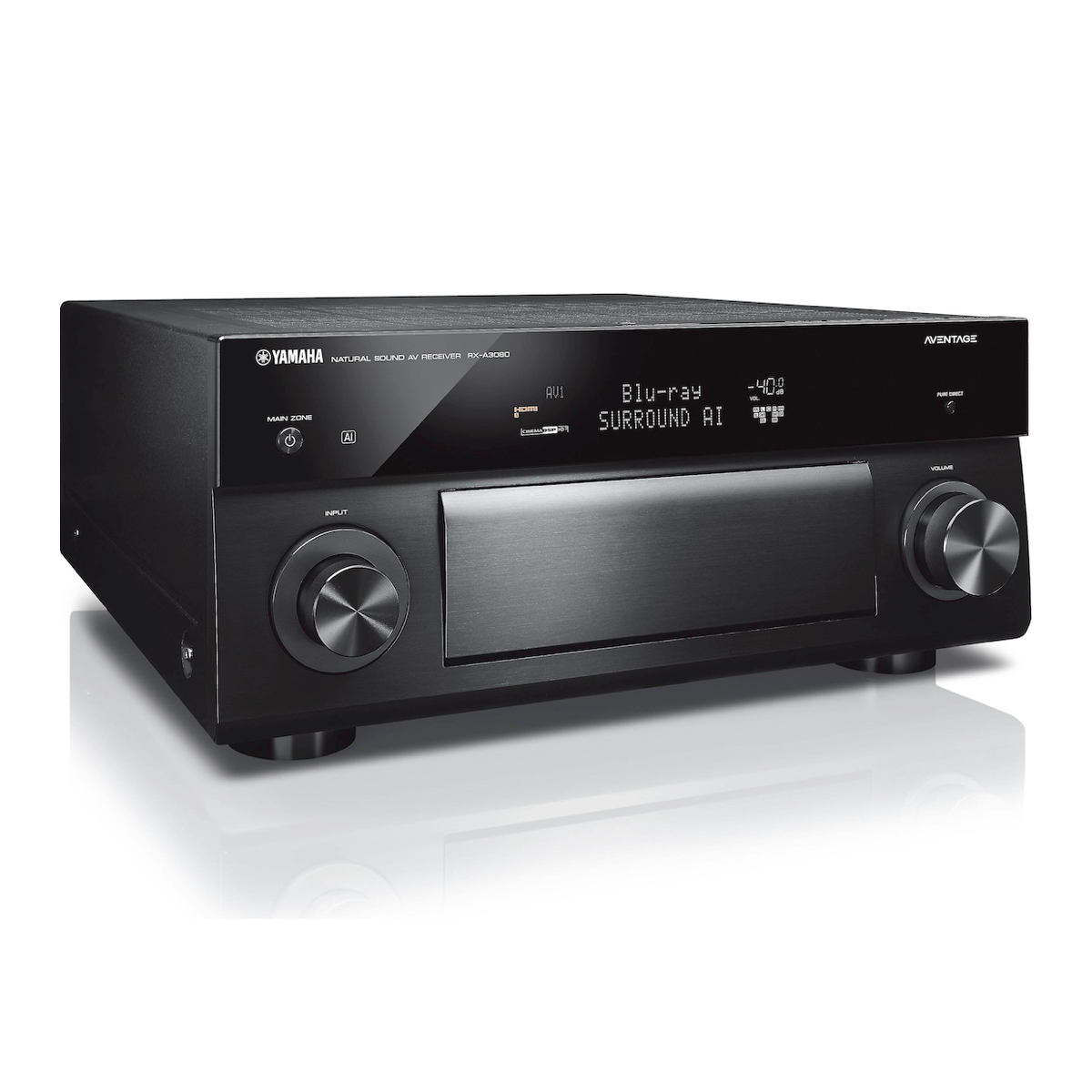 Yamaha RX-A3080 Aventage - 9.2 Channel AV Receiver
YAMAHA RX-A3080 
9.2-channel AVENTAGE model featuring the latest, most advanced Surround:AI, highest quality DACs, and ultimate quality XLR terminals.
9-channel powerful surround sound

--- 150 W per channel (8 ohms, 20 Hz-20 kHz, 0.06% THD, 2-ch driven)

--- 230 W per channel (4 ohms, 1 kHz, 0.9% THD, 1-ch driven)

--- 230 W per channel (8 ohms, 1 kHz, 10% THD, 1-ch driven)

Surround:AI automatically optimises the surround effect in real time

Dolby Atmos® and DTS:X™ with CINEMA DSP HD3

ESS SABRE PRO ES9026PRO Ultra DAC and SABRE ES9007S DAC

Ability to add wireless surround speaker/s* (*MusicCast 20 or MusicCast 50)

Highly rigid construction including Anti Resonance Technology (A.R.T.) Wedge 

High quality parts for optimum performance

YPAO™-R.S.C. (with 3D, multi-point measurement and 64-bit high precision EQ)

XLR input terminal

MusicCast multi-room technology

Music streaming services built-in

HDMI® (7 in / 3 out) with Dolby Vision™ and Hybrid Log-Gamma

Phono input for vinyl playback
Total Purity Concept
The Total Purity Concept is designed to encompass high-drive amp technology, high-purity preamplification, anti-vibration technology, and independent, pure power supplies. The receiver has fully discrete power amplifiers that help minimize distortion and adopts pure independent power supplies, allowing dedicated power supplies for the analog and digital circuitry to prevent digital noise from affecting analog circuitry. The anti-vibration heat sinks are designed to suppress vibration from transistors and sound pressure.
Anti-Resonance Technology
The Anti-Resonance Technology Wedge is a fifth foot in the center of the receiver. It is engineered to dampen vibrations from the power transformer, power transistors, and heat sinks, as well as vibrations that might be caused by the sound from the speakers.
Symmetrical Power Amplifier
The interior of the receiver has been circuit-routed and built so that the left and right channels are physically and electrically isolated, helping to maximize channel separation and enhance the signal-to-noise ratio while also helping to achieve an open sound stage.
XLR Inputs
The RX-A3080 comes equipped with XLR balanced audio input/output terminals. In combination with a Blu-ray or CD player equipped with balanced output terminals, this enables high-quality signal transmission with reduced degradation of sound quality due to external noise. The balanced input terminals feature gold-plated connections produced by Neutrik.
HDR & UHD Support Over HDMI
This receiver can pass-through UHD video at 60 frames per second, as well as the HDR10, Dolby Vision, and HLG HDR formats for enhanced contrast and colors.
Two ESS 384 kHz / 32-bit SABRE DACs (ES9026PRO & ES9007S)
ESS's 32-bit Hyper Stream Total Harmonic Distortion (THD) compensation function helps minimize noise levels. In combination with Yamaha's D.O.P.G. (DAC On Pure Ground) concept, which virtually eliminates the potential difference between two audio circuit stages to reduce ground noise, it enhances silence and resolution over the entire audio range for enhanced reproduction of even delicate sounds.
Phono Input
Enjoy music from your vinyl collection with your turntable through the dedicated phono input.
HDR Compatibility

HDR10, Dolby Vision, Hybrid Log Gamma

Pass-Through Support

4K60p 4:4:4 (BT.2020)

Supported File Formats

11.2 MHz DSD, AAC, AIFF, ALAC, FLAC, MP3, WAV, WMA

Rear A/V Inputs

7 x HDMI
3 x Optical TOSLINK
3 x Digital Coaxial
2 x 3RCA Component
4 x RCA Composite
1 x Stereo XLR
7 x Stereo RCA
1 x Stereo RCA (Phono) with Ground Screw

Rear A/V Outputs

3 x HDMI
2 x RCA Subwoofer Pre-Out
1 x Stereo RCA Zone 2 Pre-Out
1 x Stereo RCA Zone 3 Pre-Out
1 x 7-Channel RCA Pre-Out
1 x Stereo XLR Pre-Out

Front I/O

1 x 1/4" / 6.35 mm Headphone Output
1 x USB Type-A
1 x 1/8" / 3.5 mm Setup Mic Input
1 x Stereo RCA Input

Other Rear I/O

1 x FM Antenna Terminal
1 x AM Antenna Terminal
2 x Bluetooth/Wi-Fi Antenna Terminal
1 x RJ45 (Ethernet)
2 x 1/8" / 3.5 mm (12 V Trigger) Output
1 x 1/8" / 3.5 mm (Remote) Input
1 x 1/8" / 3.5 mm (Remote) Output
1 x DE-9 (RS-232C)

Audio Return Channel (ARC)

Yes

Dimensions (W x H x D)

17.1 x 7.5 x 18.6" / 43.5 x 19.1 x 47.3 cm (Antenna Removed)

17.1 x 10.6 x 18.6" / 43.5 x 27.0 x 47.3 cm (Antenna Up)

Weight

39.9 lb / 18.1 kg
HDR Compatibility

HDR10, Dolby Vision, Hybrid Log Gamma

Pass-Through Support

4K60p 4:4:4 (BT.2020)

Supported File Formats

11.2 MHz DSD, AAC, AIFF, ALAC, FLAC, MP3, WAV, WMA

Rear A/V Inputs

7 x HDMI
3 x Optical TOSLINK
3 x Digital Coaxial
2 x 3RCA Component
4 x RCA Composite
1 x Stereo XLR
7 x Stereo RCA
1 x Stereo RCA (Phono) with Ground Screw

Rear A/V Outputs

3 x HDMI
2 x RCA Subwoofer Pre-Out
1 x Stereo RCA Zone 2 Pre-Out
1 x Stereo RCA Zone 3 Pre-Out
1 x 7-Channel RCA Pre-Out
1 x Stereo XLR Pre-Out

Front I/O

1 x 1/4" / 6.35 mm Headphone Output
1 x USB Type-A
1 x 1/8" / 3.5 mm Setup Mic Input
1 x Stereo RCA Input

Other Rear I/O

1 x FM Antenna Terminal
1 x AM Antenna Terminal
2 x Bluetooth/Wi-Fi Antenna Terminal
1 x RJ45 (Ethernet)
2 x 1/8" / 3.5 mm (12 V Trigger) Output
1 x 1/8" / 3.5 mm (Remote) Input
1 x 1/8" / 3.5 mm (Remote) Output
1 x DE-9 (RS-232C)

Audio Return Channel (ARC)

Yes

Dimensions (W x H x D)

17.1 x 7.5 x 18.6" / 43.5 x 19.1 x 47.3 cm (Antenna Removed)

17.1 x 10.6 x 18.6" / 43.5 x 27.0 x 47.3 cm (Antenna Up)

Weight

39.9 lb / 18.1 kg