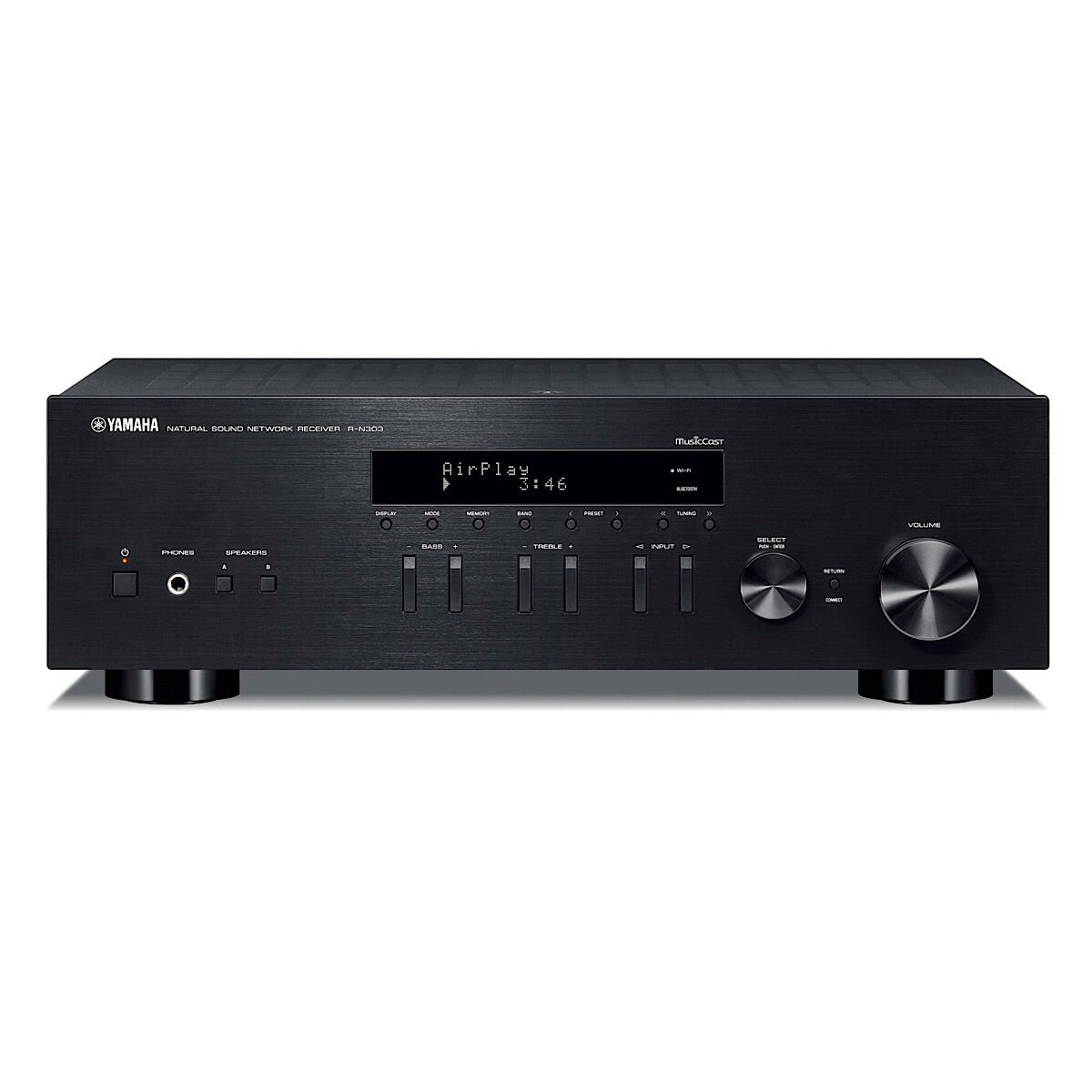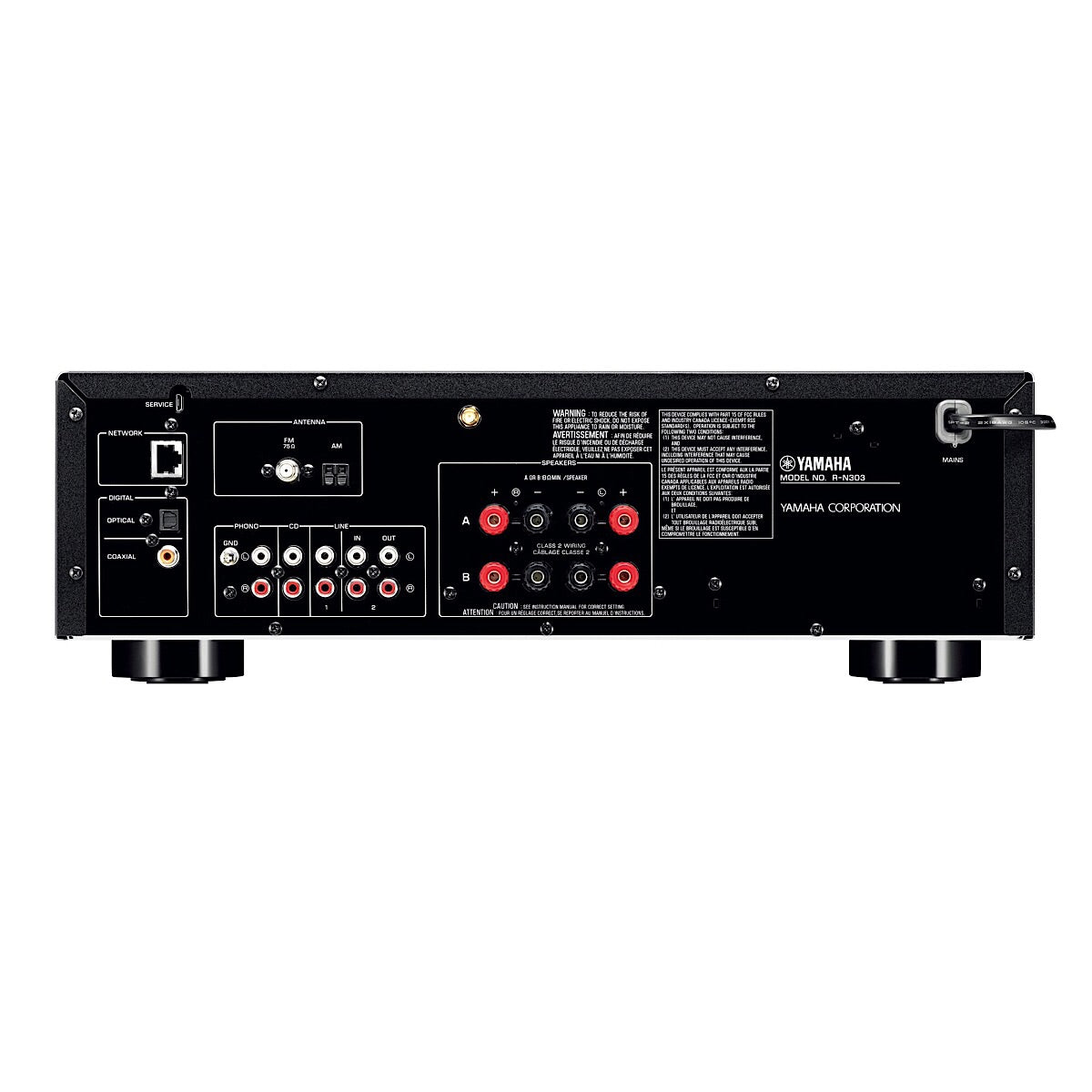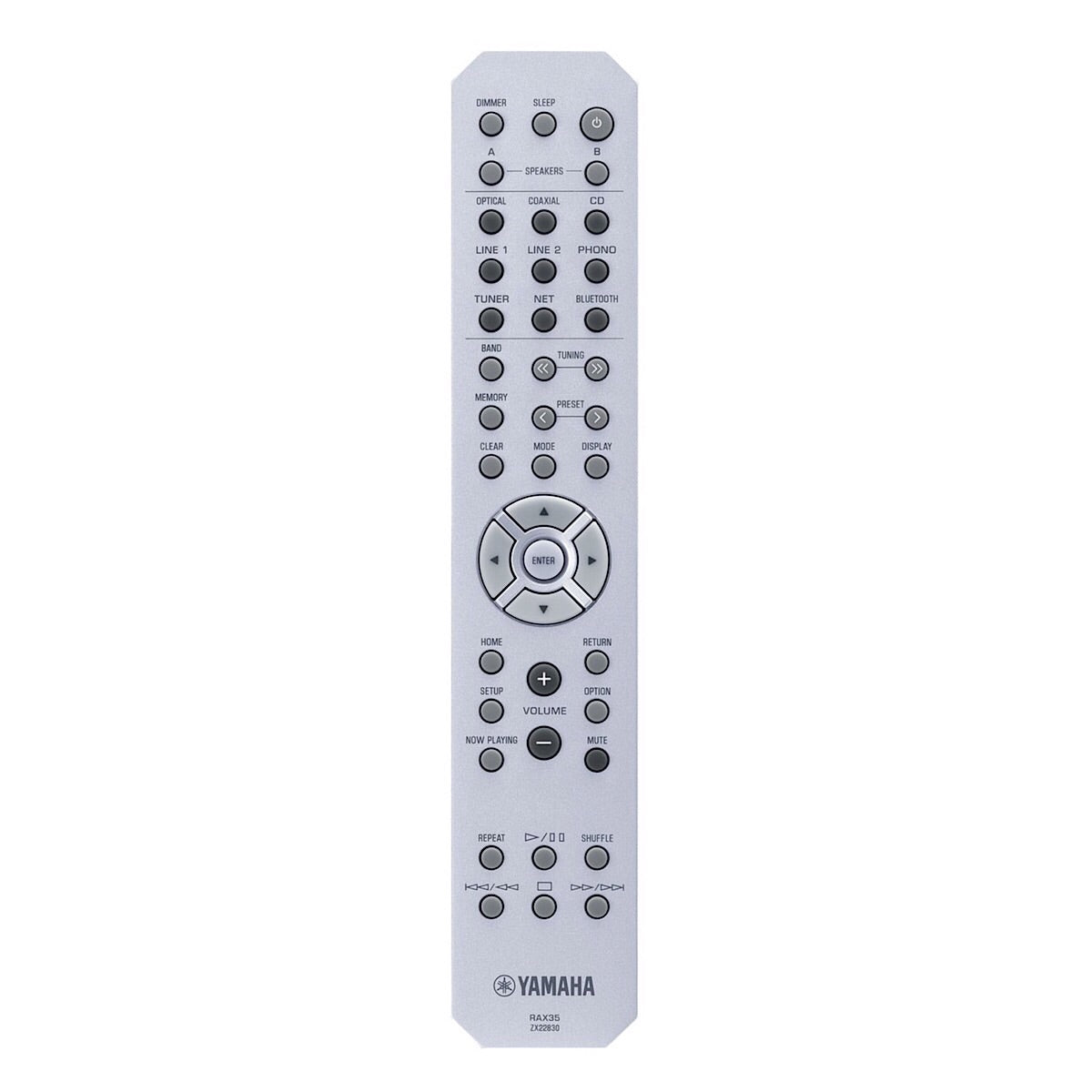 Yamaha R-N303 - Stereo Receiver
R-N303

Works with Alexa for voice control (Alexa device sold separately).

Simple and sophisticated design with two channels of 100 W high-power output

Phono input terminals for Turntables voice control using your Alexa device like echo or echo dot

Optical and coaxial Audio inputs for TV

Access to your music library, Pandora, Spotify, SiriusXM internet radio, Tidal and Deezer

Wi-Fi, wireless direct, Bluetooth, airplay, and musiccast multiform Audio
Handsomely Practical
We are pushing our Hi-Fi engineering ideas to extend into this entry-class network receiver with modern day wireless connectivity and the nostalgia of vinyl with a phono input terminal. The R-N303 is the perfect blend of technology and timeless design elegance.
Simple and sophisticated design

Phono input terminals for turntables

Optical and coaxial audio inputs for TV

Two channels of 100 W high-power output (0.2% THD)

Wi-Fi, Wireless Direct, Bluetooth and AirPlay

Access to your music library, Pandora, Napster, Spotify, SiriusXM Internet Radio, TIDAL and Deezer

DSD 5.6 MHz, FLAC, WAV, AIFF 192 kHz/24-bit, Apple Lossless 96 kHz/24-bit playback

Add audio in up to 9 additional rooms with MusicCast
Hi-Fi Everything
From your smartphone, networked audio, streaming services, or just the TV — enjoy Hi-Fi quality, with superior, exceptionally sonic integrity on everything you hear. Open new dimensions of clarity with the R-N303.
Discover New Favourites
Explore. Compatible with a large variety of popular streaming services, including Spotify, TIDAL, Deezer, Napster and others — the R-N303 encourages discovery of new music from all over the world.
Note: Music service availability varies by region.
Love for Vinyl
Throw your vinyl collection love and drop a needle with the phono input terminal that connects the R-N303 to a record player.
Sonic Boom
Engineered for sonic power, the R-N303 is equipped with a high-quality, high-power amp, featuring a single push-pull and discrete configuration that delivers a maximum output of 140 watts/channel (8Ω). Its low-impedance design minimizes the lengths of the audio signal paths, while placing the power supply unit near the amp unit eliminates energy loss and achieves superior drivability for optimum sound reproduction with all kinds of speakers, providing exceptionally dynamic, exciting sound.
Built for High Resolution
The R-N303 supports high-resolution audio formats. Feel the very breath of the vocals, bask in the airy atmosphere of a concert hall, and experience your favorite performance in high resolution.
MusicCast
Access all of your music with a simple app and wirelessly stream it throughout your home using your existing Wi-Fi network. Listen to Pandora, Spotify, Napster, SiriusXM Internet Radio, TIDAL, Deezer, thousands of free internet radio stations and the music stored on your smart devices and computers. All MusicCast products are fully loaded with Wi-Fi, Bluetooth and AirPlay. When you're ready, add MusicCast wireless speakers, sound bars or other devices in up to 9 other rooms and listen throughout your home. By using MusicCast, you don't need to fuss with placing wires through walls into other rooms.
Wireless
The R-N303 is equipped with Bluetooth to let you enjoy music playback from smartphones and other devices.
Optical TV Input
The R-N303 is equipped for digital audio input with both audio and coaxial terminals. With an optical input, TV sound reaches new sonic platforms — pure, pristine, and dynamic sound for all entertainment sources, from sports and other programs to movies and concerts.
Channels

2

Power Output per Channel

100 W at 8 Ohms / 40 Hz to 20 kHz / 0.2% THD

140 W at 8 Ohms / 1 kHz / 10% THD

Dynamic Power per Channel

125 W at 8 Ohms

150 W at 6 Ohms

165 W at 4 Ohms

180 W at 2 Ohms

Supported File Formats

5.6 MHz DSD, AAC, AIFF, ALAC, FLAC, MP3, WAV, WMA

Rear A/V Inputs

1 x Optical TOSLINK
1 x Digital Coaxial
1 x Stereo RCA (Phono) with Ground Screw
3 x Stereo RCA

Rear A/V Outputs

1 x Stereo RCA

Front I/O

1 x 1/4" / 6.35 mm Headphone Output

Other Rear I/O

1 x RJ45 (Ethernet)
1 x Wi-Fi Antenna Terminal Input
1 x FM Antenna Terminal Input
1 x AM Antenna Terminal Input

Speaker Connectors

4 x Binding Post Pairs

Bluetooth

2.1 + EDR

Bluetooth Profiles

A2DP

AVRCP

Supported Audio Codecs

AAC, SBC

Wireless Audio Protocols

AirPlay, Wi-Fi Direct

DLNA Support

Yes

Tuner Type

AM, FM

Sensitivity

FM Mono at 50 dB: 3 µV / 20.8 dBf

Dimensions (W x H x D)

17.1 x 5.5 x 13.4" / 43.5 x 14.0 x 34.0 cm (Antenna Removed)

17.1 x 8.0 x 13.4" / 43.5 x 20.3 x 34.0 cm (Antenna Up)

Weight

15.9 lb / 7.2 kg
Channels

2

Power Output per Channel

100 W at 8 Ohms / 40 Hz to 20 kHz / 0.2% THD

140 W at 8 Ohms / 1 kHz / 10% THD

Dynamic Power per Channel

125 W at 8 Ohms

150 W at 6 Ohms

165 W at 4 Ohms

180 W at 2 Ohms

Supported File Formats

5.6 MHz DSD, AAC, AIFF, ALAC, FLAC, MP3, WAV, WMA

Rear A/V Inputs

1 x Optical TOSLINK
1 x Digital Coaxial
1 x Stereo RCA (Phono) with Ground Screw
3 x Stereo RCA

Rear A/V Outputs

1 x Stereo RCA

Front I/O

1 x 1/4" / 6.35 mm Headphone Output

Other Rear I/O

1 x RJ45 (Ethernet)
1 x Wi-Fi Antenna Terminal Input
1 x FM Antenna Terminal Input
1 x AM Antenna Terminal Input

Speaker Connectors

4 x Binding Post Pairs

Bluetooth

2.1 + EDR

Bluetooth Profiles

A2DP

AVRCP

Supported Audio Codecs

AAC, SBC

Wireless Audio Protocols

AirPlay, Wi-Fi Direct

DLNA Support

Yes

Tuner Type

AM, FM

Sensitivity

FM Mono at 50 dB: 3 µV / 20.8 dBf

Dimensions (W x H x D)

17.1 x 5.5 x 13.4" / 43.5 x 14.0 x 34.0 cm (Antenna Removed)

17.1 x 8.0 x 13.4" / 43.5 x 20.3 x 34.0 cm (Antenna Up)

Weight

15.9 lb / 7.2 kg