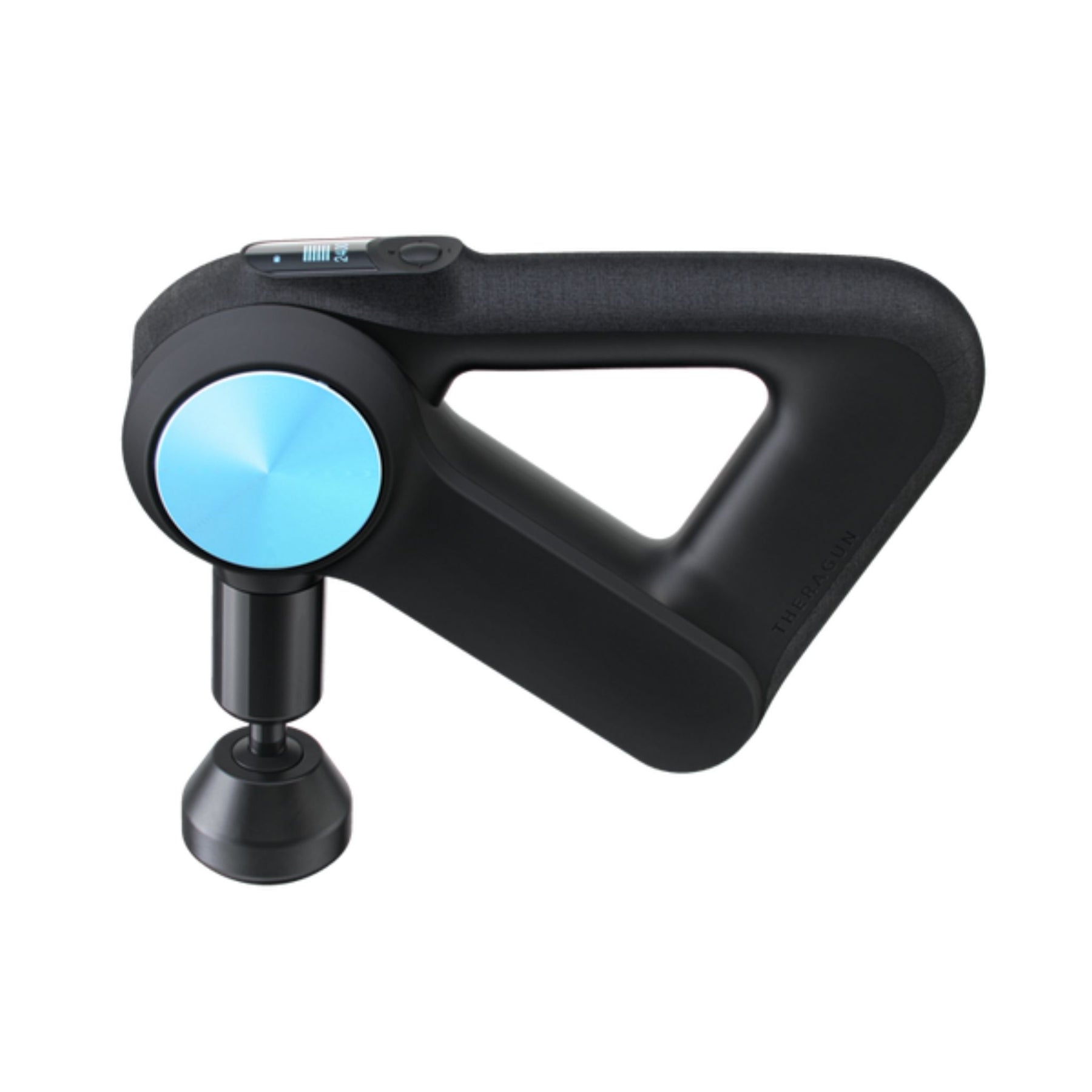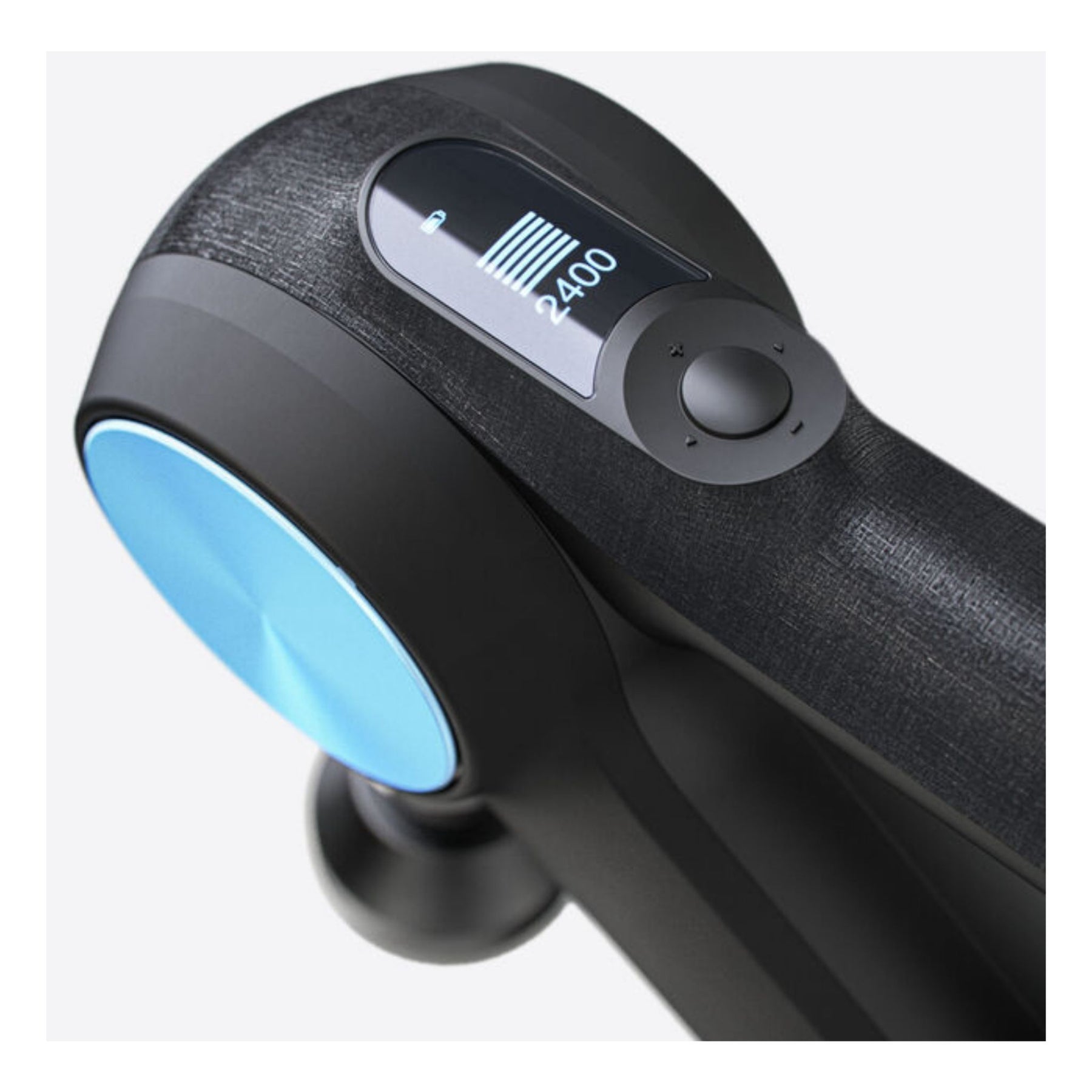 Theragun Pro - Percussive Massage Device
THERAGUN PRO
The deep muscle treatment pros trust with the durability and features they rely on. Enhance muscle recovery, release stress and tension, and soothe discomfort with the smart percussive therapy device in a league of its own. We stand by PRO's professional-grade durability with an industry-leading 2-year warranty.
Rotating Arm and Ergonomic Multi-Grip

QX150 Motor with QuietForce Technology™

300-Minute Total Battery Life

Smart App Integration with Bluetooth®
OLED Screen with Force Meter
The OLED screen gives you complete control over your recovery routine by conveniently displaying your current speed and a responsive force meter. And if you leave your phone in the locker room or at home, you can toggle between up to 3 present treatments saved to your device from the therabodu app. 
Customizable Speed Range
Whether you're treating sensitive areas or need the full power of the device, the PRO can be controlled in the app via Bluetooth® to select any speed between their scientifically calibrated 1750-2400 PPM range. It also comes with 5 built- in speeds (1750,1900,2100,2200,2400 percussions per minute).
Supersoft Attachment 
An ultra-gentle option for especially sensitive or sore areas, and areas near bones or joints.
Damper Attachement 
Used mostly for tender or bony areas. Perfect for overall use. 
Standard Ball Attachments 
Perfect for overall use on large and small muscle groups.
Thumb Attachment 
Used mostly for trigger points and the lower back.
Wedge Attachment 
Perfect for shoulder blades and IT bands. Provides the ability to be used for "scraping" and "flushing" movements to help increase blood flow and reduce tension where you need it the most.
Cone
Used mostly for pinpoint muscle treatment, including the hands and feet.
QuietForce Technology QX150: Built to deliver professional-grade power
No motor in existence could deliver the unparalleled power of a Theragun while also operating quietly, so we created our own. The PRO's commercial-grade brushless motor with QuietForce Technology quietly delivers up to 60 lbs. of no-stall force. And with Active Torque Control™, the PRO maintains all that power without diluting treatment speed or quality.
Battery Life and Charge Time

300 minutes total, 150 minutes per battery; 75 minutes

Battery Type

2 16V External Lithium-ion Batteries

Accessory Compatibility

PRO Wireless Charging Stand, Multi-Device Wireless Charger, World Travel Charger

Amplitude

16 millimeters

Speeds

5 built-in speeds (1750, 1900, 2100, 2200, 2400 percussions per minute) and app-controlled customizable speed range (any speed between 1750-2400 percussions per minute).

Dimensions

10 in x 7.1 in x 3 in

(25.5 cm x 18.0 cm x 7.6 cm)

Weight

1.3kg
Battery Life and Charge Time

300 minutes total, 150 minutes per battery; 75 minutes

Battery Type

2 16V External Lithium-ion Batteries

Accessory Compatibility

PRO Wireless Charging Stand, Multi-Device Wireless Charger, World Travel Charger

Amplitude

16 millimeters

Speeds

5 built-in speeds (1750, 1900, 2100, 2200, 2400 percussions per minute) and app-controlled customizable speed range (any speed between 1750-2400 percussions per minute).

Dimensions

10 in x 7.1 in x 3 in

(25.5 cm x 18.0 cm x 7.6 cm)

Weight

1.3kg