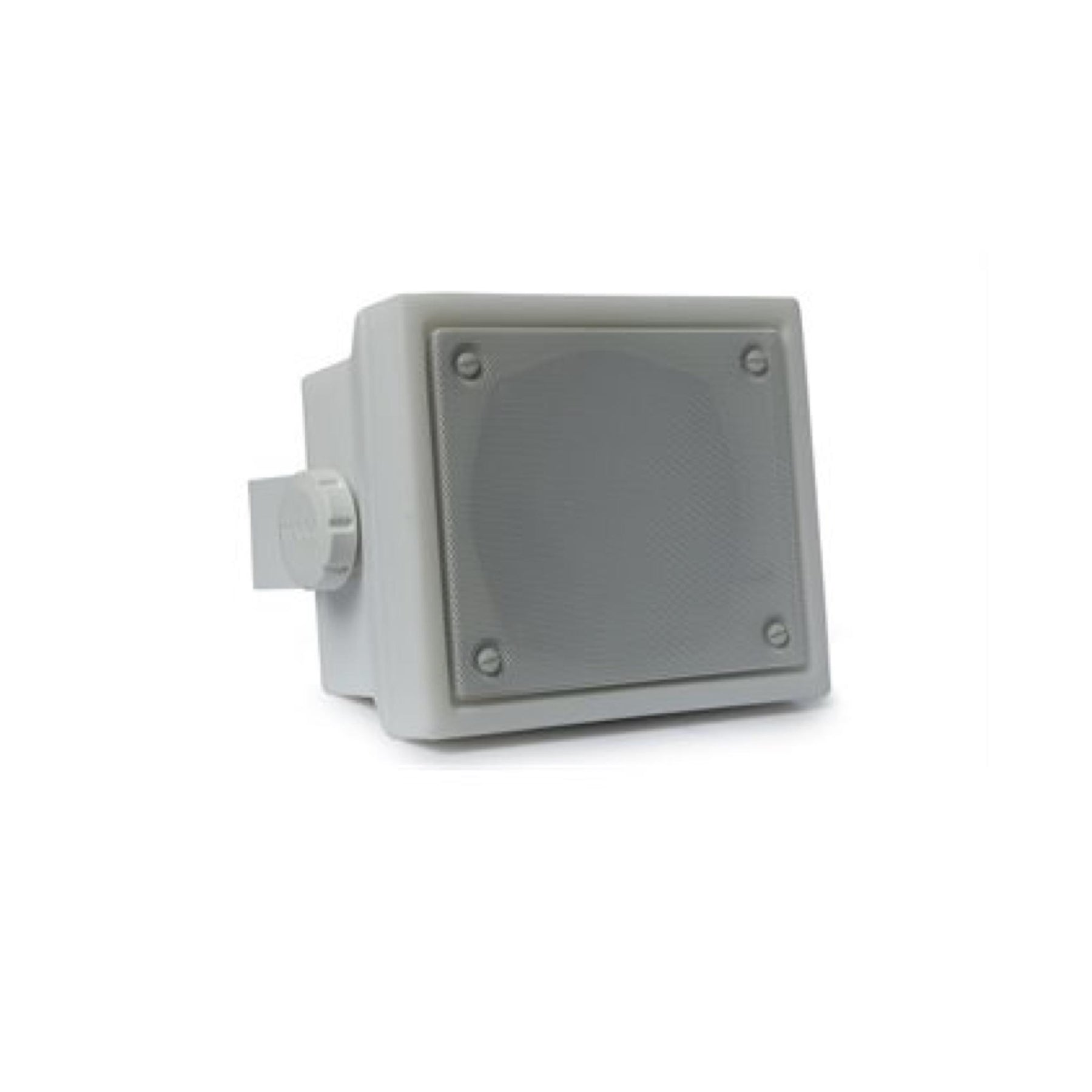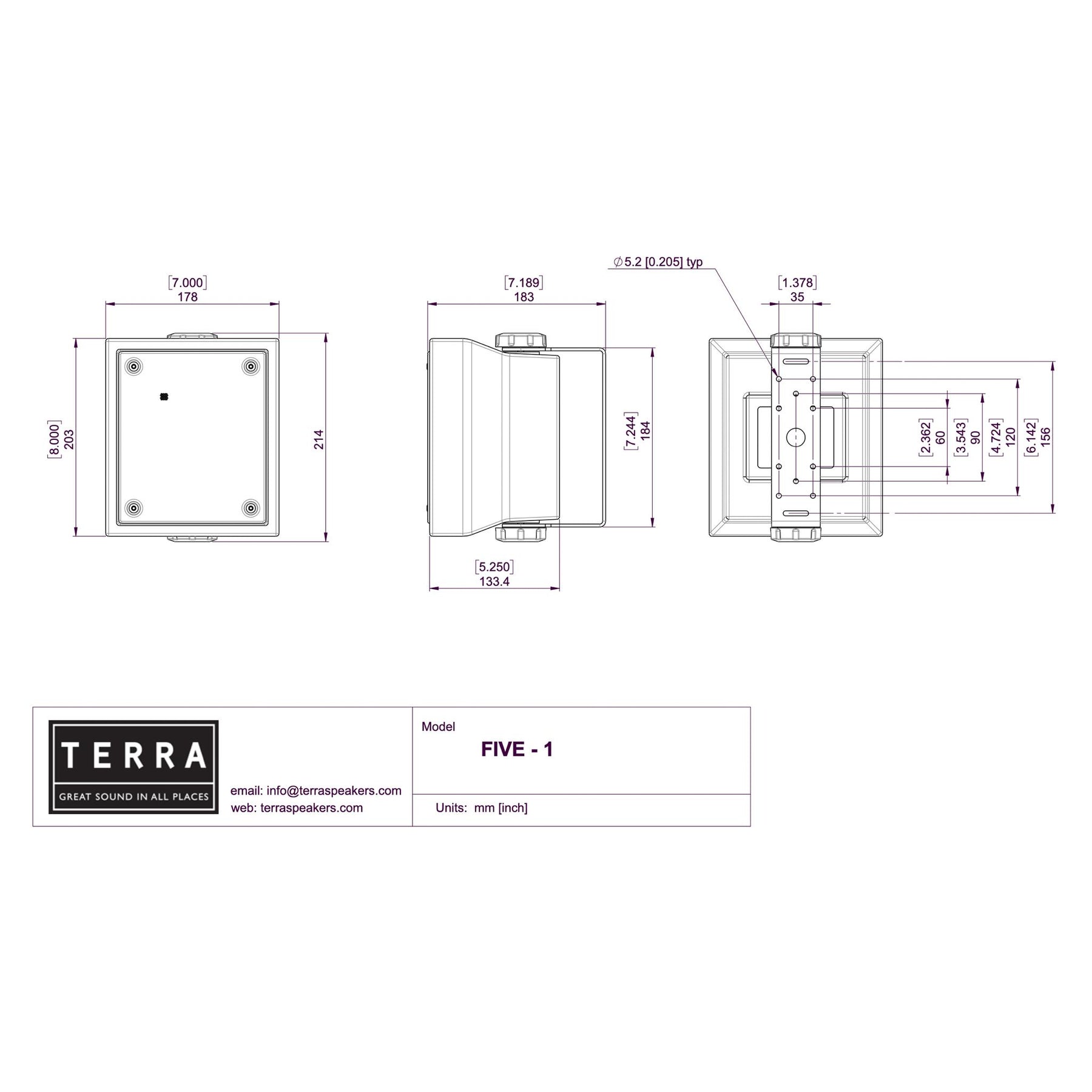 Terra Speaker AC Five 1 - Outdoor Speaker - Pair
AC FIVE 1
FIVE is an updated twist on the Classic line of All Climate [AC] speakers. The redesigned cabinets feature a modern, angled look and feature Terra Maine-made drivers. Every component part of the AC Series remains carefully designed and manufactured to deliver reliable sound for years without maintenance or special care.
Models can be mixed, matched and combined by way of brackets and a seamless grill to create customizable all weather soundbars or line arrays.
It features Terra's Maine-made 5.25 inch ACAD cast frame woofer. A co-axially mounted Titanium .75-inch dome tweeter provides the high frequencies, all divided through a high quality computer optimized third order crossover.
Since the color permeates all the way through the UniCavity enclosure you'll never have to touch them up or worry about rust or corrosion. Standard is a watertight 4-foot pigtail, also available as an option is the marine grade Conxall® quick connect for use with the Pigtail.
FEATURES
1 5.25" ACAD & MFCS Driver

1 .75" Coaxial Titanium Dome

4' pigtail w/ waterproof connectors
| | |
| --- | --- |
| CABINET | UniCavity™ Enclosure |
| BASS/MID DRIVER | 5.25" ACAD™ & MFCS™ |
| TWEETER | .75" (coaxial) Titanium Dome Tweeter |
| FREQUENCY RESPONSE | 90 Hz to 22 KHz +/-3dB |
| IMPEDANCE | 8 Ohms |
| POWER HANDLING | 125 Watts Undistorted Power |
| SENSITIVITY | 89dB (1 watt @1 meter) |
| SPEAKER DIMENSIONS | 7" (H) x 8" (W) x 5.25" (D) |
| BRACKET | Aluminum "C" Bracket with EasyGrip Knob |
| WEIGHT | 7 lbs each |
| WEATHERPROOF RATING | IP 67 Meets or exceeds MIL-STD-810G standards |
| TEMPERATURE RANGE | -25° to 175° (-31c to 80c) |
| | |
| --- | --- |
| CABINET | UniCavity™ Enclosure |
| BASS/MID DRIVER | 5.25" ACAD™ & MFCS™ |
| TWEETER | .75" (coaxial) Titanium Dome Tweeter |
| FREQUENCY RESPONSE | 90 Hz to 22 KHz +/-3dB |
| IMPEDANCE | 8 Ohms |
| POWER HANDLING | 125 Watts Undistorted Power |
| SENSITIVITY | 89dB (1 watt @1 meter) |
| SPEAKER DIMENSIONS | 7" (H) x 8" (W) x 5.25" (D) |
| BRACKET | Aluminum "C" Bracket with EasyGrip Knob |
| WEIGHT | 7 lbs each |
| WEATHERPROOF RATING | IP 67 Meets or exceeds MIL-STD-810G standards |
| TEMPERATURE RANGE | -25° to 175° (-31c to 80c) |