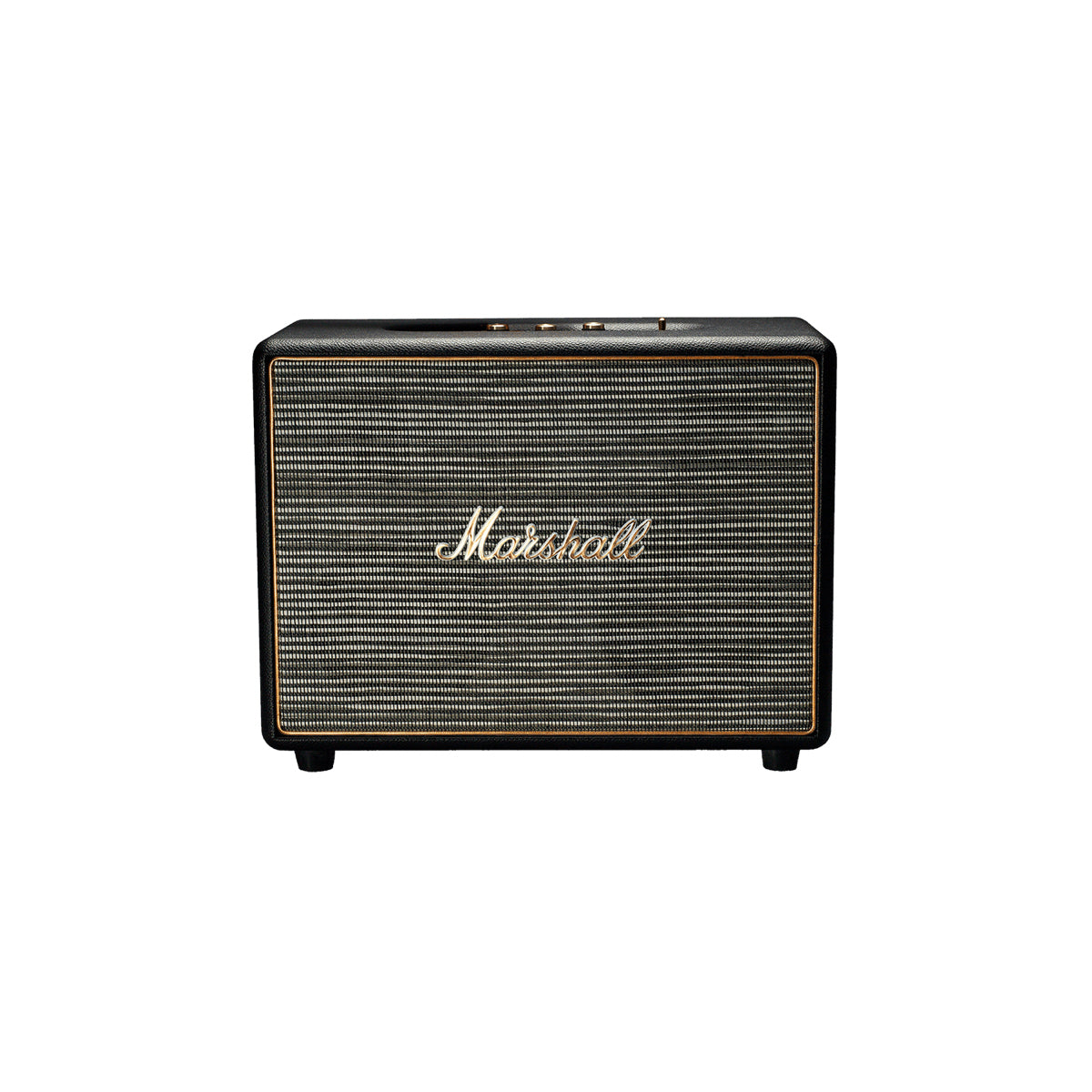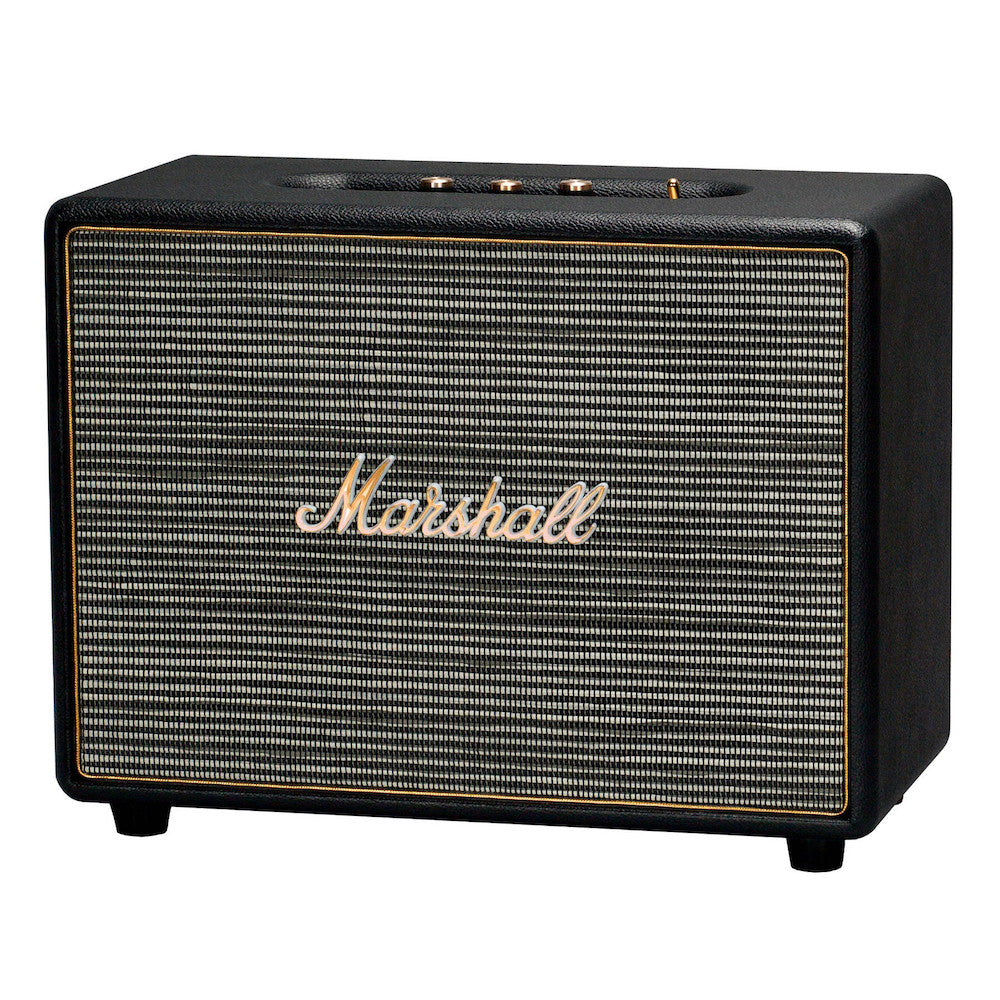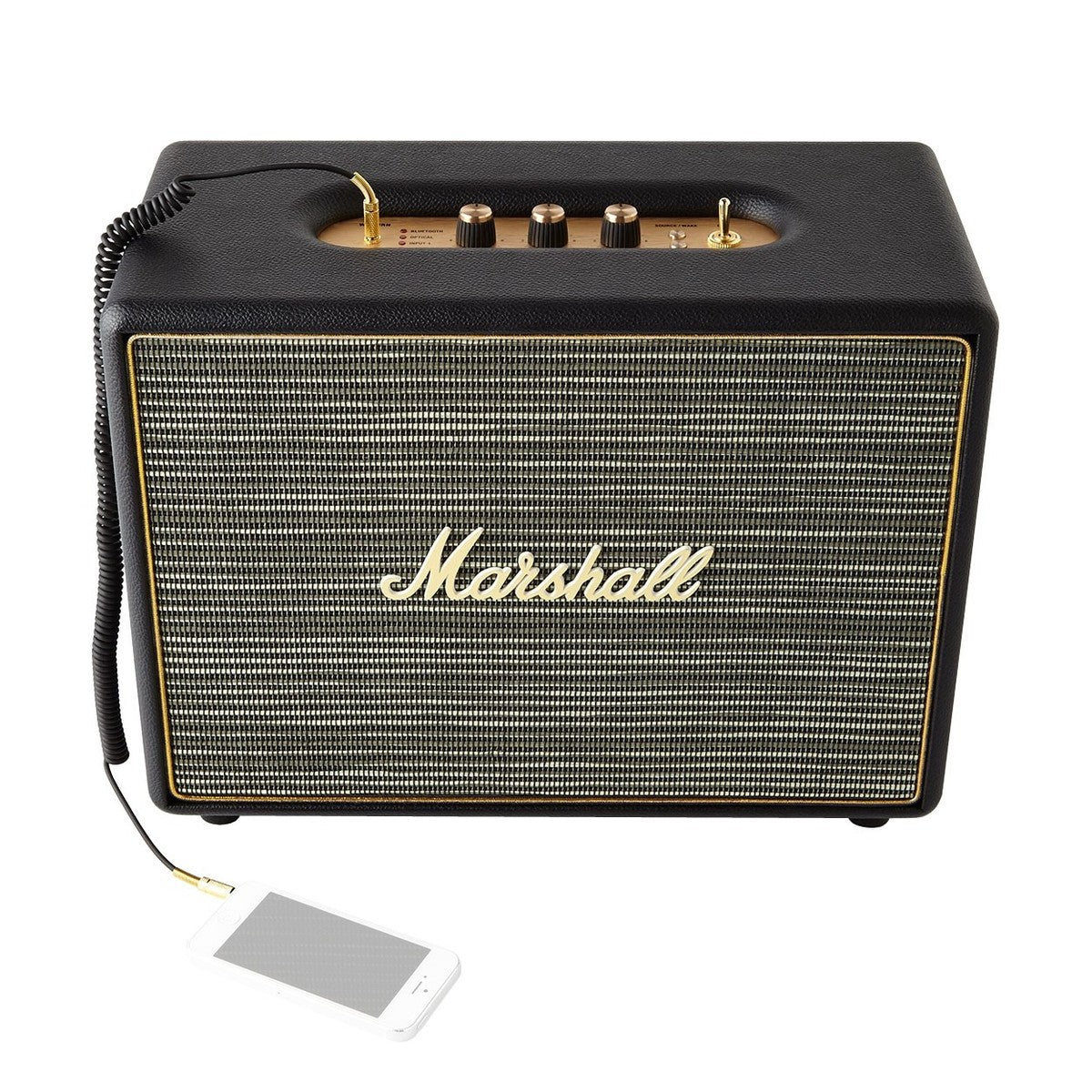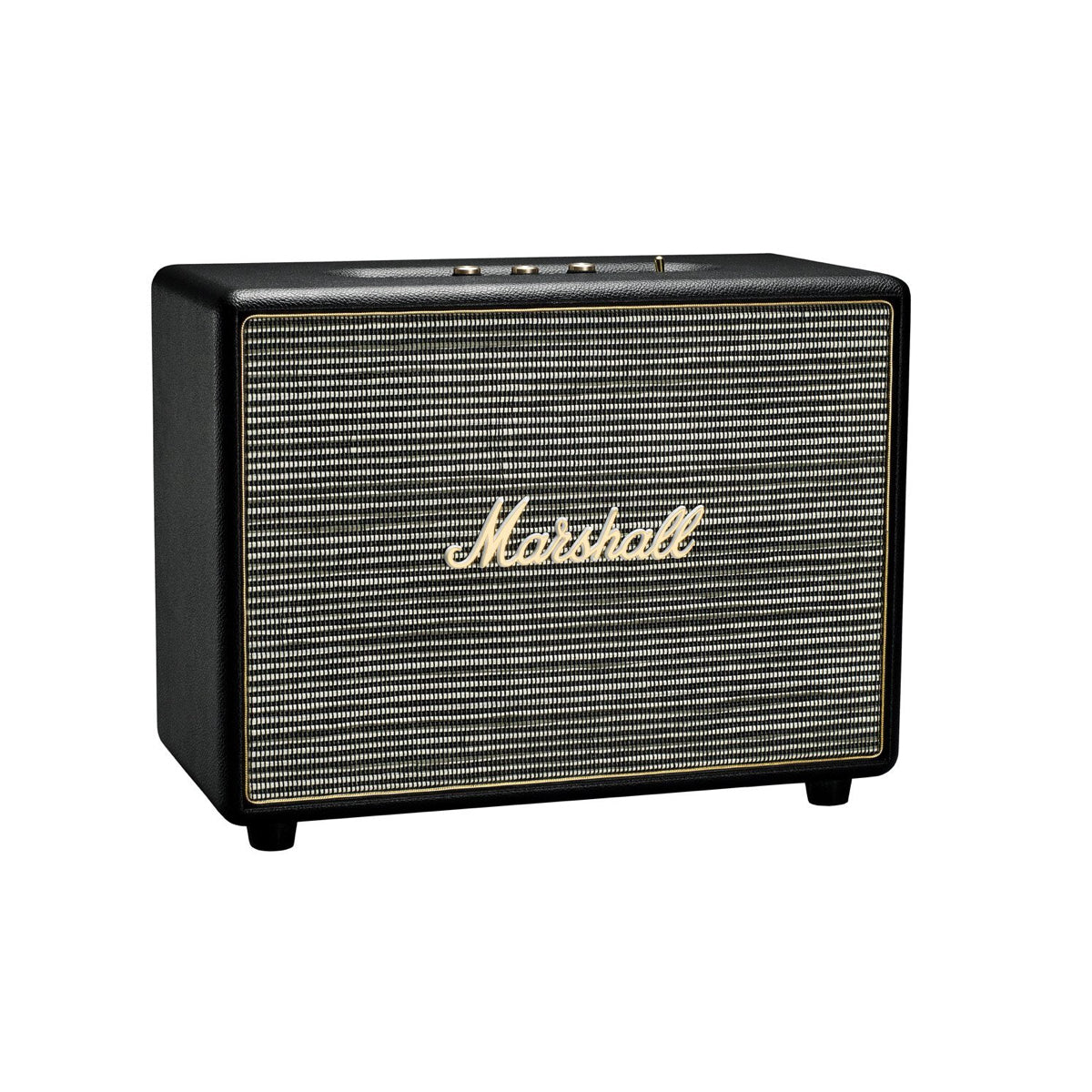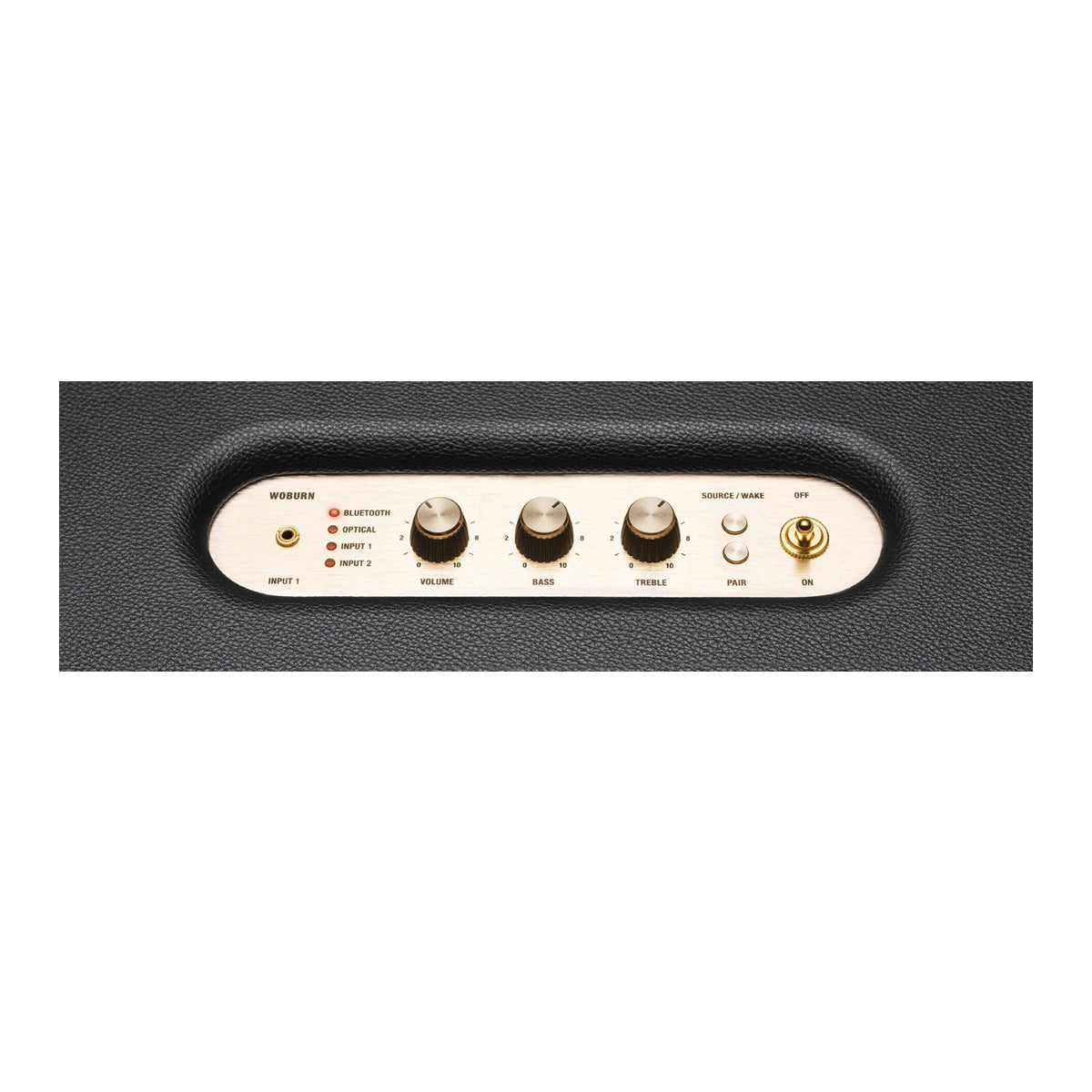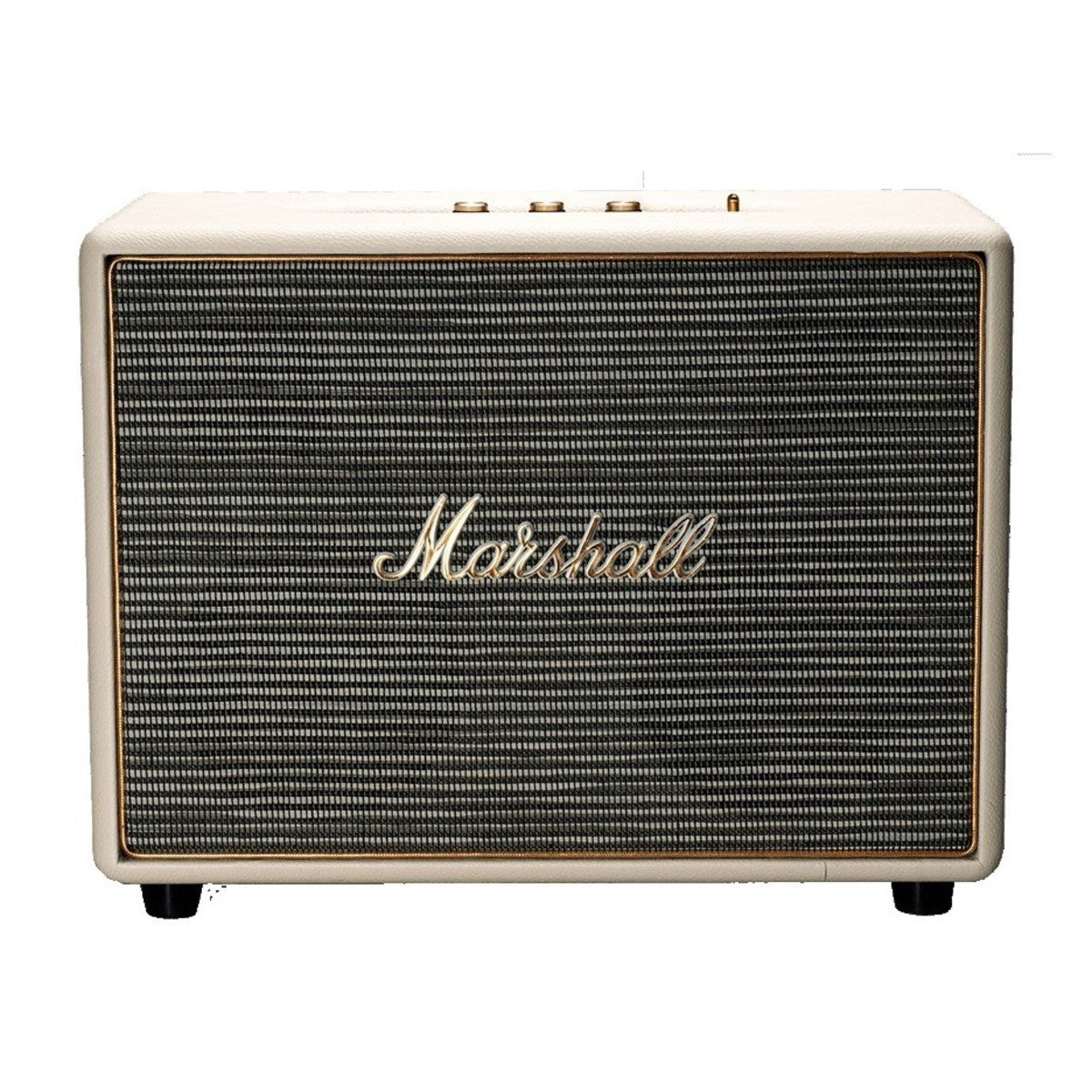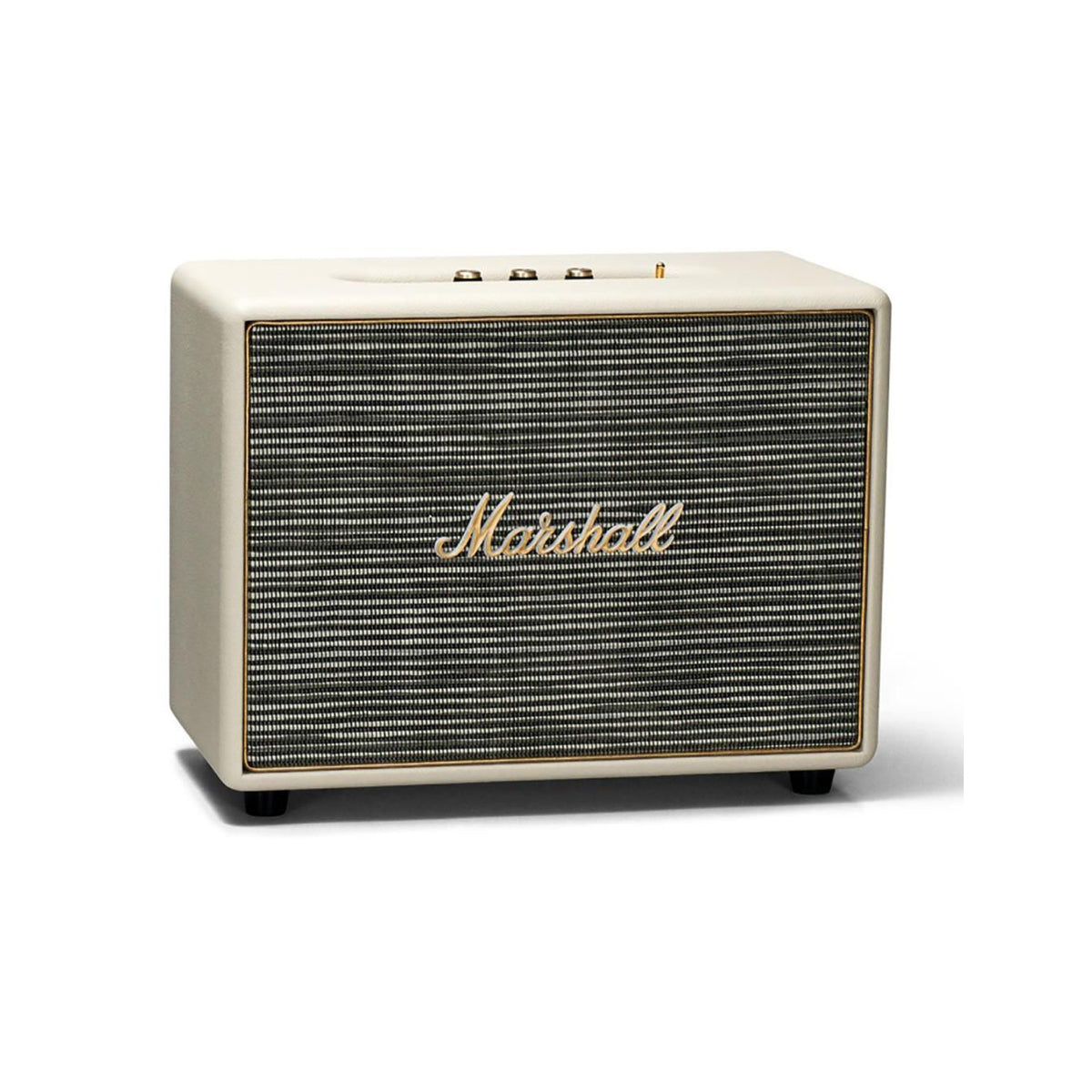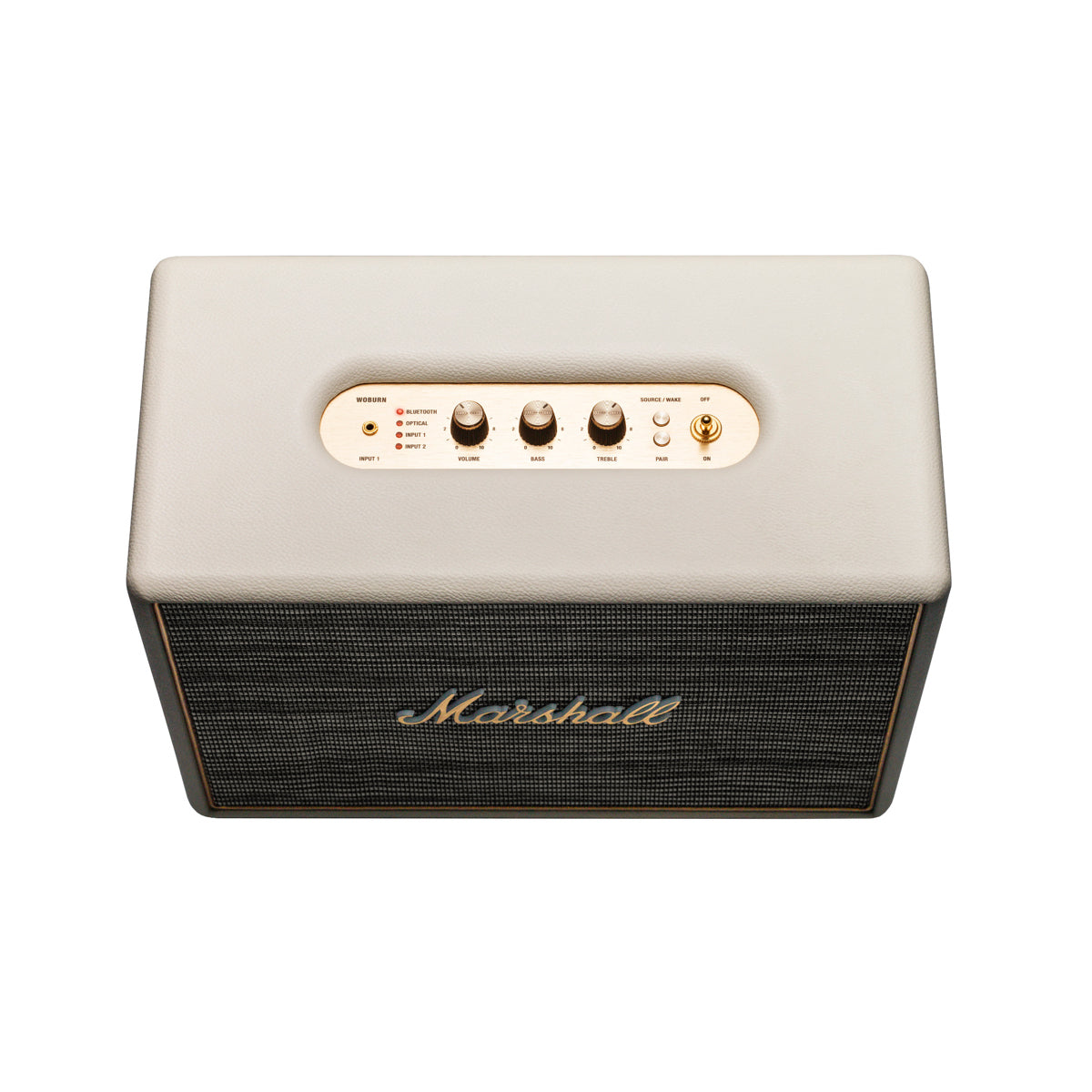 Marshall Woburn Bluetooth
MARSHALL WOBURN BLUETOOTH 
Dig Out Those Records
Go analogue and connect to those devices that may be collecting dust in your basement. So come on, dust off your CD player, cassette player or turntable (with RIAA) and connect via the RCA input.
Modern Listening Capabilities

 
The Woburn is all about modern listening capability. That's why Marshall added the option of connecting digitally via an optical cable. Hook your Woburn up to your TV, Apple TV, Airport express, hard disk player, streaming play and satellite or cable rece

Just like the glory days of rock 'n' roll, the Woburn speaker is all about freedom, allowing you to play your favourite music multiple ways.
Choose from the 3.5mm auxiliary input, connect wirelessly via Bluetooth, plug in your record player to the RCA input or use the optical output for devices like Apple TV.
Woburn's big and powerful sound holds true to the Marshall legacy.
Customise Your Sound
Woburn's top brass plate features controls for bass, treble and volume. The custom control analogue interaction knobs allow you to fine-tune to the exact sound you desire.
Classic Marshall Design
With its gold script logo, gold piping, vinyl casing and vintage-inspired fret grille cloth, the Woburn is an instant classic that harkens back to over 50 years of Marshall design and heritage.
Monster Sound
With unique sound design and quality components, the Woburn is built to thrill. This loudspeaker hits high trebles cleanly, handles low bass with ease, and has a clear and lifelike mid range. The overall experience is powerfully rendered music full of punch and drive.
Bluetooth Connectivity

 
Use your Bluetooth®-enabled smartphone, tablet or computer to stream music directly to your Woburn with no wires attached.
3.5MM Input & Double Ended Cable
Inspired by the golden days of rock'n'roll, this coiled double-ended stereo cable with two 3.5mm plugs is a modern take on the classic telephone guitar cord cable. Kink-free and extendable, it's your music device's connection to a world of great sound.
| | |
| --- | --- |
| Power Amplifiers | One 50 Watt Class D amplifier for the woofer, Two 20 Watt Class D amplifiers for the tweeters |
| Cabinet Principle | Bass-reflex |
| Maximum Sound Pressure Level | 110 dB @ 1 m |
| Frequency Range | 35 - 22,000 Hz |
| Adjustable Bass And Treble Controls | Fine tune your music using the analogue controls on your speaker |
| Stereo/Mono | Stereo |
| Weight | 7.90 kg |
| Dimensions | 15.75 x 11.40 x 7.87 in |
| | |
| --- | --- |
| Power Amplifiers | One 50 Watt Class D amplifier for the woofer, Two 20 Watt Class D amplifiers for the tweeters |
| Cabinet Principle | Bass-reflex |
| Maximum Sound Pressure Level | 110 dB @ 1 m |
| Frequency Range | 35 - 22,000 Hz |
| Adjustable Bass And Treble Controls | Fine tune your music using the analogue controls on your speaker |
| Stereo/Mono | Stereo |
| Weight | 7.90 kg |
| Dimensions | 15.75 x 11.40 x 7.87 in |