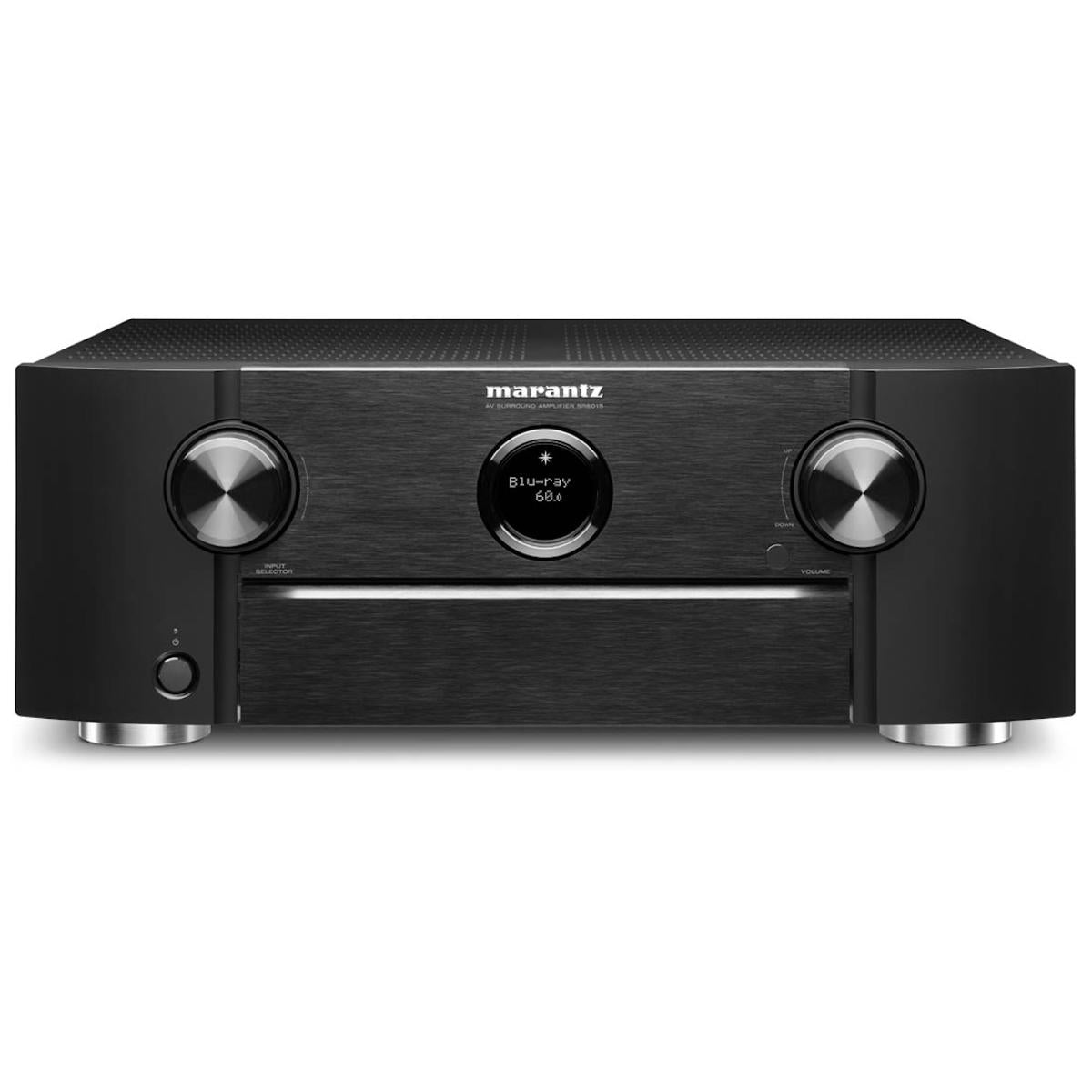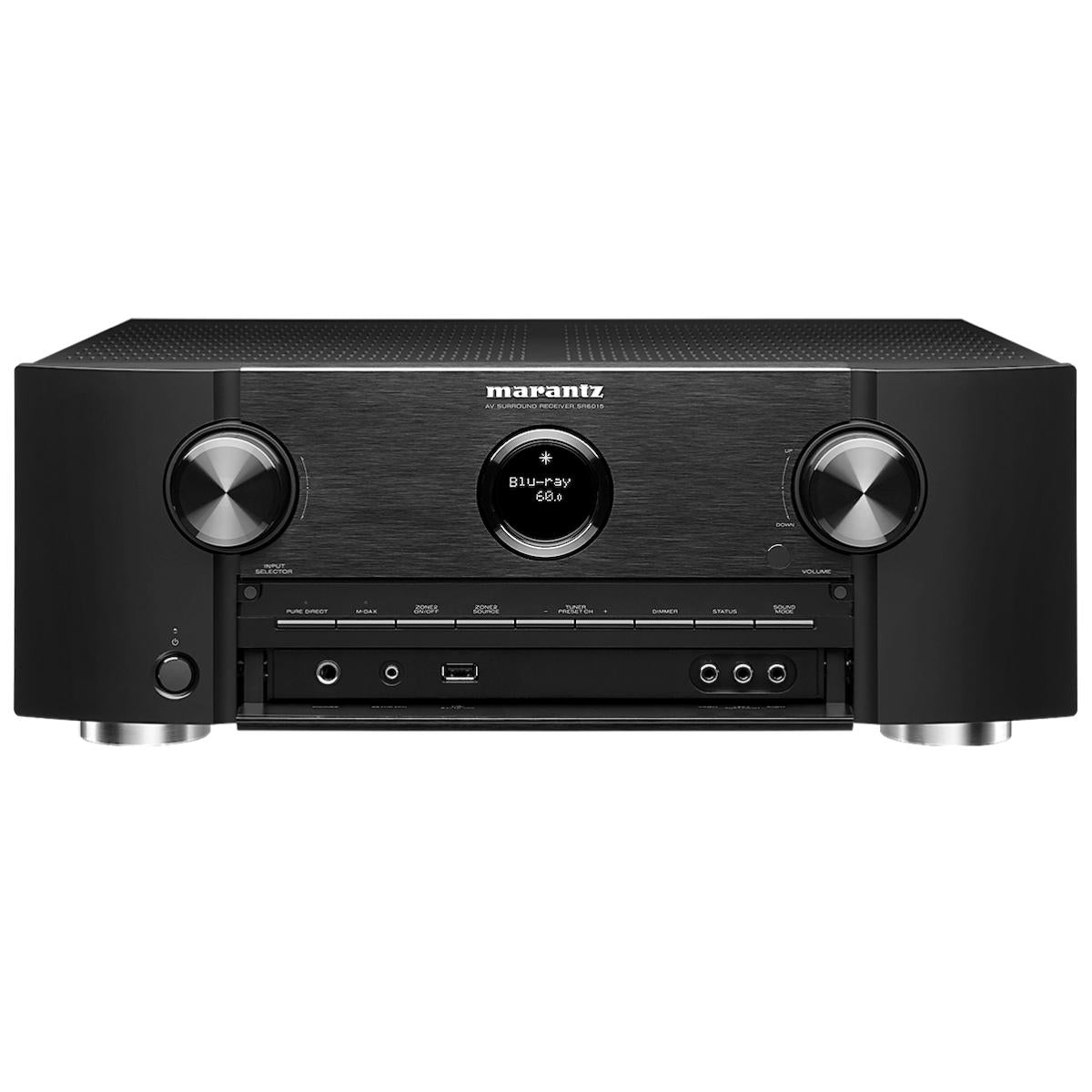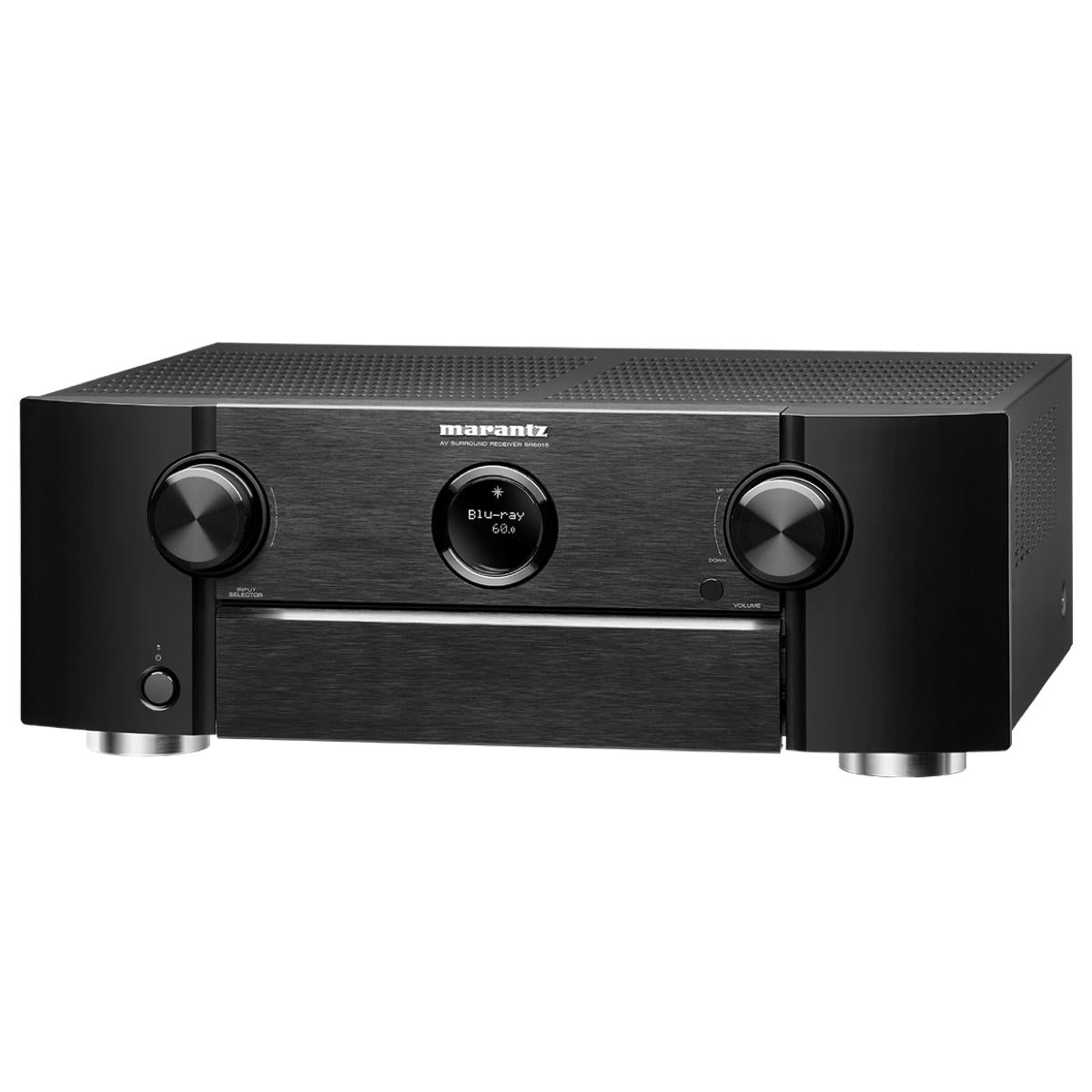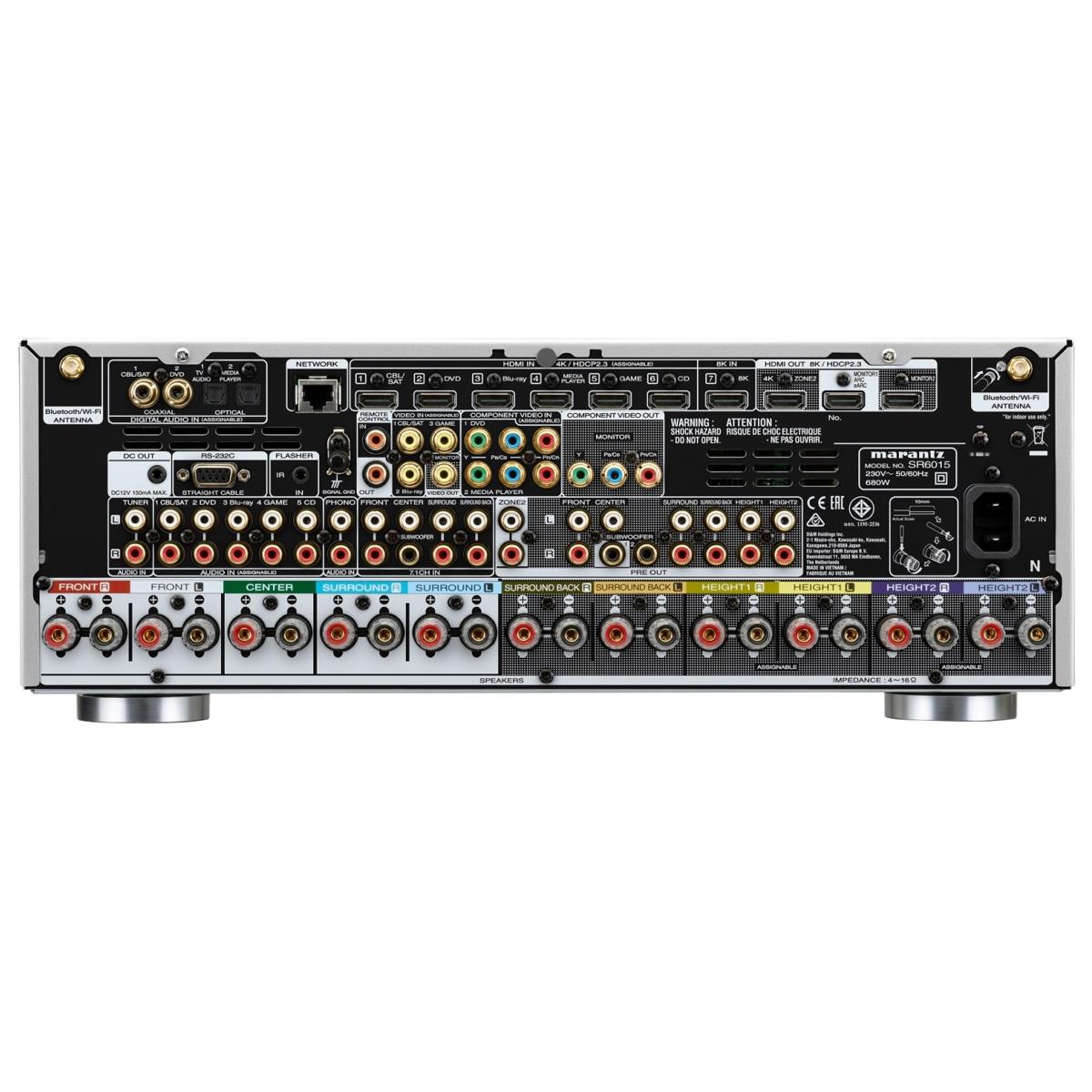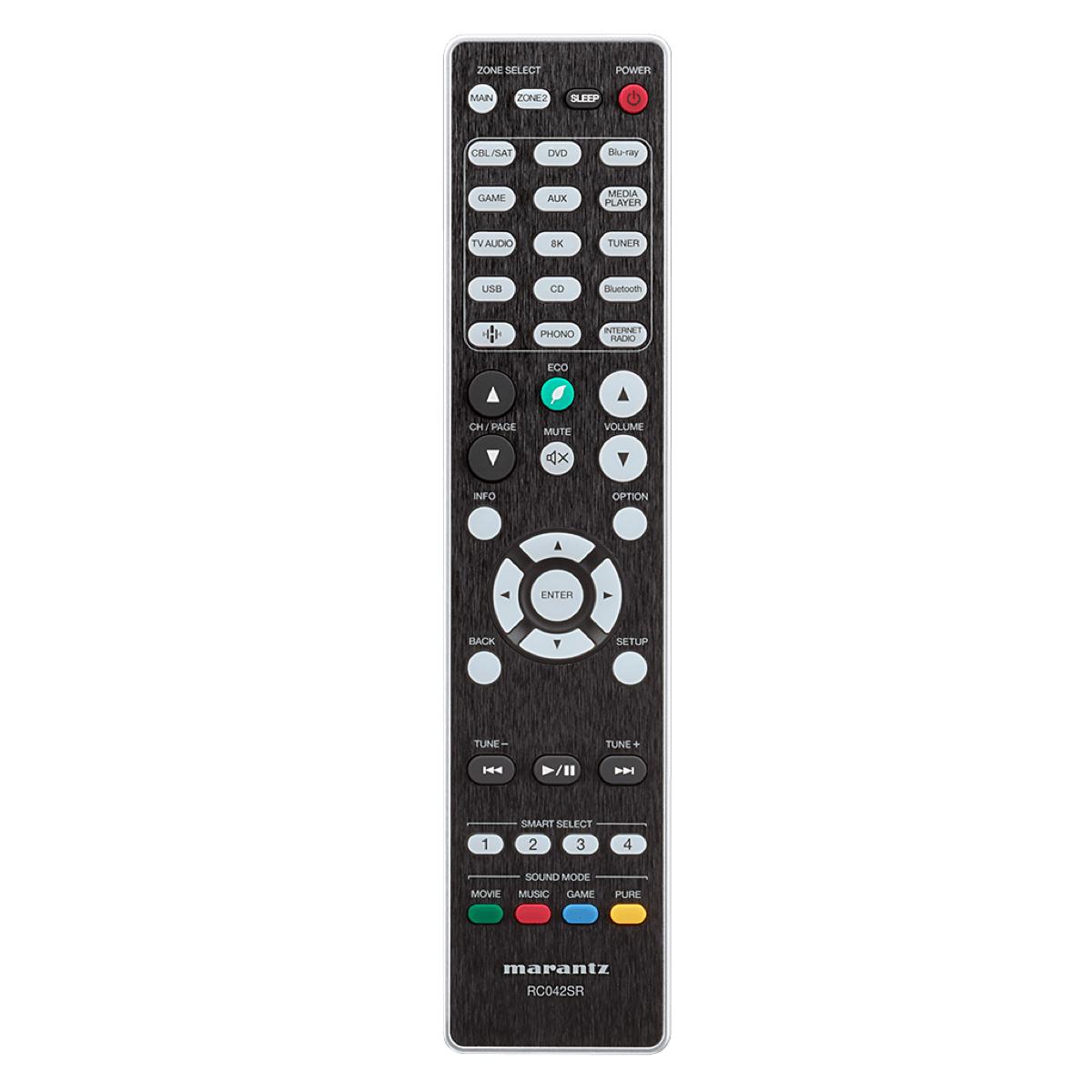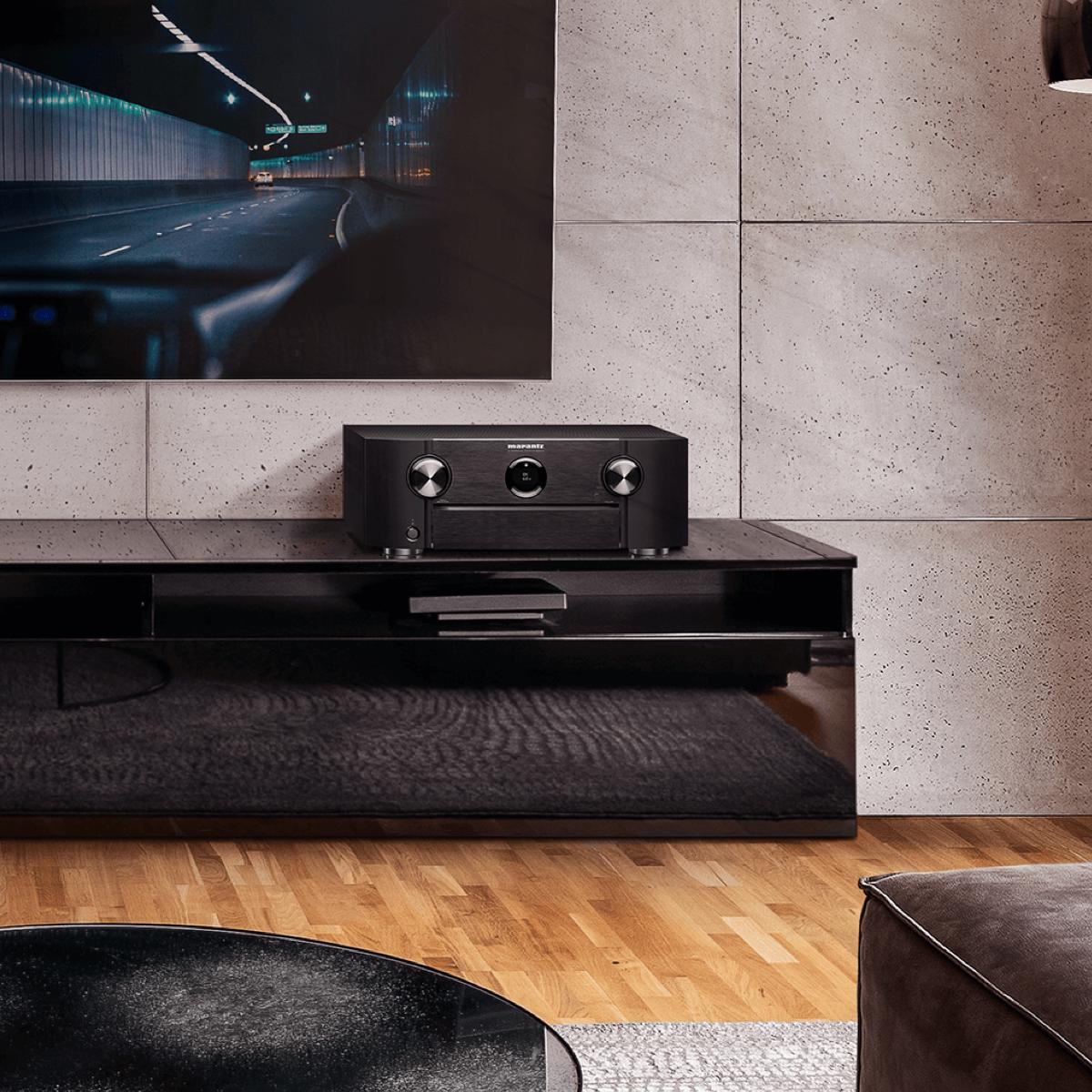 Marantz SR6015 - 9.2 Channel 8K AV Amplifier
SR-6015
Drive exquisitely detailed home cinema with this powerful SR6015 AV amplifier. Delight in the most musical sound for any source - from movies, to vinyl, to digital streaming. It's the perfect sonic accoutrement for any occasion. Totally immerse yourself in movies and TV with elevated, high-resolution surround sound through Dolby Atmos, DTS:X and IMAX Enhanced. Stream music from leading services, and listen to music in your whole home with HEOS Built-in.
Enjoy exquisite video performance thanks to the latest HDMI technologies such as 8K/60Hz pass-through and upscaling, various HDR format support including HDR10, HDR10+, Dolby Vision, Hybrid Log-Gamma (HLG) and Dynamic HDR. Game with better immersion thanks to 4K/120Hz pass-through, Variable Refresh Rate (VRR) and Auto Low Latency Mode (ALLM).
Extensively tuned by world-renowned sound acousticians at the most state-of-the-art facilities, the new Marantz SR6015 leverages decades of experience in Hi-Fi to drive exceptional, audiophile-quality surround sound for all your entertainment.
Key Features
Premium Performance 9 channel amplifier: 9.2 channel discrete power amplifier, 185W per channel, with 11.2 channel processing capability to further expand the system.

8K/60Hz and 4K/120Hz pass-through support for every entertainment need:




With the latest technology in HDMI support, enjoy 8K quality video from your 8K source devices or with 8K upscaling from Full HD or 4K sources.

Support for the most advanced object-based audio formats: Dolby Atmos, Dolby Atmos Height Virtualization Technology, DTS:X, DTS Virtual:X and IMAX Enhanced processing are all supported to allow you to listen to immersive, multi-dimensional audio.

Enhanced Audio Return Channel (eARC) HDMI support: Through the main HDMI output, connect your TV with eARC HDMI support to allow uncompressed and object-based audio formats like Dolby Atmos and DTS:X directly from a smart TV app to your AV amplifier.

Bringing you the latest in video compatibility: Support for the latest HDR formats including HDR10, HDR10+, HLG, Dolby Vision, 4:4:4 colour resolution and BT.2020, as well as Dynamic HDR provides exceptional picture quality for brightness, clarity and contrast.

The greatest technology for home cinema: With 8K/60Hz pass-through and upscaling, Dynamic HDR and Quick Media Switching (QMS), enjoy crystal clear picture and accurate detail.

Advanced gaming specifications: With 4K/120Hz pass-through, Variable Refresh Rate (VRR), Auto Low Latency Mode (ALLM) and Quick Frame Transport (QFT), experience gaming thrills with amazing imaging and reduced lag.

High-resolution audio streaming for audiophile approved sound: Ability to decode ALAC, FLAC and WAV lossless files up to 24-bit/192-kHz; DSD 2.8MHz and 5.6MHz tracks — enjoy your music exactly as the artist intended.

Exclusive components that elevate Marantz sonic signature: Marantz proprietary HDAM circuit boards, Current Feedback circuitry, AKM AK4458 32-bit D/A converters, and Hybrid PLL Clock Jitter Reducer for more detailed, dynamic sound.

Stream music from your favourite sources: Stream from music services like Spotify Free and Premium, Amazon Music HD, Tidal and more, or stream directly from smart devices via AirPlay 2 or Bluetooth.

Features HEOS Built-in: Your key to digital music streaming, multi-room audio and voice control throughout your entire home.

Supports all your favourite voice assistants: With the SR6015, simply use your voice to control your preferred voice assistant like Amazon Alexa, Google Assistant and Apple Siri.
Powerful 9-Channel Discrete Amplifier
Featuring discrete high-current power amplifiers on all channels, the SR6015 delivers 185W of power per channel. With low impedance driver capability, it offers operational stability with a wide range of speakers for balanced, quality sound. Auto Eco Mode adjusts power output to speakers based on volume level and on-screen eco meter, delivering power consumption reduction in real-time without sacrificing superb Marantz sound.
Advanced 8K HDMI Connectivity with eARC Support
The new Marantz SR6015 includes 7 HDMI inputs and 3 outputs for all your favourite sources. One dedicated 8K input supports 8K/60Hz and 4K/120Hz pass-through capability, 4:4:4 Pure Color sub-sampling, Dolby Vision, HLG, HDR10, 21:9 video, 3D and BT.2020 pass-through. Additionally, the latest HDCP 2.3 copy protection standard is supported on all HDMI ports. Showcasing the latest HDMI technology and specifications, the new SR6015 lets you take home entertainment to the next level with HDR10+, Dynamic HDR, ALLM, VRR, QMS and QFT support. The video processor is capable of upscaling native video sources up to 8K quality. The SR6015 also features HDMI eARC support, which supports 3D audio formats like Dolby Atmos and DTS:X in masterful quality from your TV apps. Conveniently, your HDMI inputs automatically rename themselves with information provided by the source (when available).
Elevated Home Cinema
The new SR6015 lets you enjoy all your entertainment in the highest quality formatting available. Screen your movies in 8K with 8K/60Hz pass-through or upscaling, and take advantage of advanced video technologies like Dynamic HDR, HDR10+ or Dolby Vision. Quick Media Switching (QMS) eliminates previously known video delay.
Superior Gaming
The new SR6015 offers gaming in its highest quality to date. Enjoy your gaming with 4K/120Hz pass-through, as well as Variable Refresh Rate (VRR), Quick Frame Transport (QFT), and Auto Low Latency Mode (ALLM), which reduces or eliminates lag and frame tearing for a smoother, lag-free gaming experience.
Bluetooth Audio Transmission
Watch the latest movie or listen to music without waking the house. Listen to the audio on Bluetooth-connected headphones wirelessly and main speakers off, not to disturb anyone around you. The SR6015 allows you as well to play audio on both Bluetooth headphones and connected speakers simultaneously. If you have a family member or a friend who is hearing impaired, this is a great option to enjoy a movie together without raising the overall volume.
Built-in Dual Speaker Preset Memory
The new SR6015 stores two Audyssey settings and switches between the two settings on the fly, giving you the freedom to tweak your listening experience based on content or listening environment.

Channels

9.2

Power Output per Channel

2-Channel Driven: 110 W at 8 Ohms / 20 Hz to 20 kHz / 0.08% THD, 150 W at 6 Ohms / 1 kHz / 0.7% THD

1-Channel Driven: 220 W at 6 Ohms / 1 kHz / 10% THD

Speaker Impedance

4 to 16 Ohms

DTS Compatibility

DTS-HD Master Audio, DTS:X

Dolby Compatibility

Dolby Atmos, Dolby TrueHD

Auro 3D Support

No

Upmixing Technology

Dolby Surround, DTS Neural:X, DTS Virtual:X, Dolby Atmos Height Virtualization Technology

Supported File Formats

AAC, ALAC, DSD, FLAC, MP3, WAV, WMA

DAC

AKM AK4458 32-Bit

HDR Compatibility

HDR10, HDR10+, Dolby Vision, Hybrid Log Gamma

Pass-Through Support

8K60p 4:4:4 (3D, BT.2020)

Upscaling

8K

GUI

Yes

Rear A/V Inputs

7 x HDMI

2 x 3RCA Component

3 x RCA Composite

2 x Optical TOSLINK

2 x Digital Coaxial

5 x Stereo RCA

1 x Stereo RCA (Phono) with Ground Screw

1 x 7.1-Channel RCA

Rear A/V Outputs

3 x HDMI

1 x 3RCA Component

1 x RCA Composite

2 x RCA Subwoofer

1 x 11-Channel RCA Pre-Out

1 x Stereo RCA Zone 2 Pre-Out

Front I/O

1 x USB Type-A Input

1 x RCA Composite Input

1 x Stereo RCA Input

1 x 1/8" / 3.5 mm Setup Mic Input

Other Rear I/O

2 x Bluetooth/Wi-Fi Antenna Terminal Input

1 x AM Antenna Terminal Input

1 x FM Antenna Terminal Input

1 x RJ45 (Ethernet)

1 x DE-9 (RS-232C)

1 x 1/8" / 3.5 mm (12 V Trigger) Output

1 x 1/8" / 3.5 mm (IR) Input

Speaker Connectors

11 x Gold-Plated Binding Post Pairs

HDCP Support

Version 2.3

Audio Return Channel (ARC)

Yes, eARC

HDMI CEC

Yes

Wireless Audio Protocols

AirPlay 2, HEOS

Dimensions (W x H x D)

17.3 x 6.3 x 15.7" / 43.9 x 16.0 x 39.9 cm (Antenna Down)

17.3 x 9.0 x 15.7" / 43.9 x 22.9 x 39.9 cm (Antenna Up)

17.3 x 6.3 x 15.3" / 43.9 x 16.0 x 38.9 cm (Antenna Removed)

Weight

28.2 lb / 12.8 kg
Channels

9.2

Power Output per Channel

2-Channel Driven: 110 W at 8 Ohms / 20 Hz to 20 kHz / 0.08% THD, 150 W at 6 Ohms / 1 kHz / 0.7% THD

1-Channel Driven: 220 W at 6 Ohms / 1 kHz / 10% THD

Speaker Impedance

4 to 16 Ohms

DTS Compatibility

DTS-HD Master Audio, DTS:X

Dolby Compatibility

Dolby Atmos, Dolby TrueHD

Auro 3D Support

No

Upmixing Technology

Dolby Surround, DTS Neural:X, DTS Virtual:X, Dolby Atmos Height Virtualization Technology

Supported File Formats

AAC, ALAC, DSD, FLAC, MP3, WAV, WMA

DAC

AKM AK4458 32-Bit

HDR Compatibility

HDR10, HDR10+, Dolby Vision, Hybrid Log Gamma

Pass-Through Support

8K60p 4:4:4 (3D, BT.2020)

Upscaling

8K

GUI

Yes

Rear A/V Inputs

7 x HDMI

2 x 3RCA Component

3 x RCA Composite

2 x Optical TOSLINK

2 x Digital Coaxial

5 x Stereo RCA

1 x Stereo RCA (Phono) with Ground Screw

1 x 7.1-Channel RCA

Rear A/V Outputs

3 x HDMI

1 x 3RCA Component

1 x RCA Composite

2 x RCA Subwoofer

1 x 11-Channel RCA Pre-Out

1 x Stereo RCA Zone 2 Pre-Out

Front I/O

1 x USB Type-A Input

1 x RCA Composite Input

1 x Stereo RCA Input

1 x 1/8" / 3.5 mm Setup Mic Input

Other Rear I/O

2 x Bluetooth/Wi-Fi Antenna Terminal Input

1 x AM Antenna Terminal Input

1 x FM Antenna Terminal Input

1 x RJ45 (Ethernet)

1 x DE-9 (RS-232C)

1 x 1/8" / 3.5 mm (12 V Trigger) Output

1 x 1/8" / 3.5 mm (IR) Input

Speaker Connectors

11 x Gold-Plated Binding Post Pairs

HDCP Support

Version 2.3

Audio Return Channel (ARC)

Yes, eARC

HDMI CEC

Yes

Wireless Audio Protocols

AirPlay 2, HEOS

Dimensions (W x H x D)

17.3 x 6.3 x 15.7" / 43.9 x 16.0 x 39.9 cm (Antenna Down)

17.3 x 9.0 x 15.7" / 43.9 x 22.9 x 39.9 cm (Antenna Up)

17.3 x 6.3 x 15.3" / 43.9 x 16.0 x 38.9 cm (Antenna Removed)

Weight

28.2 lb / 12.8 kg