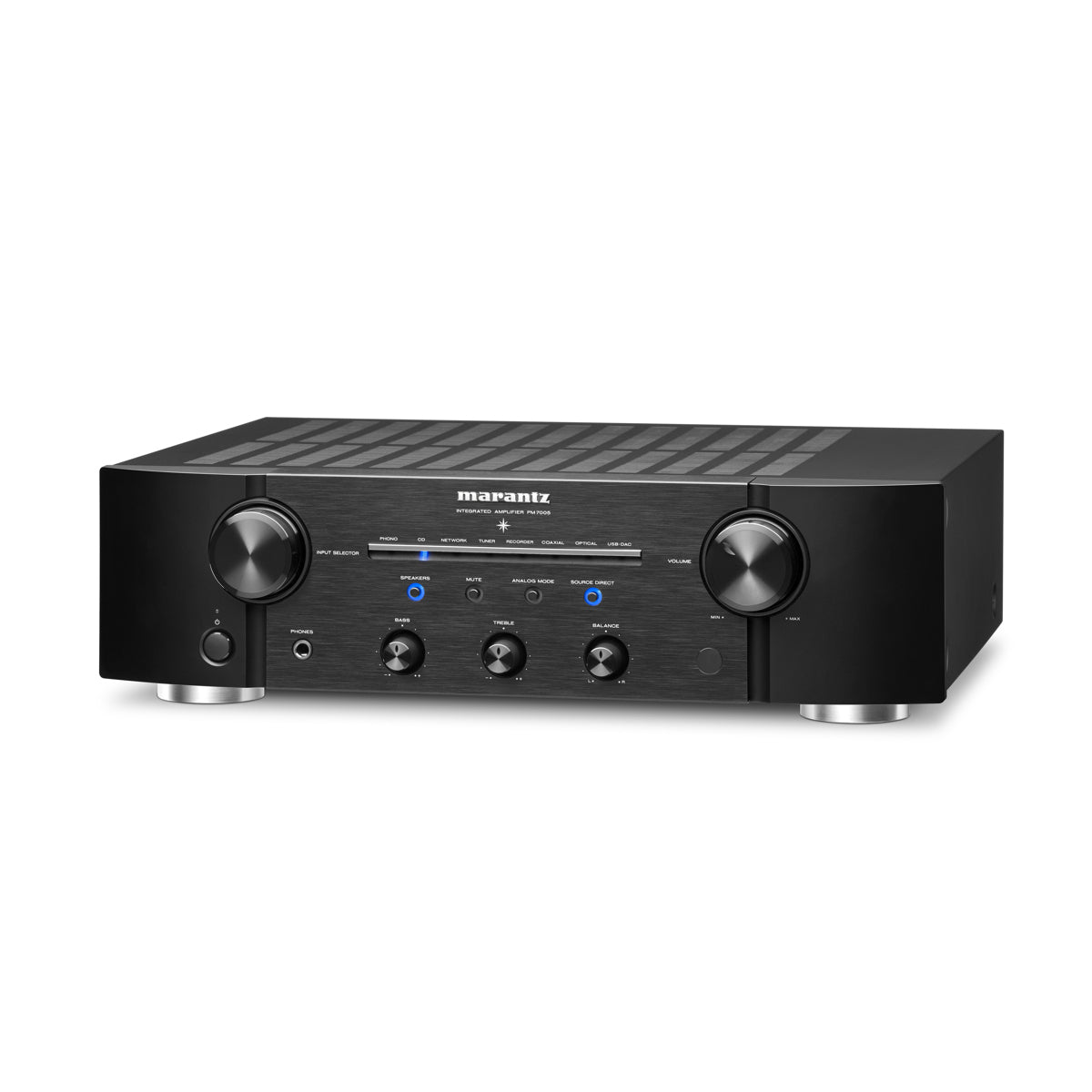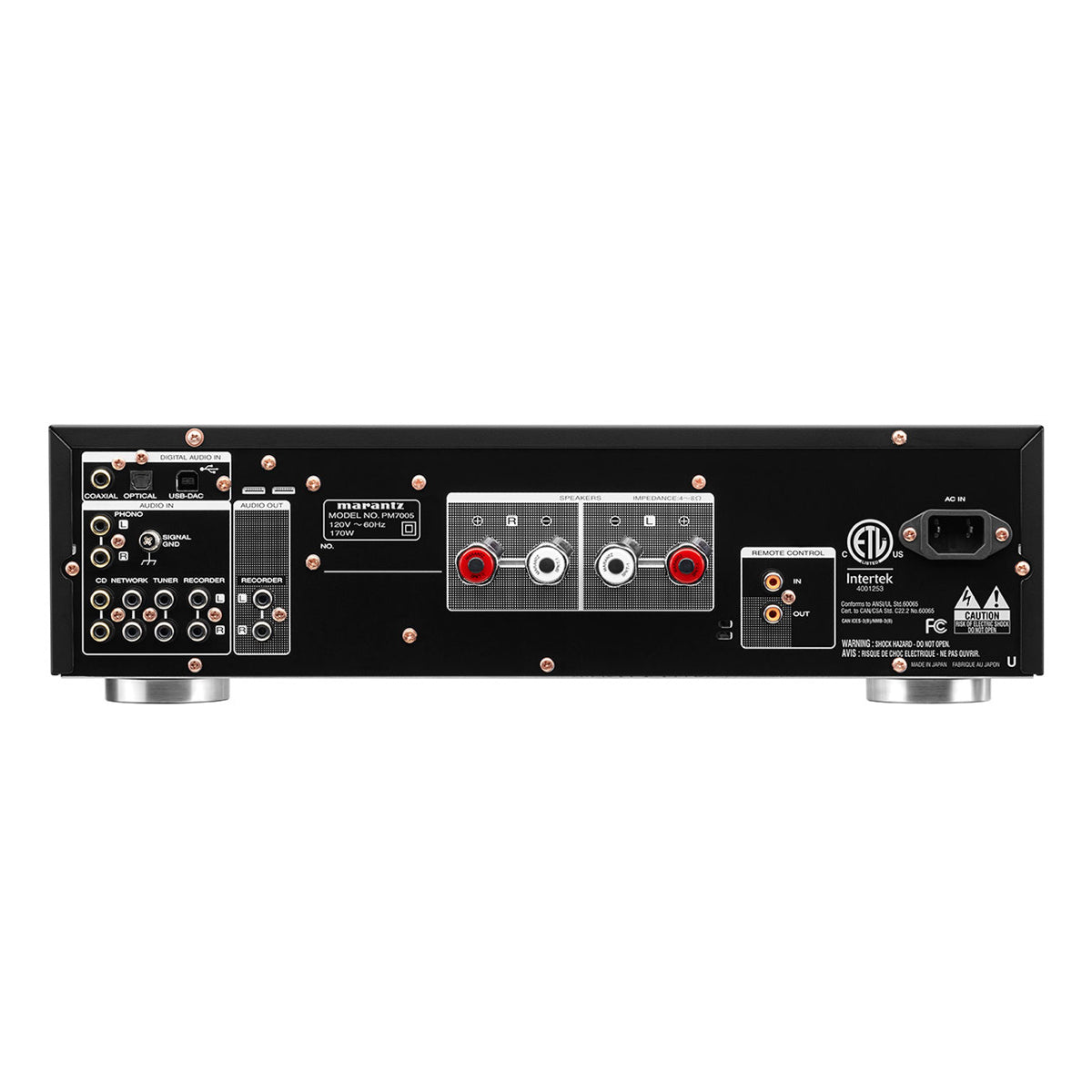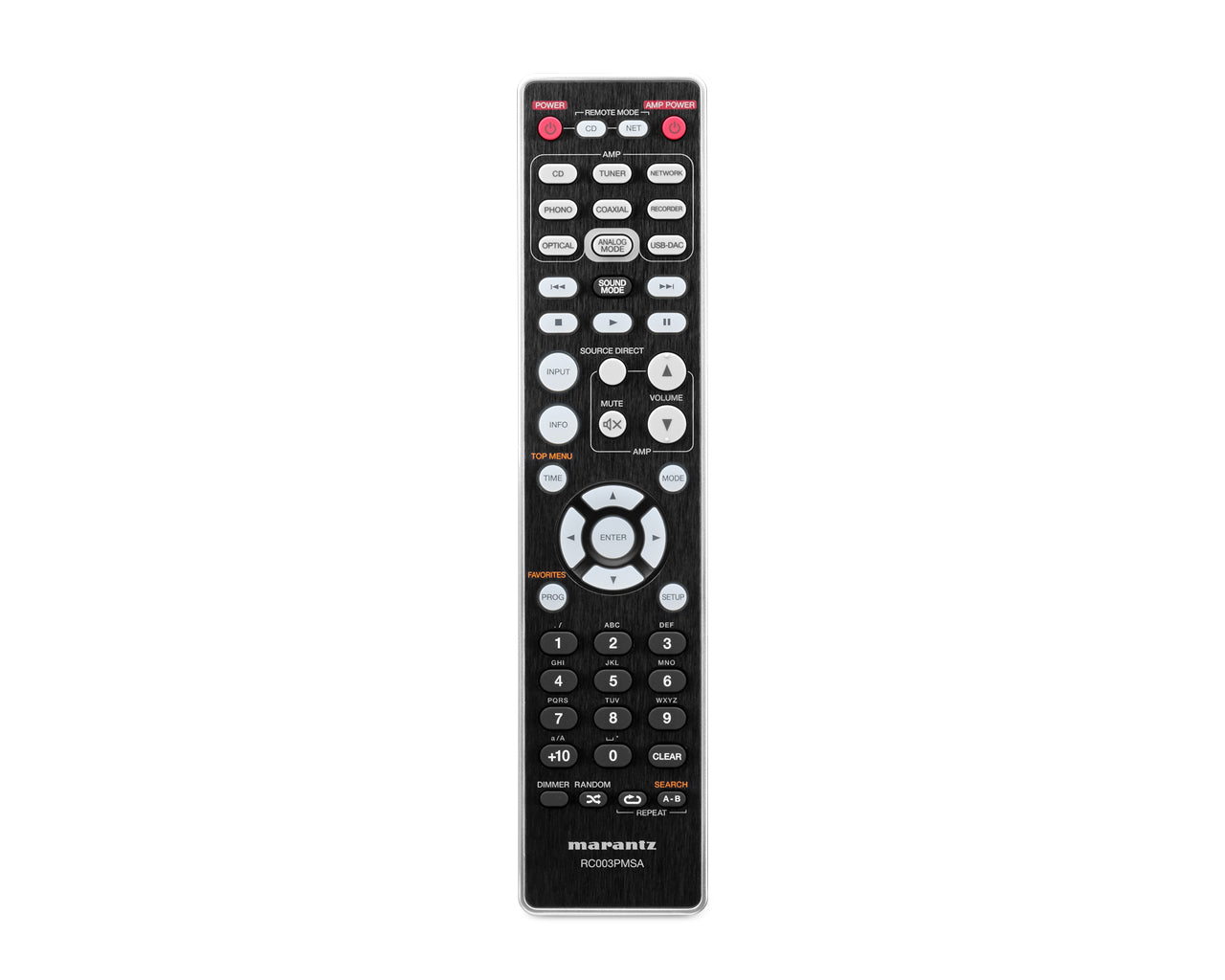 Marantz PM7005 - Integrated Amplifier
PM-7005
The PM7005 is a fully discrete, current feedback integrated amplifier with USB-DAC functionality. It is simply perfect for audiophiles wanting both excellent music quality and a maximum of flexible operation, which is provided by the highly versatile DAC-mode. The amplifier delivers a powerful 2x 60W into 8 ohm, while the symmetrical circuits ensure perfect image balancing. To guarantee best sound quality, the PM7005 includes high-grade audio components, current feedback HDAMs and a high-speed instantaneous current power supply. It also comes with the same high grade speaker terminals as used in the PM8005 for the best possible speaker connectivity. The DAC-mode features optical and coaxial digital inputs as well as a USB-B port, which means you can directly connect your computer to the PM7005 and benefit from its high-quality DAC CS4398 and its HDAM-SA3 module-equipped audio output stage for great audio performance. The amp operates as a soundcard for the computer and the USB-B port works in asynchronous mode and 'bit-perfect' to support not only 192kHz / 24bits but also the DSD 2.8MHz and 5.6MHz high-resolution audio. All this digital dazzle is at your fingertips so you can enjoy your digital media wherever you want. But because we also care about the sensitive analogue signal from other sources as well, we builtin the Analog Amp Mode – which simply switches off the digital section completely, enabling you to enjoy the purest analogue audio you can possibly imagine. Perfect for your vinyls.
MAIN FEATURES
Integrated Current Feedback Amplifier with 2x 80W / 4 ohm rms

Selected high quality audio components

Marantz proprietary HDAM SA3 circuits

Strong power supply with high current type Schottky diode

Marantz original gold-plated solid brass speaker terminals SPKT-1

Current Feedback Phono equalizer (MM)

Digital optical and coaxial inputs with 192kHz/24bit D/A conversion

USB-B input for PCM 192kHz/24bit and DSD Audio Streaming (DSD2.8 & DSD5.6)

Signal isolator for DAC Mode operation

High quality and high current DA-Converter CS4398

"Analog Mode" for pure analogue listening switching off digital section

System remote to control Amplifier, CD-Player and Network Player
CUSTOMIZED COMPONENTS
On paper an electrical component might look excellent but the result may fall short of the combined design expectations. Marantz selects the appropriate components for the specific design application. In some cases it's simply not possible to use standard components that meet the high Marantz standards. These components will then be specially made for Marantz in close cooperation with the Marantz engineers.
HDAM SA3
Marantz developed its own discrete circuit boards to replace standard IC's. These HDAM's consists of discrete surface mount components with short mirror image L/R signal paths. Those devices are doing exactly the same thing as the Op-Amps, but outperform the regular IC Op-amps dramatically in terms of the Slew Rate and reduced noise level, resulting in a much more dynamic, accurate and detailed sound. Over the years Marantz developed different types of the HDAM to improve quality and to fit to the special requirements of a product category like CD or amplifier.
SHOTTKY DIODES
A Shottky diode is a special type of diode with a very low forward-voltage drop compared to normal diodes. This lower voltage drop translates into higher system efficiency. Shottky diodes have very fast signal handling, can easily stay higher temperatures and are sensitive very low voltages.
| | |
| --- | --- |
| Power Output (8 / 4 Ohm RMS) | 60 W / 80 W |
| Frequency response | 5 Hz-100 kHz |
| Total Harmonic Distortion | 0.02% |
| Damping Factor | 100 |
| Input Sensitivity: MM | 2 mV / 47 kOhm |
| Signal to Noise Ratio: MM | 85 dB |
| Input Sensitivity: High level | 200 mV / 20 kOhm |
| Signal to Noise Ratio: High level | 104dB (2V input) |
| | |
| --- | --- |
| Power Output (8 / 4 Ohm RMS) | 60 W / 80 W |
| Frequency response | 5 Hz-100 kHz |
| Total Harmonic Distortion | 0.02% |
| Damping Factor | 100 |
| Input Sensitivity: MM | 2 mV / 47 kOhm |
| Signal to Noise Ratio: MM | 85 dB |
| Input Sensitivity: High level | 200 mV / 20 kOhm |
| Signal to Noise Ratio: High level | 104dB (2V input) |