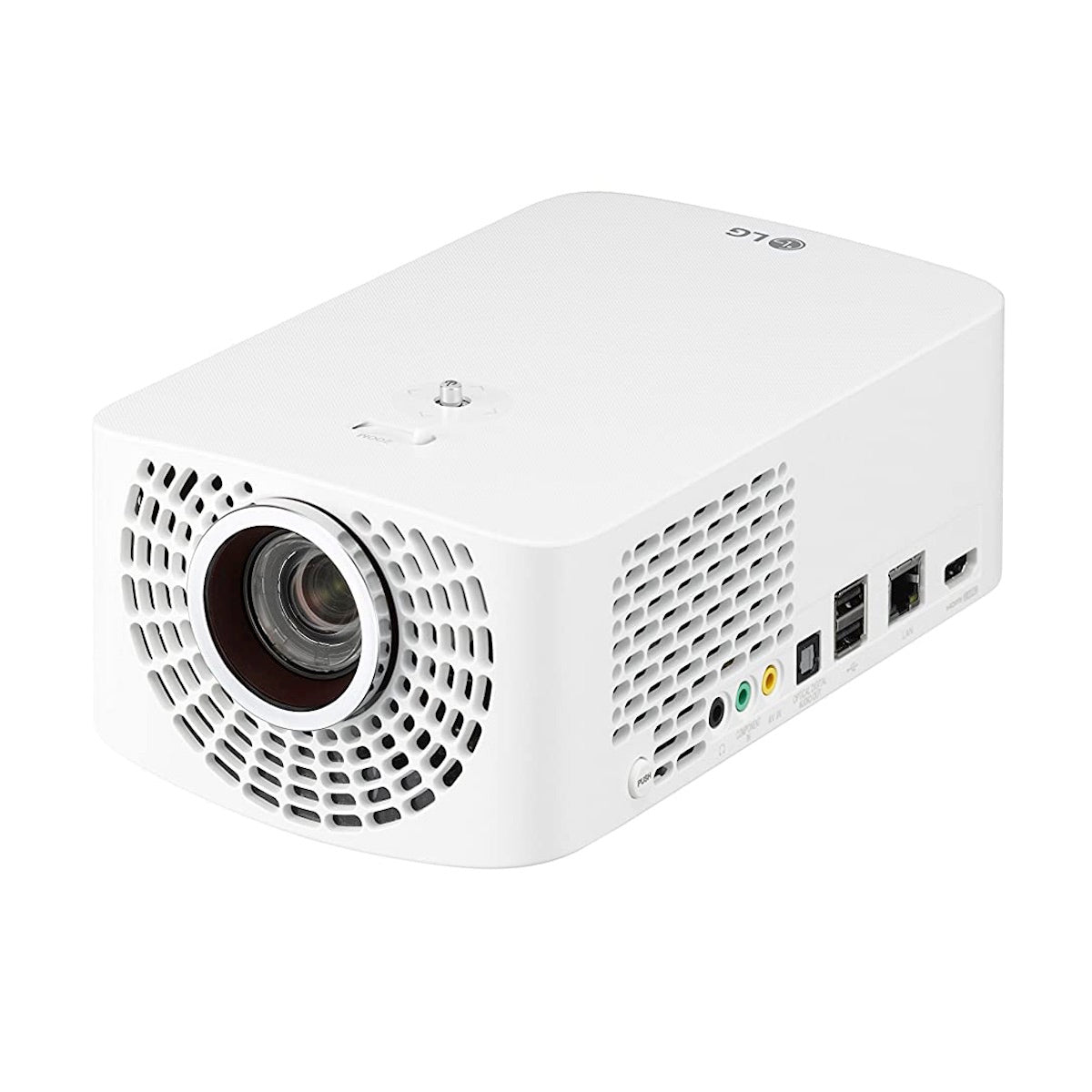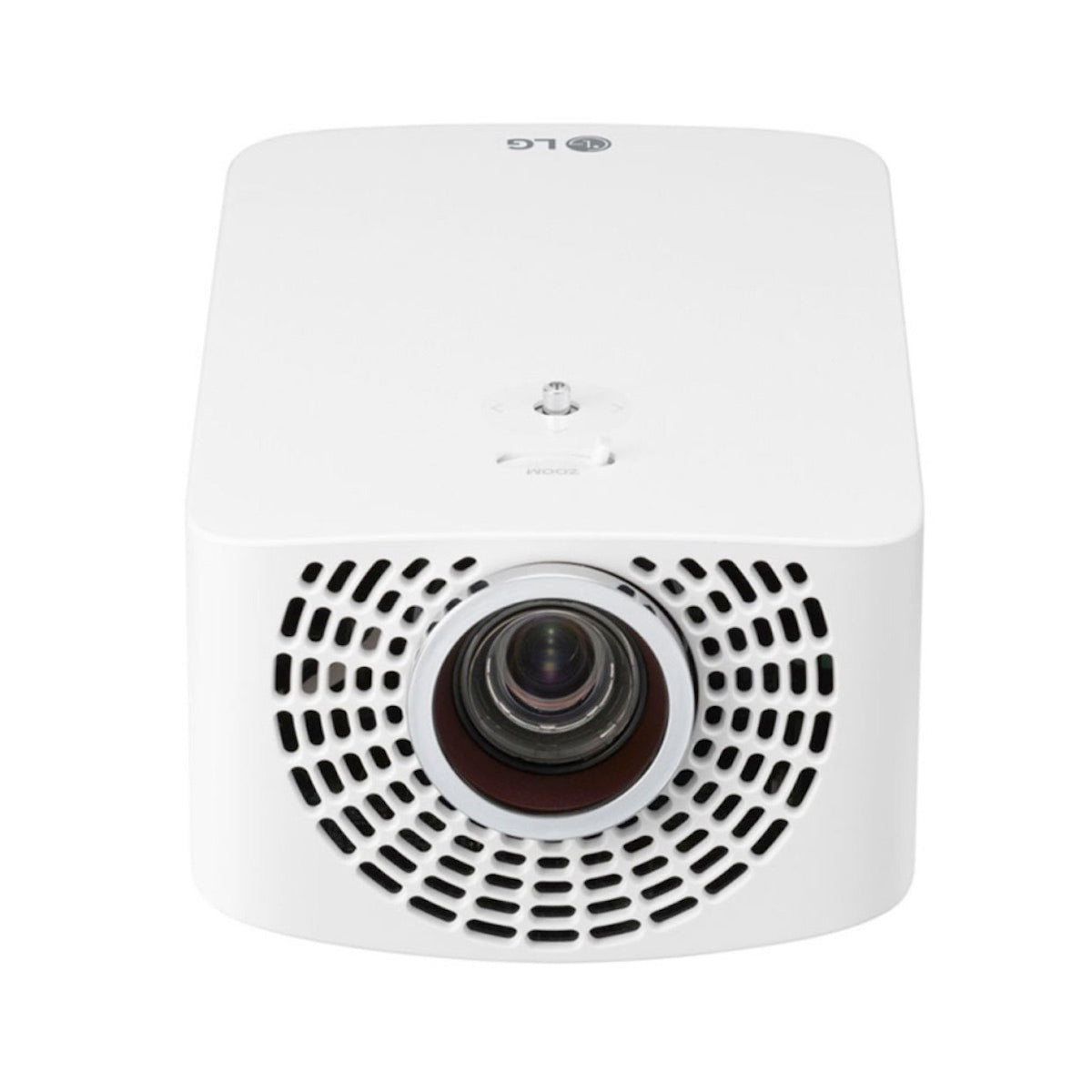 LG Projectors PF1500G - Full HD Projector
LG PF1500G - FULL HD PROJECTOR
KEY FEATURES
Full HD (1920x1080)

1400 LUMEN

Contrast Ratio:150,000:1

3W + 3W Stereo

Lamp Life : 30,000 hours
The finest portable LED projector ever experienced
PF1500G has powerful picture quality with FHD (1080P) 1400 Lumens. Wireless mobile connection, bluetooth sound out.
Vivid and Clear 1080P Picture Quality
The LG Minibeam Pro(PF 1500G) offers clear 1080P picture quality with 1400Ansi high brightness, 150,000:1 contrast ratio, LED light and triple XD Engine. Innovative 1400 Ansi high brightness provides more clear visibility.With 140,000:1 contrast,it presents impressive white and black achromatic colors. gives 114 vivid chromatic color.
Viewing experience up to 120 (304.8cm) in size
LG Minibeam Pro, PF1500G gives you an cinematic viewing experience with up an extra large 120 (304.8cm) class size. The sheet size of the projector, which is equal to four 60 (152.4cm) TV's, will make your home cinema experience so immersive you will feel like you brought the theater into your home.
Wireless Screen Share with Mobile Devices
Unlike conventional projectors, LG's Screen Share provides wire-free experiences when connecting PC, smartphones, or tablets.
Lap top Free projector
When watching movies or having presentations, don't need to connect PC anymore. Just plug and play USB to watch movies, pictures, music and office files like PPT, Excel, and Word.
Live TV anywhere
LG Minibeam pro, PF1500G is a portable projector with TV functions. Be it the TV tuner, PF1500G is able to receive over-the-air TV signals to enjoy real-time sports games and TV shows with up to 120 (304.8cm) class size.
Design for Easy Installation
PF1500G provides 1.1x Zoom and 4corner keystone for easy installation. It corrects distortion and missed distance of picture.
Semi-permanent LED illumination system
LG's LED light lasts for 30,000 hours. It means you can use it 20 years when using 4 hours a day. Don't spend lamp replacement cost anymore.
USB Plug & Play
Listen to music or view movies, photos and files through USB Plug & play.
Triple XD Engine
The essence technique of half century history LG TV, adjusts picture more clearly to represent picture more naturally.
 Eco-Friendly LED
LG's MiniBeam projector a mercury free LED projector which helps in less power consumption and no lamp replacement.
2 HDMI, MHL
HDMI is a proprietary audio/video interface for transferring uncompressed video data and compressed or uncompressed digital audio data.
Full HD (1920x1080)
LG provides a graphic display resolution which is best in class display resolution for good picture clarity and sharpness in detail.
Display System

0.47" DLP

Native Chip Resolution

1920 x 1080 (Full HD)

Max Brightness

1400 Lumens

Aspect Ratio

Native: 16:9

Supported: 4:3

Dynamic Contrast Ratio

150,000:1

Focus

Manual

Throw Distance

2.969 - 12.133' / 90.5 - 369.8 cm

Projection Size

30 - 120" / 76.20 - 304.80 cm

Keystone Correction

Built-In Speaker

Yes (Stereo)

Speaker Power

6W

Inputs/Outputs

2 x HDMI Audio/Video (Input)

1 x RF  (Input)

2 x USB Type-A Female (Input)

1 x S/PDIF Audio (Output)

1 x 1/8" / 3.5 mm Mini Audio (Output)

1 x Ethernet (RJ45) LAN (Input)

1 x  Power (Input)

Wireless LAN / Wi-Fi

Yes, Built-in

Light Source

LED

Expected Lamp Life

Medium Brightness: 30,000 Hours

Fan Noise

Medium Brightness: 30 dB

Low Brightness: 24 dB

Low Brightness: 21 dB

Security

Cable Lock Slot

AC Input Power

120 to 240 VAC, 50 / 60 Hz

Power Consumption

Full Brightness: 100 W

Standby Mode (Lamp Off): 0.5 W

Temperature

32 to 104°F (0 to 40°C)

Humidity: 0 - 80%

-4 to 140°F (-20 to 60°C)

Humidity: 0 - 85%

Dimensions (W x H x D)

5.2 x 3.3 x 8.4" / 132.0 x 84.0 x 213.0 mm Without foot and lens

5.2 x 3.4 x 8.7" / 132.0 x 87.0 x 220.0 mm With foot and lens

Weight

3.3 lb / 1.50 kg
Display System

0.47" DLP

Native Chip Resolution

1920 x 1080 (Full HD)

Max Brightness

1400 Lumens

Aspect Ratio

Native: 16:9

Supported: 4:3

Dynamic Contrast Ratio

150,000:1

Focus

Manual

Throw Distance

2.969 - 12.133' / 90.5 - 369.8 cm

Projection Size

30 - 120" / 76.20 - 304.80 cm

Keystone Correction

Built-In Speaker

Yes (Stereo)

Speaker Power

6W

Inputs/Outputs

2 x HDMI Audio/Video (Input)

1 x RF  (Input)

2 x USB Type-A Female (Input)

1 x S/PDIF Audio (Output)

1 x 1/8" / 3.5 mm Mini Audio (Output)

1 x Ethernet (RJ45) LAN (Input)

1 x  Power (Input)

Wireless LAN / Wi-Fi

Yes, Built-in

Light Source

LED

Expected Lamp Life

Medium Brightness: 30,000 Hours

Fan Noise

Medium Brightness: 30 dB

Low Brightness: 24 dB

Low Brightness: 21 dB

Security

Cable Lock Slot

AC Input Power

120 to 240 VAC, 50 / 60 Hz

Power Consumption

Full Brightness: 100 W

Standby Mode (Lamp Off): 0.5 W

Temperature

32 to 104°F (0 to 40°C)

Humidity: 0 - 80%

-4 to 140°F (-20 to 60°C)

Humidity: 0 - 85%

Dimensions (W x H x D)

5.2 x 3.3 x 8.4" / 132.0 x 84.0 x 213.0 mm Without foot and lens

5.2 x 3.4 x 8.7" / 132.0 x 87.0 x 220.0 mm With foot and lens

Weight

3.3 lb / 1.50 kg