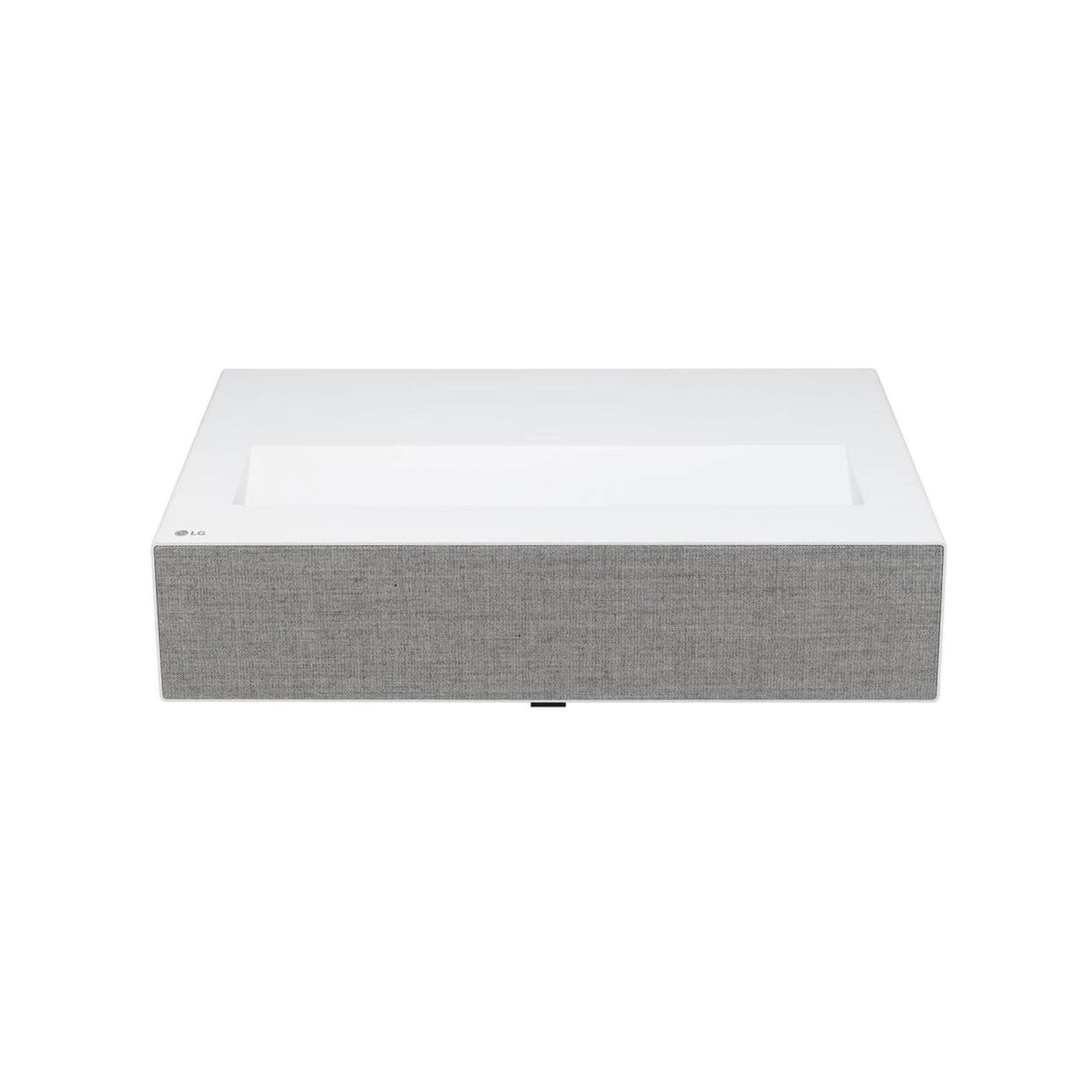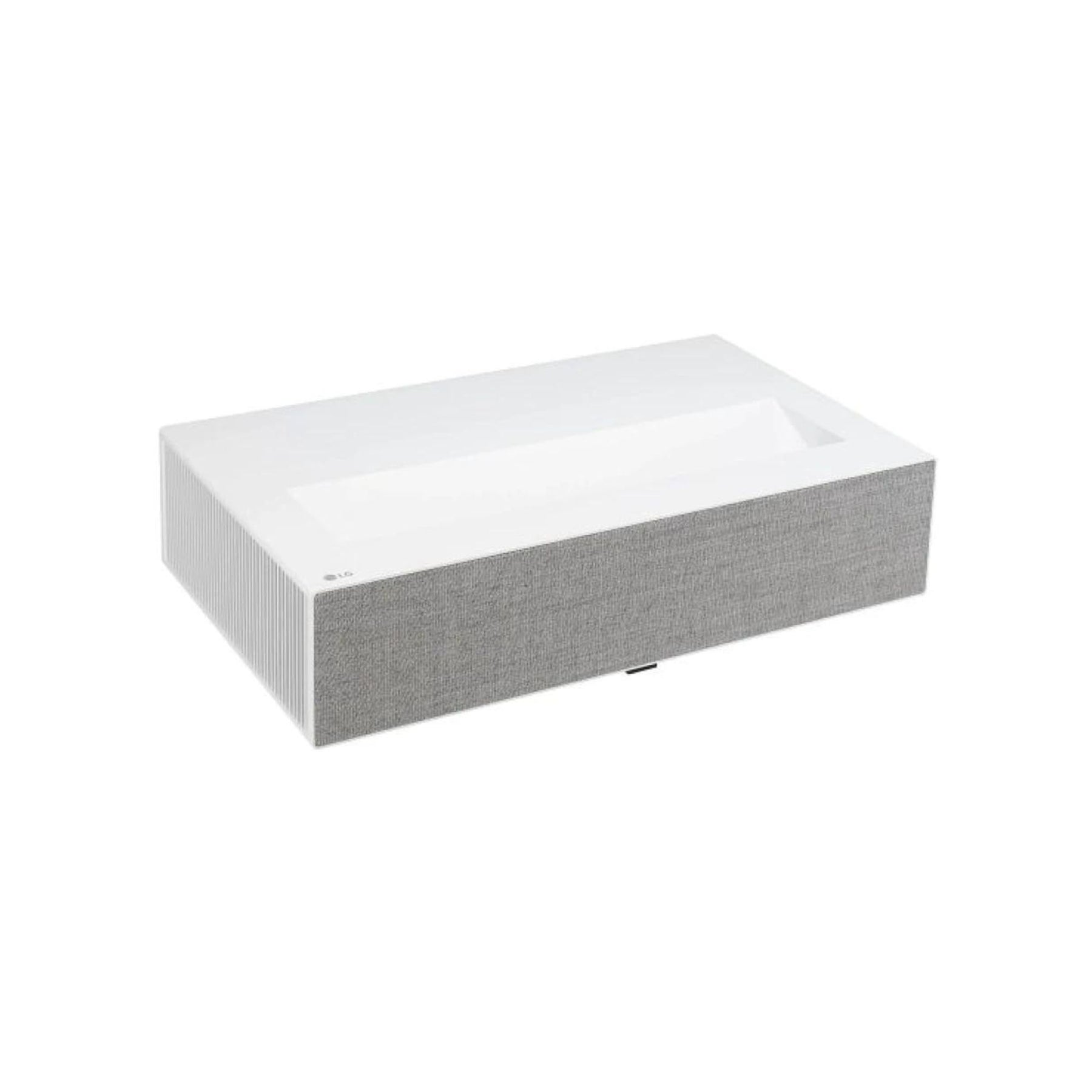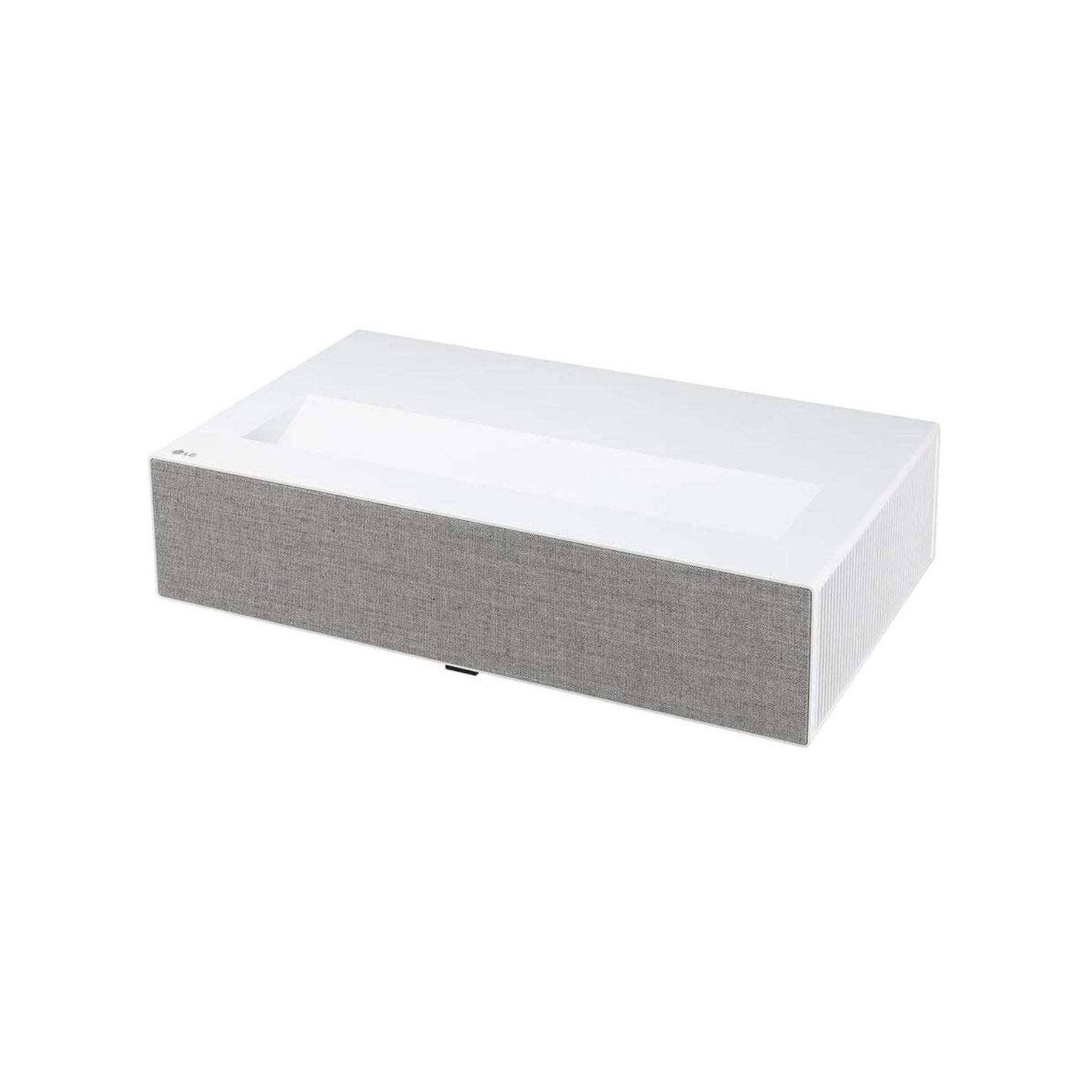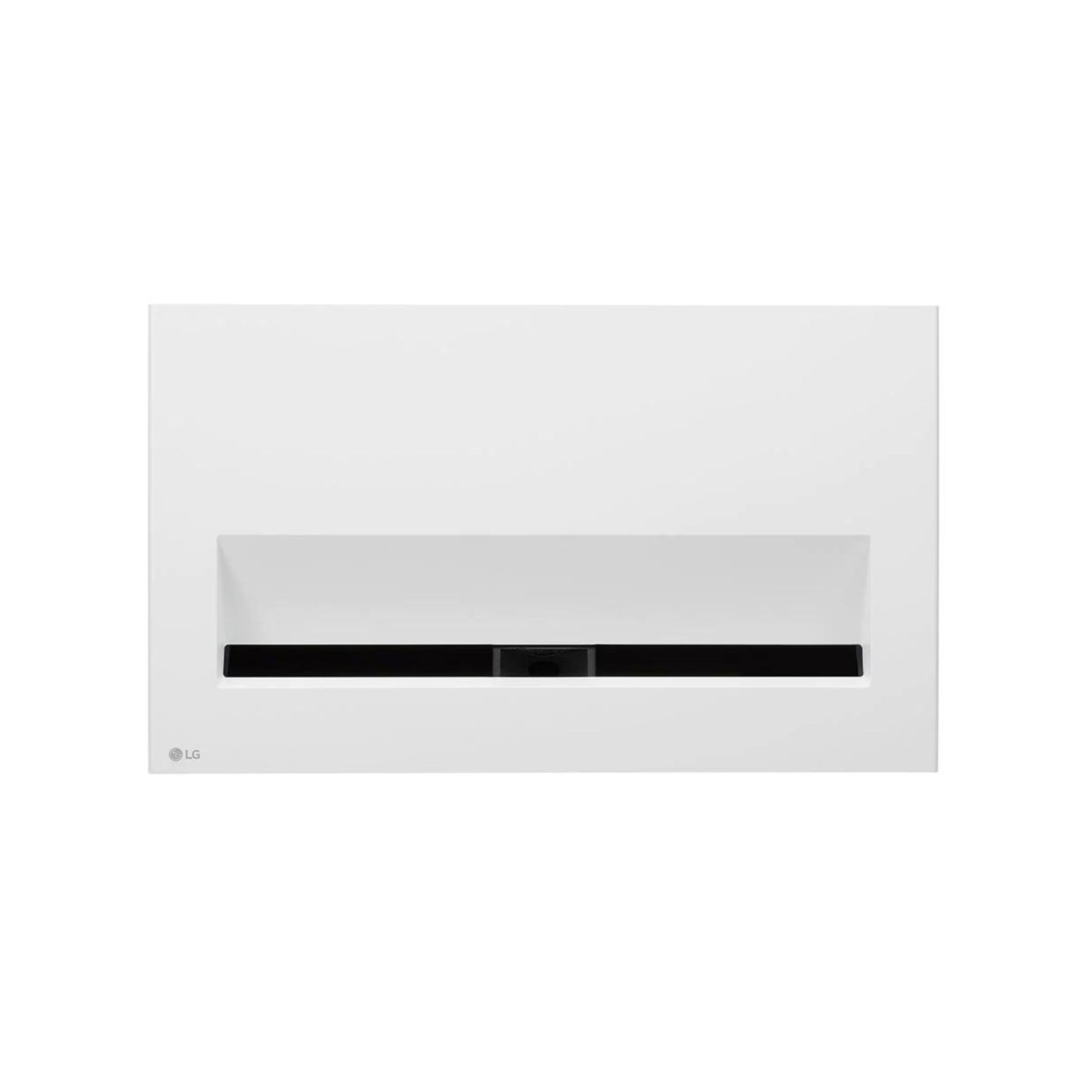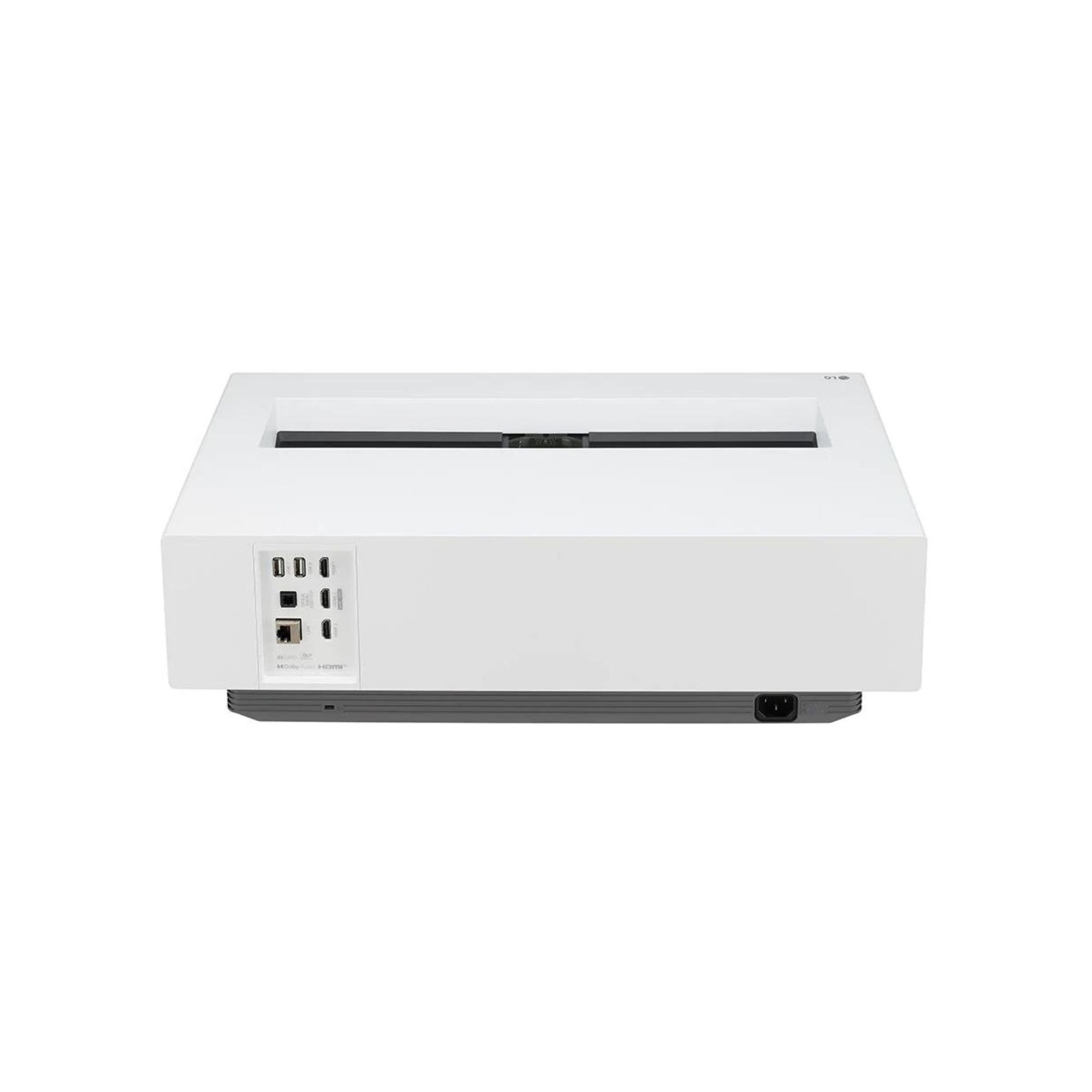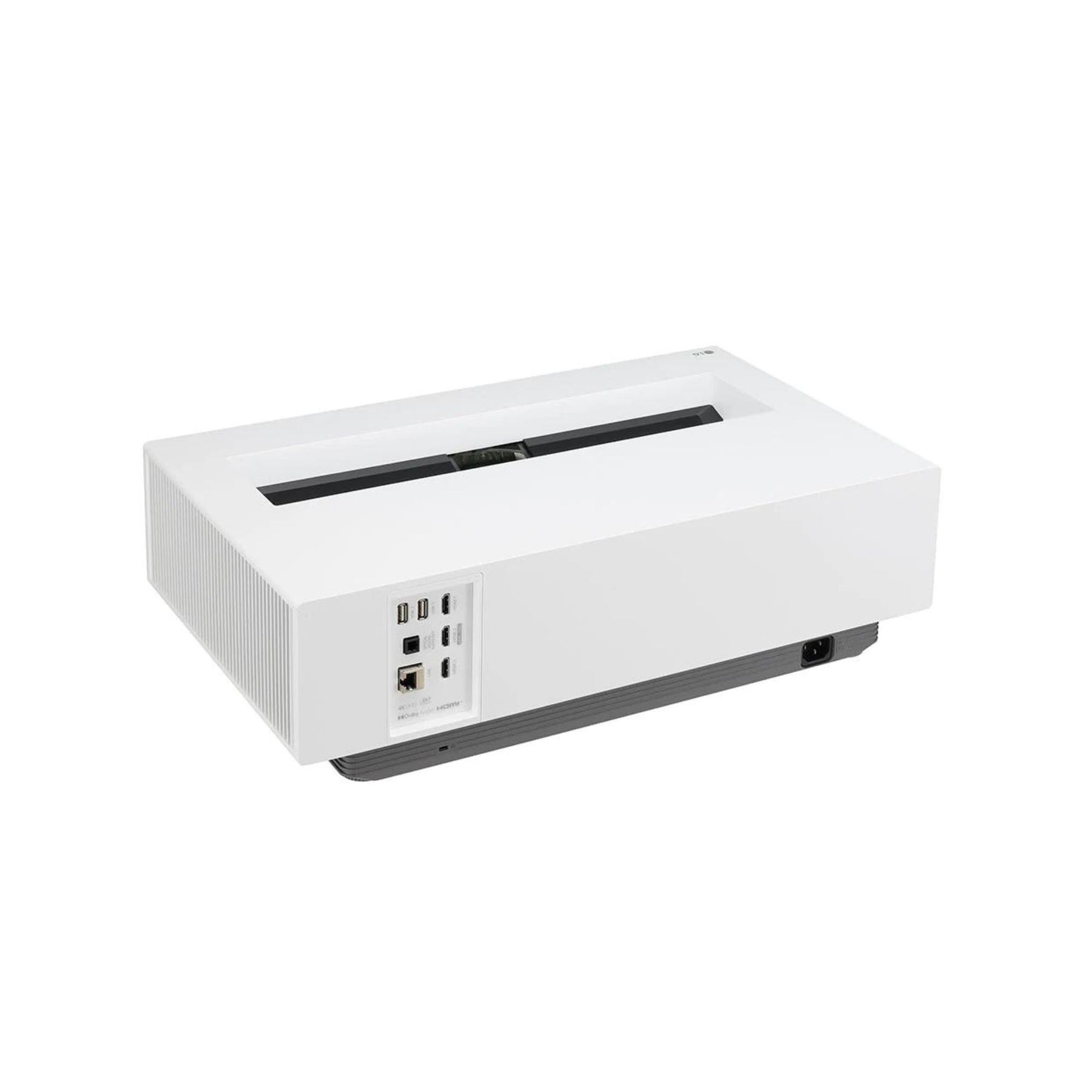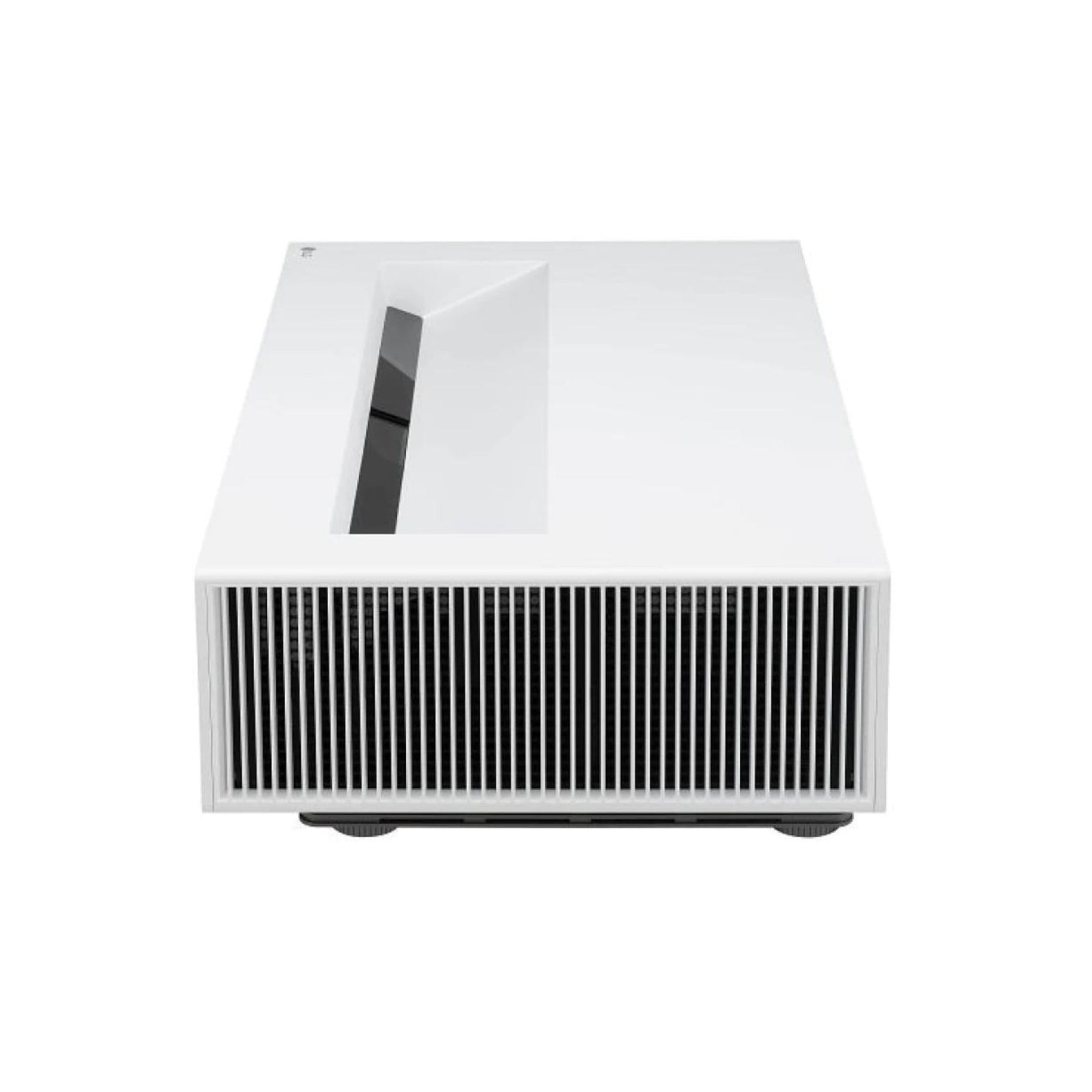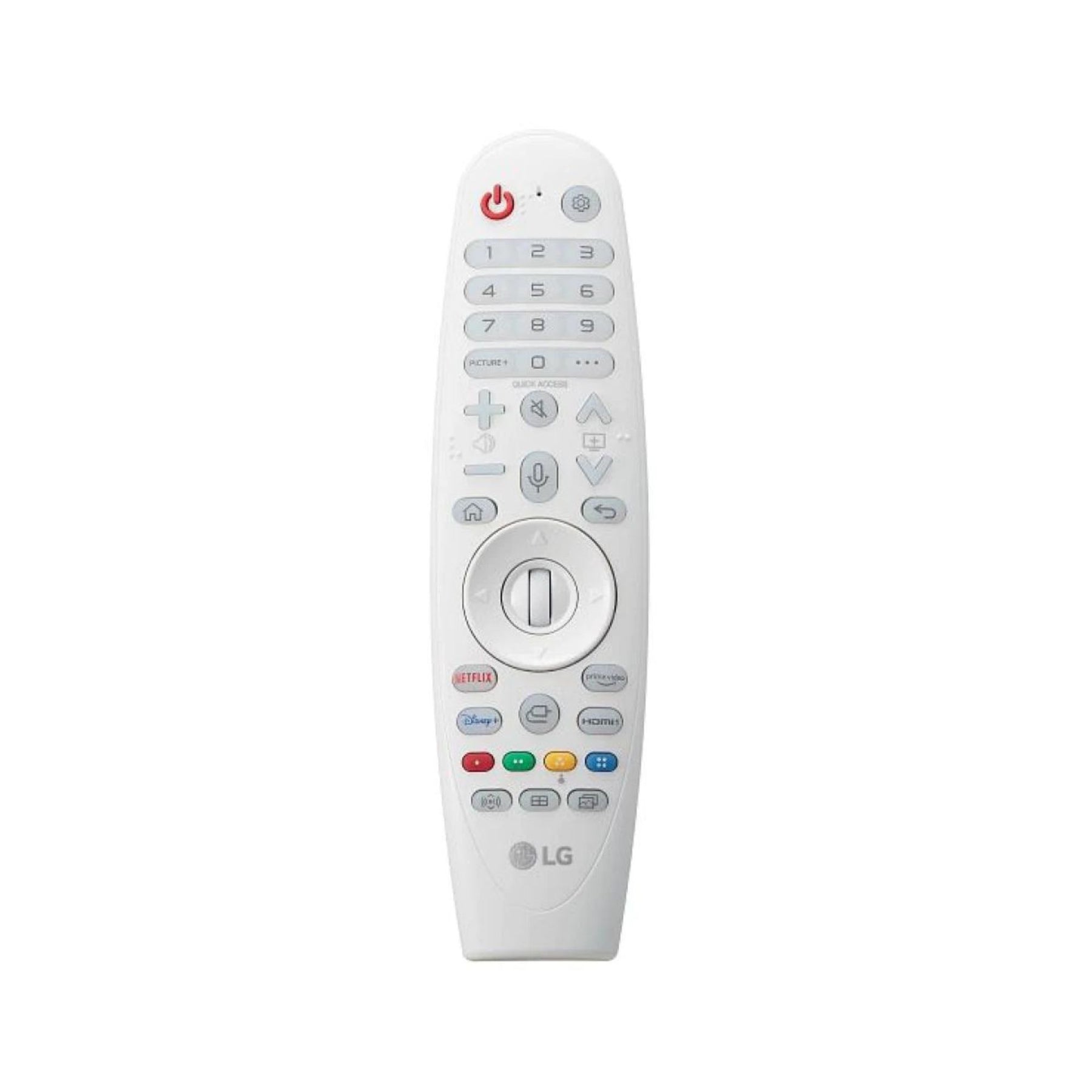 LG Projectors HU715QW- 4K UHD Laser Ultra Short-Throw Projector
LGHU715QW
KEY FEATURES
Expand Key Features

4K UHD (3840 x 2160) 0.22 Throw Ratio
Screen
Size up to 120"

2,500 ANSI Brightness¹

Brightness Optimizer II
Picture Quality
0.22 Throw Ratio

Real 4K UHD (3840 x 2160)

4/9/15 Point Warping

Stylish Design
Entertainment

Embedded 20W + 20W Stereo Speakers with Quad Woofer

Bluetooth Surround Ready

webOS 6.022

Apple AirPlay 2 & HomeKit Compatibility³
¹Based on Brightest mode and may vary depending on your environment.
²Internet connection and subscription to streaming services are required.
³Your Apple device must be connected to the same Wi-Fi network as your projector. Apple, the Apple logo, AirPlay, Apple TV, and HomeKit are trademarks of Apple Inc., registered in the U.S. and other countries. This LG CineBeam supports AirPlay 2 and requires iOS 12.3 or later or macOS 10.14.5 or later.
Real 4K UHD (3840 x 2160)
Picture Quality
Real 4K has a resolution of 3840 x 2160—4x greater than FHD for incredible detail that brings movies, shows, and games to life.
8.3M Pixels - Real 4K UHD
DCI-P3 85% - Wide Color Gamut¹
2,000,000: 1 - Contrast Ratio²
2,500 ANSI - Brightness²
DCI-P3 85% measured from Vivid Mode.
Based on Brightest mode and may vary depending on your environment.
4/9/15 Point Warping - 

Seamless Adjustments
Make vertical and horizontal picture adjustments for flawless visuals with less distortion from virtually any angle.
0.22 Throw Ratio for up to 120" Screen - 

Bold Picture for Every Space
Get big-picture scenes even when projecting from close range. The ultra-short 0.22 Throw Ratio makes any room the perfect size for your projector.
Brightness Optimizer II - 

Bright in Any Environment
Auto Brightness assesses each scene and ambient lighting conditions for the ideal output.
Adaptive Contrast - Adaptive Contrast ensures all scenes are crisp and vivid.
Stylish Design - 

Designed to Blend In
This stylish design features a crisp white body with a premium gray fabric accent that blends into your space.
Embedded 20W + 20W Stereo Speakers with Quad Woofer - 

Hi-Fi Sound
Embedded stereo speakers produce rich, deep bass for 40W sound with minimal screen vibrations.
Bluetooth Surround Ready - 

Cinematic Sound
Bluetooth Surround capabilities make you feel like you're at the movies, enabling full-sensory immersion. Connect up to two wireless speakers* to your projector for a captivating surround-sound experience. 
webOS 6.0 - 

Access Your Favorite Content
Netflix, YouTube, Apple TV+, and more are available and easy to access on webOS 6.0.* Plus, navigate seamlessly by touch or voice with the Magic Lighting Remote Controller, now with all-new backlighting.
Apple AirPlay 2 & HomeKit Compatibility* - 

Stream on the Big Screen
Wirelessly control your projector plus cast and mirror content from any iOS or MacOS device, no Apple TV necessary.
PROJECTION SYSTEM:

Display Type:DLP

Native Resolution:4K UHD (3840 x 2160)*

Upscaling / Super Resolution:Yes

Projection size (Screen Size):80" ~ 120"

Projection Image:80"@4.6" 100"@8.5" 120"@12.5"

Aspect Ratio:16:9/Original/4:3/Vertical Zoom | All-Direction Zoom

Optical Zoom:Fixed

Iris:Yes (BrightRoom / Medium / Darkroom / User)

Adaptive Contrast:Yes (High / Medium / Low / Off)

Focus:Motorized Focus

Throw Ratio:0.22

Projection Offset:118%

Brightness (ANSI Lumen):Up to 2500 ANSI Lumens**

Contrast Ratio:2,000,000:1

Light Source:Laser

Light Source Life:Up to 20,000 Hrs

Noise (Eco / Nrmal / High brightness):26 / 28 / 30dB(A)

HDCP:HDCP2.2

Trumotion:Yes (up to 4096x2160)

HDR:HDR10, HLG

Digital Keystone Correction:Edge Adjustment(4/9/15 Point Warping)

LG SMART TV:

Premium content providers:Netflix, You Tube, Disney+, Prime Video, Apple TV

Magic Remote:Yes

App Store:Yes

Web Browser:Yes

Voice Recognition Built-In:LG ThinQ

CONNECTIVITY/WIRELESS:

Bluetooth (with Speaker):Yes

Screen Share / Screen Mirroring (with Miracast supporting device):Yes

Apple Airplay2:Yes

AUDIO

Bluetooth® Sound Out:Yes

Built-in Speakers:40W (20W+20W Stereo) / Woofer included

Bluetooth AV Sync Adjustment:Yes

Dolby Atmos compatible:Yes(Pass Through)

INPUTS/OUTPUTS:

Audio out:S/PDIF 1 (Optical)

HDMI™:3 (HDMI2.1 : 1EA / HDMI2.0 : 2EA) ALLM (Auto Low Latency Mode), eARC (Enhanced Audio Return Channel), up to 24Gbps (input) / 4:4:4/RGB 10 bit (output)

USB Type A:2 (USB2.0)

RJ45:1

HID (Keyboard/Mouse/GamePad Connection Thru USB):Yes

IP Control:Yes

POWER

Power Supply (Voltage/Hz):100V ~ 240V @ 50~60 Hz(PSU Built-in)

Power Consumption:350W

Standby Mode:<0.5W

ACCESSORIES:

Remote Control:1 Magic Remote (Backlit, Battery included)

Manual:Simple Book

Warranty Card:Yes

Power Cord:1

DIMENSIONS/WEIGHT:

Product (WxHxD):21" x 12.4" x 6"

Shipping Dimensions (WxHxD):27.6" x 16.5" x 10.5"

Weight:26.4 lb

Shipping Weight:28.4 lbs
PROJECTION SYSTEM:

Display Type:DLP

Native Resolution:4K UHD (3840 x 2160)*

Upscaling / Super Resolution:Yes

Projection size (Screen Size):80" ~ 120"

Projection Image:80"@4.6" 100"@8.5" 120"@12.5"

Aspect Ratio:16:9/Original/4:3/Vertical Zoom | All-Direction Zoom

Optical Zoom:Fixed

Iris:Yes (BrightRoom / Medium / Darkroom / User)

Adaptive Contrast:Yes (High / Medium / Low / Off)

Focus:Motorized Focus

Throw Ratio:0.22

Projection Offset:118%

Brightness (ANSI Lumen):Up to 2500 ANSI Lumens**

Contrast Ratio:2,000,000:1

Light Source:Laser

Light Source Life:Up to 20,000 Hrs

Noise (Eco / Nrmal / High brightness):26 / 28 / 30dB(A)

HDCP:HDCP2.2

Trumotion:Yes (up to 4096x2160)

HDR:HDR10, HLG

Digital Keystone Correction:Edge Adjustment(4/9/15 Point Warping)

LG SMART TV:

Premium content providers:Netflix, You Tube, Disney+, Prime Video, Apple TV

Magic Remote:Yes

App Store:Yes

Web Browser:Yes

Voice Recognition Built-In:LG ThinQ

CONNECTIVITY/WIRELESS:

Bluetooth (with Speaker):Yes

Screen Share / Screen Mirroring (with Miracast supporting device):Yes

Apple Airplay2:Yes

AUDIO

Bluetooth® Sound Out:Yes

Built-in Speakers:40W (20W+20W Stereo) / Woofer included

Bluetooth AV Sync Adjustment:Yes

Dolby Atmos compatible:Yes(Pass Through)

INPUTS/OUTPUTS:

Audio out:S/PDIF 1 (Optical)

HDMI™:3 (HDMI2.1 : 1EA / HDMI2.0 : 2EA) ALLM (Auto Low Latency Mode), eARC (Enhanced Audio Return Channel), up to 24Gbps (input) / 4:4:4/RGB 10 bit (output)

USB Type A:2 (USB2.0)

RJ45:1

HID (Keyboard/Mouse/GamePad Connection Thru USB):Yes

IP Control:Yes

POWER

Power Supply (Voltage/Hz):100V ~ 240V @ 50~60 Hz(PSU Built-in)

Power Consumption:350W

Standby Mode:<0.5W

ACCESSORIES:

Remote Control:1 Magic Remote (Backlit, Battery included)

Manual:Simple Book

Warranty Card:Yes

Power Cord:1

DIMENSIONS/WEIGHT:

Product (WxHxD):21" x 12.4" x 6"

Shipping Dimensions (WxHxD):27.6" x 16.5" x 10.5"

Weight:26.4 lb

Shipping Weight:28.4 lbs