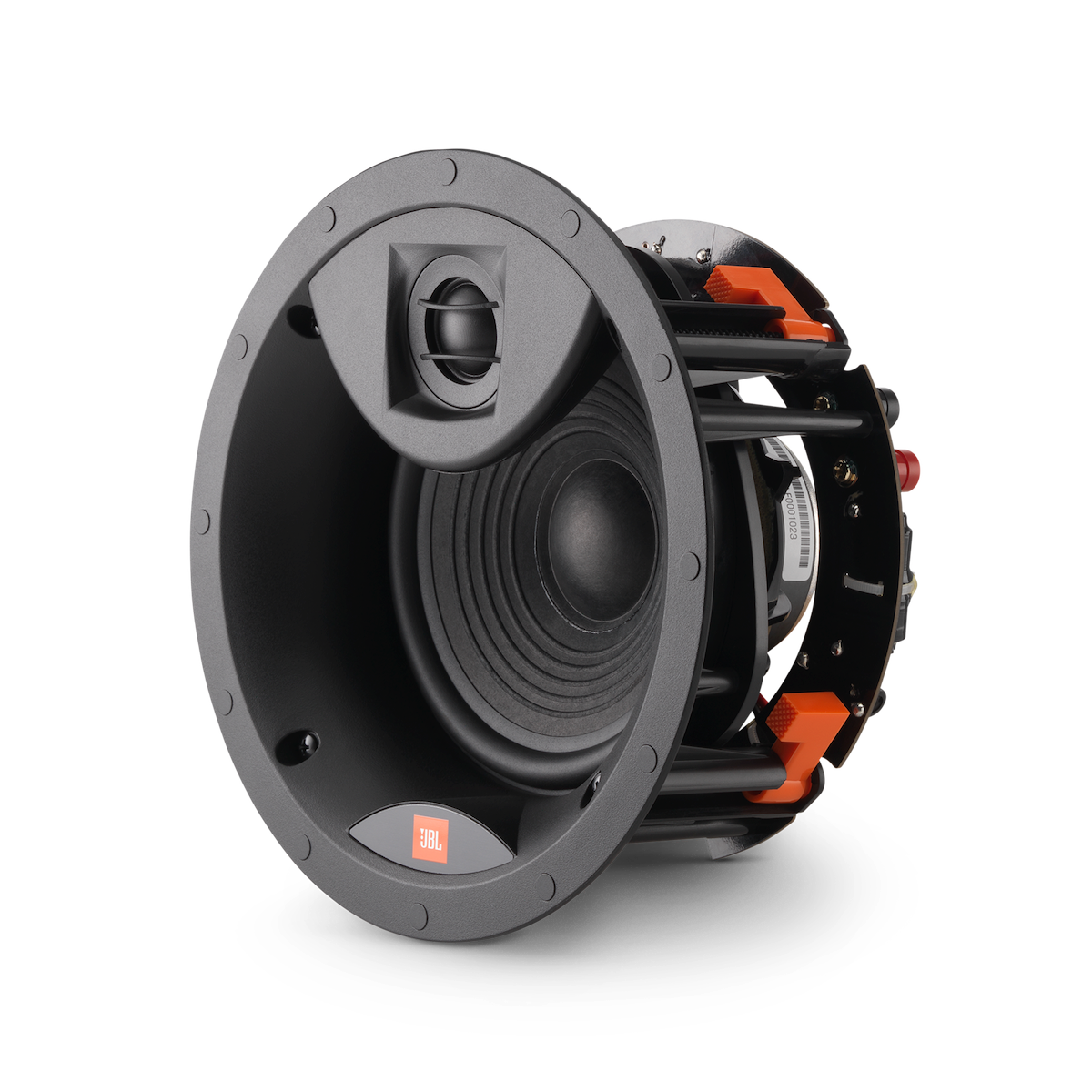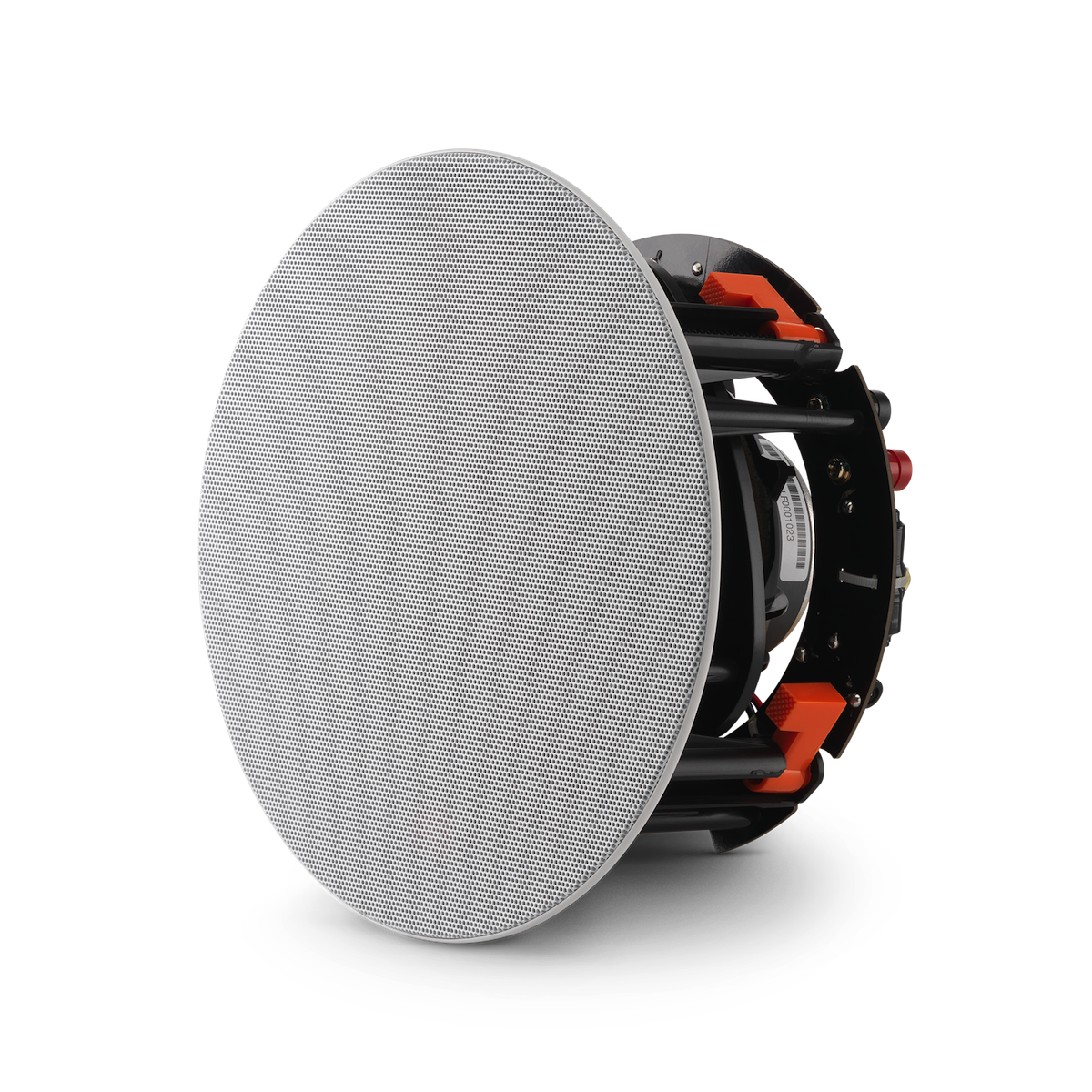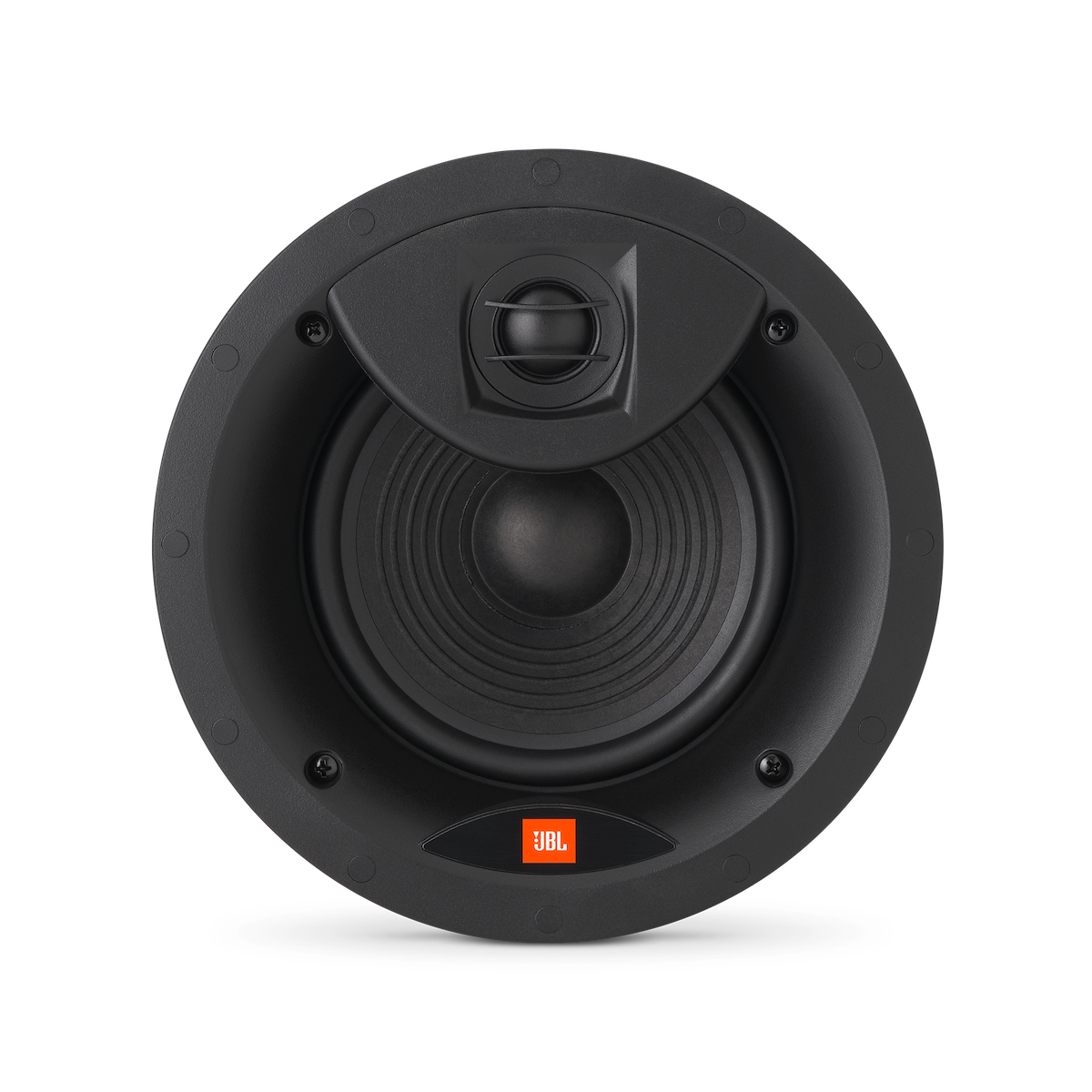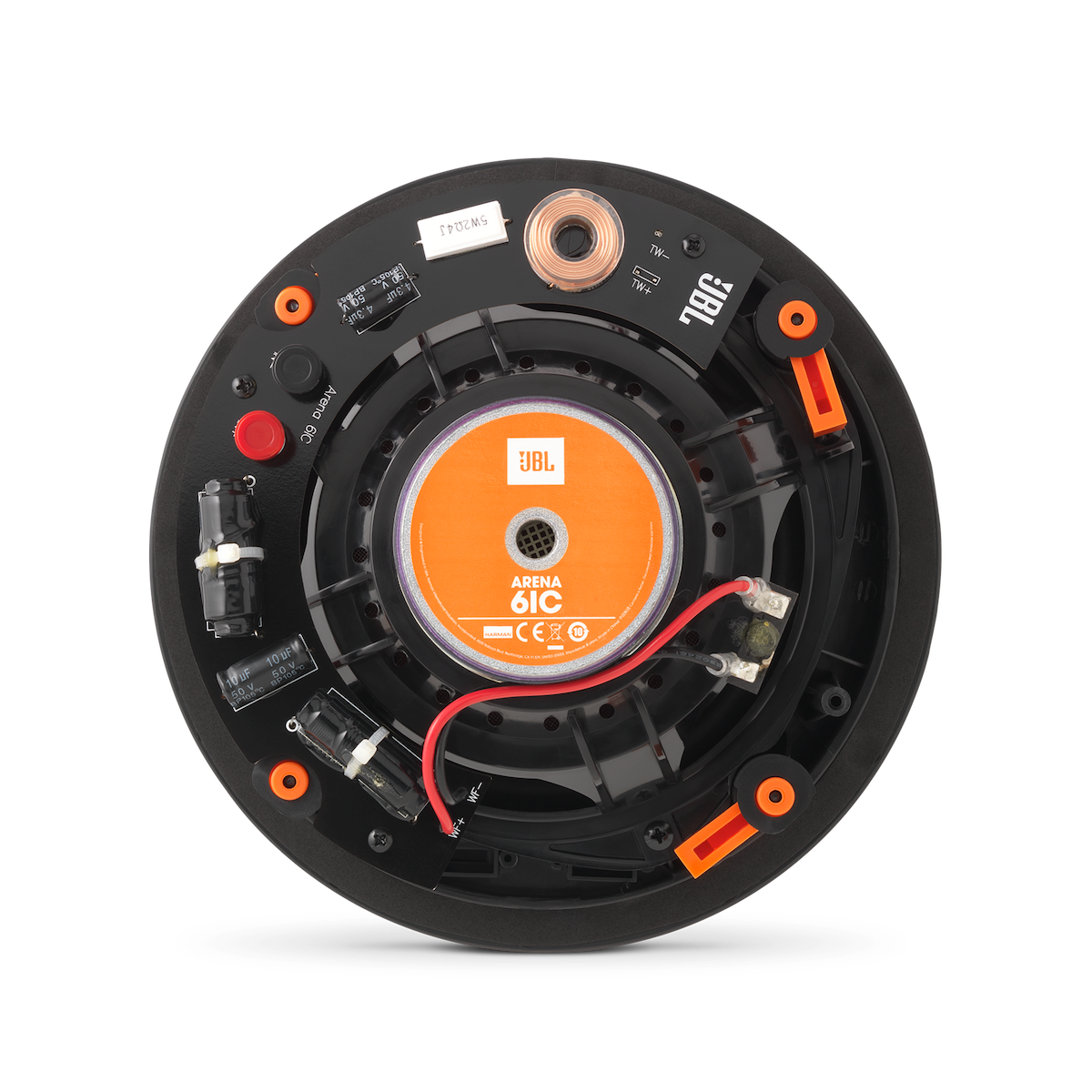 JBL Arena 6IC - In-Ceiling Speaker - Pair
ARENA 6IC
The JBL Arena 6IC 6.5" Two-Way In-Ceiling Speaker consists of a 6.5" poly-cellulose woofer with a 1" silk-dome tweeter. It features a frequency response of 38 Hz to 20 kHz and a recommended amplifier power of 80W. The speaker's paintable magnetic grille makes it easy to match to any décor. 
Product Highlights
6-1/2" poly cellulose woofer

1" silk dome tweeter

Frequency response 38-20,000 Hz

Power handling: up to 80 watts RMS

8-ohm impedance

Sensitivity 86 dB

Includes paintable magnetic grille

Cutout diameter: 8"

Grille Diameter: 9-1/8"

Mounting depth: 4-11/16"

Warranty: 1 year  
Barely noticeable. Until you hear them
Floor to ceiling, JBL Arena architectural series speakers are engineered for full sound dispersion to fill the room - no matter where installed. Specially designed with a nearly invisible zero-bezel, fully paintable magnetic grill, the JBL Arena speakers blend into any home environment. The JBL proprietary HDI waveguide allows the loudspeaker to fill the room in cinema-quality, full-immersion sound from any location - even high elevations or off-axis listening locations. The JBL Arena is ready for integration into any home audio or theatre system, with a sturdy, reliable design and is suitable for mounting in any wall or ceiling up to 2" thick. Expertly designed, the series is matched to the award-winning JBL Arena component speakers for a complete home audio experience. It will leave you wondering how such spectacular sound seems to come out of nowhere.
Sound Inspired by JBL's legendary M2 Master Reference Monitor
High definition imaging (HDI) waveguide technology takes its cues from the legendary JBL M2 Master Reference Monitor. Computer-optimised driver positioning and network integration result in ideal performance ad life-like soundstage imaging throughout the entire room, regardless of location. Proven acoustic superiority through rigorous testing and real-world evaluation. 
In-Ceiling Installation
The JBL Arena 6IC in-ceiling loudspeaker offers a sturdy, reliable installation design that fits ceilings from 0.5" to 2" thick. Specialty locking clamps secure the in-ceiling speaker in place and are designed to minimize vibration. There needs to be at least 1" between the edge of the supplied mounting template and any rafters or other obstructions behind the ceiling, so the speaker's locking mechanism will have room to engage fully.
Frame Diameter (w/ Grille): 9.125" (diameter) x 0.25" (depth)
Cutout Opening: 8.0" (diameter) x 4.6875" (depth)
Spring Post Terminals
The JBL Arena 6IC in-ceiling speaker is fitted with a set of spring-post terminals which will accept bare-wire (up to 10AWG), pin connectors, and banana plugs (single or dual). The spring-post terminals are gold-plated for maximum signal transfer and resistance to corrosion.
| | |
| --- | --- |
| Number of Included Speakers | 2 |
| Speaker Type | Stereo Single-Point |
| Speaker Configuration | 2-Way |
| Recommended Amplifier Power | 80 W |
| Impedance | 8 Ohms |
| HF Driver | 1 x 1" / 25 mm Silk Dome |
| LF Driver | 1 x 6.5" / 16.5 cm Polycellulose Woofer |
| Frequency Response | 38 Hz to 20 kHz |
| Sensitivity | 86 dB |
| Cutout Depth | 4.7" / 119 mm |
| Cutout Size | 8" / 203 mm |
| Mount Surface Thickness | 0.5" / 12 mm to 2" / 51 mm |
| Dimensions | 9.1" / 231 mm |
| | |
| --- | --- |
| Number of Included Speakers | 2 |
| Speaker Type | Stereo Single-Point |
| Speaker Configuration | 2-Way |
| Recommended Amplifier Power | 80 W |
| Impedance | 8 Ohms |
| HF Driver | 1 x 1" / 25 mm Silk Dome |
| LF Driver | 1 x 6.5" / 16.5 cm Polycellulose Woofer |
| Frequency Response | 38 Hz to 20 kHz |
| Sensitivity | 86 dB |
| Cutout Depth | 4.7" / 119 mm |
| Cutout Size | 8" / 203 mm |
| Mount Surface Thickness | 0.5" / 12 mm to 2" / 51 mm |
| Dimensions | 9.1" / 231 mm |