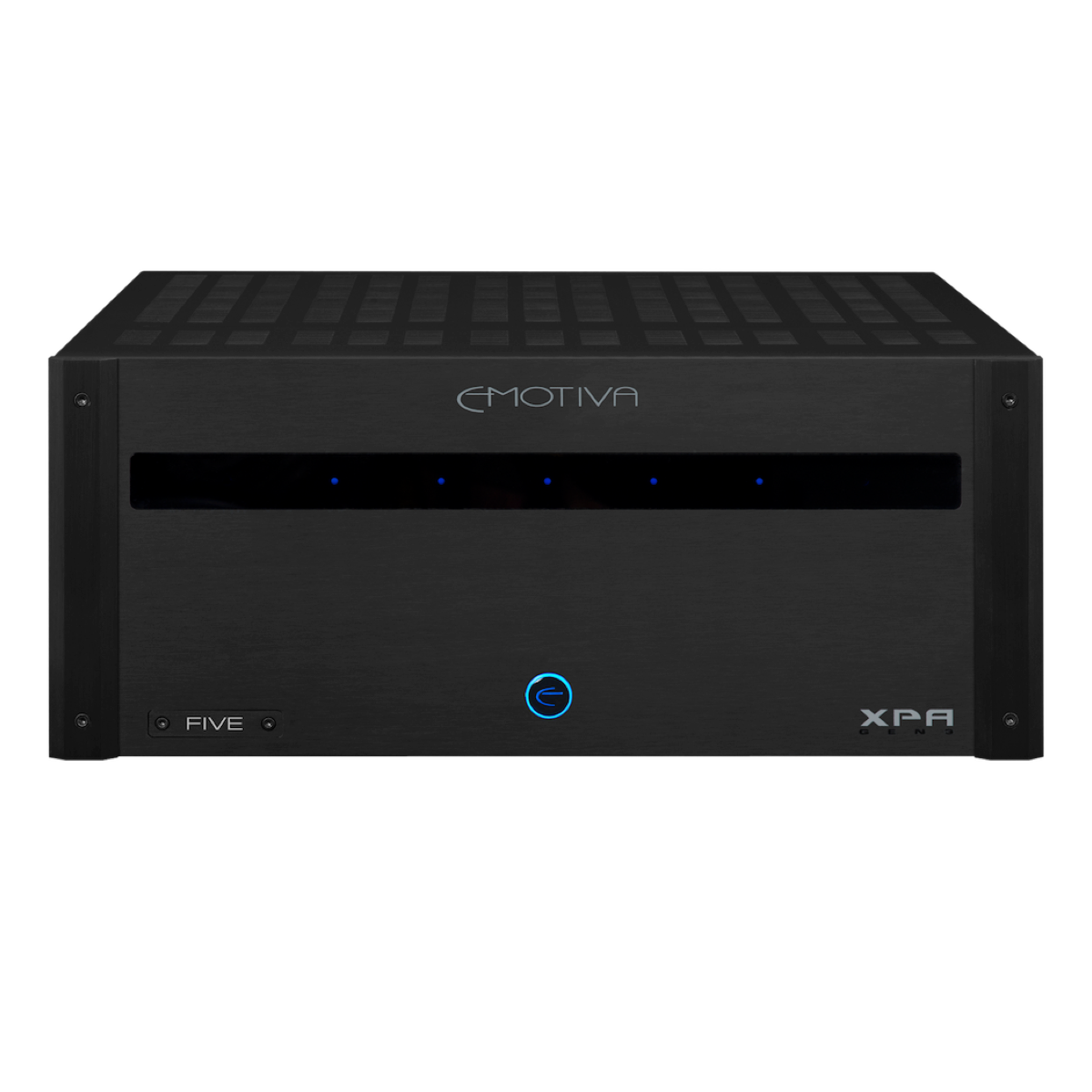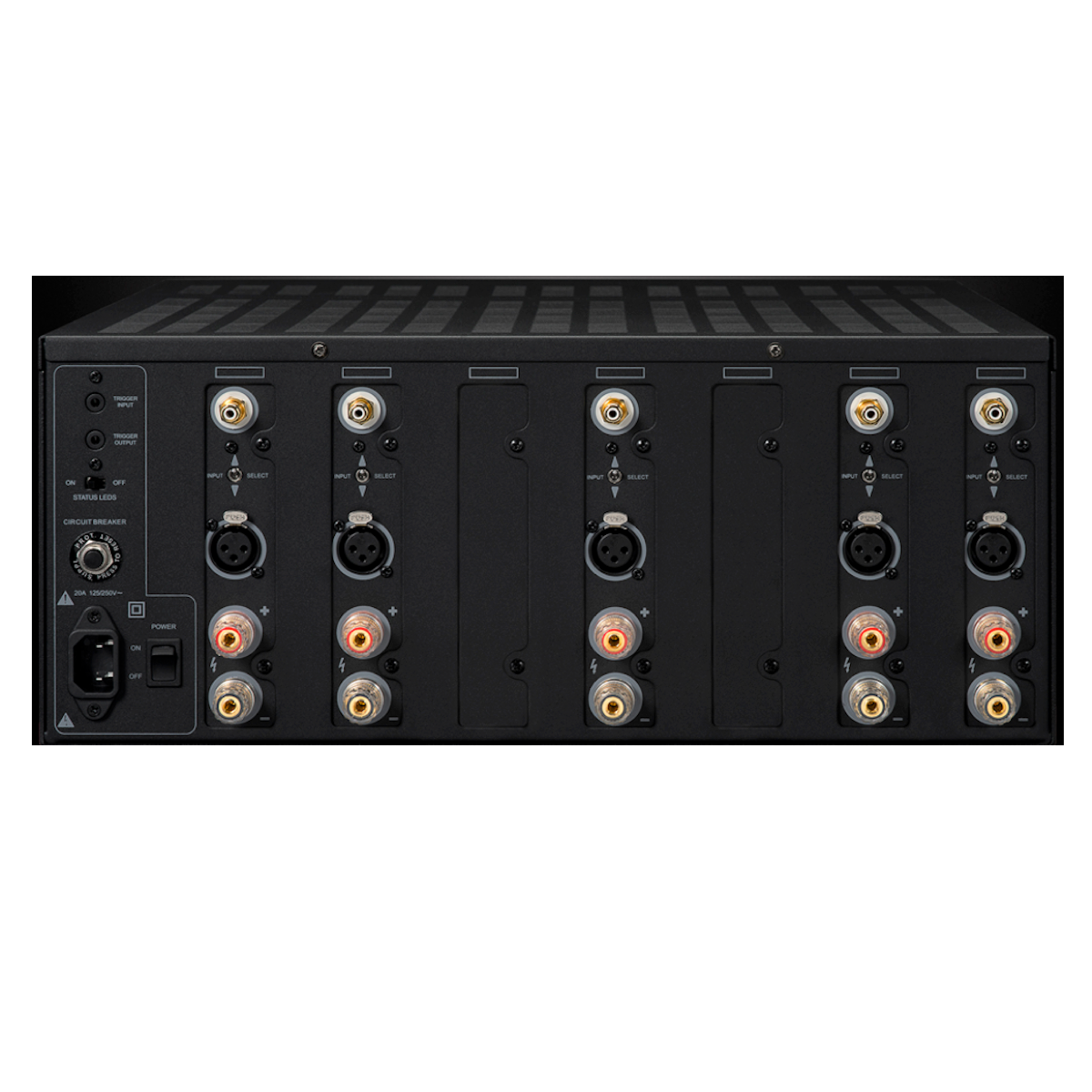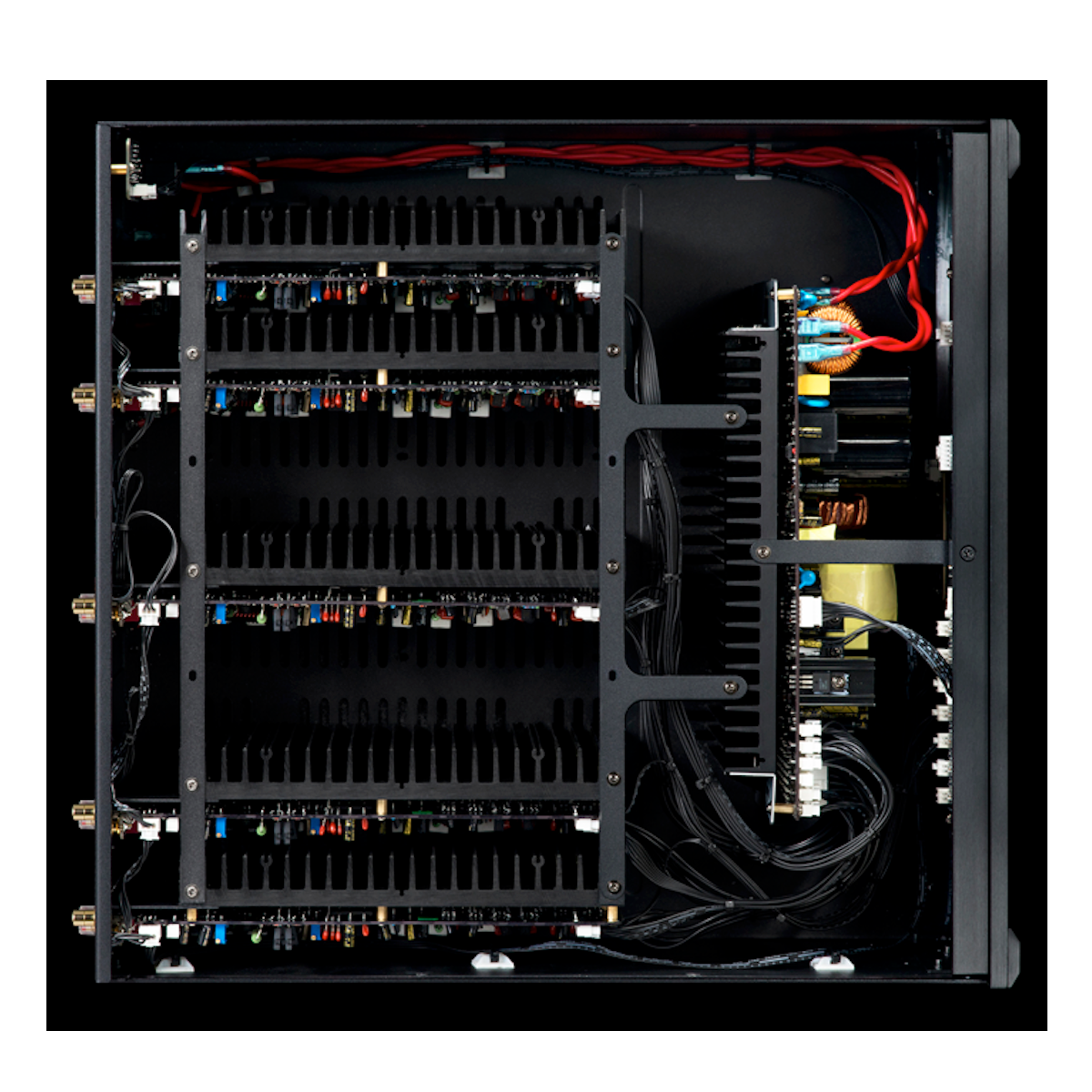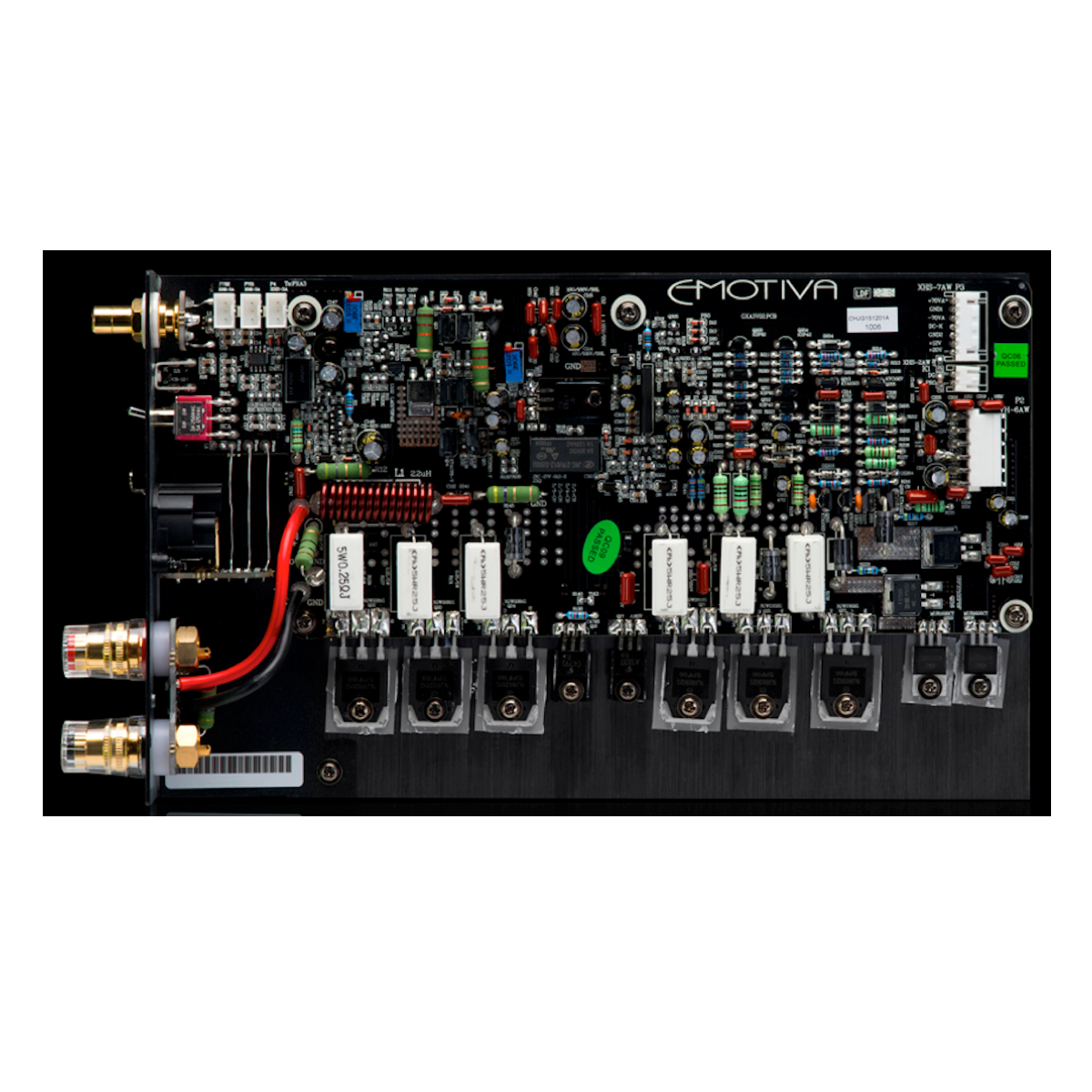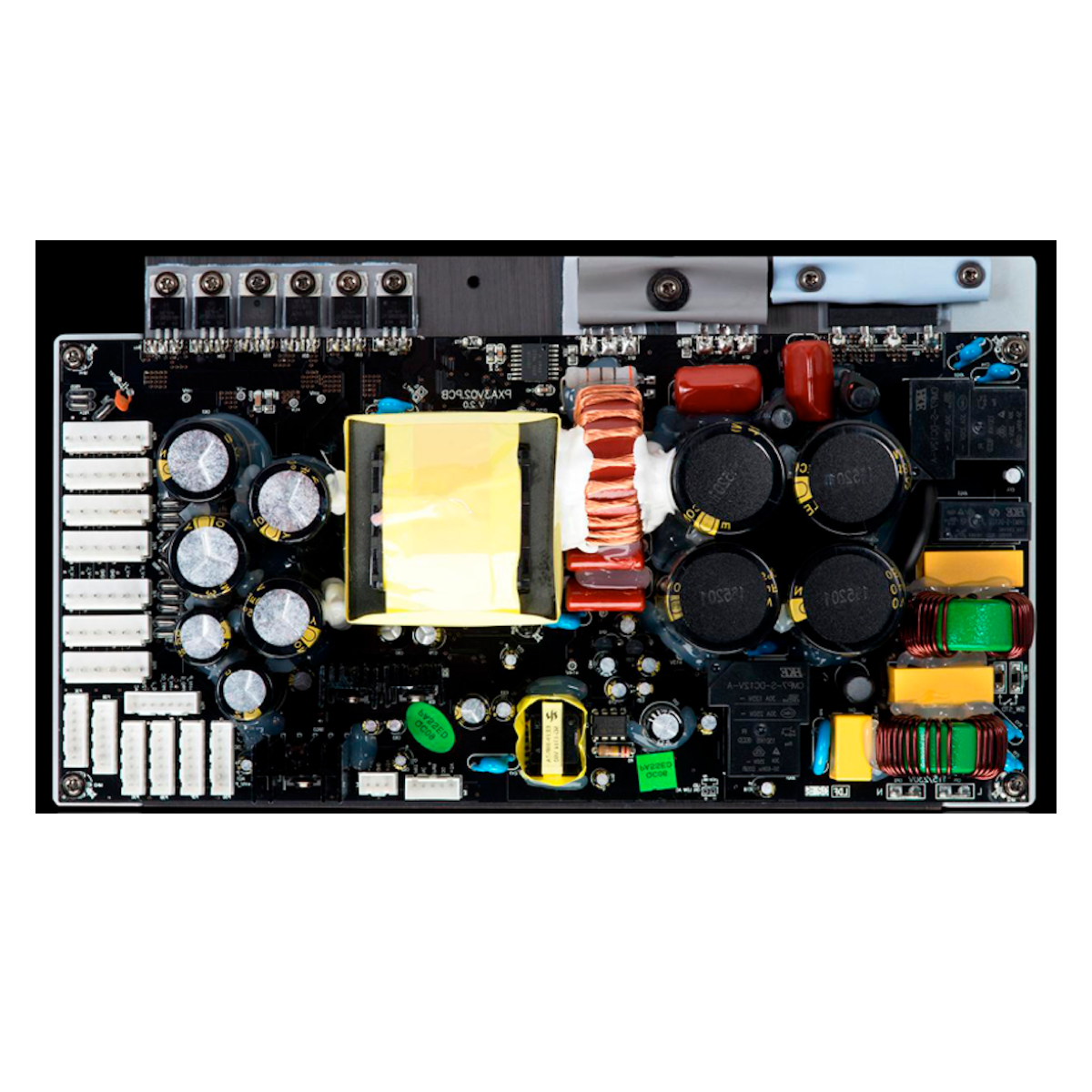 Emotiva XPA-5 Gen3 - 5 Channel Power Amplifier
XPA-5 Gen3
The power amplifier performs the simple but critical job of boosting the output signals from each channel of your stereo preamp or surround sound processor to the level necessary to drive your loudspeakers. While this may seem trivial, a really good power amp is essential to having a great audio system, because any flaws in the performance of your power amp are going to limit the performance of your entire system. Every amplifier in the new Third Generation XPA series was carefully designed to deliver superb technical performance, unsurpassed sound quality, and an exceptionally accurate and dynamic rendition of all types of music, thus ensuring that your entire system will sound its absolute best. Each individual XPA amplifier is modular, and can be customized to provide exactly the power and number of channels you need today, and expanded later if your needs change; and multiple matching chassis enable you to add even more channels, or more power, for a near endless variety of options.
The new XPA-5 is a five-channel audiophile quality power amplifier, and is perfect for powering:
A superb high-end 5.1 channel system

The 5 main channels in a 5.1.2. 5.1.4, or 5.1.6 channel Dolby Atmos or DTS-X system
For a truly stellar system, optimized for both two channel and surround sound listening, consider combining an XPA-DR2 for the front left and right channels with an XPA-5 for the remaining channels.

Configuration: 5 x High-Powered Single-Channel Modules
(two module slots remain available for future expansion)

Power output:

250 watts/channel RMS into 8 Ohms; all channels driven

 

300 watts/channel RMS into 8 Ohms; two channels driven

 

490 watts/channel RMS into 4 Ohms; two channels driven
Regulated Switch Mode Power Supply (SMPS)
One of the design enhancements shared by all of Emotiva's new XPA power amplifiers is their new, specially designed, high current, switch mode power supply (SMPS). Emotiva's powerful, intelligent new power supply offers all of the benefits of a classic transformer-based design, but avoids virtually all of the limitations. It can deliver over 3 kW of fully regulated power, which ensures optimum performance under a wide range of load conditions, and plenty of dynamic power to ensure that musical peaks will never be compressed or limited. However, it's also more efficient, more reliable, and much lighter.
Class A/B Sound Quality Meets Optimized Class H Efficiency
The High-Powered Single Channel Modules used in the XPA-5 utilize a fully analog Class A/B output stage, and Emotiva's highly regarded Soft-Switch™ Optimized Class H power supply topology, which increases their efficiency significantly without compromising their superb Class A/B performance and sound quality. At low power levels, each channel operates on a relatively low supply voltage, to minimize quiescent power consumption and standby power losses. Then, when the demand for power increases, it instantly and seamlessly switches to a higher voltage rail to ensure that the signal passes cleanly and without clipping. This process happens on a continuous basis - in real time, allowing greater overall efficiency, cooler operation, longer component life, reduced power consumption, and increased reliability.
Protection
Audiophile-grade fault protection is entirely transparent under normal listening conditions, yet protects the amp and your other equipment from virtually all common faults.

The XPA-5 Gen3 is protected from AC line faults by a rugged resettable rear panel push-button circuit breaker.

Full five-year warranty ensures that you'll be able to enjoy your XPA-5 Gen3 amplifier for years to come.


Power Output:

300 watts RMS/channel; 20 Hz – 20 kHz; THD<0.1%; 8 Ohms; one channel driven.

550 watts RMS/channel; 20 Hz – 20 kHz; THD<0.2%; 4 Ohms; one channel driven.

300 watts RMS/channel; THD<0.1%; 8 Ohms; two channels driven.

490 watts RMS/channel; THD<0.1%; 4 Ohms; two channels driven.

250 watts RMS/channel; THD<0.1%; 8 Ohms; ALL FIVE channels driven.

Power Bandwidth (at rated power; 8 Ohm load)

20 Hz to 20 kHz (+ / – 0.1 dB)

Broad Band Frequency Response

5 Hz to 80 kHz +0/-2 dB

THD + noise

< 0.005%; at 100 watts RMS; 1 kHz; 8 Ohms

Signal to Noise Ratio (8 Ohm load):

> 117 dB; ref FTC rated power; unbalanced input (A-weighted).

> 91 dB; ref 1 watt; unbalanced input (A-weighted).

Minimum Recommended Load Impedance (per channel)

4 Ohms (which equals one 4 Ohm load or two paralleled 8 Ohm loads)

Damping Factor (8 Ohm load)

> 500

Input Sensitivity (for rated power; 8 Ohm load)

1.5 V

Gain

29 dB

Input Impedance

33 kOhms (balanced)

23.5 kOhms (unbalanced)

Input Connections (High-Powered Single Channel Modules)

Unbalanced (RCA); balanced (XLR); one each per channel, independently selectable

Input Connections (Stereo Modules)

2 Unbalanced (RCA); 2 balanced (XLR); two per channel, independently selectable

Speaker Output Connections

Audiophile grade, gold plated, 5-way binding posts

Trigger Input

5 – 12 V (AC or DC); <10 mA input current required.

Trigger Output

12 VDC; can drive any load up to 120 mA.

Dimensions

17" wide x 8" high x 19" deep (unboxed; including feet).

17" wide x 7" high x 19" deep (unboxed; without feet).

24-1/2" wide x 12" high x 24-3/4" deep (boxed).

Weight

21 Kg
Power Output:

300 watts RMS/channel; 20 Hz – 20 kHz; THD<0.1%; 8 Ohms; one channel driven.

550 watts RMS/channel; 20 Hz – 20 kHz; THD<0.2%; 4 Ohms; one channel driven.

300 watts RMS/channel; THD<0.1%; 8 Ohms; two channels driven.

490 watts RMS/channel; THD<0.1%; 4 Ohms; two channels driven.

250 watts RMS/channel; THD<0.1%; 8 Ohms; ALL FIVE channels driven.

Power Bandwidth (at rated power; 8 Ohm load)

20 Hz to 20 kHz (+ / – 0.1 dB)

Broad Band Frequency Response

5 Hz to 80 kHz +0/-2 dB

THD + noise

< 0.005%; at 100 watts RMS; 1 kHz; 8 Ohms

Signal to Noise Ratio (8 Ohm load):

> 117 dB; ref FTC rated power; unbalanced input (A-weighted).

> 91 dB; ref 1 watt; unbalanced input (A-weighted).

Minimum Recommended Load Impedance (per channel)

4 Ohms (which equals one 4 Ohm load or two paralleled 8 Ohm loads)

Damping Factor (8 Ohm load)

> 500

Input Sensitivity (for rated power; 8 Ohm load)

1.5 V

Gain

29 dB

Input Impedance

33 kOhms (balanced)

23.5 kOhms (unbalanced)

Input Connections (High-Powered Single Channel Modules)

Unbalanced (RCA); balanced (XLR); one each per channel, independently selectable

Input Connections (Stereo Modules)

2 Unbalanced (RCA); 2 balanced (XLR); two per channel, independently selectable

Speaker Output Connections

Audiophile grade, gold plated, 5-way binding posts

Trigger Input

5 – 12 V (AC or DC); <10 mA input current required.

Trigger Output

12 VDC; can drive any load up to 120 mA.

Dimensions

17" wide x 8" high x 19" deep (unboxed; including feet).

17" wide x 7" high x 19" deep (unboxed; without feet).

24-1/2" wide x 12" high x 24-3/4" deep (boxed).

Weight

21 Kg