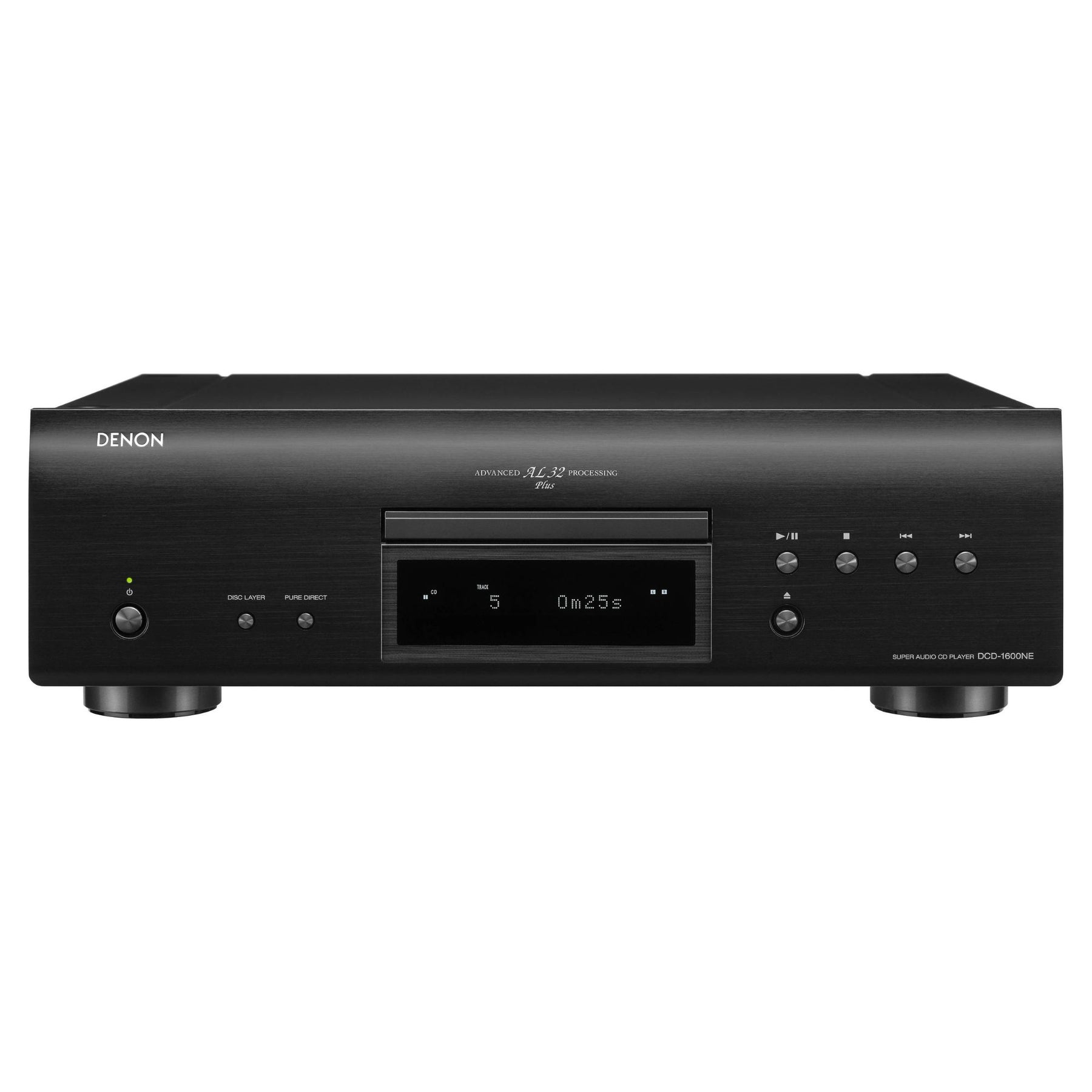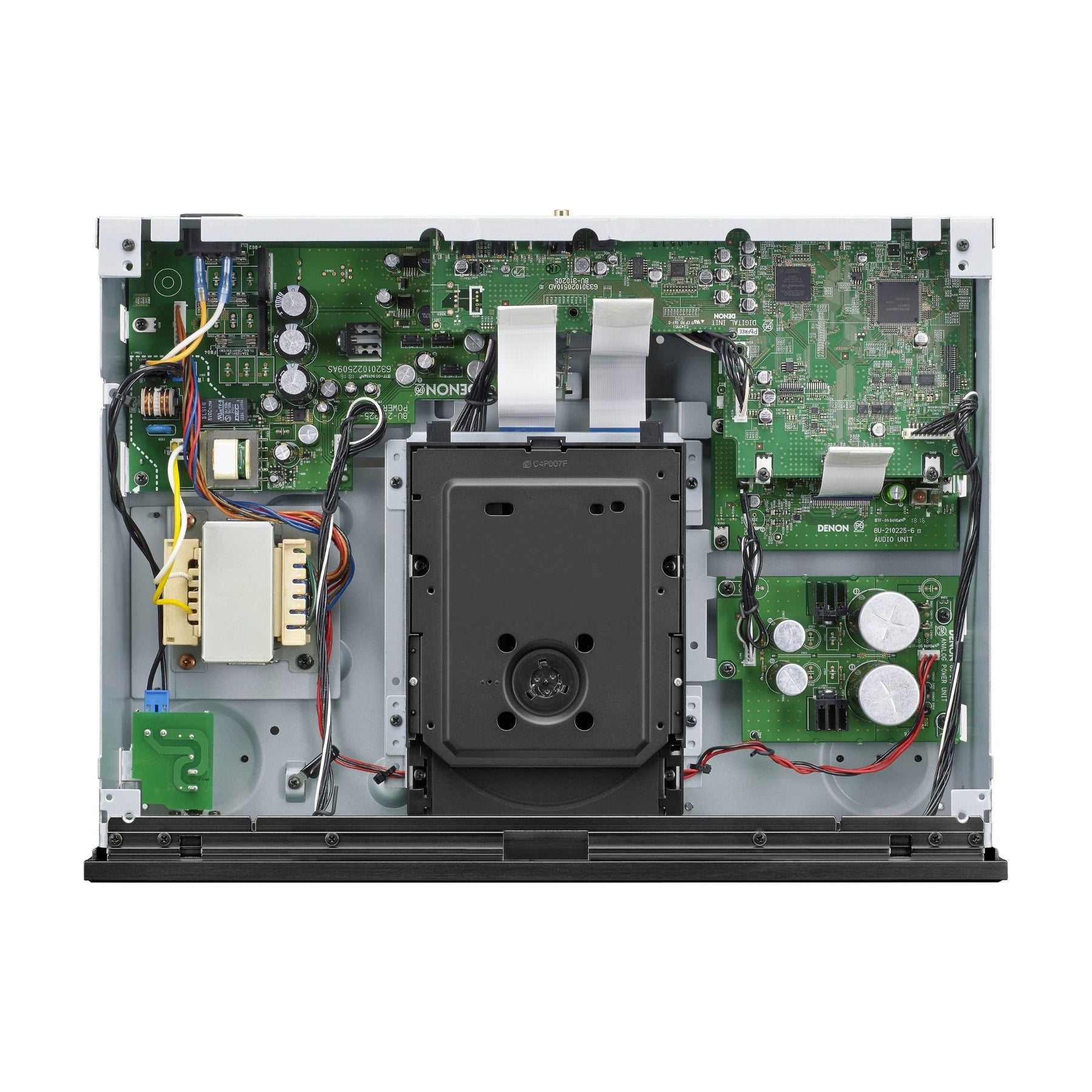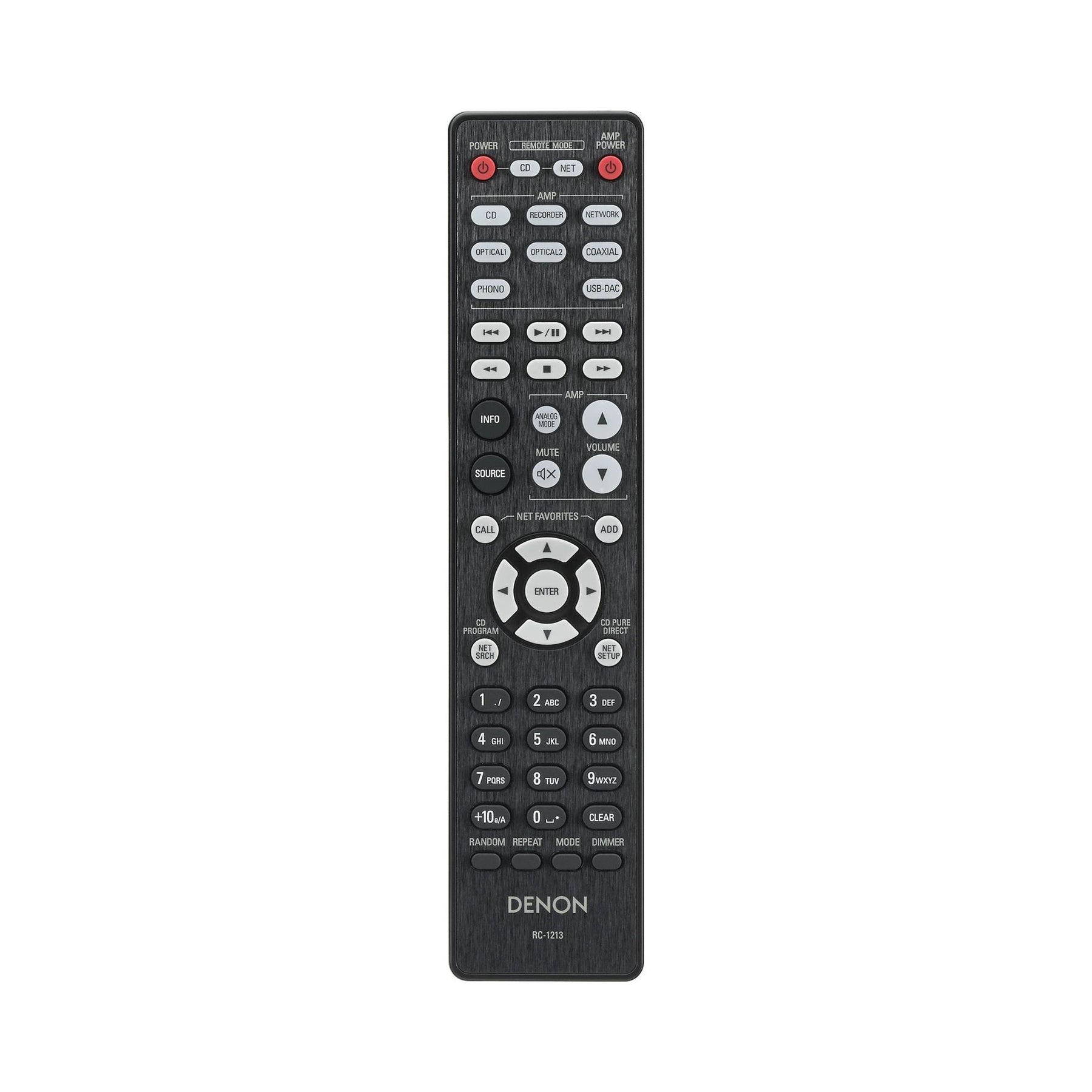 Denon DCD-1600NE - CD Player
DCD-1600NE
Advanced AL32 Processing Plus
By carefully restoring data that was lost during digital recording, the resulting playback sound is highly detailed, free of interference, accurately localized, richly expressive in the lower range, and beautifully faithful to the original sound.
New Denon original disc drive design
The DCD-1600NE's disc drive design contains high-class S.V.H. (Suppress Vibration Hybrid) Mechanism. Signal paths have been shortened to an absolute minimum and circuits have been miniaturized to ensure that excess current or noise will not occur.
DSD data disc playback support
In addition to CD and Super Audio CD, the DCD-1600NE can play DSD (2.8 Mhz / 5.6 MHz) files and high-resolution files up to 192 kHz / 24 bits recorded on DVD-R/RW and DVD+R/RW discs. Music files with sampling frequencies of up to 48 kHz recorded on CD-R/RW discs can also be played.
DAC Master Clock design
Crafted with exceptional quality, the master clock is immediately adjacent to the DAC.
DSD/FLAC disc playback
Enjoy extended disc support for your modern high-resolution audio collection.
Advanced AL32 Processing Plus
Advanced hardware utilizes data interpolation algorithms, which support high-resolution audio sources.
Build with integrity
With a legacy of designing premium audio components, trust that your Denon product has undergone rigorous testing.
Features

Channels: 2.0 Ch

Frequency response: 2 Hz–20 kHz (sampling frequency: 44.1 kHz)

Dynamic Range: 101 dB

Signal-to-noise ratio: 112 dB

Total Harmonic Distortion: 0.0030%

General

Power Supply: AC 120V, 60kHz

Power Consumption in W: 13W

Power consumption (Stand-by): 0.2W

Auto Power Off: No

Analog Output: 2ch

Digital Optical Output: x 1

Maximum Dimensions

Antenna:Horizontal:(W x D x H) in inches 17.09" x 10.75" x 4.21"

Carton Dimensions (Packaging) (W x D x H) in Inches): 20.47" x 14.57" x 7.68"

Weight in LBS: 8.82 LBS

Weight in LBS (Packaging): 11.47 LBS
Features

Channels: 2.0 Ch

Frequency response: 2 Hz–20 kHz (sampling frequency: 44.1 kHz)

Dynamic Range: 101 dB

Signal-to-noise ratio: 112 dB

Total Harmonic Distortion: 0.0030%

General

Power Supply: AC 120V, 60kHz

Power Consumption in W: 13W

Power consumption (Stand-by): 0.2W

Auto Power Off: No

Analog Output: 2ch

Digital Optical Output: x 1

Maximum Dimensions

Antenna:Horizontal:(W x D x H) in inches 17.09" x 10.75" x 4.21"

Carton Dimensions (Packaging) (W x D x H) in Inches): 20.47" x 14.57" x 7.68"

Weight in LBS: 8.82 LBS

Weight in LBS (Packaging): 11.47 LBS