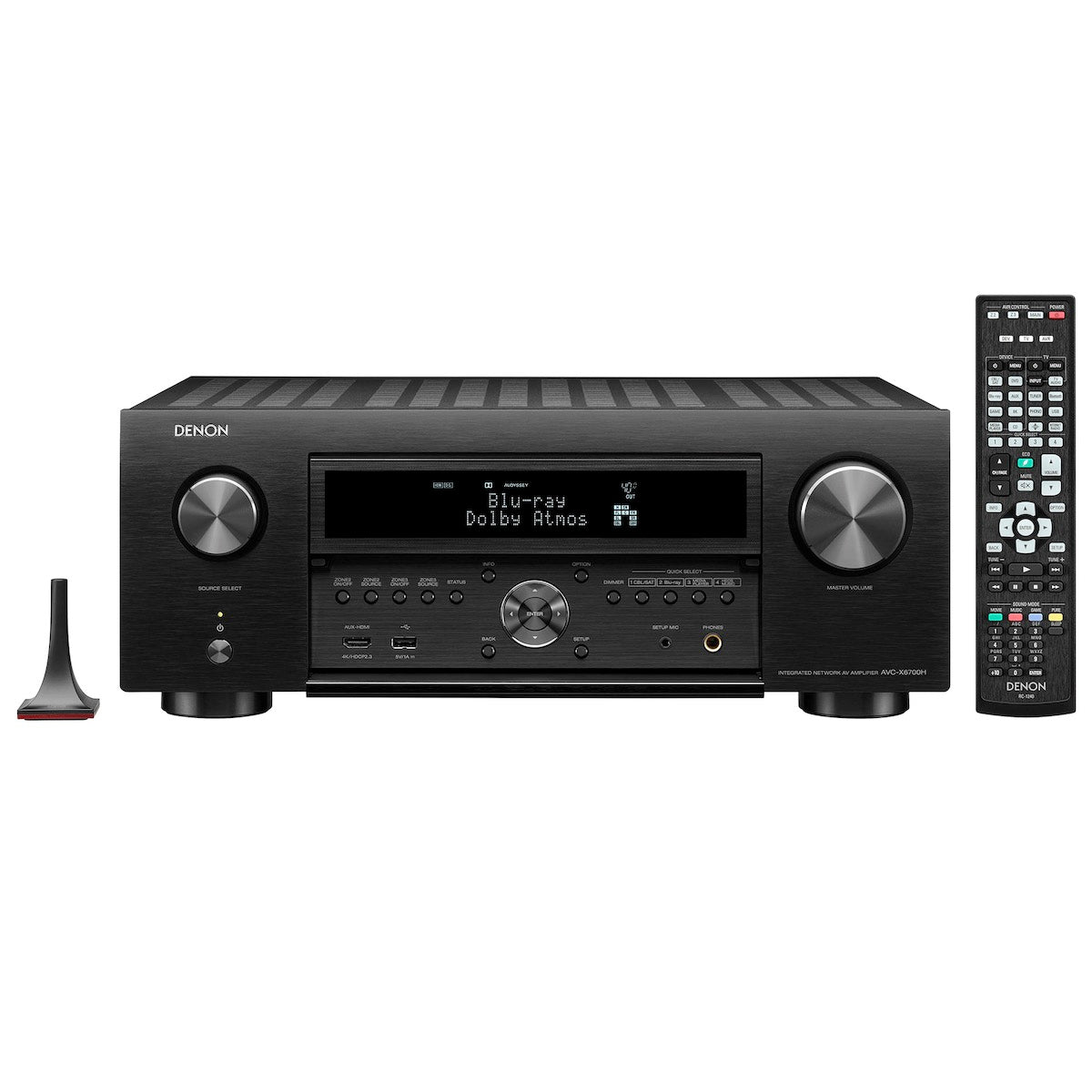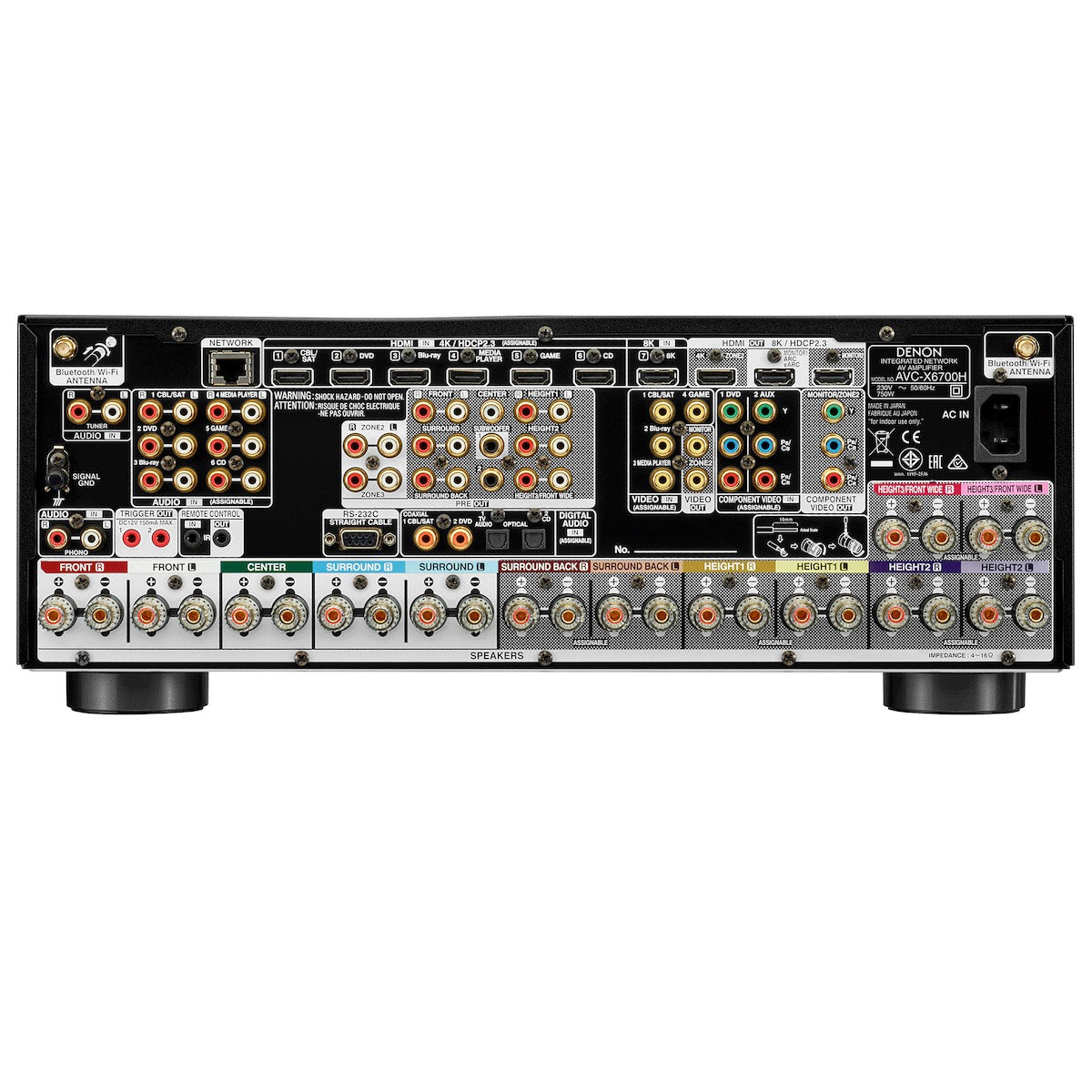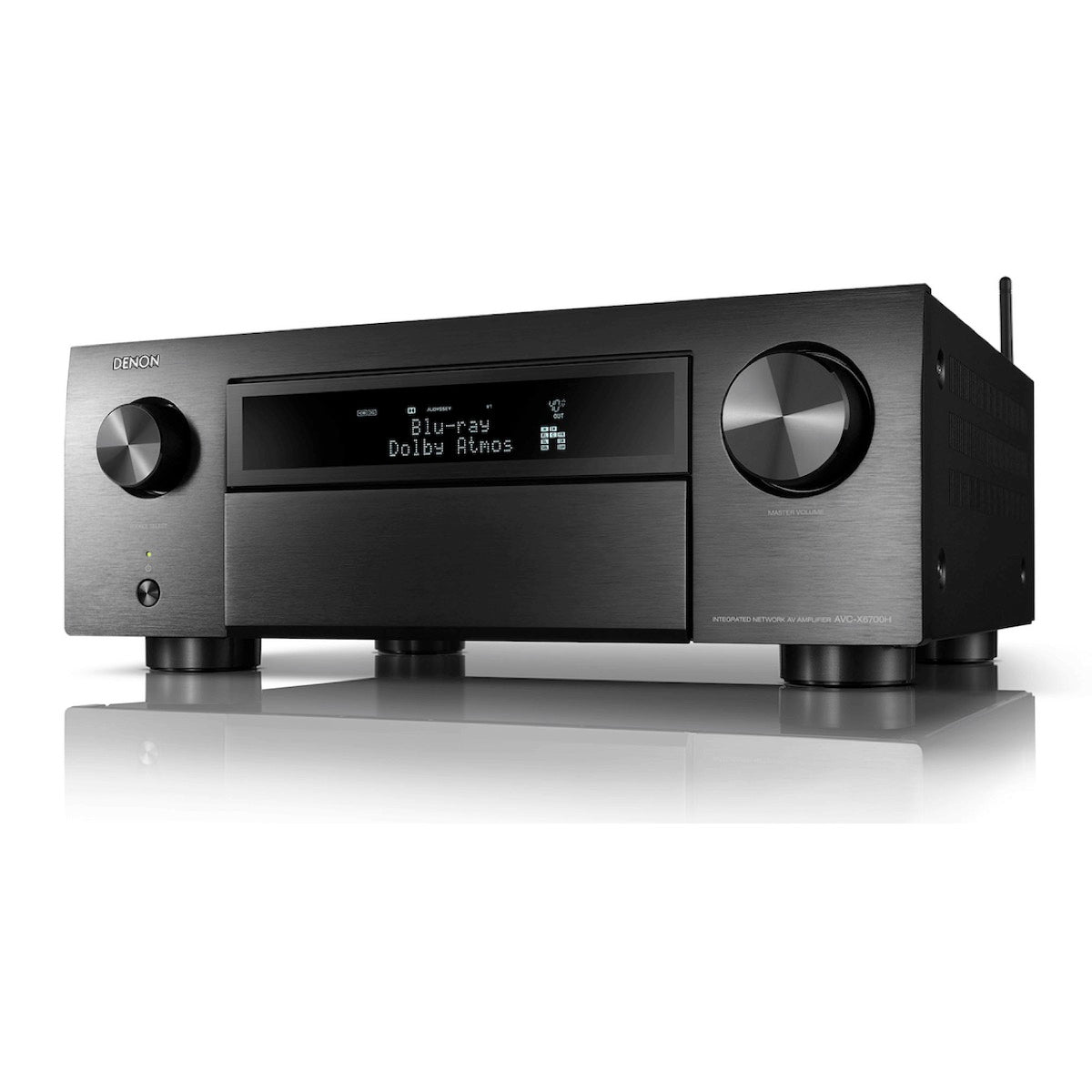 Denon AVC-X6700H - 11.2 Channel AV Receiver
DENON AVC-X6700H
This premium 11.2 channel 8K AV Amplifier with 205W per channel fully supports Dolby Atmos, DTS:X, DTS:X Pro, IMAX Enhanced and Auro-3D. The AVC-X6700H also supports the latest HDMI specifications such as 8K/60Hz and 4K/120Hz pass-through, VRR, ALLM, Dynamic HDR, HDR10+ and eARC support.
Features
Premium-performance discrete 11-channel amplifier in a monolithic design: Delivers a precise and powerful 205W per channel, to provide trusted, precise and powerful Denon sound.

Full 8K/60Hz and 4K/120Hz support and upscaling: With the latest technology in HDMI support, you can enjoy 8K quality video from your 8K source devices with the highest quality available, with 1 supported 8K input and 2 outputs allowing for 8K/60Hz and 4K/120Hz pass-through. 8K upscaling is available on all 8 HDMI inputs.

The latest in HDMI support: With 8 advanced HDMI inputs with full HDCP 2.3 support and 3 HDMI outputs connect to all your favourite media devices and output up to 3 monitor displays so you can enjoy from any room.

Enjoy your favourite immersive 3D audio: Enjoy immersive, 3D audio from sources like Dolby Atmos, Dolby Atmos Height Virtualization, DTS:X, DTS Virtual:X, DTS:X Pro and Auro-3D.

DTS:X Pro support: With the latest in DTS technology, enjoy DTS:X Pro that can process up to 13 channels via future firmware update.

Front wide speakers supported for Dolby Atmos and DTS:X Pro up to 13 channel setups: Supports front wide speakers for a more seamless front surround stage reproduction either in 9.1.2 or 9.1.4 speaker setup.

IMAX Enhanced Technology: Delivers a true IMAX theatre experience at home.

Enhanced Audio Return Channel (eARC) HDMI support: Through the main HDMI output, connect your TV with eARC HDMI support to allow uncompressed and object-based audio formats like Dolby Atmos and DTS:X directly from your smart TV app to your AV amplifier.

The latest in video compatibility: The latest HDR format support including HDR10, HDR10+ (New in 2020), HLG, Dolby Vision, as well as Dynamic HDR (New in 2020), to provide the greatest picture quality for brightness, clarity and contrast.

The next generation in movie immersion: With 8K/60Hz pass-through and upscaling, Dynamic HDR and Quick Media Switching (QMS), enjoy crystal clear and smoothest picture in the highest quality available.

With 4K/120Hz pass-through, Variable Refresh Rate (VRR), Auto Low Latency Mode (ALLM) and Quick Frame Transport (QFT), enjoy your gaming experience with amazing imaging, as well as reduced lag and latency.

New DSP for more processing power: With 13.2 ch. max audio processing, connect external power amplifier to the AVC-X6700H to power two additional channels to enjoy a 13.2 ch. home theatre setup.

Works with your favourite voice assistants: Use your voice to control the AVC-X6700H and wireless music services hands-free, works with Amazon Alexa, Google Assistant and Apple Siri.

Wireless streaming from the most popular music services: Enjoy all of your favourite music services like Spotify, TuneIn Internet Radio, Amazon Music HD, TIDAL, Deezer and more. The AVC-X6700H also lets you enjoy your music via AirPlay 2, letting you stream your favourite tracks from Apple Music.

"Roon Tested" Certified: Get more out of your digital music library with searchable, surfable information about your favourite artists and songs. Find lyrics, concert dates, photos, bios, reviews and more. Subscription required.

Phono input: With its included phono input, the AVC-X6700H lets you connect your turntable and play vinyl records. Enjoy your collection with exceptional quality and sound.

Dual subwoofer outputs: Smooths out low frequencies for better bass dispersion.

HEOS Built-in wireless multi-room music streaming technology: Listen from any room for a connected, whole-home audio experience. The AVC-X6700H also works with the newly introduced Denon Home speakers to let you enjoy a whole-home audio experience.

High-resolution audio streaming for Hi-Fi enthusiasts: Enjoy your favourite Hi-Res quality file playback with FLAC, ALAC, and WAV support, as well as DSD 2.8/5.6MHz.

All Zone TV audio: Play the audio from your TV to another zone for your favourite shows without losing fully discrete surround sound in the main zone.

Built-in Bluetooth and Wi-Fi with 2.4GHz/5GHz dual band support: Solid wireless network connectivity even in congested environments.

Bluetooth Audio Transmitter: Enjoy your favourite audio through your Bluetooth headphones late at night or with your family member who is hearing impaired. This feature supports Bluetooth-only playback as well as simultaneous playback with connected speakers.

Award-winning Denon Setup Assistant and graphical user interface: Easy and intuitive out-of-box and setup experience.

Smart TV connectivity: Control the Denon AVC-X6700H with your TV remote via HDMI CEC.

Audyssey MultEQ XT32, Dynamic Volume, Dynamic EQ, LFC and Sub EQ HT: Delivers the ultimate equalization for your individual room including subwoofer EQ.

Custom install ready: The Denon AVC-X6700H features external control and IP control capabilities for easy customization and compatibility with third-party integration solutions.

Equipped with two 12V trigger outputs: Connect up to two devices such as an automatic screen or projector and operate on standby power.

Amazing audio built on 110-years of innovation: Denon is the defining audio company of Japan. Founded in 1910, we enable the moments that matter through the relentless pursuit of quality, innovation and audio performance.
ADVANCED 8K HDMI VIDEO SECTION WITH EARC
Enjoy your favourite movies, shows and games with the best picture quality available. The AVC-X6700H features an advanced HDMI section (8 in/3 out) with a dedicated 8K input that will support 8K/60Hz and 4K/120Hz video pass-through. All HDMI inputs feature 4:4:4 Pure Color sub sampling, HDR10, HDR10+, Dolby Vision, Hybrid Log-Gamma (HLG), Dynamic HDR, and BT.2020 pass-through support for exceptional color, clarity and contrast. Enjoy full-rate 8K upscaling as well as HDCP 2.3 processing to play copy-protected content uninhibited. The AVC-X6700H also adopts eARC (enhanced Audio Return Channel) to support 3D audio formats directly from your smart TV apps to your AV amplifier.
ADVANCED VIDEO CONTROLS
HDCP 2.3 processing is available on all HDMI ports, letting you enjoy copy-protected content totally uninhibited. Certified by the Imaging Science Foundation, the AVC-X6700H features a full suite of video calibration controls (for use by an ISF technician), along with ISF Day and ISF Night video modes. Enjoy seamless compatibility with the latest HD and Ultra HD TVs, Blu-ray players and game consoles.
BRILLIANT COLOUR – UNIVERSAL COMPATIBILITY, HDR10+ AND DYNAMIC HDR
The AVC-X6700H supports High Dynamic Range video format, HDR10, Dolby Vision and HLG (Hybrid Log Gamma). Dolby Vision transforms the viewing experiences with astonishing brightness, contrast, and colour. HLG offers HDR technology over broadcast content for a crisper, cleaner image. The AVC-X6700H also supports HDR10+, which sends dynamic meta data to TV for more realistic images, as well as Dynamic HDR.
(Some technologies are not available on all televisions.)
THE NEXT GENERATION IN GAMING
With the latest in HDMI support, the new AVC-X6700H will take your gaming to the next level. Enjoy gaming with 4K/120Hz pass-through and upscaling, as well as Variable Refresh Rate (VRR), Quick Frame Transport (QFT), and Auto Low Latency Mode (ALLM), which reduces or eliminates lag and frame tearing to offer a smoother, lag-free gaming experience.
POWERFUL 11-CHANNEL AMPLIFIER
Featuring a sophisticated power amplifier design, the AVC-X6700H delivers high-power performance at 205 watts per channel to ensure a dynamic and precise entertainment experience. Low impedance drivers provide operational stability for a wide range of speakers and create a balanced, tonal sound. Upgrade your expectations in home theatre entertainment.
BLUETOOTH AUDIO TRANSMISSION
Enjoy your favourite audio without waking your whole home by transmitting the audio coming from your AV amplifier to your Bluetooth headphones. The AVC-X6700H even allows you to play the audio on both Bluetooth headphones and connected speakers simultaneously. If you have a family member or a friend who is hearing impaired, we recommend this setup.
FRONT WIDE CHANNEL SUPPORT ON DOLBY AND DTS:X
With front wide channel support, you can add two front wide speakers with both Dolby and DTS to create a more seamless front surround stage up to 9.1.2 or 9.1.4 speaker configurations. 9.1.4 setup requires additional 2 channel amplifications connected to the AVC-X6700H.
Channels

11.2

Object-Based Configuration: 7.1.4

Object-Based Configuration: 9.1.2

With External Amplifier: 13.2

Power Output per Channel

2-Channel Driven: 140 W at 8 Ohms / 20 Hz to 20 kHz / 0.05% THD, 175 W at 6 Ohms / 1 kHz / 0.7% THD

1-Channel Driven: 205 W at 6 Ohms / 1 kHz / 1% THD

Frequency Response

10 Hz to 100 kHz +1/-3 dB (Direct Mode)

Speaker Impedance

4 to 16 Ohms

DTS Compatibility

DTS-HD Master Audio, DTS:X

Dolby Compatibility

Dolby Atmos, Dolby Pro Logic IIz, Dolby TrueHD

Auro 3D Support

Yes

Upmixing Technology

Dolby Surround, DTS Neural:X, DTS Virtual:X, Dolby Atmos Height Virtualization Technology

Supported File Formats

AAC, ALAC, DSD, FLAC, MP3, WAV, WMA

HDR Compatibility

HDR10, HDR10+, Dolby Vision, Hybrid Log Gamma

Pass-Through Support

8K60p 4:4:4 (3D, BT.2020)

Upscaling

8K

GUI

Yes

Rear A/V Inputs

7 x HDMI

2 x 3RCA Component

4 x RCA Composite

2 x Optical TOSLINK

2 x Digital Coaxial

6 x Stereo RCA

1 x Stereo RCA (Phono) with Ground Screw

Rear A/V Outputs

3 x HDMI

1 x 3RCA Component

2 x RCA Composite

2 x RCA Subwoofer

1 x 13-Channel RCA Pre-Out

1 x Stereo RCA Zone 2 Pre-Out

1 x Stereo RCA Zone 3 Pre-Out

Front I/O

1 x HDMI Input

1 x USB Type-A Input

1 x 1/4" / 6.35 mm Headphone Output

1 x 1/8" / 3.5 mm Setup Mic Input

Other Rear I/O

2 x Bluetooth/Wi-Fi Antenna Terminal Input

1 x RJ45 (Ethernet)

1 x DE-9 (RS-232C)

2 x 1/8" / 3.5 mm (12 V Trigger) Output

1 x 1/8" / 3.5 mm (IR) Input

1 x 1/8" / 3.5 mm (IR) Output

Speaker Connectors

13 x Binding Post Pairs

HDCP Support

Version 2.3

Audio Return Channel (ARC)

Yes, eARC

HDMI CEC

Yes

Input Sensitivity

200 mV

Signal to Noise Ratio

100 dB (Direct Mode / IHF-A)

Wireless Audio Protocols

AirPlay 2, HEOS

Virtual Assistant Support

Amazon Alexa, Apple Siri, Google Assistant, Josh.ai

Tuner Type

None

Radio Frequencies

 Not Applicable

AC Input Power

230 VAC, 50 Hz

Power Consumption

Active: 750 W

No Sound (ECO Off): 110 W

No Sound (ECO On): 65 W

Network Standby: 3.5 W

CEC Standby: 0.5 W

Standby: 0.1 W

Dimensions (W x H x D)

17.1 x 9.3 x 15.3" / 43.4 x 23.6 x 38.9 cm (Antenna Up)

17.1 x 6.6 x 15.3" / 43.4 x 16.8 x 38.9 cm (Antenna Down)

17.1 x 6.6 x 14.9" / 43.4 x 16.8 x 37.8 cm (Antenna Removed)

Weight

32 lb / 14.51 kg
Channels

11.2

Object-Based Configuration: 7.1.4

Object-Based Configuration: 9.1.2

With External Amplifier: 13.2

Power Output per Channel

2-Channel Driven: 140 W at 8 Ohms / 20 Hz to 20 kHz / 0.05% THD, 175 W at 6 Ohms / 1 kHz / 0.7% THD

1-Channel Driven: 205 W at 6 Ohms / 1 kHz / 1% THD

Frequency Response

10 Hz to 100 kHz +1/-3 dB (Direct Mode)

Speaker Impedance

4 to 16 Ohms

DTS Compatibility

DTS-HD Master Audio, DTS:X

Dolby Compatibility

Dolby Atmos, Dolby Pro Logic IIz, Dolby TrueHD

Auro 3D Support

Yes

Upmixing Technology

Dolby Surround, DTS Neural:X, DTS Virtual:X, Dolby Atmos Height Virtualization Technology

Supported File Formats

AAC, ALAC, DSD, FLAC, MP3, WAV, WMA

HDR Compatibility

HDR10, HDR10+, Dolby Vision, Hybrid Log Gamma

Pass-Through Support

8K60p 4:4:4 (3D, BT.2020)

Upscaling

8K

GUI

Yes

Rear A/V Inputs

7 x HDMI

2 x 3RCA Component

4 x RCA Composite

2 x Optical TOSLINK

2 x Digital Coaxial

6 x Stereo RCA

1 x Stereo RCA (Phono) with Ground Screw

Rear A/V Outputs

3 x HDMI

1 x 3RCA Component

2 x RCA Composite

2 x RCA Subwoofer

1 x 13-Channel RCA Pre-Out

1 x Stereo RCA Zone 2 Pre-Out

1 x Stereo RCA Zone 3 Pre-Out

Front I/O

1 x HDMI Input

1 x USB Type-A Input

1 x 1/4" / 6.35 mm Headphone Output

1 x 1/8" / 3.5 mm Setup Mic Input

Other Rear I/O

2 x Bluetooth/Wi-Fi Antenna Terminal Input

1 x RJ45 (Ethernet)

1 x DE-9 (RS-232C)

2 x 1/8" / 3.5 mm (12 V Trigger) Output

1 x 1/8" / 3.5 mm (IR) Input

1 x 1/8" / 3.5 mm (IR) Output

Speaker Connectors

13 x Binding Post Pairs

HDCP Support

Version 2.3

Audio Return Channel (ARC)

Yes, eARC

HDMI CEC

Yes

Input Sensitivity

200 mV

Signal to Noise Ratio

100 dB (Direct Mode / IHF-A)

Wireless Audio Protocols

AirPlay 2, HEOS

Virtual Assistant Support

Amazon Alexa, Apple Siri, Google Assistant, Josh.ai

Tuner Type

None

Radio Frequencies

 Not Applicable

AC Input Power

230 VAC, 50 Hz

Power Consumption

Active: 750 W

No Sound (ECO Off): 110 W

No Sound (ECO On): 65 W

Network Standby: 3.5 W

CEC Standby: 0.5 W

Standby: 0.1 W

Dimensions (W x H x D)

17.1 x 9.3 x 15.3" / 43.4 x 23.6 x 38.9 cm (Antenna Up)

17.1 x 6.6 x 15.3" / 43.4 x 16.8 x 38.9 cm (Antenna Down)

17.1 x 6.6 x 14.9" / 43.4 x 16.8 x 37.8 cm (Antenna Removed)

Weight

32 lb / 14.51 kg