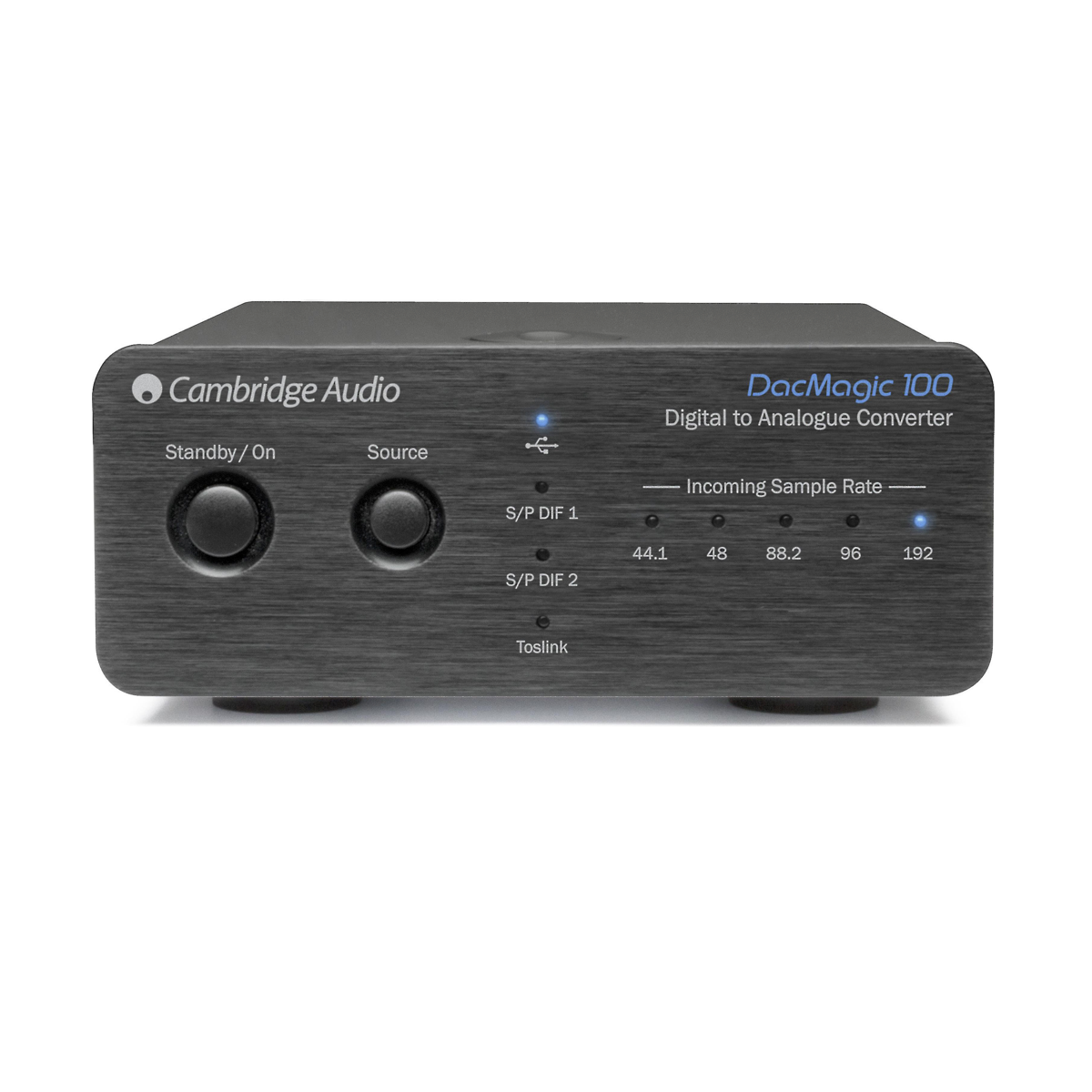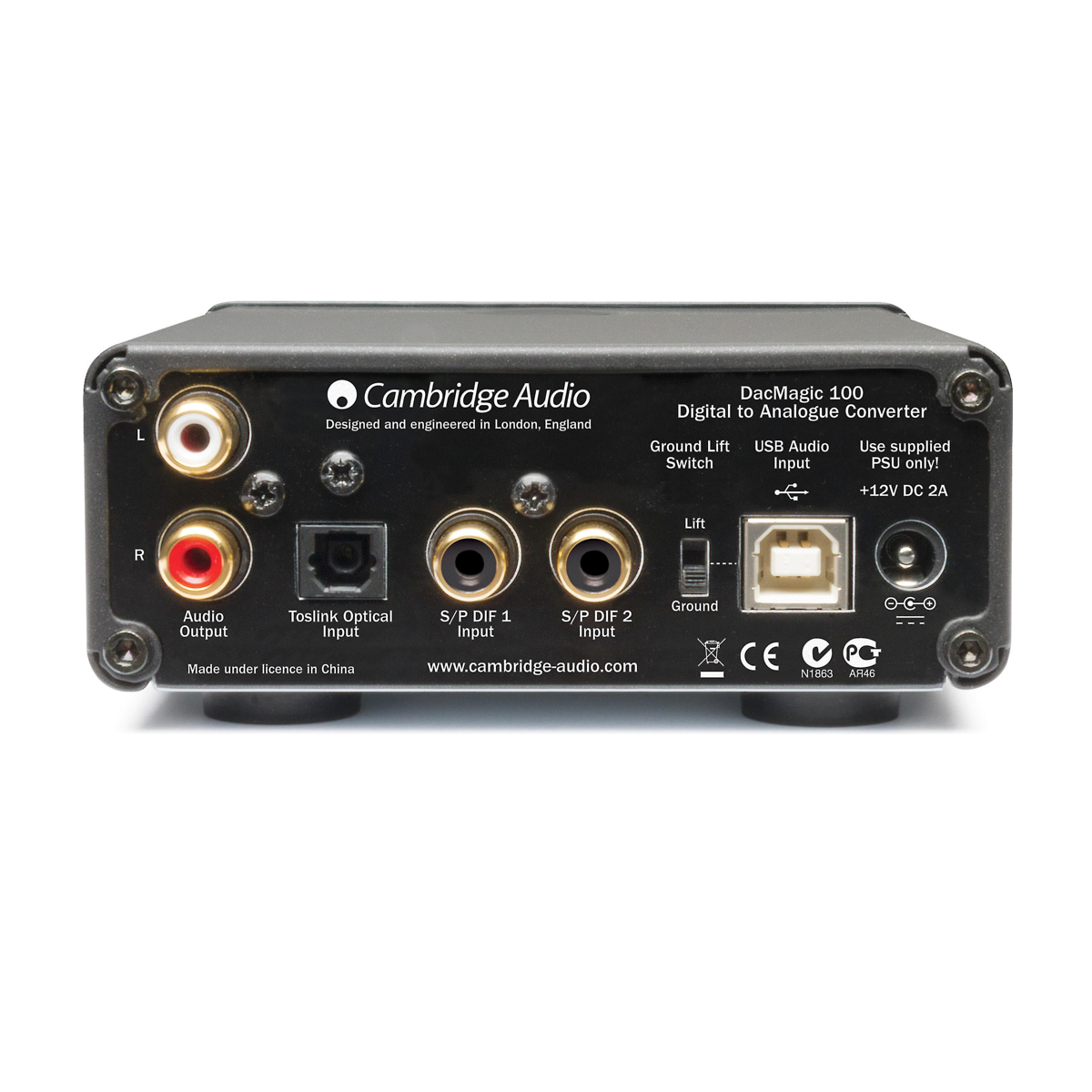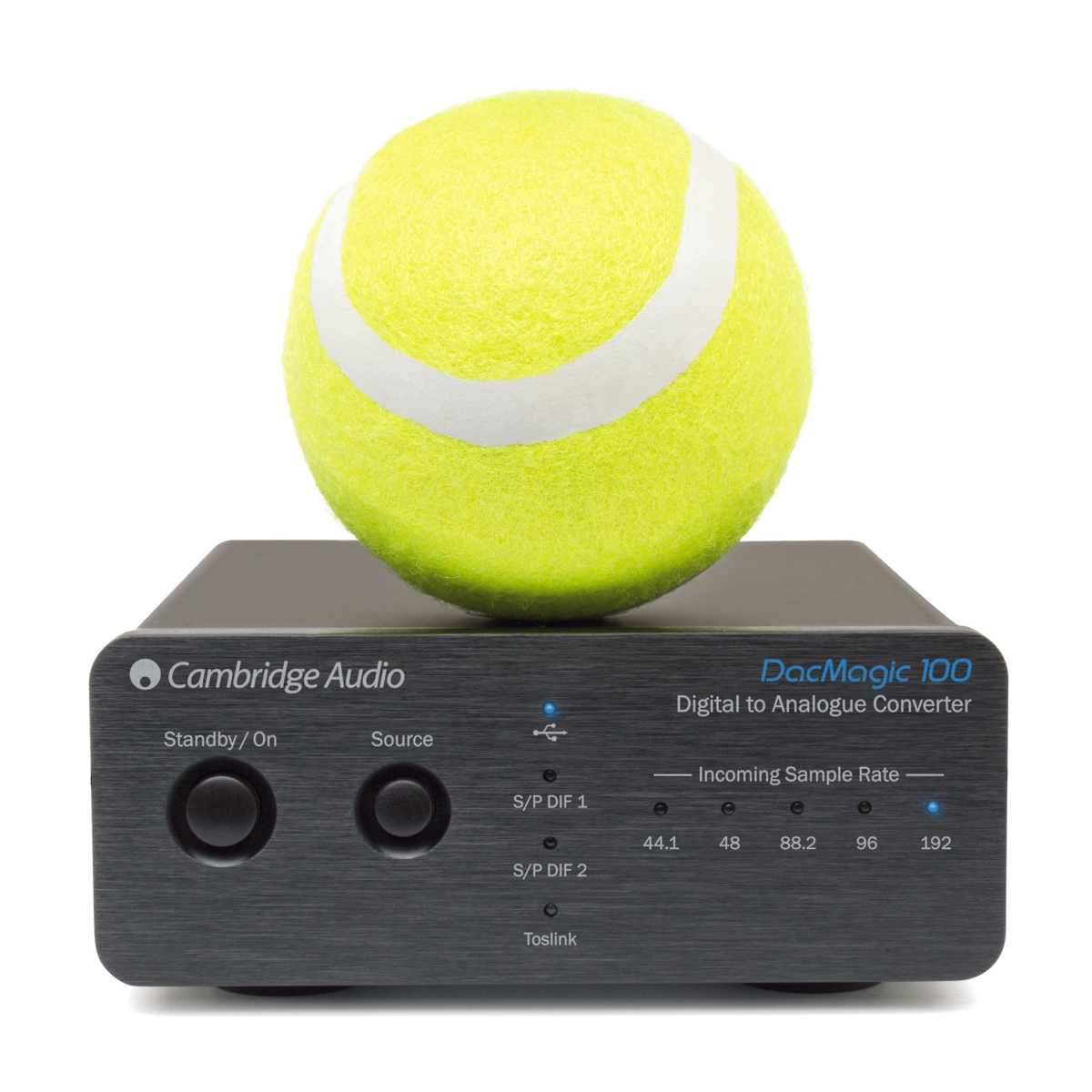 Cambridge Audio DACMagic 100 - Digital to Analogue Converter
CAMBRIDGE AUDIO DACMagic 100
Thanks to a Wolfson 24-bit DAC, a 24-bit/96kHz driverless USB Audio 1.0 input and S/PDIF and TosLink digital inputs, the DacMagic 100 takes the sound from your computer, iPod, TV and other digital devices and adds detail, depth and added clarity to give you a true audio experience.
PURE PROCESS
Generally the digital to analogue converter found in typical digital devices is pretty poor and won't extract the truest quality of audio from your sources. The DacMagic 100 works by taking a direct digital audio signal from your device to bypass its soundcard or DAC. It then digitally processes the audio signal using Cambridge Audio's custom designed technology, dramatically improving sound quality and reducing distortion. This results in greater detail, sparkling clarity and a deeper scale to all of your audio.
COMPATIBILITY

 
DacMagic 100 is very flexible and supports virtually all digital file formats including the very highest quality 24-bit studio master or lossless quality audio files stored on your computer. With three different digital connectivity options and the ability to connect four devices concurrently, DacMagic 100 is a true digital music enhancement hub. Set-up is totally intuitive, allowing you to begin enjoying better quality audio in minutes.
SOUND FIRST DESIGN 
Like all of Cambridge Audio's products, the DacMagic 100 was custom developed from the ground-up by their design team at their headquarters in the heart of London. Their engineering teams put an incredible amount of attention to detail on ensuring the sound quality is the focus of the product, for the DacMagic 100 this included incorporating the very latest digital to analogue converter from market-leader Wolfson.
| | |
| --- | --- |
| DIGITAL TO ANALOGUE CONVERTER | Wolfson WM8742 24-bit DAC |
| FREQUENCY RESPONSE | 20Hz to 20kHz (±0.1dB) |
| THD @ 1KHZ 0DBFS | <0.0025% 24-bit |
| THD @ 1KHZ -10DBFS | <0.0025% 24-bit |
| THD @ 20KHZ 0DBFS | <0.0025% |
| SIGNAL TO NOISE RATIO | -113dBr |
| TOTAL CORRELATED JITTER | <130pS |
| CROSSTALK @ 1KHZ | < -130dB |
| CROSSTALK @ 20KHZ | < -112dB |
| OUTPUT IMPEDANCE | <50ohms |
| MAX. OUTPUT LEVEL (UNBALANCED) | 2.3V rms |
| DIGITAL INPUT WORD WIDTHS SUPPORTED | 16-24bit |
| DIGITAL INPUT SAMPLING FREQUENCIES SUPPORTED | 32kHz, 44.1kHz, 48kHz, 88.2kHz, 96kHz, 192kHz |
| MAX. POWER CONSUMPTION | 5W |
| DIMENSIONS (WXHXD) | 106 x 46 x 130mm (4.1 x 1.8 x 5.1") |
| WEIGHT | 0.5Kg (1.1 lbs) |
| | |
| --- | --- |
| DIGITAL TO ANALOGUE CONVERTER | Wolfson WM8742 24-bit DAC |
| FREQUENCY RESPONSE | 20Hz to 20kHz (±0.1dB) |
| THD @ 1KHZ 0DBFS | <0.0025% 24-bit |
| THD @ 1KHZ -10DBFS | <0.0025% 24-bit |
| THD @ 20KHZ 0DBFS | <0.0025% |
| SIGNAL TO NOISE RATIO | -113dBr |
| TOTAL CORRELATED JITTER | <130pS |
| CROSSTALK @ 1KHZ | < -130dB |
| CROSSTALK @ 20KHZ | < -112dB |
| OUTPUT IMPEDANCE | <50ohms |
| MAX. OUTPUT LEVEL (UNBALANCED) | 2.3V rms |
| DIGITAL INPUT WORD WIDTHS SUPPORTED | 16-24bit |
| DIGITAL INPUT SAMPLING FREQUENCIES SUPPORTED | 32kHz, 44.1kHz, 48kHz, 88.2kHz, 96kHz, 192kHz |
| MAX. POWER CONSUMPTION | 5W |
| DIMENSIONS (WXHXD) | 106 x 46 x 130mm (4.1 x 1.8 x 5.1") |
| WEIGHT | 0.5Kg (1.1 lbs) |