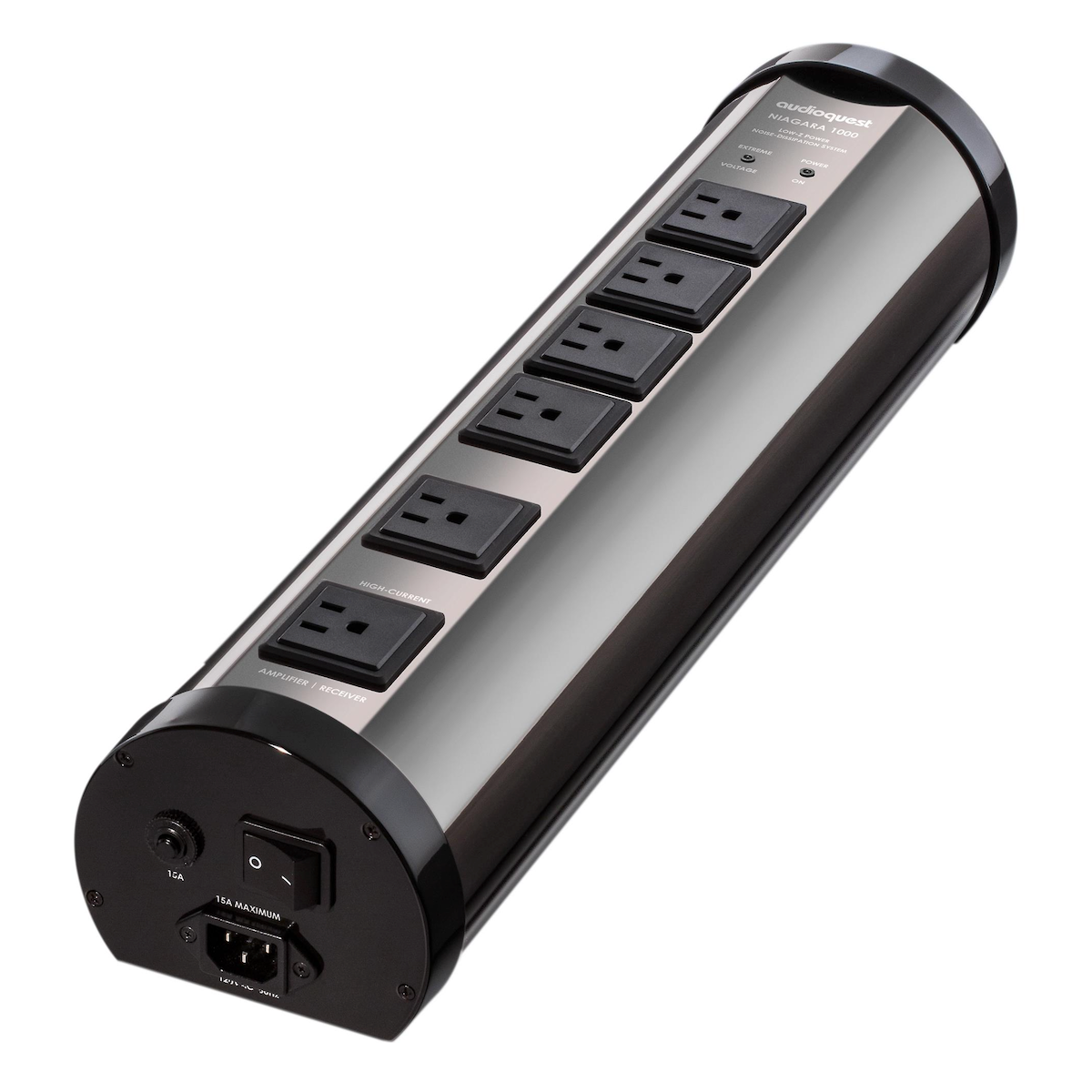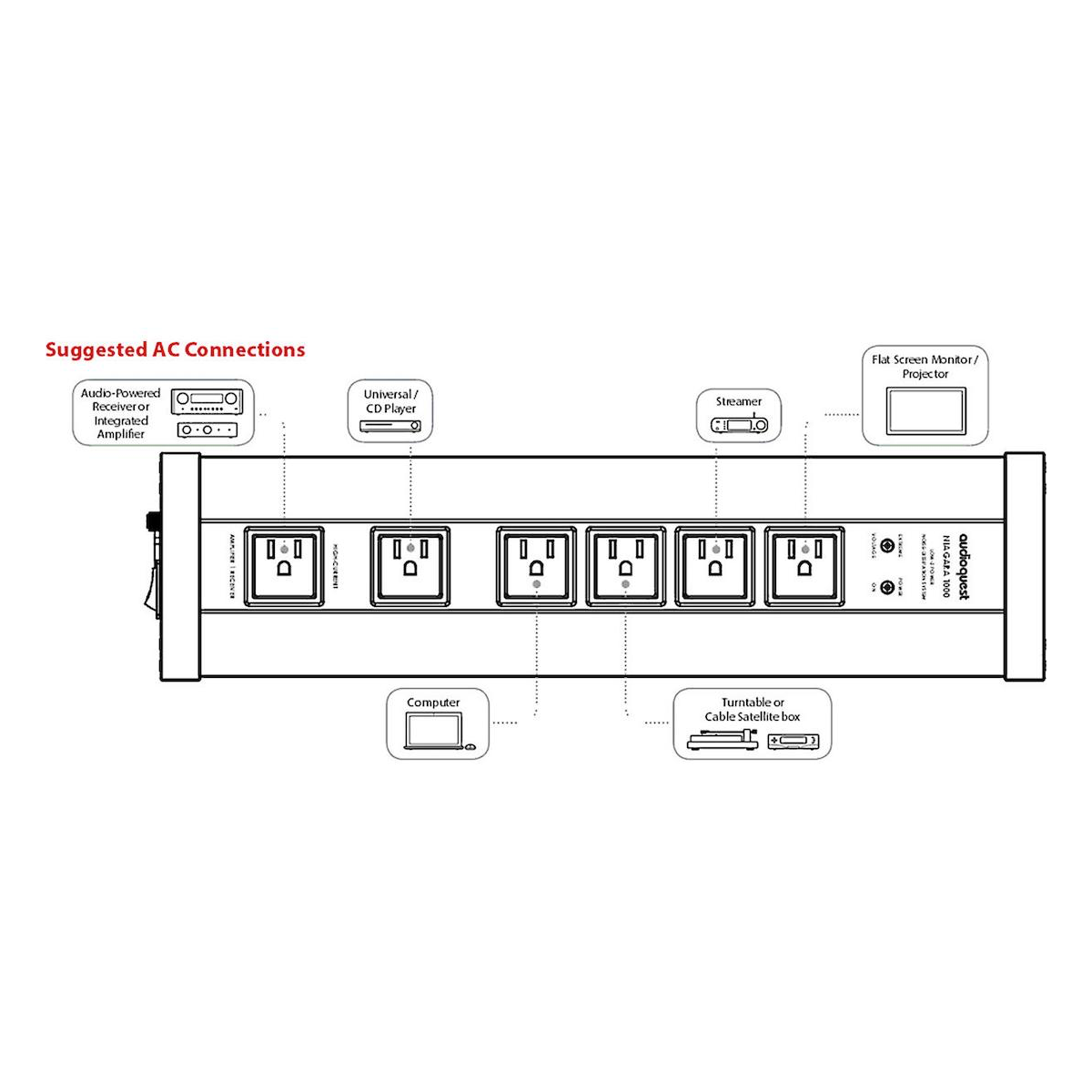 AudioQuest Niagara 1000 - Low-Z Power Noise-Dissipation System
NIAGARA 1000 LOW - Z POWER & NOISE DISSIPATION SYSTEM
Please note that this item carries a 4-5 week delivery timeline.
REDEFINING THE SCIENCE OF POWER CONDITIONING
Niagara 1000 brings the benefits of highly optimized power management to far more music lovers.
Designed by Garth Powell, the Niagara 1000 embodies the very same design philosophy and incorporates the same patented technology found in its larger sibling, the Niagara 7000, but packs it into a smaller, sleeker enclosure—at a fraction of the price.
Much like the Niagara 7000, the Niagara 1000 uses ultra-low resistance solid-core wiring optimized for low-noise directionality, capacitor forming technologies that vastly improve linearity and minimize distortion, and low impedance AC inlet and outlet contacts with heavy silver plating over high-purity Beryllium Copper for superior noise dissipation. Similarly, Niagara 1000 features our non-sacrificial surge protection, Zero Ground-Contamination Technology, and over-voltage shutdown, ensuring that your customers' A/V systems are thoroughly protected from AC surges and spikes.
While the Niagara 1000 lacks the 7000's sophisticated Transient Power Correction and Dielectric-Biased AC Isolation Transformers, it does employ our patented Ground-Noise Dissipation and Ultra-Linear Noise-Dissipation Technology. And, whereas the Niagara 7000 has 12 AC outlets, the Niagara 1000 fits six high-performance outlets into its sleek chassis. In addition, input current maximum capacity—20 amps RMS in the Niagara 7000—is 15 amps RMS in the 1000.
Of course, the biggest differences between the 7000 and 1000 are also the most obvious: size, shape, and weight. The Niagara 7000 can be rack-mounted and measures 15.5" W x 5.24" H x 17.2" D and weighs an impressive 81 lbs. The Niagara 1000, however, is designed to be placed on a floor or atop a rack, beside or behind a hi-fi system, measures 4.75" W x 4.0" H x 20.0" D, and weighs a much more manageable 5.5lbs. Perhaps most important, at INR 96,900/- the Niagara 1000 brings the benefits of highly optimized power management to far more music lovers.
NIAGARA 1000 ULTRA-LINEAR NDS
Ultra-Linear Noise-Dissipation Technology: More than 18 octaves of AC differential filtering with linear response, optimized for varying line and load impedance.
6 AC outlets

1 High-Current Ground-Noise Dissipated

5 Ultra-Linear Filtered/Ground-Noise Dissipated

Direction-Controlled

Ultra-Low-Resistance Solid-Core Wiring

AudioQuest

Ultra-Linear AC RF Filtering Capacitors

Patented Ground-Noise Dissipation

3 banks of direction-controlled ground noise dissipation

Ultra-Linear Noise-Dissipation Technology

More than 18 octaves of AC differential filtering with linear response

Optimized for varying line and load impedance

Non-Sacrificial Surge Protection

Withstands multiple AC surges and spikes up to 6000V/3000A

Zero Ground-Contamination Technology

Prevents the noise or surge energy present on AC Line or Neutral from connecting to the AC Ground

Over-Voltage Shutdown

Automatic Reset

Low-Z (low impedance)

NRG Series AC Power Inlets and Outlets

Dimensions

4" W x 4" H x 20" D

Weight

3 Kg
6 AC outlets

1 High-Current Ground-Noise Dissipated

5 Ultra-Linear Filtered/Ground-Noise Dissipated

Direction-Controlled

Ultra-Low-Resistance Solid-Core Wiring

AudioQuest

Ultra-Linear AC RF Filtering Capacitors

Patented Ground-Noise Dissipation

3 banks of direction-controlled ground noise dissipation

Ultra-Linear Noise-Dissipation Technology

More than 18 octaves of AC differential filtering with linear response

Optimized for varying line and load impedance

Non-Sacrificial Surge Protection

Withstands multiple AC surges and spikes up to 6000V/3000A

Zero Ground-Contamination Technology

Prevents the noise or surge energy present on AC Line or Neutral from connecting to the AC Ground

Over-Voltage Shutdown

Automatic Reset

Low-Z (low impedance)

NRG Series AC Power Inlets and Outlets

Dimensions

4" W x 4" H x 20" D

Weight

3 Kg