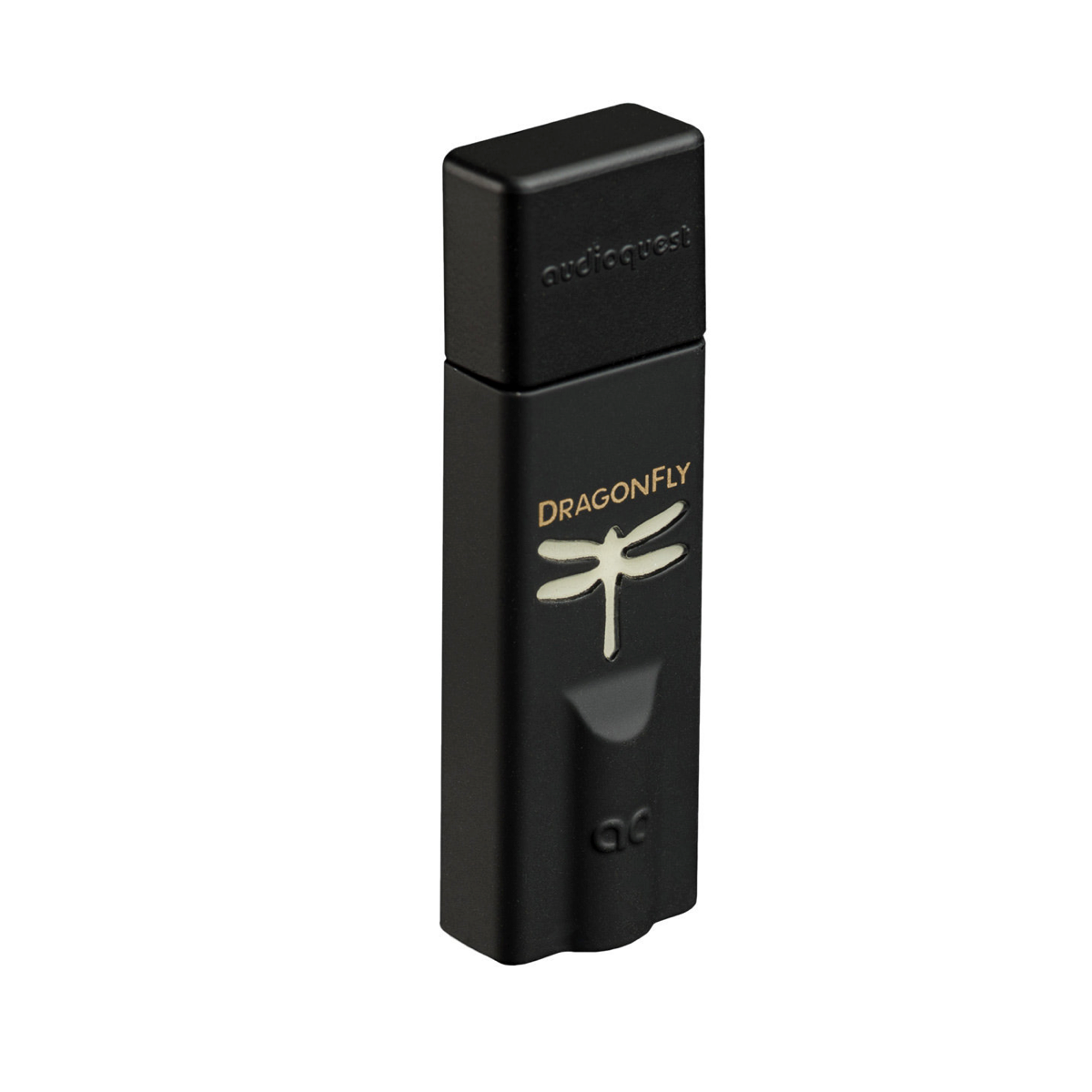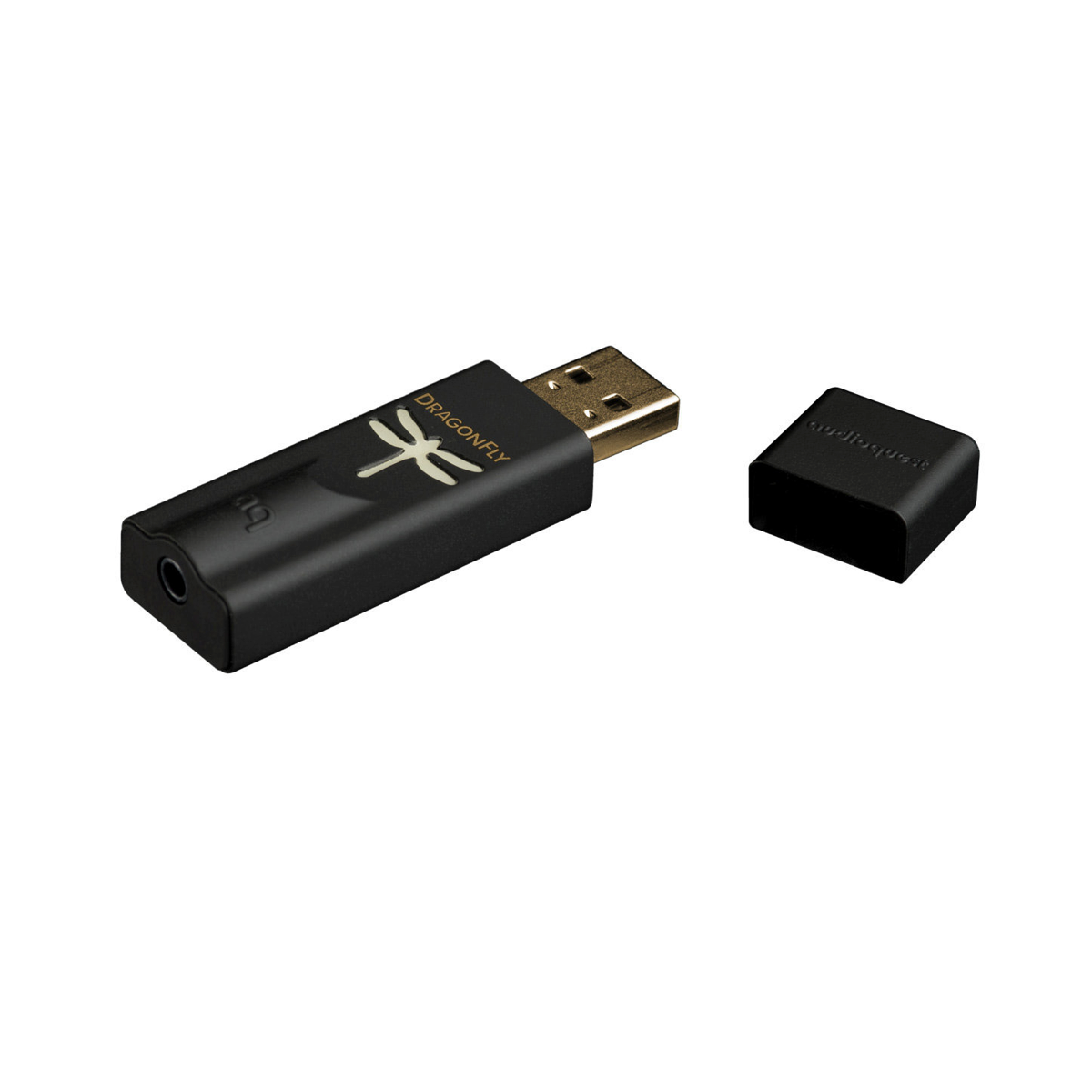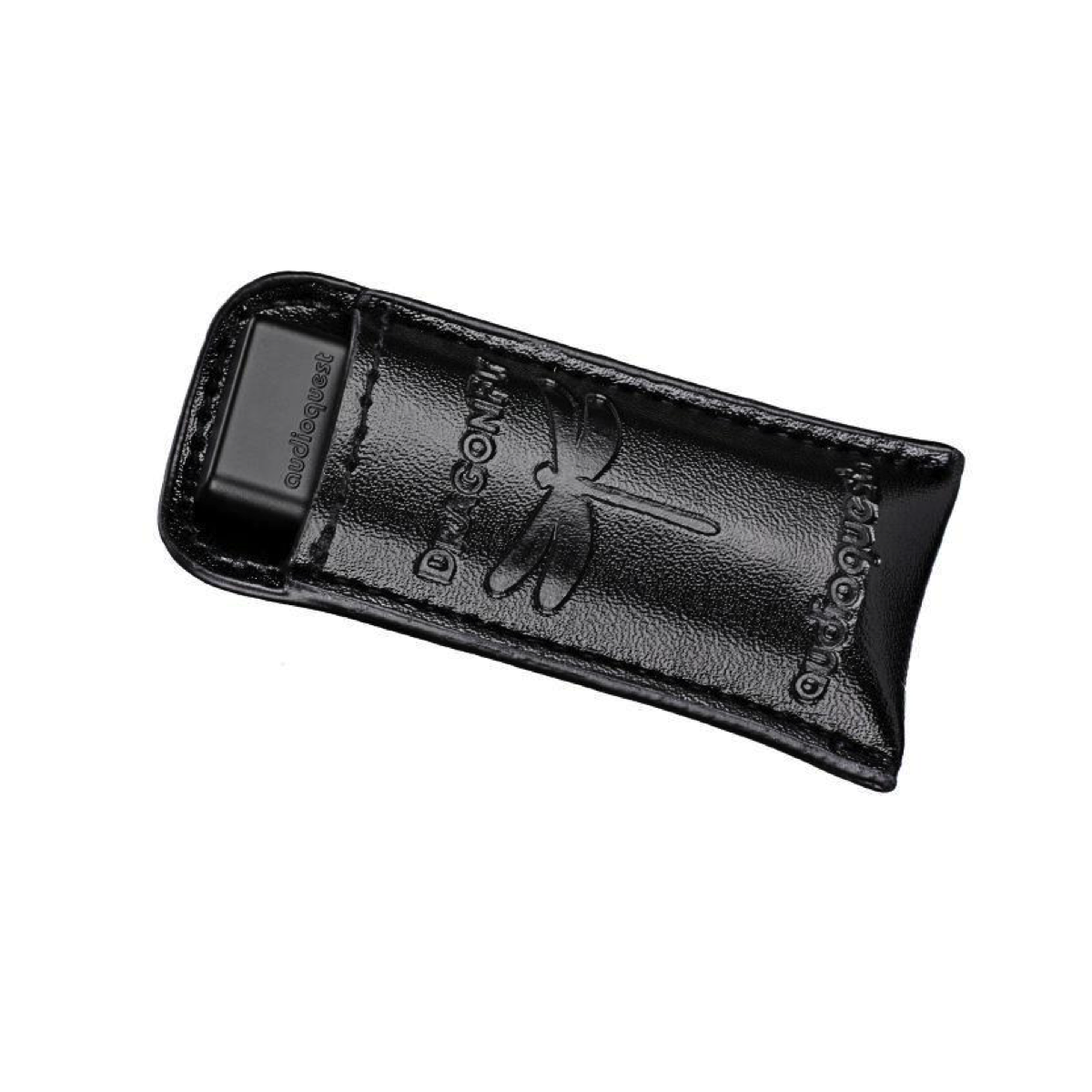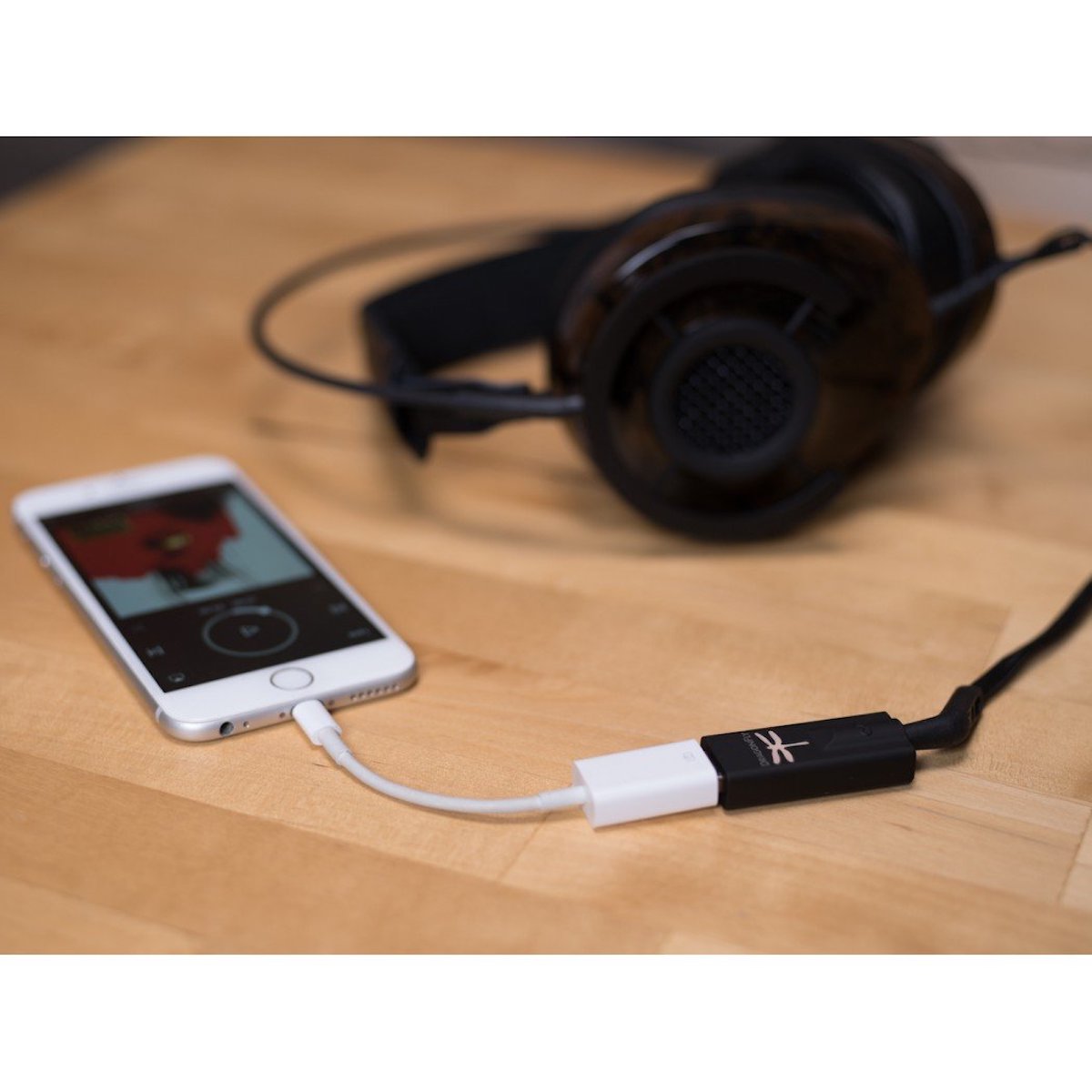 AudioQuest DragonFly Black - USB DAC + Preamp + Headphone Amplifier
AUDIOQUEST DRAGONFLY BLACK
The DragonFly Black from AudioQuest is a flash drive-sized Digital Audio Converter (DAC), preamplifier, and headphone amplifier that connects to a USB port. It features a 32-bit ESS Sabre conversion chip that bypasses the device's sound card to deliver higher quality sound from your Mac, Windows, iOS, or Android device (use with mobile devices requires optional adapters). Compared to earlier models, the Black version has improved circuitry between the DAC chip and analog output, as well as a fortified power supply. Its 1/8" (3.5mm) stereo output can connect a set of headphones or allow patching into a larger audio system.
The DragonFly Black can accept audio files ranging from MP3s and CD-standard 16-bit / 44.1 kHz L-PCMs to higher resolution 24-bit / 96 kHz formats. Using USB protocol, DragonFly commands the timing of the audio data transfer, dramatically reducing errors. DragonFly Black employs a unique clock system called a Hybrid-PLL. While not discrete, the Hybrid-PLL performs equal to, or better than, many discrete clock systems. A smart LED indicator on the DragonFly shows the resolution and status of the incoming signal. Additionally, DragonFly's analog circuits are direct-coupled from the ESS converter chip's output, avoiding the need for any extraneous components in the signal path.
1.2 Volt Output
Direct-Coupled, Medium Output: More than enough power to successfully and gracefully drive a wide range of today's efficient headphones. Although DF Black has a lower output voltage than DF 1.2, its more advanced micro-controller and updated DAC chip mean that it can deliver more musical texture and detail, even when used with moderate-efficiency (~95-100 dB/mW) headphones. When used as a line-level device (volume set to 100%), DF Black's 1.2 volts provide enough power to drive all preamplifier, integrated amplifier, or receiver inputs.
Microchip PIC32MX
The Microchip PIC32MX (USB 2.0 compliant) is a full-speed isochronous USB audio solution. Compared to other controllers, the Microchip microcontroller offers extremely low power consumption (77% lower than the TAS1020b and 95% lower than the most efficient XMOS solution), 32-bit architecture, and the option for software upgradability (via a desktop application provided by AudioQuest). In addition, the Microchip's ultra-low-noise power supply minimizes the sound-degrading effect of high-frequency interference on the critical audio signal.
ESS 9010 32-Bit
Compared to the ESS 9023, the 32-bit ESS 9010 offers improved overall performance and uses a sophisticated minimum-phase digital filter to provide more naturally detailed and dynamic music.
Analog Volume Control
Digitally controlled (from the host) analog volume control. With DF Black connected to a PC or mobile device, adjusting the host's volume control will, through proxy, control the DF Black's on-board volume, ensuring maximum resolution regardless of volume setting.
Proprietary Asynchronous USB code
A proprietary asynchronous USB code ensures low jitter, low resource load, minimal packet errors, world-class audio playback, and reliable connectivity between our DAC and any computing device compliant with USB Host Mode (as set forth by the USB Organization). The code requires no additional drivers, making DragonFly Black virtually plug-and-play for Apple, Windows, iOS, and Android users (use with mobile devices requires optional adapters).
LED Indicators
DragonFly Black's LED lights up in different colors to indicate status or sample rate:
Red: Standby

Green: 44.1 kHz

Blue: 48.0 kHz

Amber: 88.2 kHz

Magenta: 96.0 kHz
Max Sample Rate/Resolution

96 kHz / 24-Bit

Host Connection

1 x USB Type-A (USB 2.0)

Analog I/O

1 x 1/8" / 3.5 mm TRS Output

Digital I/O

None

MIDI I/O

None

Sample Rates

44.1, 48, 88.2, and 96 kHz

Bit Depth

24-Bit (AD/DA Conversion)

OS Compatibility

Windows 7

Windows 8.1

Windows 10

macOS 10

Linux

iOS 5 or Later

Android 4.1 or Later

Dimensions

0.5 x 0.7 x 2.4" / 12 x 19 x 62 mm
Max Sample Rate/Resolution

96 kHz / 24-Bit

Host Connection

1 x USB Type-A (USB 2.0)

Analog I/O

1 x 1/8" / 3.5 mm TRS Output

Digital I/O

None

MIDI I/O

None

Sample Rates

44.1, 48, 88.2, and 96 kHz

Bit Depth

24-Bit (AD/DA Conversion)

OS Compatibility

Windows 7

Windows 8.1

Windows 10

macOS 10

Linux

iOS 5 or Later

Android 4.1 or Later

Dimensions

0.5 x 0.7 x 2.4" / 12 x 19 x 62 mm