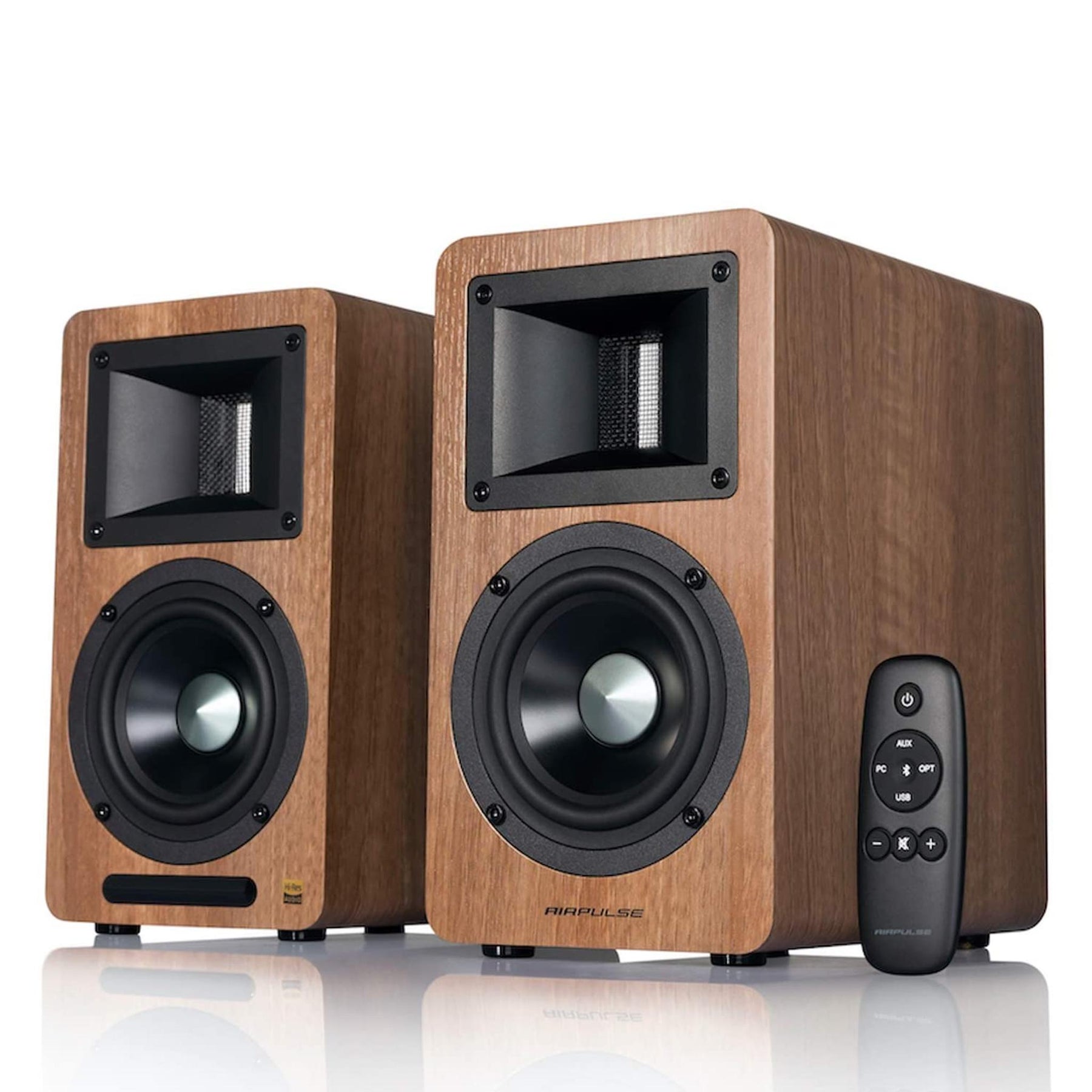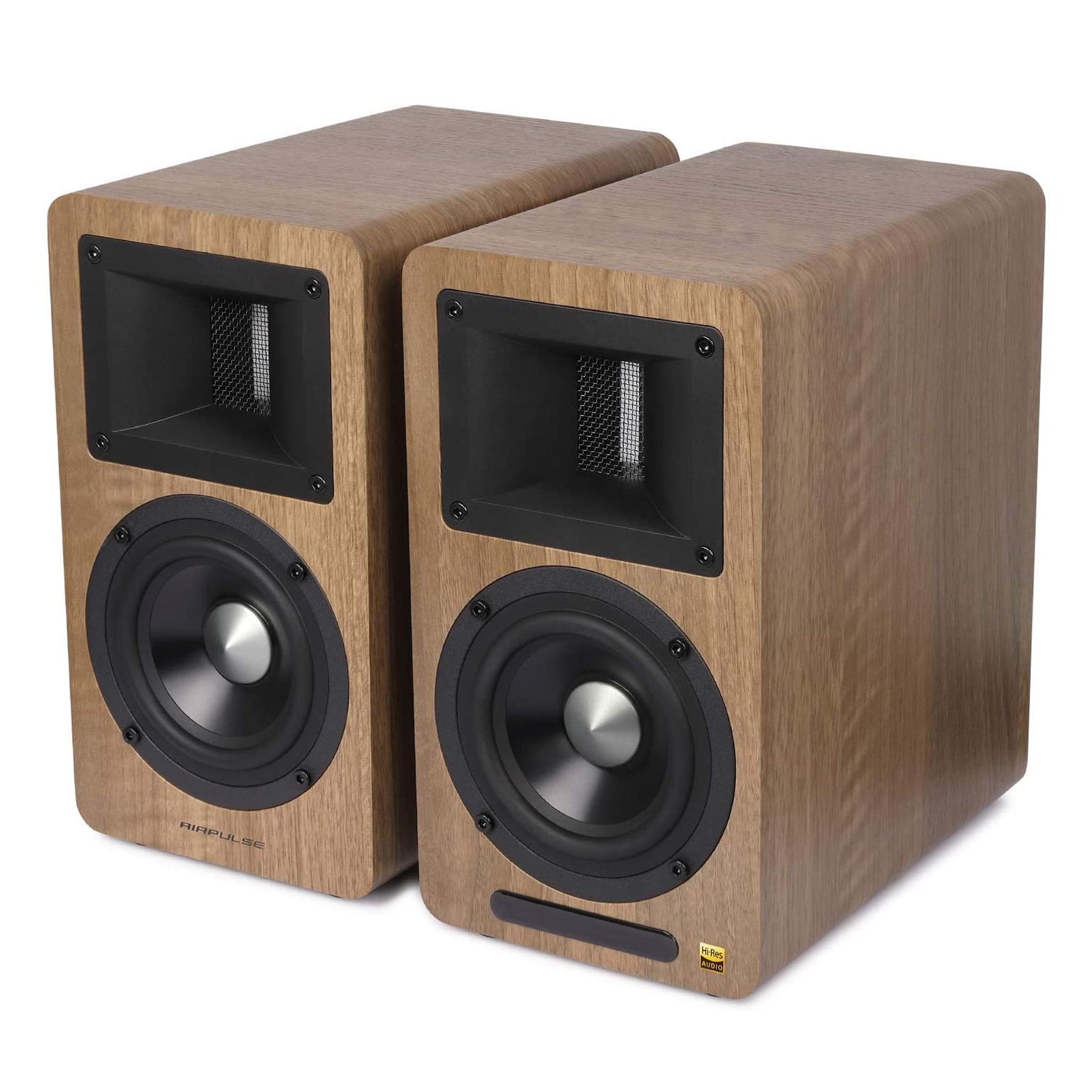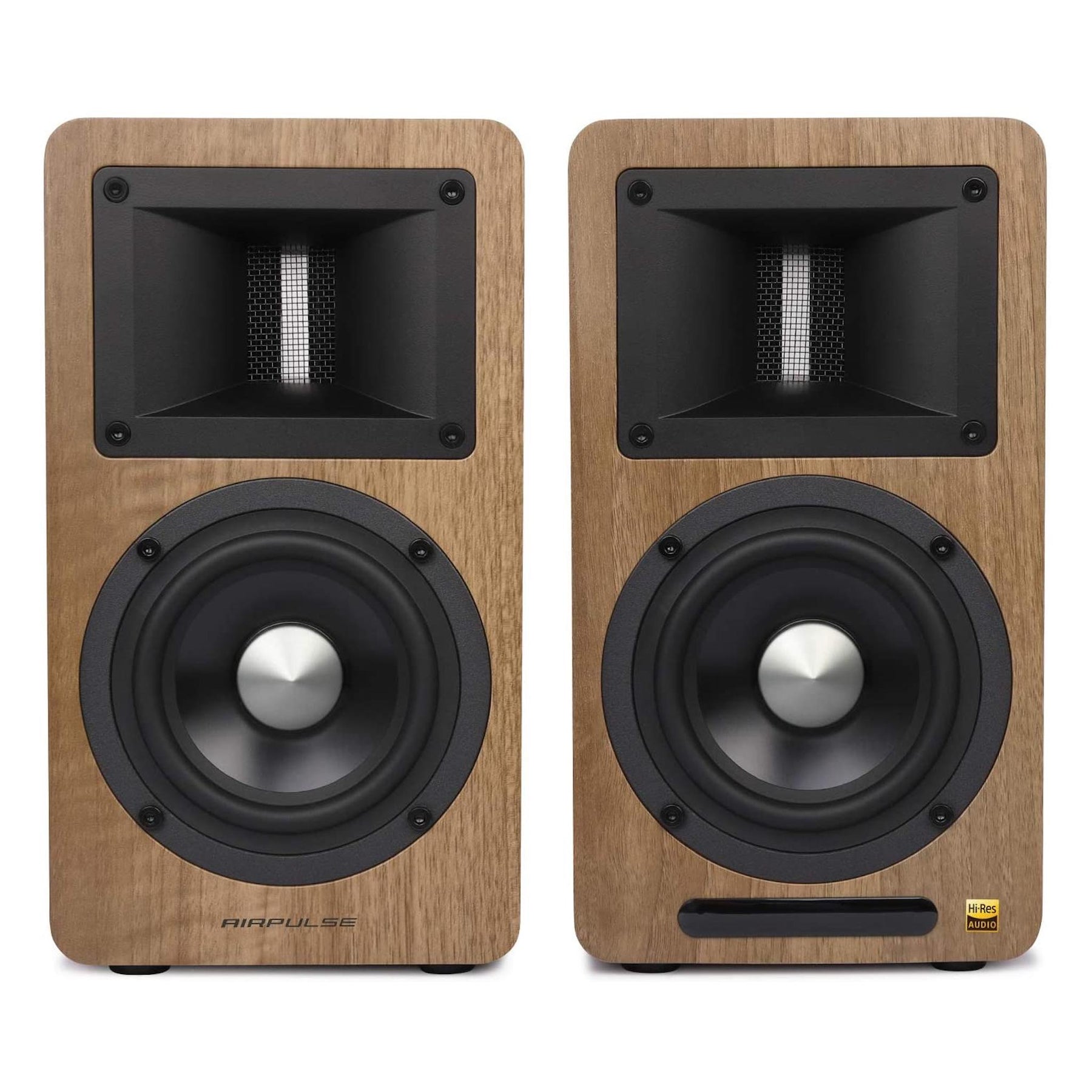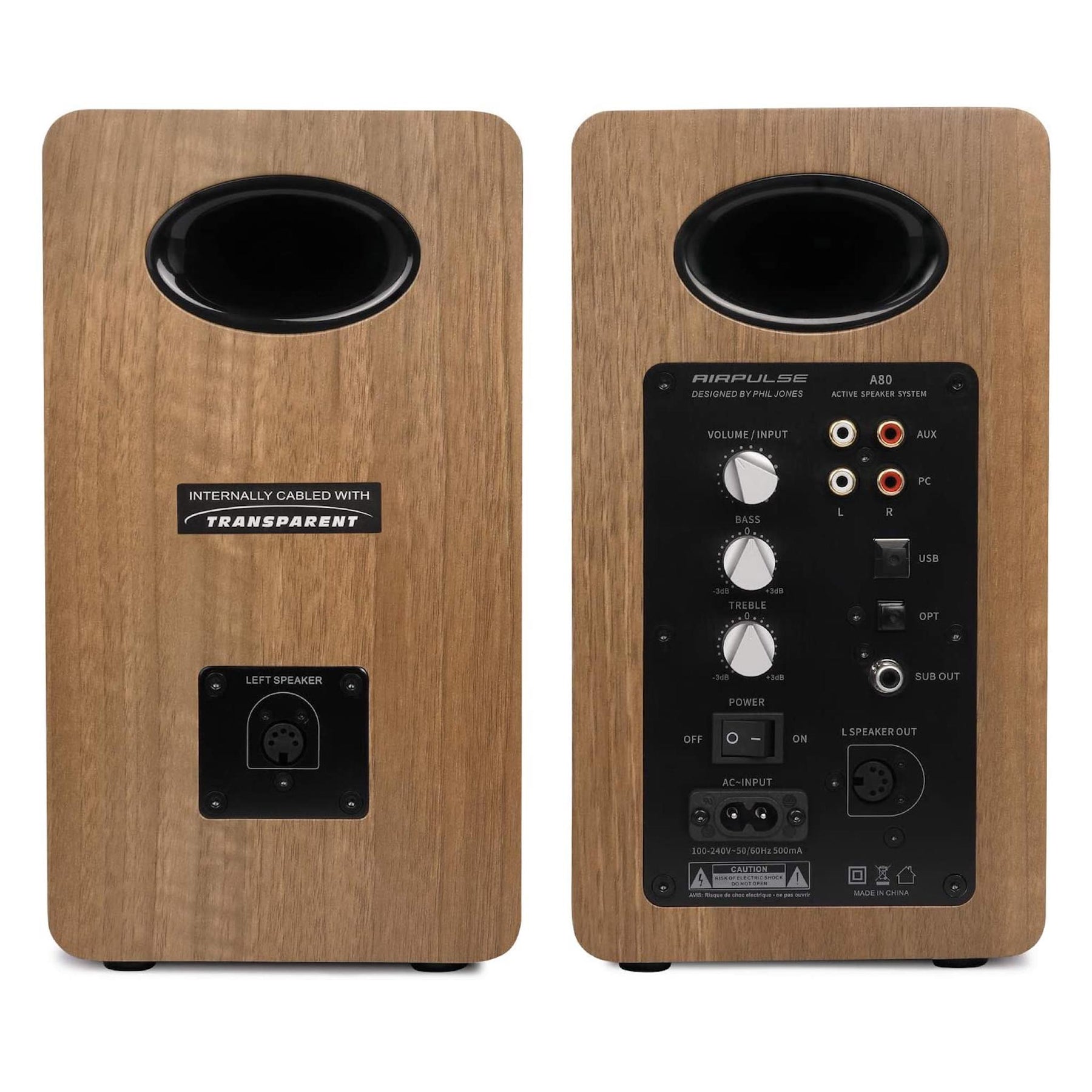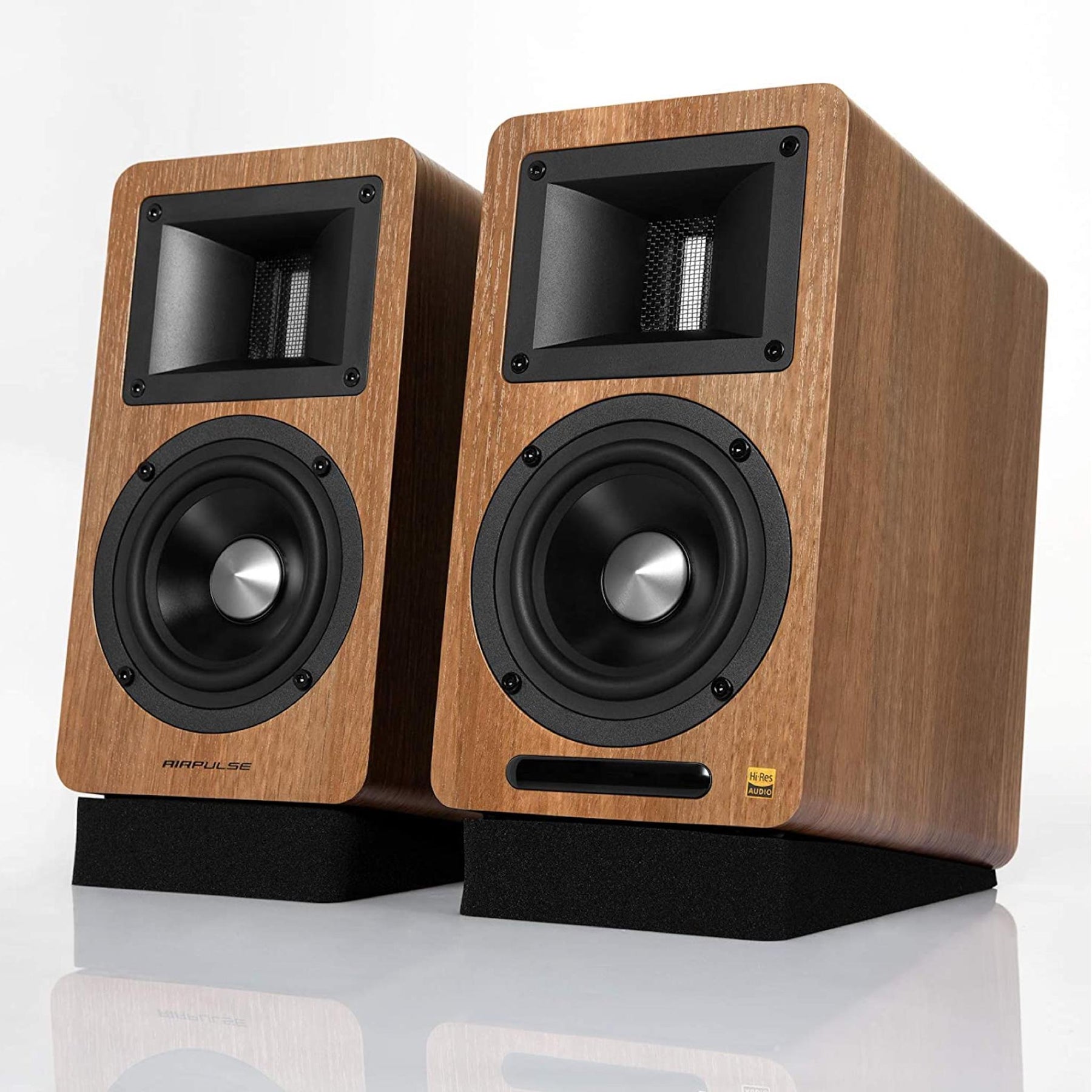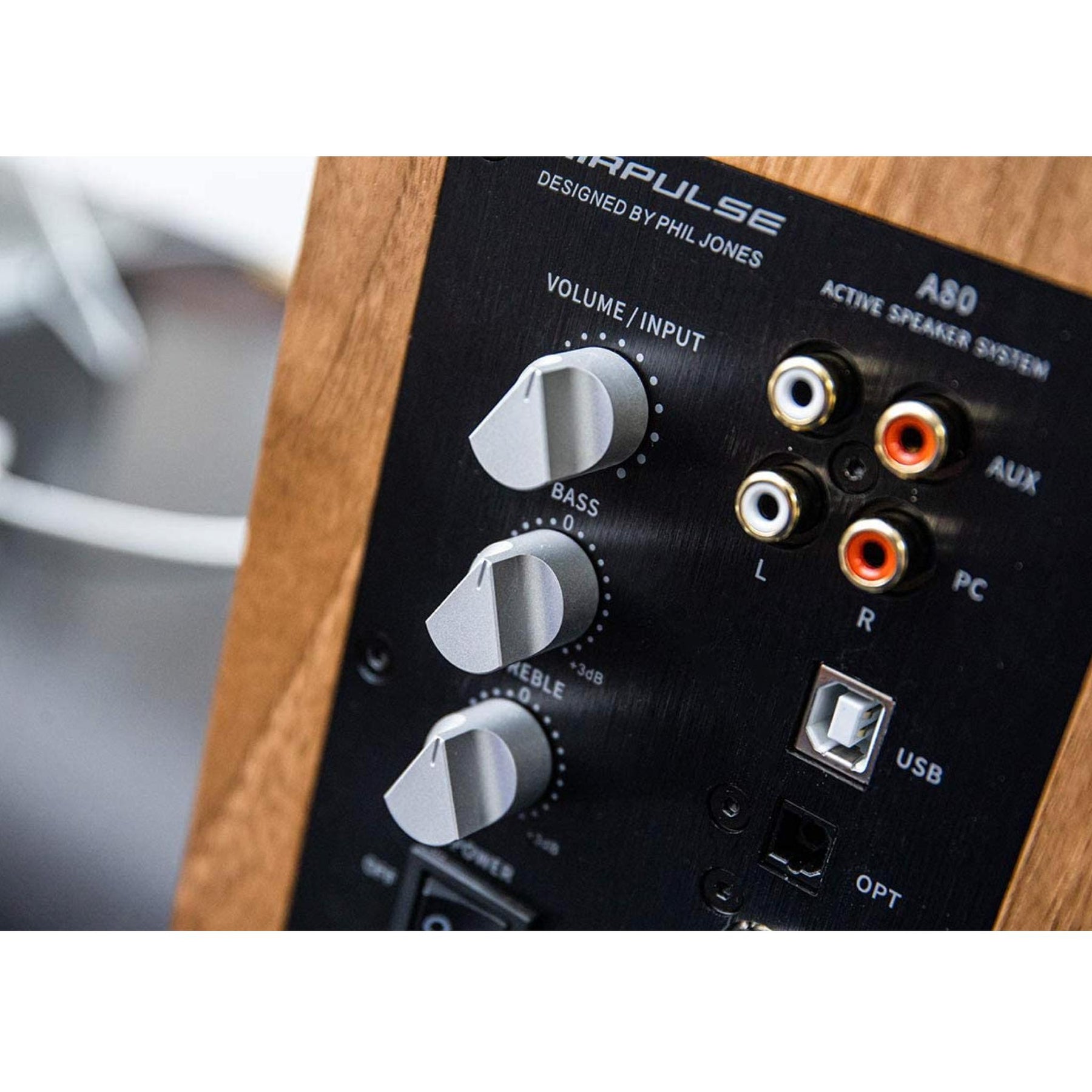 Airpulse A80 - Active Bookshelf Speaker - Pair
AIRPULSE A80
OVERVIEW
The A80 continues to use AIRPULSE's unique horn-loaded aluminium ribbon tweeter and a proprietarily-designed 4.5inch aluminium cone mid-woofer driver. They are housed in an 18-mm thick high-strength MDF cabinet with beautiful walnut finish.
The well-known American TRANSPARENT cable is used in A80 for internal connection to ensure minimum signal loss. The active speaker has a high efficiency Class D amplifier with digital signal processing (XMOS) system, powered by an also efficient power supply.
The system in the A80 supports multiple inputs, including Bluetooth, AUX, PC, USB and fibre optic. Frequency response ranges from 52Hz to 40KHz. It supports Hi-Res high-quality audio playback, and has obtained a Hi-Res official certification. The oval shaped vent tube in the A80 is carefully designed to minimise wind noise.
Cabinet Construction
The A80 cabinet is built with 18-mm thick high-strength MDF with beautiful walnut finish lto further reduce coloration.
The cabinet interior is fully lined with professional waved sound absorption material.
HORN LOADED RIBBON TWEETER
The A80 Horn loaded ribbon tweeter it same as A100's, the thin aluminium ribbon diaphragm has high sensitivity, superb transient response, extended frequency range and well-defined resolution.
The meticulously formulated horn shape produces directional and optimised high frequencies from the ribbon tweeter, so they are aimed at the listeners, minimising unwanted effect from room reflection.
4.5 INCH ALUMINIUM CONE 30MM VC MID-WOOFER
The Mid-woofer is a 4.5 unit with a hard anodised aluminium alloy cone suspended in a heavy, ultra rigid cast magnesium alloy frame.
The Proprietary Aluminum Alloy Cone (PAAC) of mid-woofer was designed from painstaking analysis of all types of cone geometry and materials using a Klippel Laser Doppler Interferometer.
The 30mm diameter voice coil is unusually larger than most loudspeakers of this size. It has been shown that larger voice coils have less power compression because they run at a cooler operating temperature.
Ultra-Low Distortion Signal Processing and Amplification System
The entire digital system is built on a multi-core signal processor XMOS XU216, a 16-core powerful audio processor based on XMOS xCore200 architect, which is proud of having up to 2000MIPS processing horse-power.
Full Digital Amplifier
The power amplification part is built with 2 pieces of TAS5754 Class-D amplifier from Texas Instrument. The up-to 192 KHz input sample rate support guarantees the entire link of digital processing run without any change of sample rate of signal. Its 768 KHz output PWM carrier frequency, twice to 384 KHz of traditional Class-D amplifier, is even more suitable to drive the high sensitivity ribbon tweeter.
The analog front end uses top-of-the-line components from Texas Instrument. With special configuration, the chipset work at 96 KHz to offer a frequency response up to 40 KHz.
The SPDIF receiver PCM9211 is also from Texas Instrument, which supports input sample rate up to 216 KHz. With very low output jitter, the unpacked audio signal can be delivered to XMOS processor with zero loss.
Bluetooth 5.0 with AptX
The Bluetooth audio receiver is built on Qualcomm's Bluetooth V5.0 chipset, which supports APT-X decoder, and offers a far better audio playback quality than what a traditional Bluetooth SBC codec can present.
TRANSPARENT Internal Wiring

The A80 uses TRANSPARENT audiophile grade speaker cable made in the USA for internal wiring. Signals are transferred with utmost accuracy and minimum loss. With these cable, you are brought to step closer to music!
Back Panel Control
Volume of the subwoofer can be adjusted by the master volume control. A80's independent treble and bass adjustment function can help the user to easily set the brightness of highs-frequency and the amount of bass according to size of the listening environment.
The USB digital audio interface on the A80 supports UAC2 audio application which can hold an input sample rate up to 192 KHz. This audio application effectively avoids signal degradation and dynamic range loss due to the PC audio DA.
Tweeter

Horn Loaded Ribbon Tweeter

Mid-Woofer

4.5 inch Aluminum Cone 30mm VC Mid-Woofer

Amplifier System

Digtal Amplifer With Xmos Processor

Power Output

L/R(Treble):10W+10W, L/R(Woofer): 40W+40W

Frequency Range

52 Hz - 40 kHz

Signal-Noise Ratio

L/R: ≥ 90dB(A)

Input Mode

AUX, PC, USB, Optical, Bluetooth (The USB, Optical Inputs Support Up to 192KHz Input Sample Rate)

Input Sensitivity

AUX: 450±50mV

PC: 550±50mV

USB: 400±50mFFs

Optical: 400±50mFFs

Bluetooth: 500±50mFFs

Sub Out: 1200mV Max

Mains Voltage

AC 100-240 V /50-60 Hz

Cabinet Size (WxHxD)

140x250x220mm

Net Weight

9.3 Kg(20lbs)
Tweeter

Horn Loaded Ribbon Tweeter

Mid-Woofer

4.5 inch Aluminum Cone 30mm VC Mid-Woofer

Amplifier System

Digtal Amplifer With Xmos Processor

Power Output

L/R(Treble):10W+10W, L/R(Woofer): 40W+40W

Frequency Range

52 Hz - 40 kHz

Signal-Noise Ratio

L/R: ≥ 90dB(A)

Input Mode

AUX, PC, USB, Optical, Bluetooth (The USB, Optical Inputs Support Up to 192KHz Input Sample Rate)

Input Sensitivity

AUX: 450±50mV

PC: 550±50mV

USB: 400±50mFFs

Optical: 400±50mFFs

Bluetooth: 500±50mFFs

Sub Out: 1200mV Max

Mains Voltage

AC 100-240 V /50-60 Hz

Cabinet Size (WxHxD)

140x250x220mm

Net Weight

9.3 Kg(20lbs)