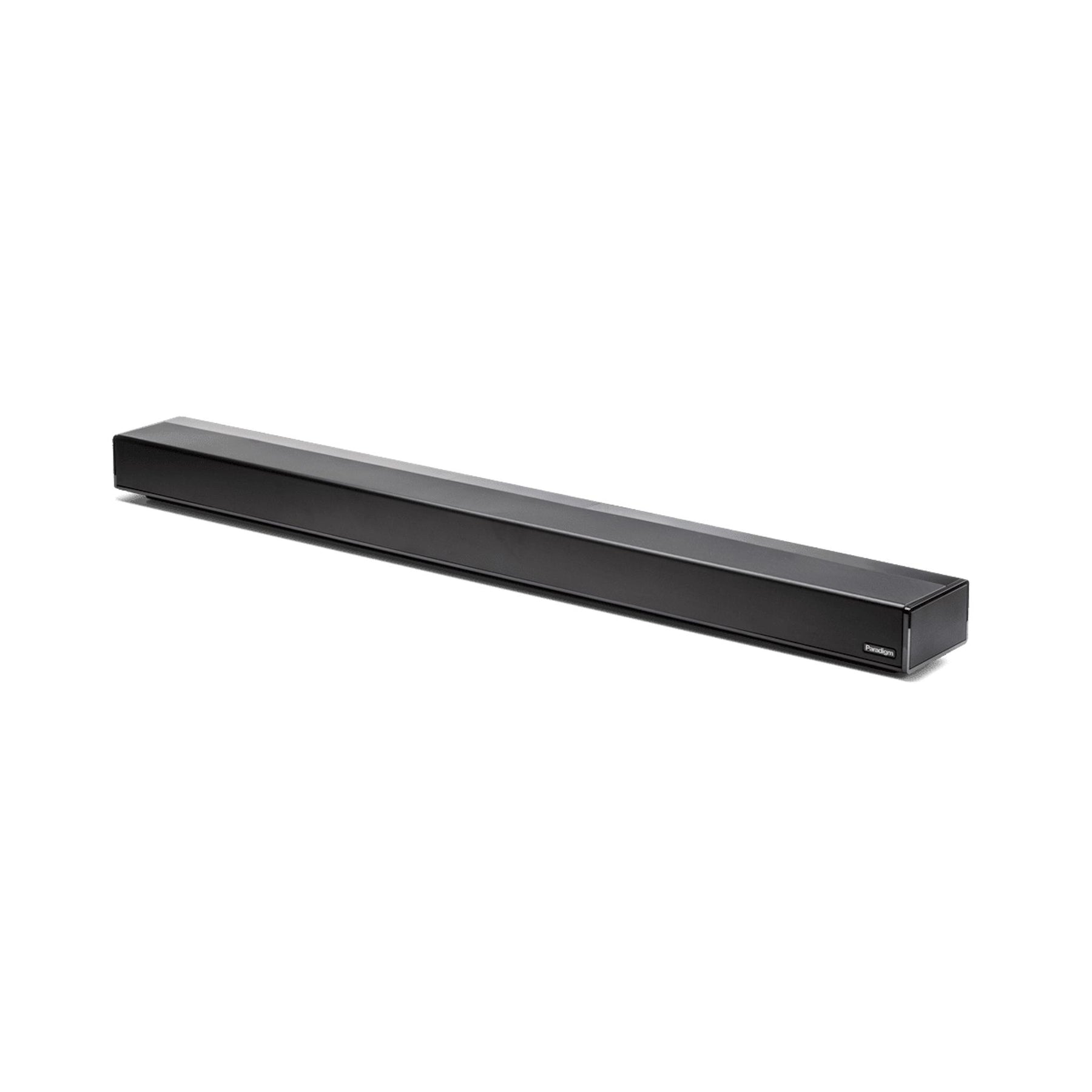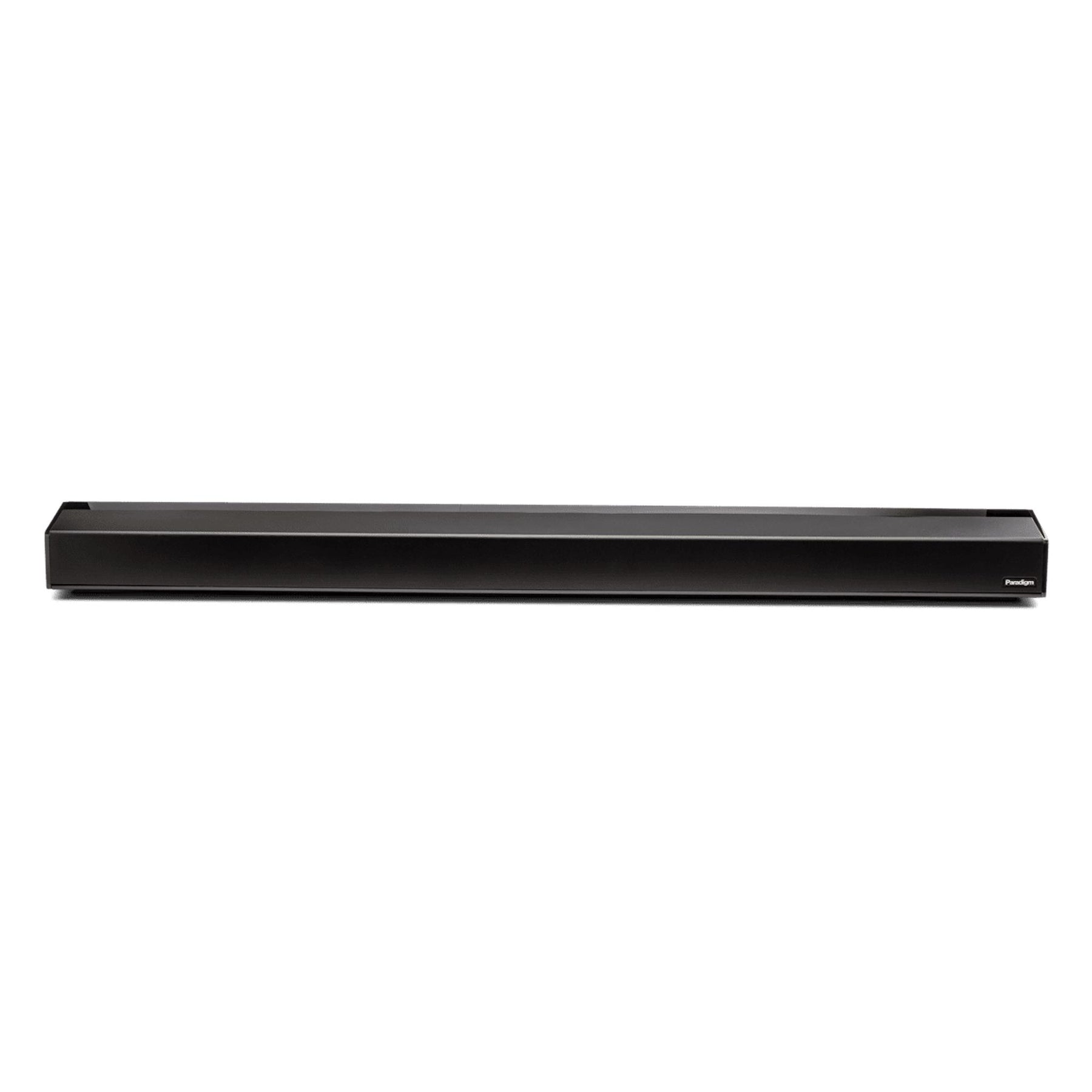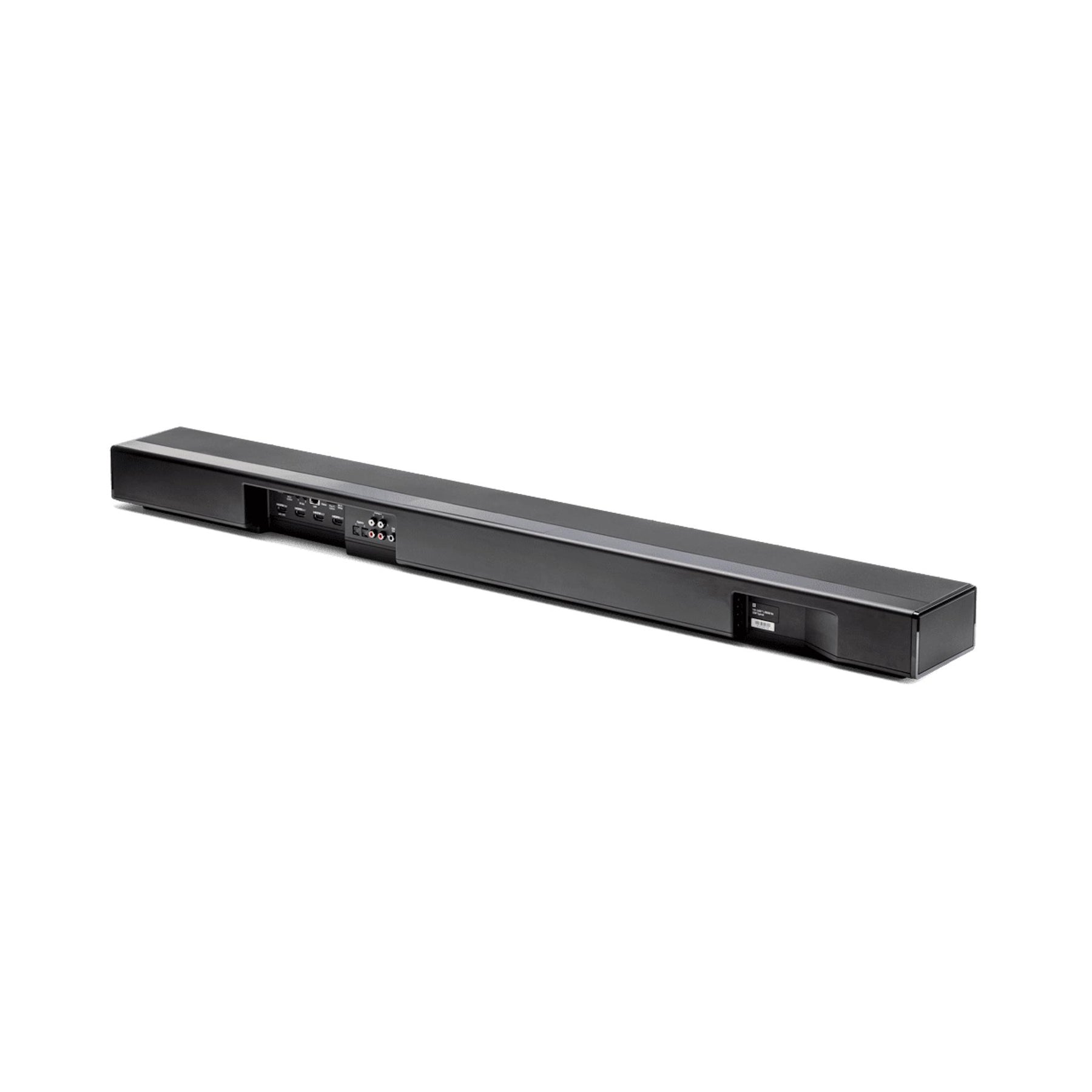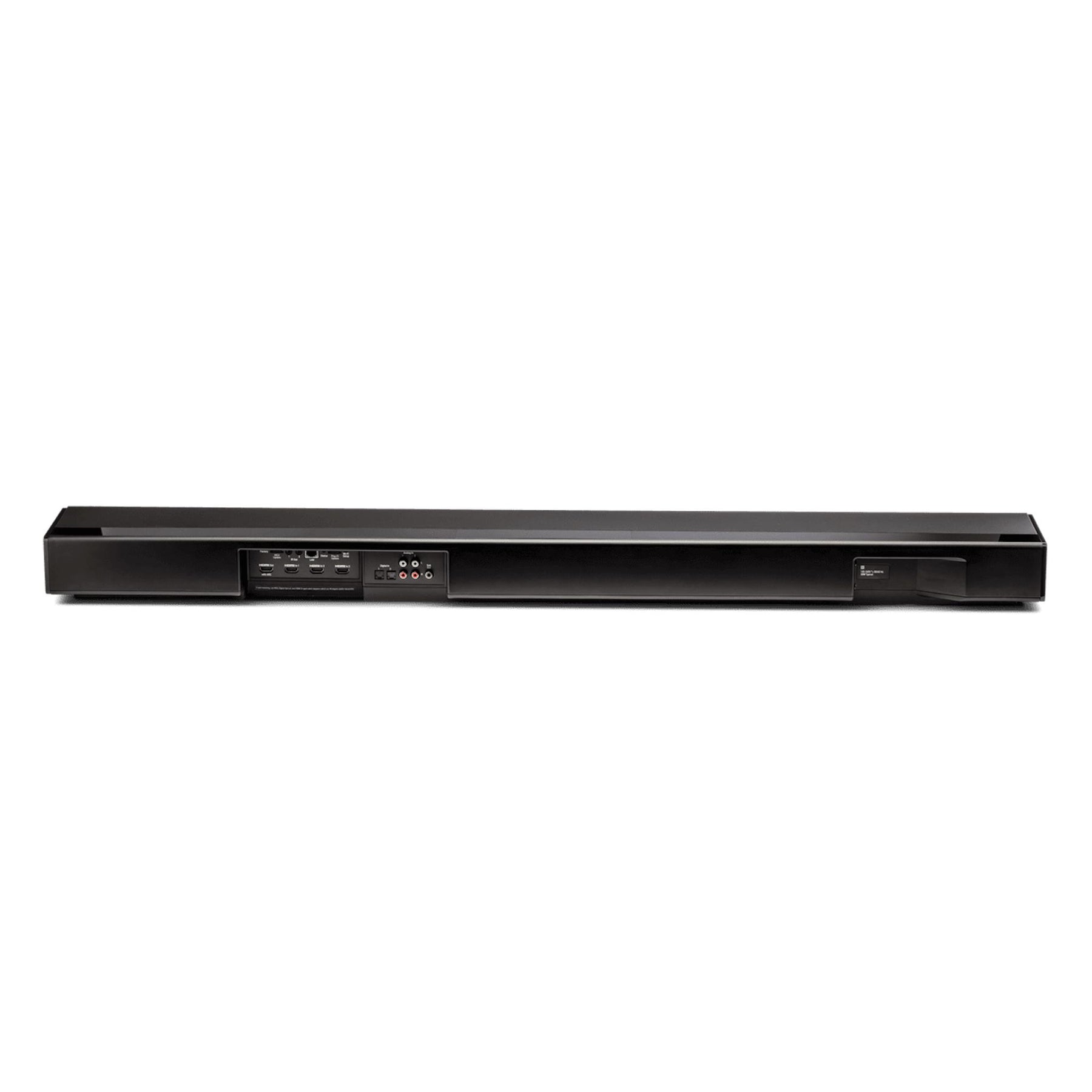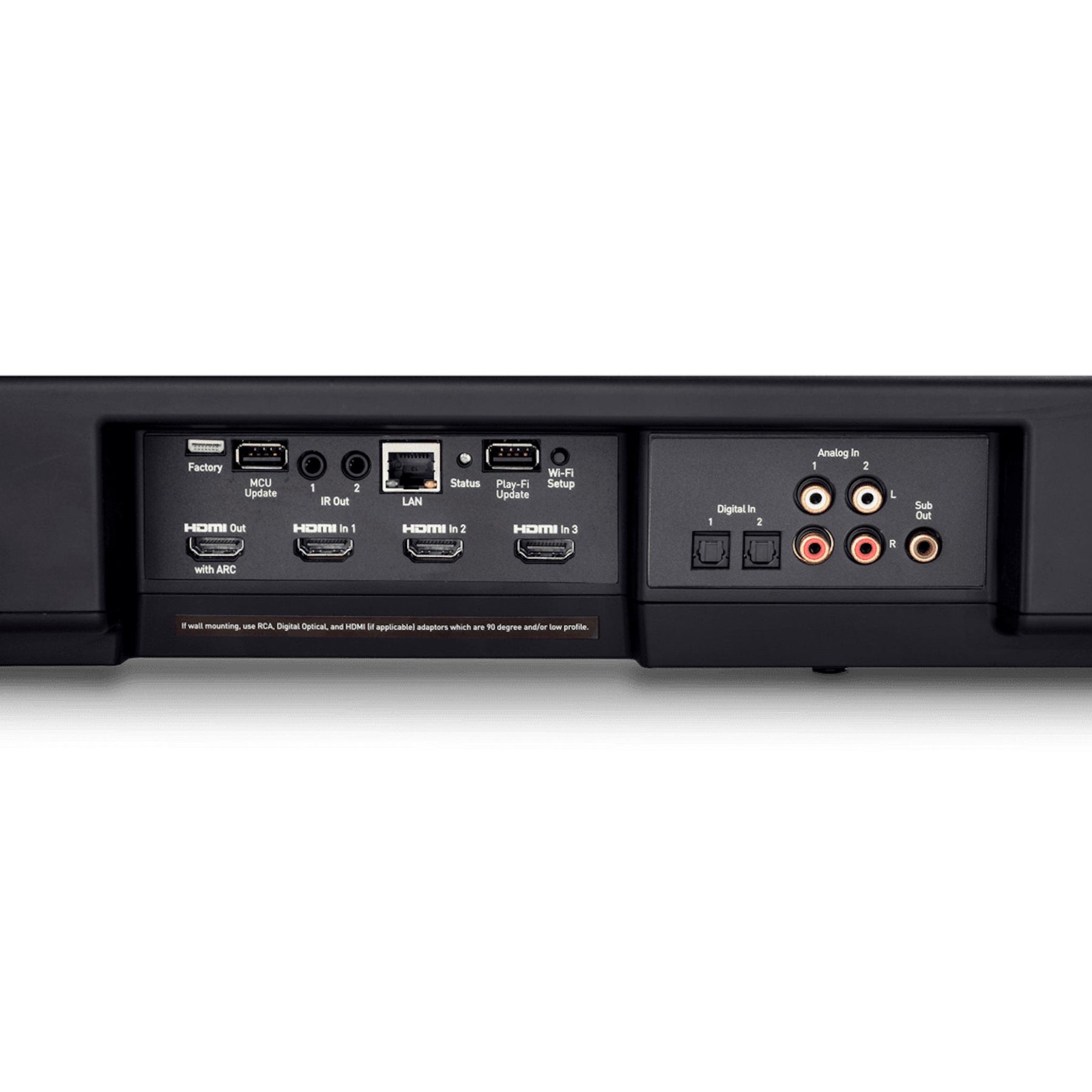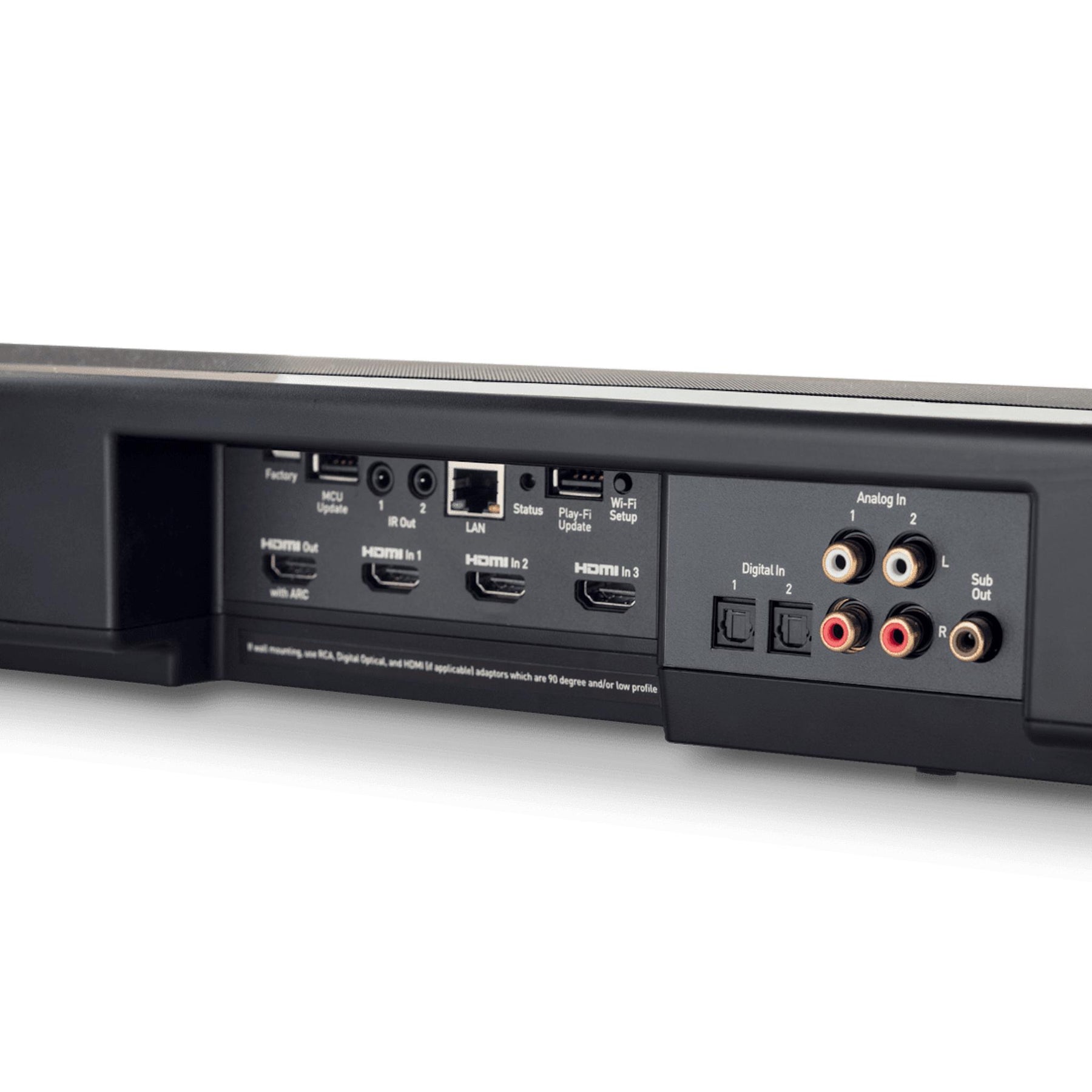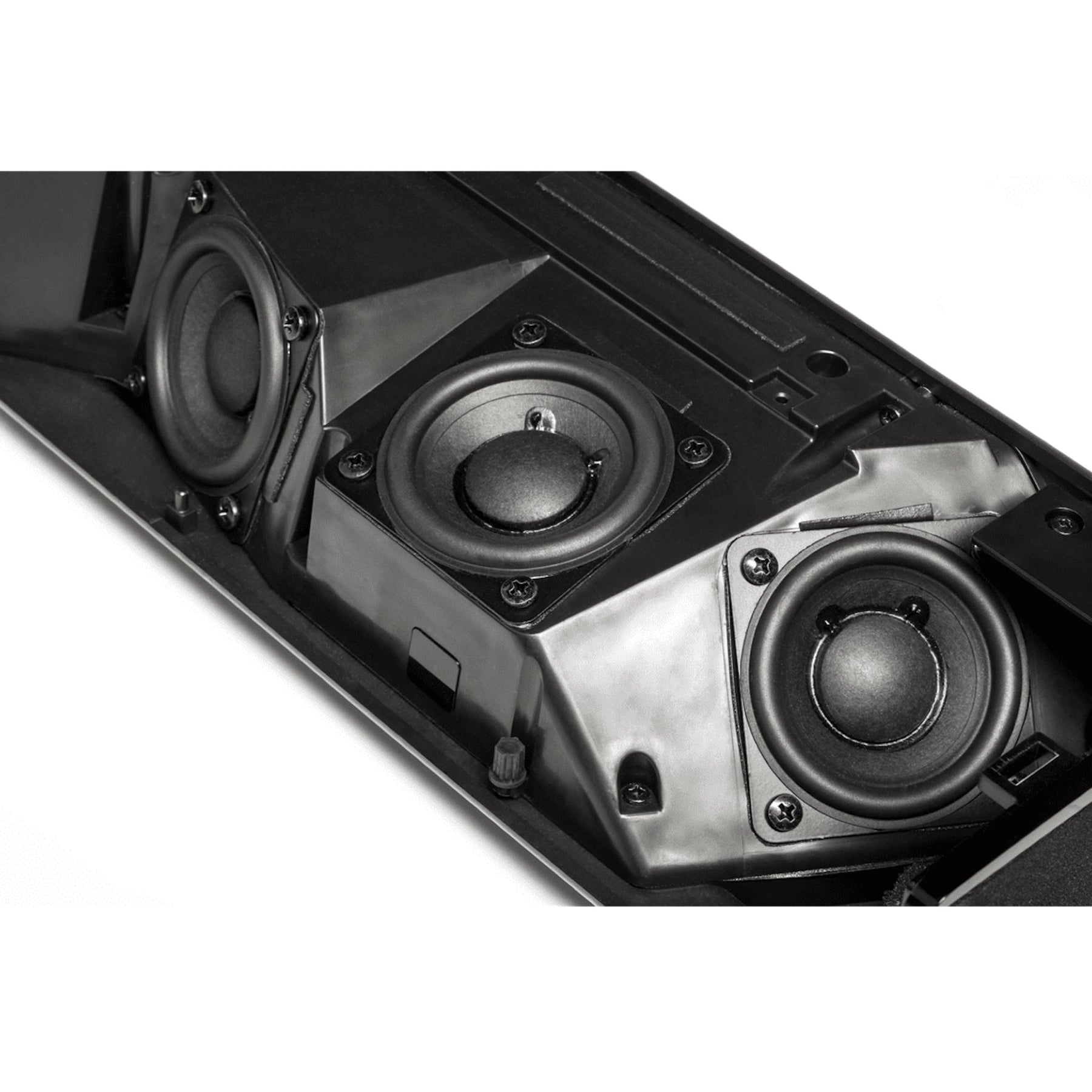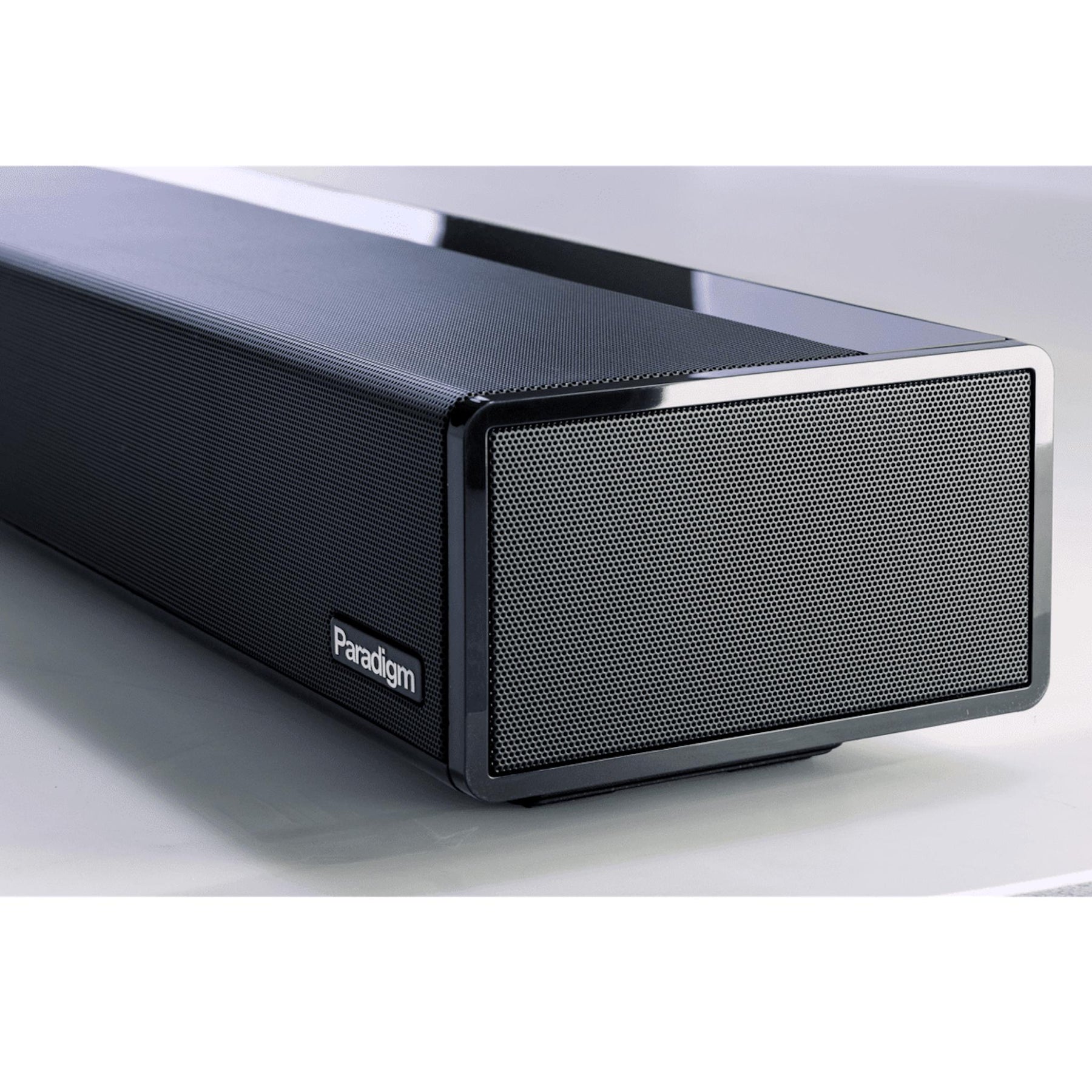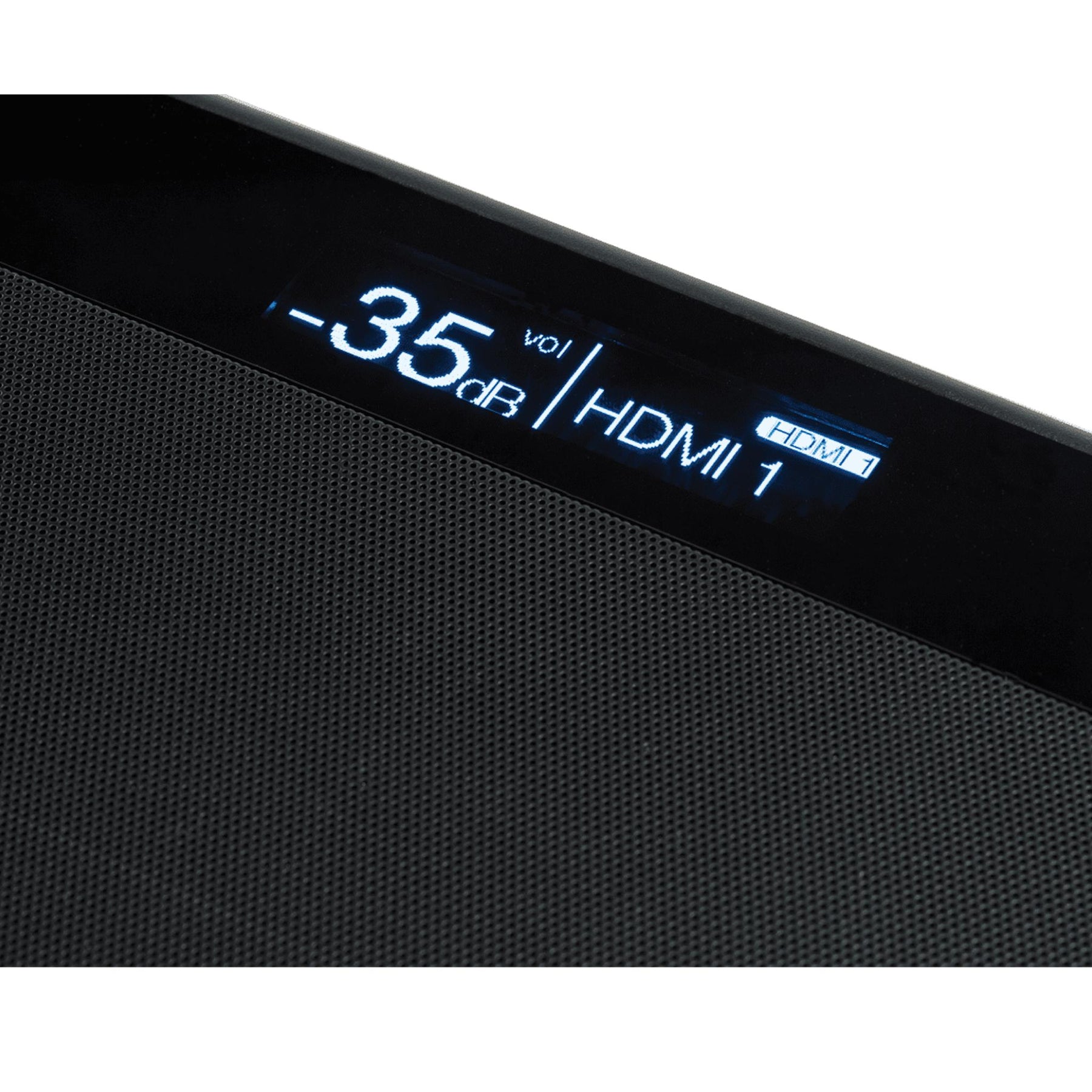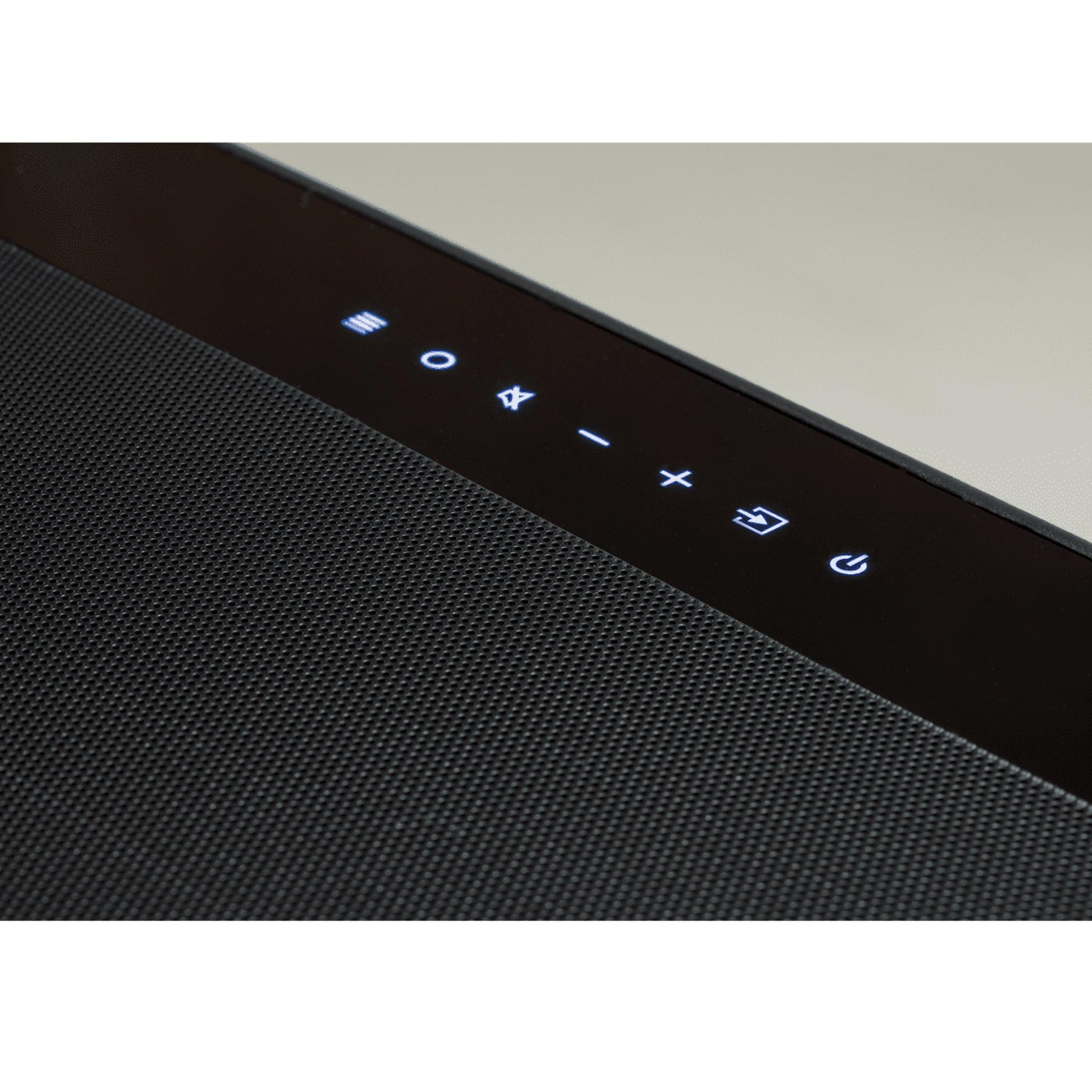 PW SOUNDBAR
Powered Home Theater Soundbar with Bluetooth + Wi-Fi Music Streaming. Anthem Room Correction (ARC) included. 270W Dynamic Peak; 135 RMS combined total output across 9 amps.

Paradigm's Premium Wireless Series is the only wireless streaming system to feature reference-level performance. It combines Paradigm's innovative loudspeaker and amplifier engineering with state-of-the-art DTS Play-Fi® wireless streaming technology + "Works with Alexa" certification. Finally, you can experience the freedom of wireless audio streaming with bold, dynamic performance.
Loaded With Technology
Nine full-range 2.5" high excursion composite cone drivers. Three-dimensional Soundfield™

 

Anthem Room Correction - ARC™, with included calibrated digital microphone.

 

Features three HDMI 2.0a inputs with HDCP 2.2 and full support for 4K/60 and HDR.

 

Nine amplifiers with 270W Dynamic Peak; 135W RMS.

 

Dimensions: 4" H x 46" W x 5-1/2" D

 

Wireless music streaming with Apple® AirPlay®, DTS® Play-Fi® + "Works with Alexa" certification, or Bluetooth.
Works with Alexa
Paradigm DTS Play-Fi products now have "Works with Alexa" certification, meaning they can be controlled using voice commands given to an Amazon Echo, Echo Dot, Echo Show, Fire TV Cube, or other Alexa voice command-enabled device. Alexa functionality is activated by using the Alexa app to enable the DTS Play-Fi skill. This links your Alexa account to "Works with Alexa" DTS Play-Fi compatible products like this one. 
After installing the skill, Alexa will know your speaker by name and allow you to control volume and playback functions such as track skip, mute, pause, and stop or request a song to play in a specific room or group of rooms linked together. Once an Alexa voice command is used to start audio playback, the DTS Play-Fi app can be used to dynamically add more products to the streaming session. Additionally, Alexa's Routines feature can be used to create events that initiate audio playback on your DTS Play-Fi speaker, such as setting up your speaker to work as an alarm clock by starting your favorite song. 
HDMI 2.0a and HDCP 2.2 support
PW Soundbar has three HDMI 2.0a inputs with HDCP 2.2 and full support for 4K/60 playback and HDR (High Dynamic Range), as well as one HDMI output with Audio Return Channel capabilities.
Partnered With The Leader In Wi-Fi Streaming
In designing their wireless audio streaming system, Paradigm audio engineers aspired to achieve the level of performance they demand in a traditional loudspeaker. So it was only natural to partner with DTS Play-Fi technology, the leader in multi-room wireless streaming. DTS Play-Fi Wi-Fi streaming technology supports a host of high quality file formats and delivers better-than-CD-quality sound (high-resolution up to 24-bit/192kHz).
Stream Audio with AirPlay®
Think of a tune, then play it - instantly. Apple's AirPlay wirelessly streams high-quality lossless audio or MP3s from iPhone®, iPad® or iPod touch® straight to your Paradigm PW Soundbar. And from iTunes on a Mac or PC too. You control your music, wherever you are, via your device. It's time to set your music free
Beautiful OLED Display
The Paradigm PW Soundbar's onboard OLED display is made from an organic material that emits its own light, unlike a traditional LCD display that requires a backlight and filters. The striking advantages of an OLED display include superior contrast, wide viewing angles, and a fast response rate.
Three-Dimensional Soundfield™
PW Soundbar drivers are divided into three sets within the narrow soundbar structure. Each set is aimed at a scientifically-determined angle, to send sound information out to specific locations within your listening area. This driver-aiming arrangement delivers a more uniform sound field, with more dynamic range and more realistically blended response, than any other soundbar in this class. PW Soundbar succeeds where other soundbars fall flat: All around you.
Add An Optional Subwoofer, Wirelessly
The included subwoofer wireless receiver makes it easy to equip your Paradigm PW Soundbar with any subwoofer (not included). Up to a 45-ft wireless range allows flexible speaker/subwoofer placement.
Audio Optimized For Any Space
Paradigm's Premium Wireless Series products all feature exclusive Anthem Room Correction (ARC™) Technology. ARC uses an exclusive Calibration Microphone and advanced DSP algorithms to quickly and easily optimize speaker performance in any space. In just a few easy steps the microphone measures sound output, compares it to scientifically optimal response curves, and instantly tunes your wireless speaker's output for perfect sound. You'll actually hear the difference Anthem Room Correction makes. Premium Wireless products also now support ARC Mobile, making it even easier to tune you
| | |
| --- | --- |
| DESIGN | Injection molded ABS acoustically enhanced enclosure with 9 dispersion-array full-range drivers. |
| AMPLIFIER | Anthem® Class-D Amp; 270W Dynamic Peak; 135W RMS |
| ROOM CORRECTION | Anthem Room Correction - ARC™, with included calibrated microphone |
| SENSITIVITY ROOM / ANECHOIC | 89 dB @0.1 vms input, Volume 0 / 86 dB @0.1 vms input, Volume 0 |
| FINISHES | Gloss Black |
| WEIGHT | 12.7 lbs. (5.4 kg) |
| DIMENSIONS (HXWXD) | 4" × 46" × 5.5" (10.2cm × 116.8cm × 14.0cm) |
| LOW FREQUENCY EXTENSION | 58 Hz (DIN) |
| INPUTS | 3 HDMI, WiFi, Bluetooth, 2 Optical SPDIF (digital optical), 2 Analog Stereo RCA, Ethernet |
| COMPONENTS | DSP based preamplifier, Dolby® Digital, DTS Digital Surround™ |
| WIRELESS RECEIVER | 2.4GHz and 5.0GHz; 802.11 g/n, DTS® Play-Fi®, AirPlay®, Bluetooth®, Qualcomm® apt-X™ |
| FULLRANGE DRIVER | Nine 2.5" (6.3 cm) full-range high-excursion composite cone drivers. |
| OUTPUTS | 1 HDMI with Audio Return Channel, 2 IR, 1 Sub |
| | |
| --- | --- |
| DESIGN | Injection molded ABS acoustically enhanced enclosure with 9 dispersion-array full-range drivers. |
| AMPLIFIER | Anthem® Class-D Amp; 270W Dynamic Peak; 135W RMS |
| ROOM CORRECTION | Anthem Room Correction - ARC™, with included calibrated microphone |
| SENSITIVITY ROOM / ANECHOIC | 89 dB @0.1 vms input, Volume 0 / 86 dB @0.1 vms input, Volume 0 |
| FINISHES | Gloss Black |
| WEIGHT | 12.7 lbs. (5.4 kg) |
| DIMENSIONS (HXWXD) | 4" × 46" × 5.5" (10.2cm × 116.8cm × 14.0cm) |
| LOW FREQUENCY EXTENSION | 58 Hz (DIN) |
| INPUTS | 3 HDMI, WiFi, Bluetooth, 2 Optical SPDIF (digital optical), 2 Analog Stereo RCA, Ethernet |
| COMPONENTS | DSP based preamplifier, Dolby® Digital, DTS Digital Surround™ |
| WIRELESS RECEIVER | 2.4GHz and 5.0GHz; 802.11 g/n, DTS® Play-Fi®, AirPlay®, Bluetooth®, Qualcomm® apt-X™ |
| FULLRANGE DRIVER | Nine 2.5" (6.3 cm) full-range high-excursion composite cone drivers. |
| OUTPUTS | 1 HDMI with Audio Return Channel, 2 IR, 1 Sub |