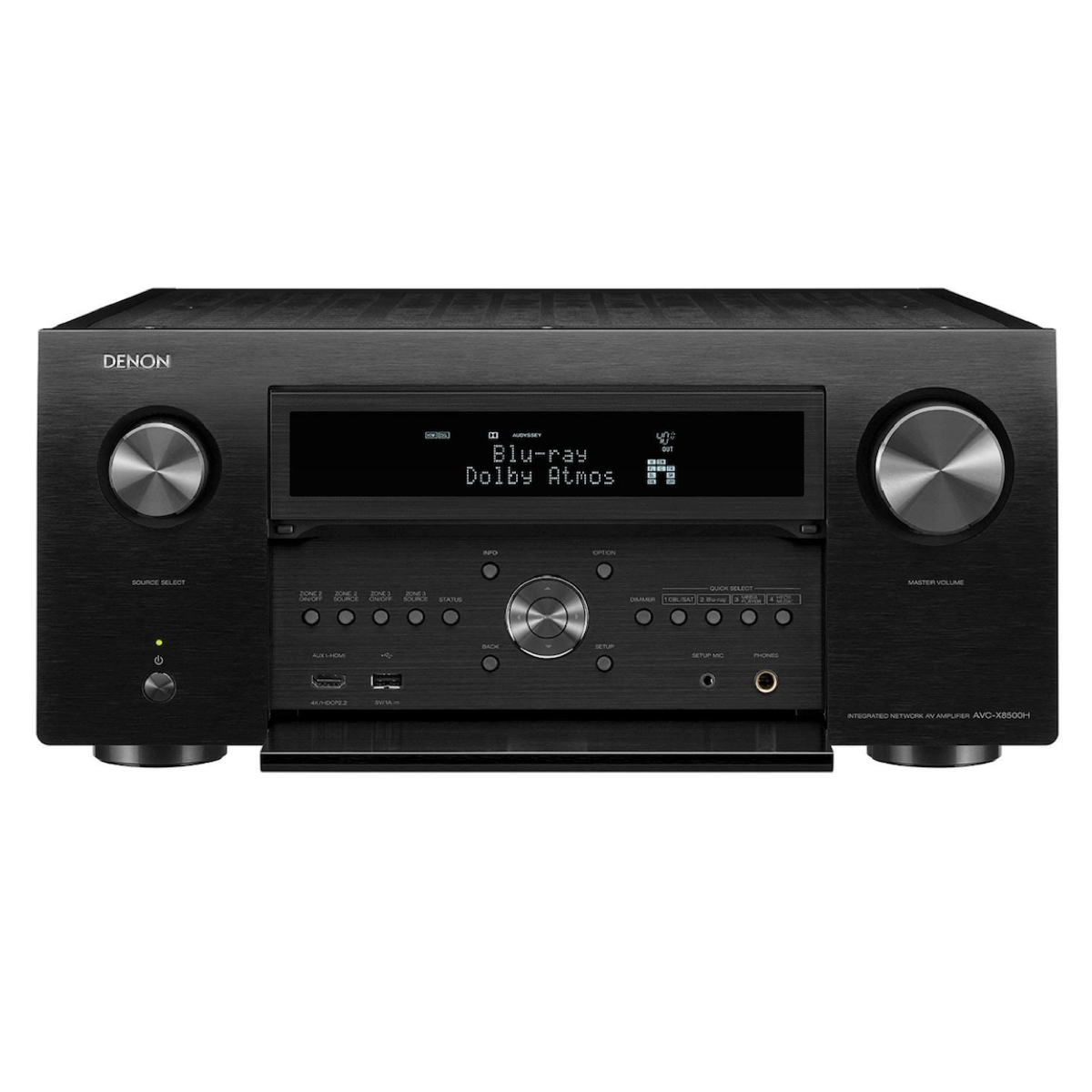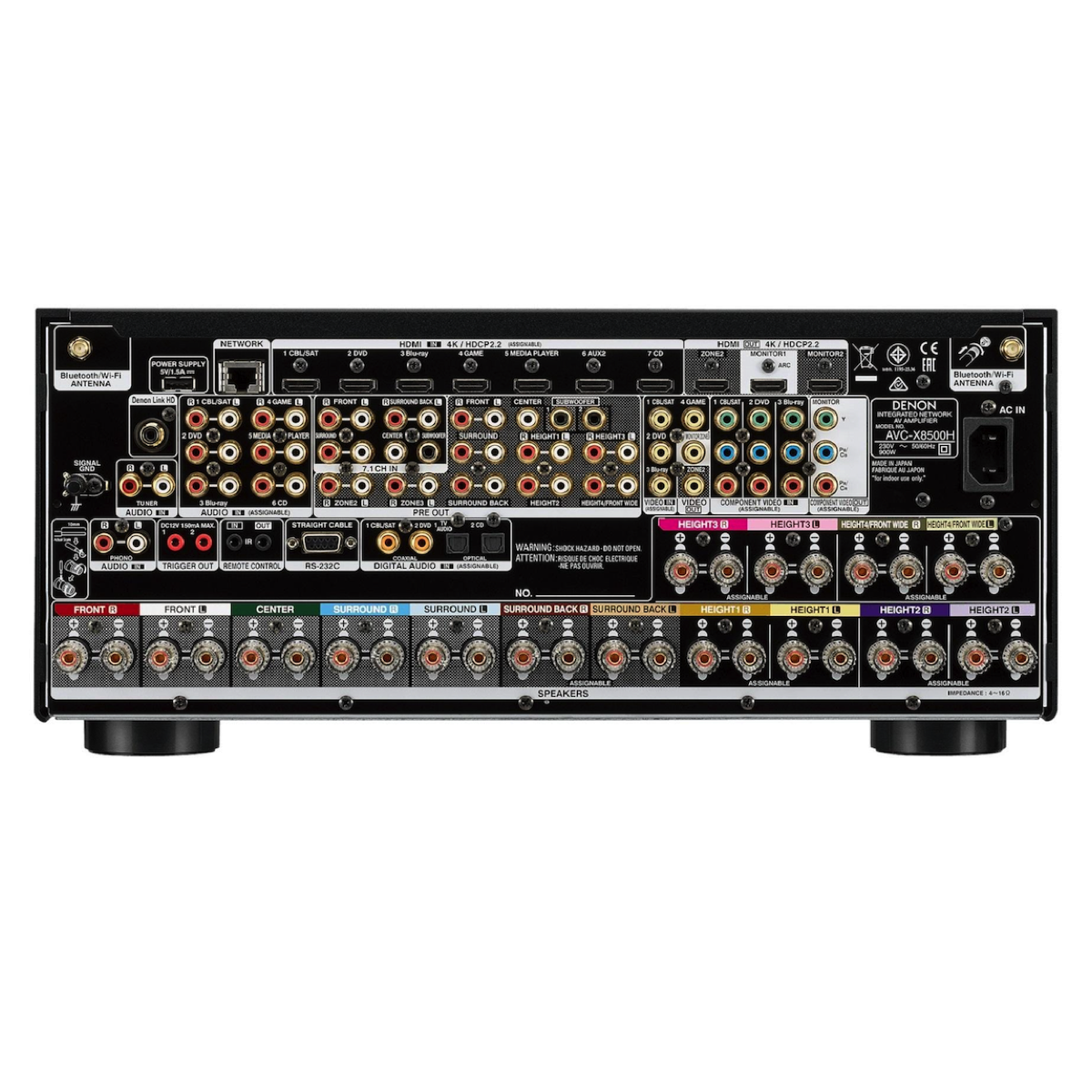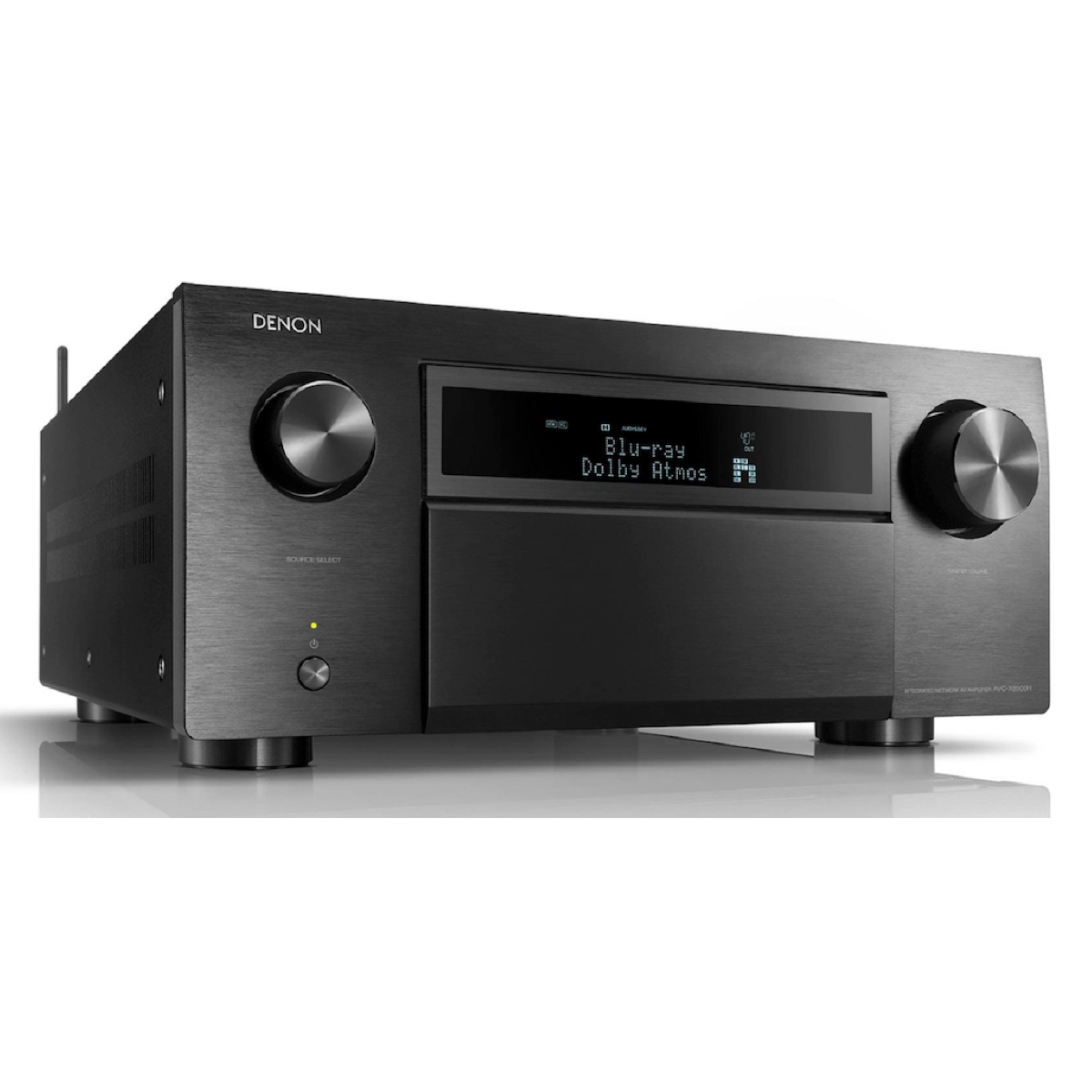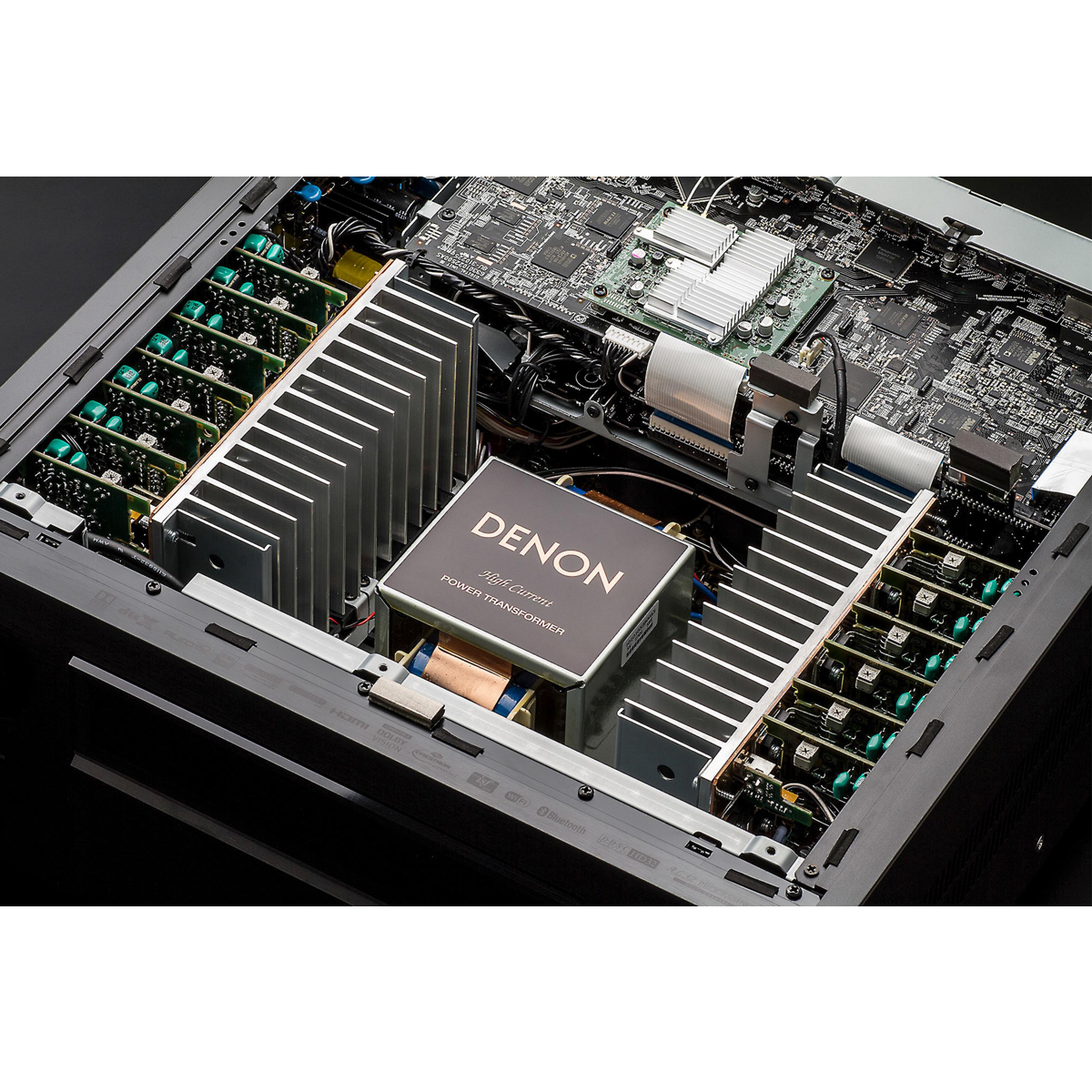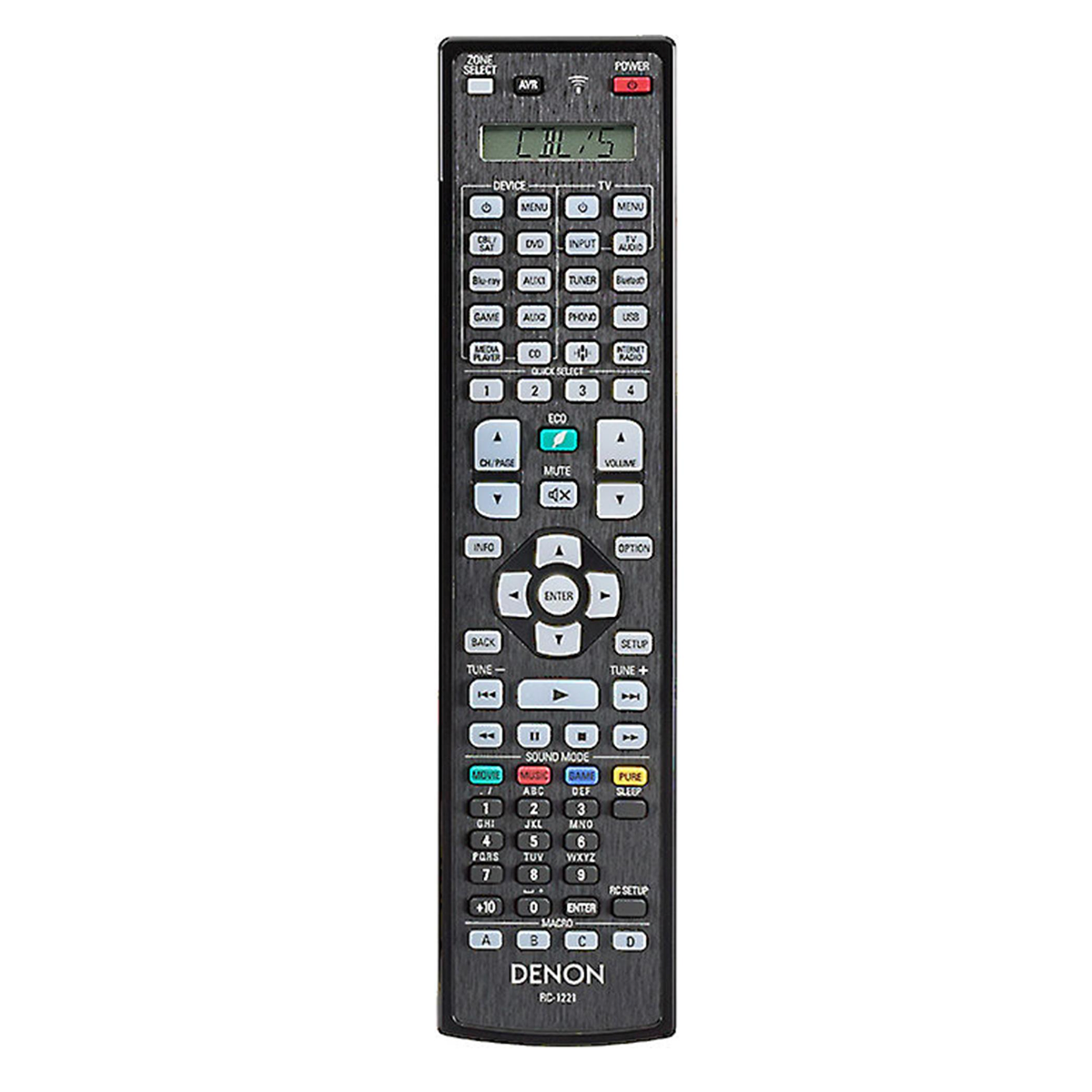 Denon AVC-X8500H - 13.2 Channel AV Receiver
AVC-X8500H
The Denon Flagship AVC-X8500H powers the next generation of home theater with the world's first 13.2 channel AV Amplifier that supports the latest immersive audio formats, including IMAX Enhanced, Dolby Atmos, DTS:X and Auro-3D. Built-in HEOS technology supports Amazon Alexa* and takes music listening to the next level with wireless whole-home audio.
Now available – voice control with Amazon Alexa, Siri via Apple AirPlay 2, and Google Assistant
FEATURES
POWERFUL 13.2 CHANNEL HOME THEATRE EXPERIENCE
The AVC-X8500H ushers in a leading-edge home theatre experience with 13 channels of built-in amplification to enable premium 3D surround sound up to 7.2.6 without external amplification and supports latest 4K Ultra HD picture standards.
SUPPORTS THE LATEST SURROUND AUDIO FORMATS
Immerse yourself in multi-dimensional sound — the Denon AVC-X8500H powers Dolby Atmos, DTS:X and up to 13.2 Auro-3D formats. Auro-3D will be enabled via future firmware update at no additional charge.
READY FOR THE FUTURE OF HOME THEATRE
The AVC-X8500H's advanced video section is fully compatible with the latest HDMI and HDCP 2.2 specifications and prepared for any 4K Ultra HD source. High Dynamic Range (HDR), Dolby Vision compatibility, Hybrid Log Gamma (HLG) and eARC (enhanced Audio Return Channel) are supported as well. You can also enjoy ultra-high-definition pictures from legacy analogue and digital sources.
THE HEART OF YOUR WIRELESS AUDIO NETWORK
Every sound, all your music, controlled effortlessly. Full wireless connectivity is provided via Bluetooth and Wi-Fi. The AVC-X8500H works with Apple Airplay and Amazon Alexa*, bringing cutting-edge voice control and incredible sound to all your home entertainment. The built-in HEOS technology allows the AVC-X8500H to become the app-controlled heart of a whole-house wireless sound network.
*This feature becomes available in Spring 2018. Availability varies by country.
PERFECT SET-UP FROM THE START
The AVC-X8500H easily guides you through the set-up process to ensure the most accurate configuration and lets you optimise all settings for the best possible sound and video quality. The most advanced Audyssey MultEQ XT32 room measurement system guarantees the best sound in every room.
AL32 Processing
AL32 multi-channel processing is designed to provide ultra-high-resolution digital audio filtering and precision for all audio channels, delivering a natural soundstage with enhanced imaging. For content recorded in multi-channel, such as Blu-ray discs, the recorded low frequency effects (LFE) may be out of sync and delayed; Bass Sync technology corrects such a delay of low frequency effects for an enhanced audio experience.
32-Bit D/A Conversion
The Denon AVR-X8500H features 32-bit AKM AK4490EQ D/A converters on all channels to help provide consistent high-fidelity and precise channel matching.
TECHNOLOGIES

 
IMAX Enhanced

Dolby Atmos

DTS:X

Auro-3D

HDCP 2.2

ISF Certified (Imaging Science Foundation)

HDS/Dolby Vision
Rear A/V Inputs

7 x HDMI

2 x Optical TOSLINK

2 x Digital Coaxial

3 x 3RCA Component

4 x RCA Composite

6 x Stereo RCA

1 x Stereo RCA (Phono) with Ground Screw

1 x 7.1-Channel RCA

Rear A/V Outputs

3 x HDMI

1 x 3RCA Component

2 x RCA Composite

1 x 15-Channel RCA Pre-Out

1 x Stereo RCA Zone 2 Pre-Out

1 x Stereo RCA Zone 3 Pre-Out

2 x RCA Subwoofer Pre-Out

Front I/O

1 x HDMI

1 x USB Type-A

1 x 1/8" / 3.5 mm Setup Mic Input

1 x 1/4" / 6.35 mm Headphone Output

Other Rear I/O

1 x Denon Link HD

2 x Bluetooth/Wi-Fi Antenna Terminal

1 x FM Antenna Terminal

1 x AM Antenna Terminal

1 x RJ45 (Ethernet)

1 x 1/8" / 3.5 mm (IR) Input

1 x 1/8" / 3.5 mm (IR) Output

1 x DE-9 (RS-232C) Input

2 x 1/8" / 3.5 mm (12 V Trigger) Output

Speaker Connectors

15 x Binding Post Pairs

Input Sensitivity

Line: 130 mV

Phono: 2.5 mV

Rated Output / Impedance

Analog: 1.2 V /

D/A Output: 2 V /

Dynamic Range

D/A Output: 100 dB

Signal to Noise Ratio

 

Line: 102 dB (A-Weighted / Direct Mode)

D/A Output: 102 dB

Phono: 74 dB

Total Harmonic Distortion (THD)

D/A Output: 0.008%

Supported File Formats

AAC, Apple Lossless, DSD, FLAC, MP3, WAV, WMA

Channels

13.2

Power Output per Channel

2-Channel Driven:

150 W at 8 Ohms / 20 Hz to 20 kHz / 0.05% THD

190 W at 6 Ohms / 1 kHz / 0.7% THD

Dynamic Power per Channel

170 W at 8 Ohms

280 W at 4 Ohms

Frequency Response

10 Hz to 100 kHz +1/-3 dB (Direct Mode)

Speaker Impedance

4 to 16 Ohms

Upscaling

4K UHD

Dimensions (W x H x D)

17.1 x 10.2 x 17.2" / 434.0 x 259.0 x 482.0 mm (Antenna Up)

17.1 x 7.8 x 17.2" / 434.0 x 195.0 x 482.0 mm (Antenna Down)

Weight

51.4 lb / 23.3 kg
Rear A/V Inputs

7 x HDMI

2 x Optical TOSLINK

2 x Digital Coaxial

3 x 3RCA Component

4 x RCA Composite

6 x Stereo RCA

1 x Stereo RCA (Phono) with Ground Screw

1 x 7.1-Channel RCA

Rear A/V Outputs

3 x HDMI

1 x 3RCA Component

2 x RCA Composite

1 x 15-Channel RCA Pre-Out

1 x Stereo RCA Zone 2 Pre-Out

1 x Stereo RCA Zone 3 Pre-Out

2 x RCA Subwoofer Pre-Out

Front I/O

1 x HDMI

1 x USB Type-A

1 x 1/8" / 3.5 mm Setup Mic Input

1 x 1/4" / 6.35 mm Headphone Output

Other Rear I/O

1 x Denon Link HD

2 x Bluetooth/Wi-Fi Antenna Terminal

1 x FM Antenna Terminal

1 x AM Antenna Terminal

1 x RJ45 (Ethernet)

1 x 1/8" / 3.5 mm (IR) Input

1 x 1/8" / 3.5 mm (IR) Output

1 x DE-9 (RS-232C) Input

2 x 1/8" / 3.5 mm (12 V Trigger) Output

Speaker Connectors

15 x Binding Post Pairs

Input Sensitivity

Line: 130 mV

Phono: 2.5 mV

Rated Output / Impedance

Analog: 1.2 V /

D/A Output: 2 V /

Dynamic Range

D/A Output: 100 dB

Signal to Noise Ratio

 

Line: 102 dB (A-Weighted / Direct Mode)

D/A Output: 102 dB

Phono: 74 dB

Total Harmonic Distortion (THD)

D/A Output: 0.008%

Supported File Formats

AAC, Apple Lossless, DSD, FLAC, MP3, WAV, WMA

Channels

13.2

Power Output per Channel

2-Channel Driven:

150 W at 8 Ohms / 20 Hz to 20 kHz / 0.05% THD

190 W at 6 Ohms / 1 kHz / 0.7% THD

Dynamic Power per Channel

170 W at 8 Ohms

280 W at 4 Ohms

Frequency Response

10 Hz to 100 kHz +1/-3 dB (Direct Mode)

Speaker Impedance

4 to 16 Ohms

Upscaling

4K UHD

Dimensions (W x H x D)

17.1 x 10.2 x 17.2" / 434.0 x 259.0 x 482.0 mm (Antenna Up)

17.1 x 7.8 x 17.2" / 434.0 x 195.0 x 482.0 mm (Antenna Down)

Weight

51.4 lb / 23.3 kg